Moving into 2021, many investors that have stayed on the sidelines are now looking for opportunities to start deploying their cash. Singapore investors are definitely looking for a mixture of capital and dividend gains with these picks. There is no better option than Singapore REITs. As such, let's dive right into my top 6 REITs to watch in 2021.
#1 Capitaland Retail China Trust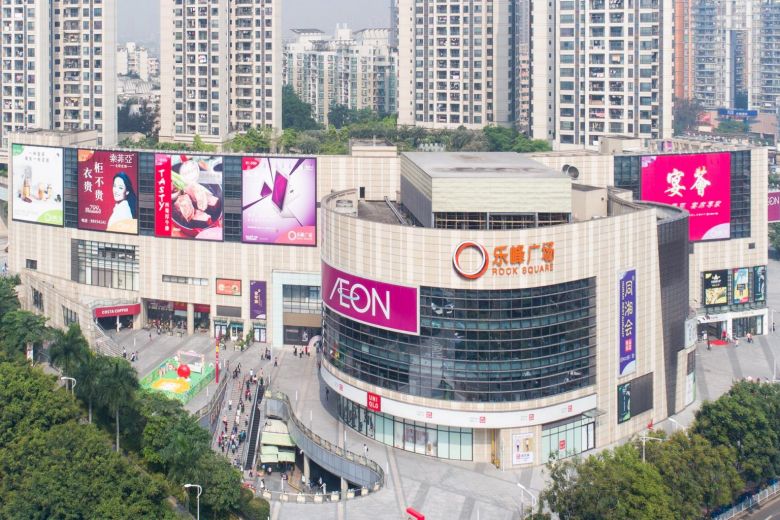 To start my list of REITs to watch in 2021, we have Capitaland Retail China Trust (SGX: AU8U), a pure China Retail REIT. Recently, they have updated their mandate, widening their investment scope to more real estate classes as well as more geographic locations.
Note: Capitaland Retail China Trust has since been renamed to Capitaland China Trust
What's The Bull Case?
With the updated investment mandate, they can acquire not just retail malls but also, office and industrial properties. Not to mention, they can also acquire across Hong Kong and Macau as well, not stuck to just China assets. This huge change widens CRCT's range of possible acquisitions, especially from their sponsor, Capitaland.
CRCT can now leverage on a much bigger pipeline from its Sponsor, with more than 80 assets that could be pipelined into CRCT just in China alone, not adding in assets that are in Macau and Hong Kong. This definitely presents a huge upside for CRCT in the long run and investors should start taking advantage of it before it runs much higher.
If you are interested in CRCT, you can check out my in-depth analysis here.
#2 Parkway Life REIT
Next on my list of REITs to watch in 2021 is Parkway Life REIT (SGX: C2PU), Singapore's only REIT that has never issued any equity ever since its IPO. The healthcare REIT is definitely a powerhouse that should be in every dividend investor's portfolio for its overall defensiveness and growth potential.
What's The Bull Case?
Parkway Life REIT has also made some hints at a possible acquisition into a new market. We can definitely expect it to happen in 2021, where interest rates are still low and opportunities are many with the economy still in the midst of recovering.
As Parkway Life REIT is a healthcare REIT, this means that they are relatively defensive as healthcare is a necessity, even more so in times like these. The REIT has consistently grown its DPU over the past few years without any major acquisitions or equity fundraising, which is great for shareholders who have held on over the years.
If you are interested in Parkway Life REIT, you can check out my in-depth analysis here.
#3 Frasers Centrepoint Trust
3rd on my list of REITs to watch in 2021 is Frasers Centrepoint Trust (SGX: J69U), a retail REIT targeting heartland malls in Singapore. With Singapore moving into Phase 3, investors are transitioning into retail REITs so that they can ride on the recovery wave as our economy slowly recovers.
What's The Bull Case?
Well, the upside is definitely linked to how fast the economy recovers, and thanks to the Singapore government giving out free vaccines, we can definitely expect the economy to recover fast.
With its recent acquisition, it has expanded its overall portfolio, adding on more heartland malls that have been doing well before the covid pandemic. This positions the REIT very well for when the economy recovers and we can expect to see it reach previous highs and even set all-time highs as we move into 2021.
You can check out my in-depth analysis here.
#4 Ascendas India Trust
4th on my list of REITs to watch in 2021 should come as a very unexpected one, Ascendas India Trust (SGX: CY6U). The REIT is not as popular amongst investors due to its assets being in India, which has a weak currency against the Singapore Dollar. This can forex difference can definitely impact a REIT's performance.
What's The Bull Case?
Ascendas India Trust has 2 pipeline assets that will be completed in 1H 2021. Once completed, they can be pipelined into Ascendas India Trust should the acquisition be DPU accretive or if the manager sees a positive upside to it.
Secondly, there is also the Ascendas India Growth Programme, where its sponsor, Capitaland, is planning to more than double its Assets Under Management (AUM) in India to $7B by 2024, from its current $3.3B. As Capitaland acquires more assets in India, this expands AIT's potential pipeline that it can acquire should Capitaland offer AIT Right Of First Refusal (ROFR).
Assuming 50% of the new AUM (worth $3.7B) can be pipelined into AIT via ROFR, that will result in AIT more than doubling its AUM. With AIT's gearing being at a very conservative 29%, we can expect huge acquisition opportunities shortly moving into 2021.
You can check out my recent results analysis here.
#5 Keppel DC REIT
5th on my list of REITs to watch in 2021 is Keppel DC REIT (SGX: AJBU), Singapore's first and only pure Data Centre REIT. This is arguably Singapore's most defensive yet fastest growing REIT, with Parkway Life REIT coming in for a close second place.
What's The Bull Case?
Other than the fact that KDC REIT by itself is growing at a remarkable pace, we can expect to see some form of acquisitions this year as its sponsor, Keppel, has started building an innovation they call "Floating Data Centre Parks".
From what I can find, Keppel Data Centres has 3 featured projects, 1 of which is Ready for service, 1 is targeted to be ready by 2020/2021, and 1 targeted to be ready by 2022. These 3 data centers could definitely be part of KDC REIT's potential pipeline and could potentially be acquired this year should its manager see an accretive opportunity.
You can check out my recent results analysis here.
#6 Mapletree Industrial Trust
Last but not least, the 6th REIT on my list of REITs to watch in 2021 is Mapletree Industrial Trust (SGX: ME8U), Mapletree's soon to be Data Centre REIT. After Mapletree Industrial Trust's recent acquisition, the REIT now has 39% of its portfolio in Data Centres and 59.9% of its portfolio in Hi-Tech buildings.
What's The Bull Case?
With Mapletree Industrial Trust's portfolio leaning more towards Data Centres and Hi-Tech Buildings, this brings increased resiliency to the overall portfolio. The global demand for Data Centres is increasing and will continue to increase well into the next 5 years.
The manager's great foresight for the future as well as aggressive acquisition strategy allows shareholders to invest with peace of mind, knowing that their hard-earned money is well managed. Moving into 2021, we can start to see the full effects of the acquisition, starting with an increase in overall DPU as well as NPI.
You can check out my recent results analysis here.
Final Thoughts
I believe that the stock market is heading towards the start of a new bull market with technology and disruptive innovation leading the way. This is why 3/6 of my REITs to watch in 2021 are industrial REITs with Hi-tech buildings and Data Centre assets. This gives me exposure to the head of the bull if the market starts to trend upwards as the economy starts to recover.
I personally have positions in all 6 REITs here and I am very excited to see what happens in 2021 with all my picks. I am very confident in these REITs, with their ability to stay resilient, ride on the recovery wave, and still maintain a stream of cash flow for me to reinvest with. I also chose these 6 REITs, not for their high dividend yield or flashy numbers, but rather for their huge growth potential over the next 3-5 years.
As always, you can take a look at my portfolio updates to see my current positions! Also, use my referral code for an extended 3 months of premium access to StocksCafe! P.S. I'm running a telegram chat group for you guys to share and discuss investment-related topics so come on in! I'll be there too! You can join the chat here: https://t.me/joinchat/D4iHeEVapnGC1lWcFEupVw
Are you new to the stock market and don't know what you should do to avoid losing half your portfolio through bad picks? Or perhaps you are an experienced investor/trader looking for fantastic opportunities and picks in the market that you might have missed out on?
If so, look no further because I am running a Premium Subscription that offers services such as:
Access to both my Singapore and US Tech Watchlist with Preferred Entry Prices
Telegram Group Invitation Where I Share Market Updates and My Personal Views
Monthly Tradable Opportunities with Trade Setups
On-Demand In-Depth Fundamental and Technical Analysis on Any Stock of Your Choosing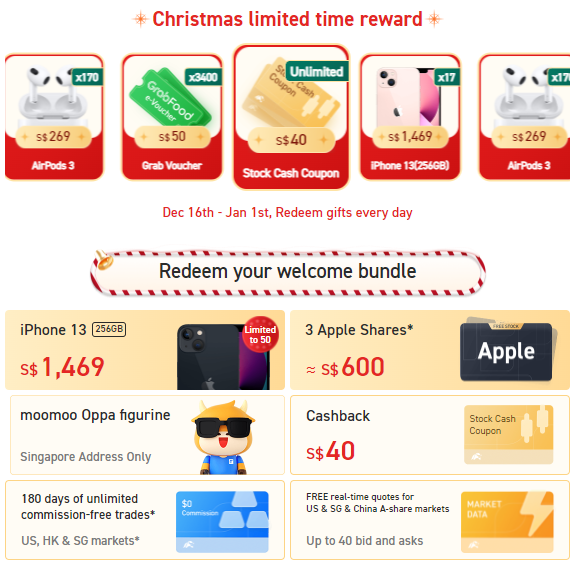 For the ongoing promotional period (Nov 30th – Dec 31st), when you deposit (First Deposit) SGD 2,700 successfully into your account, you will be rewarded 1 Apple (AAPL) share worth around SGD 220 as well as an SGD40 Stock Cash Coupon Bundle. Stand a chance to win a brand new iPhone 13 (256GB ,~S$ 1,469), Airpods 3, $50 Grab vouchers as well as $40 Stock Cash Coupons during the Christmas limited time reward promotion that is ongoing between Dec 16th – Jan 1st.
If you have yet to sign up for a FUTU SG securities account with moomoo powered by FUTU you can use my referral link here. For opening an account, you will be given 180 days of unlimited commission-free trades across the US, HK, and SG markets (do not apply for Stock Options and Futures). You will also be given free real-time Level 2 US Market Data, Level 1 SG Market Data, and now Level 1 for China A shares too!
Read Also: moomoo Trading App Review: Everything You Need To Know in 2021