Mapletree Industrial Trust recently acquired the remaining 60% interest in 14 Data Centres in the United States. With Data Centres being the next big thing, being heavily leveraged on because of the huge tech industry that is growing even bigger day by day. Let's look at 4 key takeaways from the 1H2020 Results of Mapletree Industrial Trust to see how the REIT is doing post acquisition.
1. Consistent Growth in Gross Revenue and NPI
| Year on Year Difference | 1st Half 2020 | 1st Half 2019 |
| --- | --- | --- |
| Gross Revenue | S$202.456 million (+0.5%) | S$201.447 million |
| Net Property Income (NPI) | S$160.254 million (+1.5%) | S$157.908 million |
As we can see, Gross Revenue grew slightly year on year by about 0.5% with the overall NPI growing 1.5% year on year. Though the numbers might seem small, I want to talk about something that is missing in this segment. MIT's previous 40% stake in the 14 Data Centres are not represented in these 2 segments. It is actually represented in the Share of joint ventures segment, which grew tremendously, almost 200% year on year.
Keep on reading as I'll be talking about this in the last part of the article.
2. Theoretical DPU Went Up But Actual DPU Fell Slightly
| Year on Year Difference | 1st Half 2020 | 1st Half 2019 |
| --- | --- | --- |
| Distributable Income | S$143.442 million (+13.2%) | S$126.748 million |
| Theoretical Distribution Per Unit (DPU) | 6.32 cents (+1.4%) | 6.23 cents |
| Actual Distribution Per Unit (DPU) | 5.97 cents (-4.2%) | 6.23 cents |
Mapletree Industrial Trust's Distributable Income increased by 13.2% from the year prior. The increase was mainly due to the increase in NPI and distributions declared by joint ventures. Distributions declared by joint ventures were higher due to distribution from Mapletree Rosewood Data Centre Trust.
Mapletree Industrial Trust retained about S$7.1 million or 10% of the distributable income in view of the COVID-19 pandemic. Most REITs have adapted this policy as to help them tide over this tough time where tenants might not be able to pay rent so this is not much of a surprise.
The theoretical DPU if they did not retain any capital would be 6.32 cents, representing a 1.4% increase from the year prior. It is also good to note that MIT gave an advanced distribution which is why the theoretical DPU is 6.32 here.
Taking into account the retained capital and the advanced distribution of 0.03 cents, the actual DPU fell to 5.97 cents, representing a 4.2% drop form the year prior.
The small DPU drop is not really bothering me because I am a long term investor and I am very bullish on MIT especially with their new acquisition. I will explain further at the end of the article so stay tuned.
3. Healthy Financials
| | As at 30 Sept 2020 | As at 30 June 2020 |
| --- | --- | --- |
| Aggregate Leverage | 38.1% | 38.8% |
| Interest Coverage | 7.3x | 7.2x |
| Average Cost of Debt | 2.7% | 2.6% |
Taking a look into Mapletree Industrial Trust's financials, we can see that they are doing pretty well, with an interest coverage ratio of 7.3x as well as a very low cost of debt at 2.7%. MIT also managed to decrease their gearing from 38.8% in the quarter prior to 38.1%.
4. Data Centre Acquisition Proving To Be A Valuable Asset
Now that the Data Centre acquisition has been completed, we can start to see the full effects of the acquired assets and how it will boost Mapletree Industrial Trust's NPI and DPU in the next 12 months.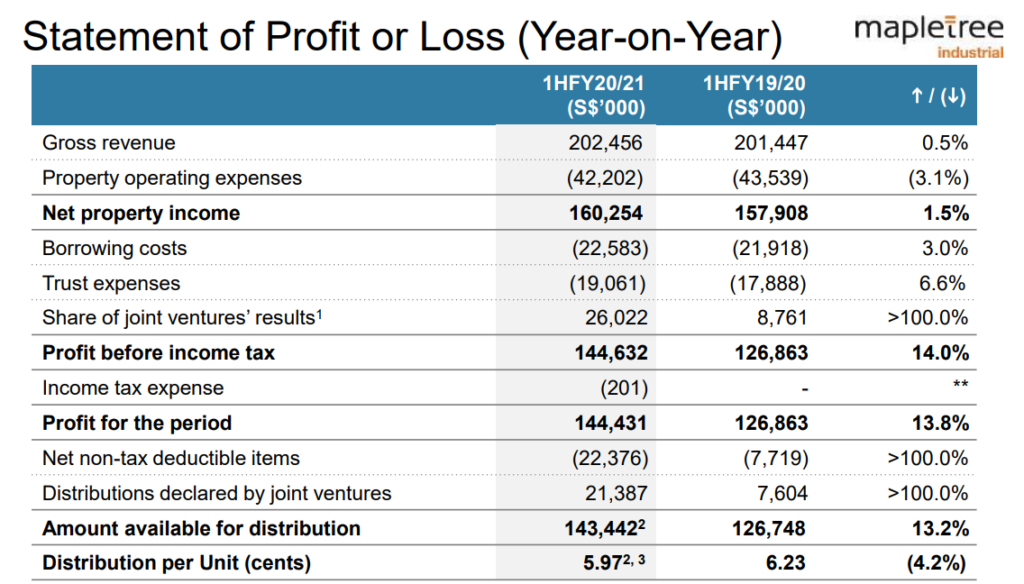 In the statement of profit or loss, you can see under Share of joint ventures and distributions declared by joint ventures, is where the Data Centre interest was contributing to previously. We can definitely see that the joint ventures portion helped Mapletree Industrial Trust post a much higher profit for the half. With only 40% interest previously, we can already see how big the jump is year on year and can definitely expect similar results being shown on the NPI and DPU of Mapletree Industrial Trust with the remaining 60% interest being acquired.
Final Thoughts
Overall, the 1H2020 results of Mapletree Industrial Trust is very promising. The REIT has a very long track record of constantly performing better year on year. The only REIT that can be compared to it is Keppel DC REIT.
With the acquisition of the 60% remaining interest in the 14 Data Centres, I can't wait to see the strong increase in DPU as well as NPI for MIT. Most investors are blinded by the numbers that are put in Gross Revenue and NPI, and miss out on the fact that these numbers don't include the Data Centre contributions. If these were to be factored in, we can definitely expect a greater than 5% jump in DPU in the next 12 months to come.