Keppel DC REIT (SGX: AJBU) is Singapore's first and only pure data centre REIT as well as the most overpriced REIT, with a PB of 2.35x @ $2.75/share. Its share price is already up more than 32%, making it the best performing REIT year to date. Let's take a quick look at the 3 key takeaways from the 1H results of Keppel DC REIT.
1. Huge Growth in Gross Revenue and NPI
Keppel DC REIT has managed to grow its Gross Revenue and NPI by a huge amount, 29.8% and 32.1% respectively. This is an insane growth from the year prior. This growth is achieved through the acquisitions done in 4Q 2019 (Keppel DC Singapore 4 and DC1) as well as in 1H 2020 (Kelsterbach Data Centre). These acquisitions will also further enhance their 2H 2020 results, growing the REIT's performance for the year.
2. Phenomenal Growth in DPU
Keppel DC REIT has managed to increased their DPU year on year by a remarkable 13.6%. For a dividend growth investor like myself, KDC is a must have in my portfolio because it's very hard to find companies that can consistently increase their dividends year on year for a long period of time.
They have consistently increased their DPU year on year since IPO and I'm confident that they have the capabilities to continue to do so even in tough times like right now.
3. Resilient Portfolio and Healthy Financials
Keppel DC REIT has maintained a high portfolio occupancy of 96.1% as well as a long portfolio WALE of 7.4 years. KDC has also maintained a very low aggregate leverage of 34.5% as well as a very high interest coverage ratio of 12.8x.
KDC's current financial health allows them to take advantage of any potential acquisitions that may appear in the coming months without diluting shareholders through an effective fundraising (EFR).
Final Thoughts
Overall, the 1H results of Keppel DC REIT is outstanding. This REIT is a very unique REIT as it's the only pure DC REIT in Singapore. The only REIT that can be compared to KDC is Mapletree Industrial Trust which has 39% of its portfolio in data centre properties.
Should We Buy Keppel DC REIT Now?
Let's take a look at the valuation of Keppel DC REIT.
PB Ratio : 2.35x
PE Ratio : 27.2x
Dividend Yield : 3.18% (Assuming KDC pays the same amount of distribution in 2H 2020)
Note = Currently at its all time high price
Yes to the common investor, these valuations are insanely overpriced and only a fool would buy at its current price. Well, I'm one of the fools who bought KDC a few weeks back, as well as some of my members. I'm happy to say that us fools are sitting at a nice 13.6% profit not including the upcoming dividends which is another 1.81%.
My take is that KDC is a premium REIT. Similar to when eating steak, you can't buy premium steak at the same price as you would with a normal steak. You have to pay a premium to buy premium quality assets. Similarly to KDC, as I've explained to the members of my subscription group, I don't mind paying a premium to buy KDC because I'm investing in the company and its assets, not the share price and some valuation numbers. I'll leave you with one wise quote, "Cheap can become….Cheaper. High can go….HIGHER".
As always, you can take a look at my portfolio updates to see my current positions! Also, use my referral code for an extended 3 months of premium access to StocksCafe! P.S. I'm running a telegram chat group for you guys to share and discuss investment-related topics so come on in! I'll be there too! You can join the chat here: https://t.me/joinchat/D4iHeEVapnGC1lWcFEupVw
Are you new to the stock market and don't know what you should do to avoid losing half your portfolio through bad picks? Or perhaps you are an experienced investor/trader looking for fantastic opportunities and picks in the market that you might have missed out on?
If so, look no further because I am running a Premium Subscription that offers services such as:
Access to both my Singapore and US Tech Watchlist with Preferred Entry Prices
Telegram Group Invitation Where I Share Market Updates and My Personal Views
Monthly Tradable Opportunities with Trade Setups
On-Demand In-Depth Fundamental and Technical Analysis on Any Stock of Your Choosing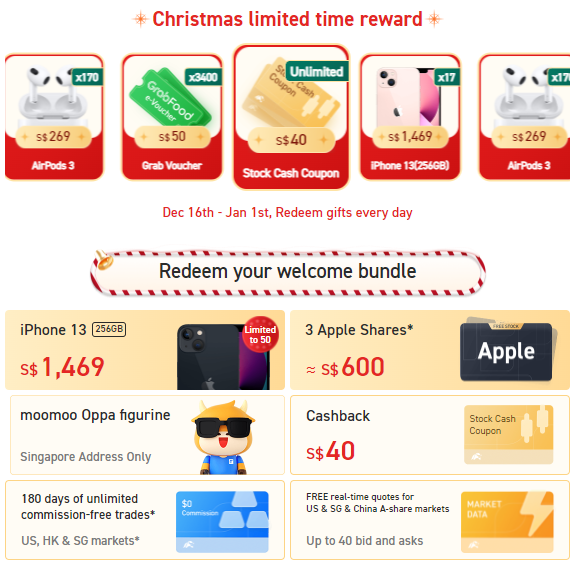 For the ongoing promotional period (Nov 30th – Dec 31st), when you deposit (First Deposit) SGD 2,700 successfully into your account, you will be rewarded 1 Apple (AAPL) share worth around SGD 220 as well as an SGD40 Stock Cash Coupon Bundle. Stand a chance to win a brand new iPhone 13 (256GB ,~S$ 1,469), Airpods 3, $50 Grab vouchers as well as $40 Stock Cash Coupons during the Christmas limited time reward promotion that is ongoing between Dec 16th – Jan 1st.
If you have yet to sign up for a FUTU SG securities account with moomoo powered by FUTU you can use my referral link here. For opening an account, you will be given 180 days of unlimited commission-free trades across the US, HK, and SG markets (do not apply for Stock Options and Futures). You will also be given free real-time Level 2 US Market Data, Level 1 SG Market Data, and now Level 1 for China A shares too!
Read Also: moomoo Trading App Review: Everything You Need To Know in 2021