With more and more online brokerage firms coming into the Singapore market, investors are having difficulty deciding which brokerage they should use for their investment needs. Ideally, you would want a broker that is easy to use, offers a wide variety of trading products, and charges low commission fees. In this article, I'll be comparing uSMART, Tiger Brokers and Moomoo, explaining where each online brokerage stands out best so that you know which one you should use based on your investment needs.
Disclaimer: This article is written in collaboration with uSMART Singapore. All views expressed in the article are the independent opinions of sgstockmarketinvestor. This article is intended for information purpose only and should not be construed as financial advice. This advertisement has not been reviewed by the Monetary Authority of Singapore.
Background
I think there isn't a need for in-depth coverage on all 3 of these online brokerage firms as well as their background as they are already well familiarized with local investors, being around for quite some time now except for uSMART which just recently came onto the scene. I have done coverage on uSMART before, link below if you are still new and unfamiliar with them.
uSMART: uSMART Finally Comes To Singapore! Check Out The New Broker In Town
Product Offering
Firstly, we will look at the product offerings across the 3 brokerages. At a glance, uSMART, Tiger Brokers, and Moomoo all offer their users access to the US, Hong Kong, and Singapore markets. What differentiates the 3 would be that firstly, uSMART is the only one that offers fractional shares, which is an up-and-coming feature that brokerages are starting to offer to its users. Fractional shares give smaller retail investors the ability to invest in companies that have a higher share price such as Berkshire Hathaway (A Shares) (BRK.A) which is priced at ~$467,650/share or Amazon (AMZN) which was priced at ~$2,500/share. On the other hand, Tiger Brokers and Moomoo both offer their users the ability to invest in funds. This gives newbie investors as well as "lazy" investors the option to invest in funds that are run by professionals or that are built with a certain theme in mind like "clean energy" or "tech".
Platform Features
Moving onto platform features, investors should focus on a few key factors such as:
How easy it is to use the platform (User-friendly)
Access to various news articles or content that can help investors improve
Advanced order types to meet the needs of all situations
First of all, across all 3 brokerages, they are all built to be relatively user-friendly with a very intuitive phone app as well as a desktop app that you can utilize depending on what is more convenient for you. As for the second point, all 3 brokerages offer a "Discover" section where you can discover the new and hottest trending stocks across the market. Perhaps uSMART stands out here as their Daily Stock Picks and Featured Strategies are developed in-house by their Chief Analyst and investment team.
All 3 brokers have their own dedicated community section where investors can share and discuss investment ideas and topics. In addition, uSMART offers additional content and a community section through their learning tab. Inside the Learning tab, users can learn directly from investment experts via chatrooms and investment courses. It also offers bite-sized and engaging financial TikTok style videos under BeeRich tab.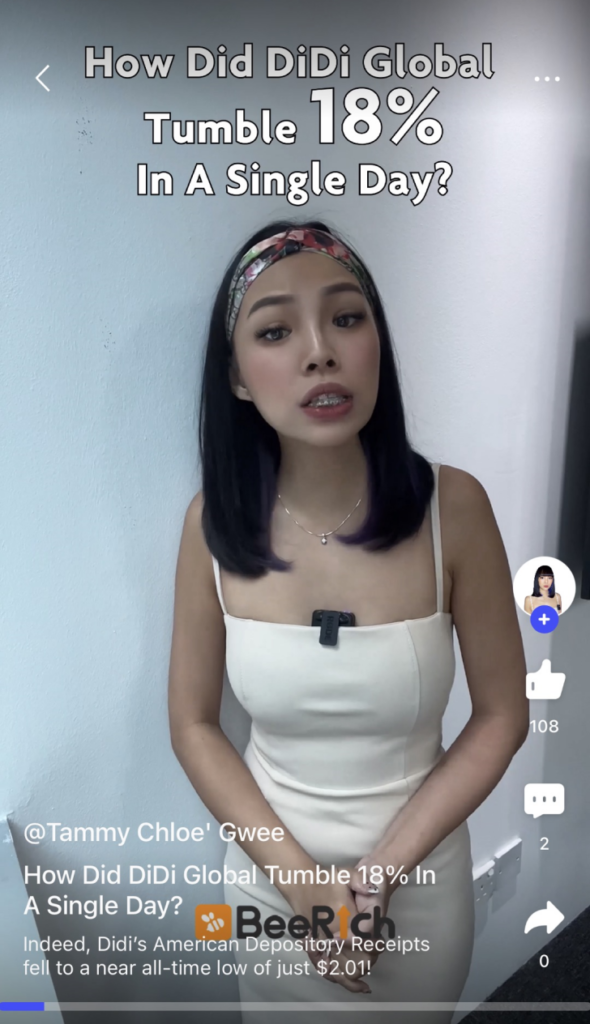 As for the third point, apart from the normal "Limit" and "Market" orders, we also look out for the more in-depth order types that are more suitable for traders and shorter-term investors. For uSMART, Tiger Brokers, and Moomoo, they all offer in-depth advanced order types such as Take Profit, Stop Loss, Stop-Limit as well as Trailing. However, I feel that uSMART is more user-friendly in this aspect as their SMART orders are named and explained in a manner which is easy to understand and use.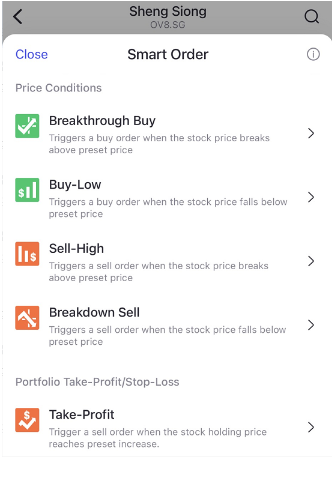 Commission & Fees
The third point I will be comparing across the 3 local brokerages will be the commission and fees which is the key deciding point for investors when choosing which to use. Overall, lower fees will result in you retaining more of your profits since there will be lesser fees eating into them.
SG Stock
HK Stock
US Stock
US Option
uSMART Trader
0.05%*
No Min.
0.024% + HKD12
USD0.008/share
Min. USD1.50
USD0.50/contract
Min. USD1.20
uSMART Standard
0.05%*
No Min.
0.03% + HKD12
USD0.009/share
Min. USD1.88
USD0.80/contract
Min. USD1.50
Tiger Brokers
0.06%
Min. SGD1.99
0.06%
Min. HKD15
USD0.005/share**
Min. USD1.00
USD0.95/contract
Min. USD2.99
Moomoo
0.06%
Min. SGD1.98
0.03%
Min. HKD15
$0***
USD0.95/contract
Min. USD2.98
* Note that uSMART's no minimum commission and platform fee will last until 31st December 2022
** Note that Tiger Brokers still charges a platform fee of USD0.005/Share with a minimum of USD 1 / Order
*** Note that Moomoo is only charging a $0 platform fee for 1-year, thereafter will be US 0.99 / Order
As we can see, if you invest more in the SG and HK markets, uSMART would be the better option since they offer much lower fees with the SG side not charging any minimum commissions as well. If you invest more in the US market, Tiger Brokers and Moomoo are now offering a promotional $0 commission for its users. Oddly, if you are investing in US Options, uSMART would be the superior option with a much lower minimum commission and cost per contract.
New Signup Rewards
Last but not least, if you have yet to sign up for any of these 3 online brokerage firms, perhaps the new signup rewards could entice you to pick 1 over the others. As of June 2022, below are the new signup rewards as well as the minimum deposit you will have to make to be eligible for them.

First of all, uSMART and Tiger Brokers only require a minimum deposit of SGD2,000 to be eligible for the new signup rewards while Moomoo requires a minimum deposit of SGD2,700. All 3 do offer US and SG live market access for all new signups. As for stock vouchers, uSMART is offering the highest amount (SGD 15) while Moomoo comes in second (SGD 10), and Tiger Brokers offering the lowest (SGD 5). Comparing stock rewards, uSMART is offering a flat 0.1 share of TSLA which is worth approximately SGD100 whereas Tiger Brokers and Moomoo are doing a "lucky draw" whereby your stock rewards can range anywhere from ~SGD18 to ~SGD1065 depending on which brokerage you are signing up with.
When you put everything together, uSMART seems to be the best option with the lowest minimum deposit required (SGD2,000) with the highest expected value rewarded back to users (~SGD115). Only if you are feeling lucky, you could opt for Tiger Brokers or Moomoo where you can win 1 TSLA share which is worth ~SGD1065 (not guaranteed and I am not sure the probability). If you are unlucky, you will only get 1 AMC share ~SGD 18 or 1 NIO share ~SGD25.
Final Thoughts
Now that we have compared all 3 online brokerage firms, which should you go for? If you are focused on the SG and HK markets as well as trading US Options, uSMART is the superior option. For the US market, currently, Tiger Brokers and Moomoo charge the lowest with 0 comm, Tiger Brokers charges a platform fee of 0.005/share(min USD 1) while Moomoo will charge a min of USD 0.99 after 1 year. uSMART's charges a minimum of US $1.50. Outside of the promo, I would say that all 3 brokers' platform fees are relatively the same.
On product offering, all 3 brokers offer US/SG/HK market. Tiger Brokers and Moomoo offer Funds while uSMART has Fractional Shares, Fin-tok style learning content, and SMART orders. If I am a very active trader and trade multiple times daily in the US market, Moomoo will make sense now as they have the lowest charges. but if I am an active trader in SG, HK, and US options, I will go with uSMART. Last but not least, if I am new to investing, picking up the ropes, and looking for an app that teaches me and easy to understand UI, I will go with uSMART as it's more friendly to new investors. given its product, features, and no min comm for the SG market.