More and more brokerage firms are offering their services in Singapore, offering competitive commission rates and enticing welcome gifts and promotions. uSMART has just started its platform in Singapore after obtaining its CMS License from MAS in December 2021. Let's take a deep dive into the uSMART SG platform and see how they fare against other online brokers available in Singapore.
Disclaimer: This article is written in collaboration with uSMART Singapore. All views expressed in the article are the independent opinions of sgstockmarketinvestor. This article is intended for information purpose only and should not be construed as financial advice. This article has not been reviewed by the Monetary Authority of Singapore.
Who is uSMART?
Founded in Dec 2018, uSMART Group was incorporated in Hong Kong and speedily got its license approved by Hong Kong's SFC and launched uSMART Hong Kong app in July 2019. uSMART Group management team is comprised of members from well-known technology & financial firms including Tencents, Alibaba, Goldman Sachs & UBS.
The app and services were well received, receiving the "Most Innovative Data Provider of the year award" from the Hong Kong Exchange. The overall company grew rapidly since its launch, completing its Series B funding of USD 100m in Feb 2021, counting prominent HK conglomerate Chow Tai Fook Group as one of its strategic investors.

Aspiring to bring its solutions to a global audience, uSMART foray into Singapore. uSMART Singapore received its Capital Market License (CMS) from MAS in December 2021. Within 4 months, they have developed an investment app from scratch to cater to the needs of investors in the region.
Similar to other online brokers, the uSMART SG app offers global markets like U.S., SG, and HK. Products like stocks, options, and ETFs. Apart from global markets and products, uSMART also offers new to investing clients the ability to learn about investing via light-hearted content & educational courses, Intelligent screeners, and smart order types to aid investors in execution.
Safety
As mentioned above, uSMART SG is a holder of CMS license which means they are regulated by MAS. In addition, uSMART SG has the statutory requirements to ensure all funds and securities are kept in a segregated custodian account. This means that uSMART users' money & assets in the account are safe!
In addition, the Singapore team is made up of experienced personnel from various prominent brokers which means the company is in good hands.
Product & Features
Just like other online brokers in Singapore, uSMART offers access to 3 key markets namely US / SG / HK along with US options. They offer 2 account types, uSMART Trader and uSMART Standard. The Standard account is more friendly to newer investors while the Trader account is more suitable for experienced or high-frequency traders.
The 2 accounts mainly differ in terms of fees where the Trader account enjoys a slightly lower fee structure whereas the Standard account will be using the original fee structure. Alternatively, the Standard account gets to enjoy the new Welcome gifts (more info below) whereas the Trader account doesn't. Regardless of which account you use, you still get to enjoy super low fees with no minimum commission fees when trading in the SG market.
Smart Order
Traditionally, you can execute your buy/sell trades through a few types of orders such as market orders and limit orders. With uSMART, you can also execute Smart Orders which include:
"Breakthrough Buy", which triggers a buy order when the stock price breaks through a preset price,
"Buy-Low", which triggers a buy order when the stock price has fallen below a preset price,
"Breakdown Sell", which is the exact opposite of a "Breakthrough Buy" and
"Sell-High", which is the exact opposite of a "Buy-Low".
The benefit of Smart Order is that you will be able to capture the opportunity you want, even if you are not monitoring actively. For example, stock A is $50 now and you want to buy at $40, which may require you to wait for a long period. You can set a Buy-Low order at a $40 Trigger Price for 90 days. 30 days later, the stock price hits $40, your Buy order will automatically be placed, while you may be enjoying a holiday in Bali.
Comparing Against Other Brokerages

Based on the comparison table above, we can see that Tiger Brokers is charging the highest. While very close in terms of fee structure with Moomoo, uSMART is still cheaper. In addition, uSMART doesn't charge a minimum commission fee for SG trade. Options trades are also much cheaper on uSMART platform as compared to other brokerages.
Discover
Additionally, the uSMART platform also comes with a Discover page that lets users explore new investment opportunities through "Daily Stock Picks", "Featured Strategies", a community page for users to converse and share ideas as well as a News tab that shares daily news updates.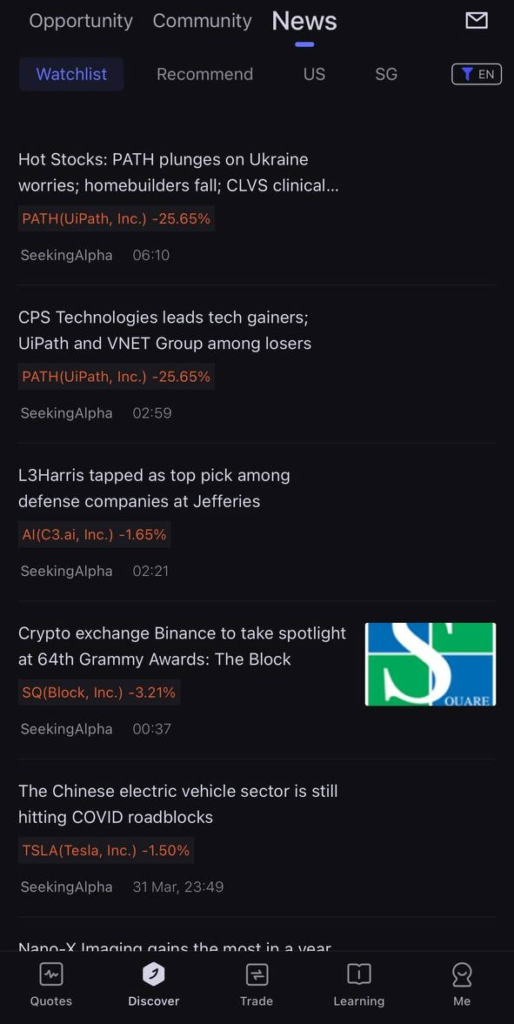 The News tab also lets you sort by "Watchlist", "Recommended" or by markets such as US or SG. This is very convenient, especially for users who just want to stay up to date with the stocks in their watchlist/portfolio instead of the overall market which can be flooded with news daily.
Learning
Lastly, the uSMART platform also has a "Learning" section that not only aims to onboard the newer investors and help them with their journey as they start investing but also provides a platform for more experienced investors to share their ideas and provide help to the community.

What really stood out to me was the BeeRich tab, which contains TikTok style short videos on finance/investing related topics! It was indeed quite refreshing to see such a feature on a broker app!
There is also a Chat section that allows users to interact with Experts. Users can ask any questions under the sun in the Chatroom!
Welcome & Referral Promotion
For all investors who want to sign up, uSMART offers a very enticing welcome promotion. Once you open a new uSMART Standard account, you will be awarded free lvl 1 real-time market data for both US and SG markets as well as an SGD15 Cash Voucher. If you make a first deposit of more than SGD2,000, you will be rewarded with either a "Live" investment master course (worth SGD720) or 3 Bitcoin ETF (BITO) Shares (worth SGD110).
The "Live" investment master course is a full-day course where investors can learn about Technical Analysis or ETF in depth from uSMART Market Strategists!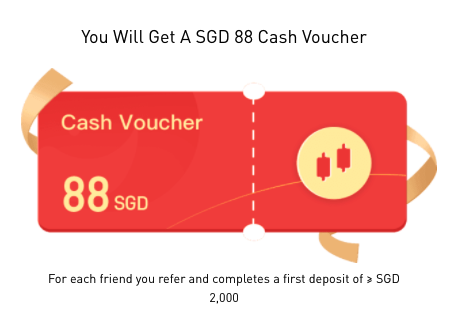 On top of that, uSMART is also running a referral program for all users. You just need to refer a friend to sign up for an account and make the first deposit of more than SGD2,000 and you will be rewarded with an SGD88 Cash Voucher while your friend will be entitled to all welcome gifts as mentioned above.
To sign up, you can use this link or my referral code (nylw5n) to enjoy all the above welcome gifts and promotions.
How To Sign Up?
To fully sign up for an account with uSMART, you will need to download their mobile app (uSMART SG) which can be easily found on the App Store or Google Playstore. Once you've downloaded it, simply sign up for an account which can be conveniently done using Singpass. The account activation usually takes less than 1 business day and you can then fund your account and start trading. As for funding, you can fund the account using PayNow, FAST, or eGIRO (funds arrive in minutes and will support 9 banks).
Final Thoughts
All in all, it looks like the investors in Singapore have gained yet another brokerage to choose from. In addition, uSMART is currently charging the lowest in terms of fees and has a very attractive welcome and referral promotion. With the company being licensed with MAS, it is a very safe broker to use.