With the stock market and interest rate environment being very volatile in recent months, investors and traders are looking for new opportunities to profit from the market with certainty. I have previously covered uSMART, an online broker which has been in the local market for over a year now, with articles here & here. Since then uSMART has launched a whole suite of products such as Fractional Shares, SMART (Regular Savings) Plan & Interest Reward Promotion! Just recently, uSMART also launched 2 new features to their app that could potentially help you trade better. Without further delay, let's dive right into it.
Disclaimer: This article is written in collaboration with uSMART Singapore. All views expressed in the article are the independent opinions of sgstockmarketinvestor. This article is intended for information purpose only and should not be construed as financial advice. This article has not been reviewed by the Monetary Authority of Singapore.
New Features
As uSMART continues to expand and improve its user experience, they have introduced FX and Grid Trading that provide users with new avenues to trade the financial markets.
As we are all aware, the stock market and other relevant products went through a period of low in 2022. But do you know that Forex market activities are generally not correlated?
Forex CFD

Understanding that different product is necessary when the stock market is slow, uSMART introduced Forex CFD, which allows you to trade Forex using CFDs, also known as Contract for difference. uSMART offers trading with over 80 Forex pairs and spreads from 0.5 pips! With Forex CFD at your fingertips, you can anticipate the movement of currency pairs without actually owning the underlying currencies. Instead of settling a set amount of base currency, CFDs are cash-settled, based on the difference between the opening and closing price of a pair of currencies.
This provides traders and even investors the opportunity to not only trade in the stock market but also trade in the forex market as well, all within the uSMART app. With Forex CFD, you can profit from price movements in both directions (long or short). As the Forex market is always active (24 hours) throughout the week, only closing on weekends, this provides you with alternate trading opportunities when the stock market is closed.
Why Use CFDs Instead of Traditional FX?
When trading with Traditional FX, you are speculating on the value of one currency against the other. Usually, you would have to put money down to own the physical currencies. With CFDs, you can get the same exposure, without the ownership of the physical currencies. CFD also allows you to put less initial capital upfront and still enjoy the same upside.
Where Can You Find It In-App?
You can find Forex CFD at [uSMART APP -> FX] as shown below.
You can trade Forex CFDs similarly to how you trade stocks on the uSMART app as shown below.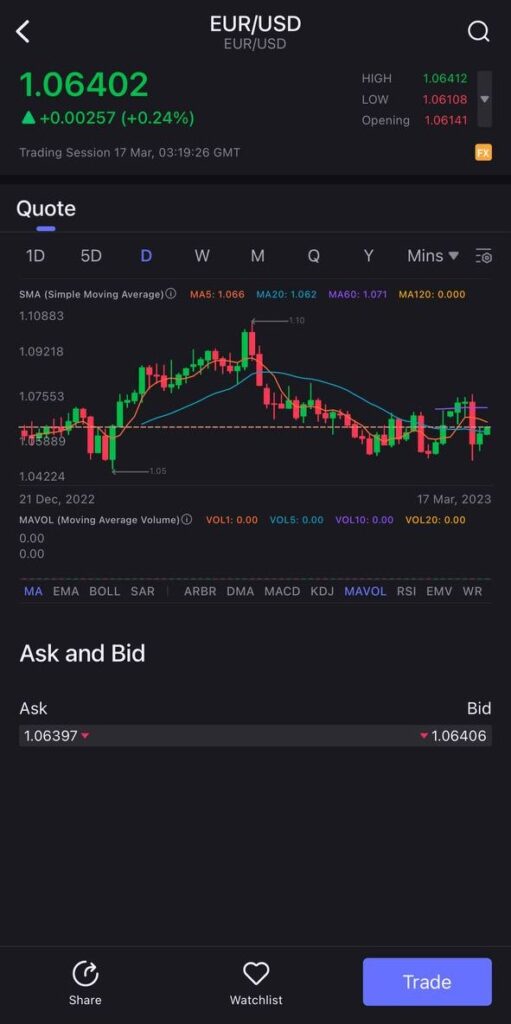 You are able to buy or sell the currency pair, depending on which side of the pair you are bullish/bearish on.
For more information, you can visit the uSMART website for all the details HERE.
Grid Trading
The second new feature launched by uSMART is Grid Trading, which is a new SMART advanced order type. This SMART order allows you to trade systematically with a pre-determined strategy which involves placing buy and sell orders within a stock price range. The goal of grid trading is to allow investors and traders to profit from the natural volatility of the market by buying low and selling high, without the need for precise market timing.
Some of the advantages of using Grid Trading include:
Automated orders, allowing you to save time and reduce the emotional stress of manual trades
Allow you to profit from market volatility
Can be used in both Bullish and Bearish markets
Has a strong anti-risk ability and considerable returns during the consolidation
So when would an investor or trader use Grid Trading? If you expect a stock to fluctuate within a certain price range and hope to make a profit by buying low and selling high, then you might want to use Grid Trading to help you achieve this with minimal effort.
Where Can You Find It In-App?
You can find Grid Trading at [uSMART APP -> Trade -> SMART Order -> Grid Trading] as shown below.
Under SMART Order, you can find the various SMART order types.
After you have navigated to the Grid Trading page, you are able to set your conditional price points such as when to buy and sell. You can choose the price range, either by percent or absolute number. In the example below, the initial base price was set to be 32.77 and the spread 0.50.

This means that if DBS moves down to 32.27, a BUY order of 1000 shares at last done price will be put into market. The new base price will then be 32.27.

From here, if DBS goes up 0.50 to 32.77, a SELL order for 1000 shares will go into market, new base price will be back to 32.77. Likewise, if DBS goes down 0.50 from 32.27 to 31.77, another BUY order for 1000 shares will be put into market, new base price will be 31.77.
Each movement is SGD $500, which is pretty decent money for a stable stock like DBS!
As you can see from the example above, Grid Trading is extremely useful if you think that a stock is trading in a band, allowing you to execute your trades without constantly monitoring the market!
For more examples & details on Grid Trading, you can go to [uSMART App -> Trade -> SMART Order -> Grid Trading -> Type], as shown below, to find out more.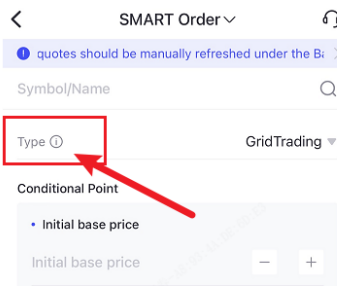 Final Thoughts
In conclusion, uSMART has been making strides in the industry with its innovative features and commitment to providing a safe and user-friendly platform for investors and traders alike. With its launch of Forex CFD and Grid Trading feature, uSMART is offering even more opportunities for users to trade the financial markets with certainty and ease. As a licensed and regulated broker, users can trust that their funds and assets are secure with uSMART. Whether you are a seasoned investor or new to investing, uSMART has something to offer for everyone. Don't miss out on this opportunity and start using uSMART today.