Mapletree Logistics Trust (SGX: M44U) has just announced a S$1bn acquisition consisting of 9 properties in China, Malaysia and Vietnam right after their 1H2020 results release. This acquisition has definitely triggered some attention from investors all around. Without further ado, let's take a quick look at the 1H2020 results and a deep dive into the proposed acquisition
1H2020 Results
Consistent Growth in Gross Revenue and NPI
| Year on Year Difference | 1st Half 2020 | 1st Half 2019 |
| --- | --- | --- |
| Gross Revenue | S$264.229 million (+9.4%) | S$241.561 million |
| Net Property Income (NPI) | S$237.694 million (+10.4%) | S$215.254 million |
Yet another consistent quarter by Mapletree Logistics Trust, growing its Gross Revenue as well as its NPI year on year. The growth is mainly due to the completed redevelopment of Ouluo Phase 2 in Shanghai as well as overall higher contribution from existing properties. The growth is partly offset by rental rebates granted to eligible tenants impacted by COVID-19 as well as the divestment of 6 properties in FY19/20.
Consistent Growth in DPU
| Year on Year Difference | 1st Half 2020 | 1st Half 2019 |
| --- | --- | --- |
| Distributable Income | S$164.653 million (+5.6%) | S$155.852 million |
| Distribution Per Unit (DPU) | 4.1 cents (+1.2%) | 4.05 cents |
With Mapletree Logistics Trust growing their Gross Revenue as well as NPI, its DPU also grew year on year by 1.2% even though they had a much larger unit base, 4.7% larger than the year prior. This is great seeing that with COVID-19 impacting many businesses and tenants, it's hard for most REITs to even maintain their DPU, let alone increase it. This shows the amount of stability and consistent value Mapletree Logistics Trust has brought to shareholders during the toughest of times.
Healthy Financials
| | As at 30 June 2020 |
| --- | --- |
| Aggregate Leverage | 39.5% |
| Interest Coverage | 4.9x |
| Average Cost of Debt | 2.2% |
Mapletree Logistics Trust's aggregate leverage stood at 39.5%, a slight decrease from last quarter's 39.6%. They also managed to lower their weighted average cost of debt from 2.3% to 2.2% in the same period.
Gearing A Little Too High For Comfort?
I mentioned this point previously when I covered MLT's 1Q2020 results here.
From their recent AGM, a shareholder asked "Mapletree Logistics Trust's current aggregate leverage ratio is at 39.3%, is there a comfortable target that the management is looking at? Will this be a constraint for MLT's future growth?".
Note that the AGM was before the results release, which is why the gearing stated is 39.3%
The response in short is that Mapletree Logistics Trust's gearing of 39.3% is well below MAS's gearing limit of 50%. At Mapletree Logistics Trust's current gearing, they have a debt headroom of about S$945 million before gearing reaches 45% and S$1.95 billion till 50%. They also pointed out that have more than sufficient liquidity to meet their debt obligations in the next two financial years.
It is good to note that they have stated that, they are comfortable with the current gearing level of around 40%. They will also gear up above 40% on a temporary basis if an attractive investment opportunity presents itself. If there are any sizable acquisitions, they will consider equity raising to partially fund the acquisitions so that gearing is maintained at around 40%.
In a nutshell, they have a huge debt headroom even at a gearing ratio of 39.3%. It is also good to know that should a large acquisition come, an equity fundraising (EFR) might take place which investors can take advantage of through subscribing in excess units.
The Proposed Acquisition
As per mentioned above, if an acquisition were to come, an EFR would definitely take place. Right after the results were released, Mapletree Logistics Trust released a huge proposed acquisition of 9 properties in China, Malaysia and Vietnam as well as the remaining 50.0% Interest in 15 Properties in China. Let's take a deep dive into the acquisition and whether or not shareholders should be excited for it.
Acquisition Overview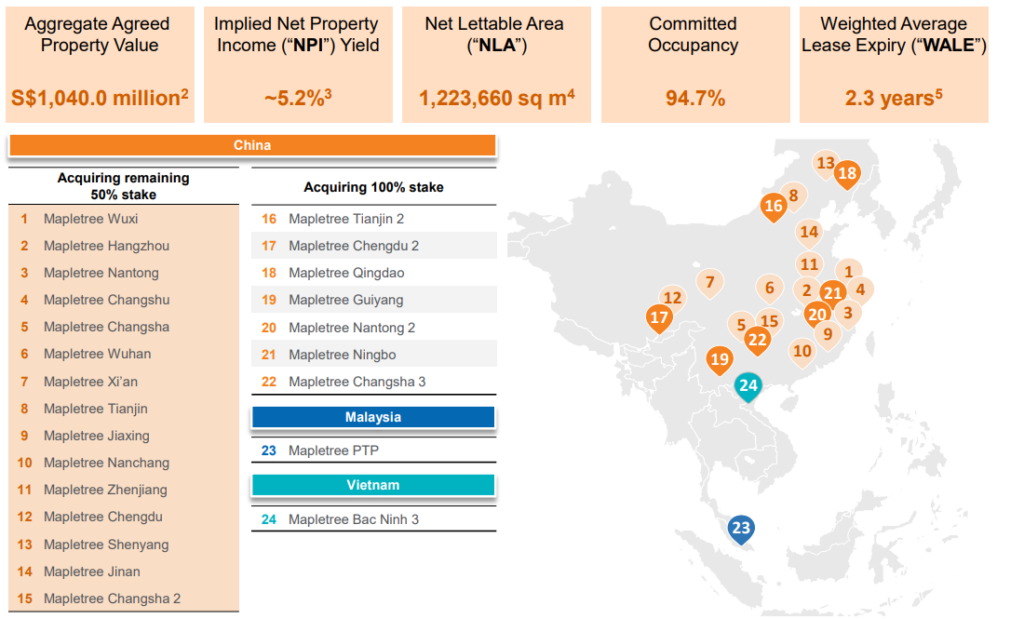 The overall acquisition consists of 2 parts, involving a total of 24 properties. The first part would be acquiring the remaining 50% stake in 15 properties in China and the second part would be acquiring a full 100% stake in 7 other China properties as well as 1 in Malaysia and 1 in Vietnam. The total acquisition has an implied NPI yield of around 5.2%, a WALE of 2.3 years and has a committed occupancy of 94.7%.
Pro Forma Effects

Note : The above Pro Forma figures are based on approximately 306.1 million New Units issued in connection with the Equity Fund Raising at an illustrative issue price of S$1.96 per New Unit
Based on the pro forma figures shown in the presentation slides, we can see that the acquisition is definitely great for shareholders. The overall DPU will increase by 1.3% and the NAV per unit will increase by 6.6%. The Pro Forma leverage drops to 37.1% which is also great and well below 40%.
It is also good to note that post acquisition, Mapletree Logistics Trust's WALE will drop by 8.2% to 3.8 years and the occupancy rate will drop by 0.5% to 97.0%.
Acquisition Details and Timeline
As per this morning's announcement, Mapletree Logistics Trust has announced that they will do a mixture of debt and equity, with the equity portion composing of a private placement and a preferential offering to raise a total of up to S$650.0 million.
The issue range for the PP is between S$1.973 and S$2.027 while the issue range for the PO is between S$1.940 and S$1.990. This represents a pretty nice discount to the last close price of S$2.08.
The manager has also decided to allot a larger tranche to the PP, issuing between 222-228 million New Units while only issuing up to 76 million New Units for the PO. This means that there is a smaller portion of the pie for the retail investors while the remaining larger portion is saved for the institution investors.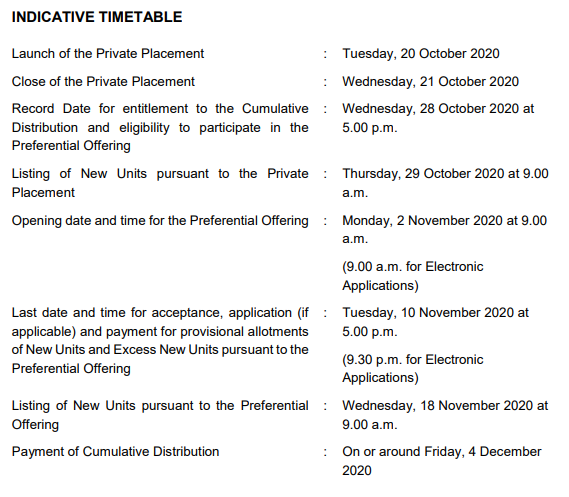 Final Thoughts
Overall, the 1H2020 results of Mapletree Logistics Trust shows us that they are on the right track and is doing well amidst the COVID-19 pandemic. They have managed to increase their DPU year on year despite a larger unit base. As for the acquisition, I'm definitely excited for it and can't wait to take part in the PO, subscribing in excess of my entitlement. Like I mentioned previously, I hold a very small position in MLT and have been looking for opportunities to increase my position at a discounted price.
The properties being acquired will definitely help strengthen Mapletree Logistics Trust's portfolio, with assets in key countries that are seeing an increasing demand for warehouses. Companies are adopting "in China for China" strategy to serve the local market while adding incremental capacity elsewhere. With the "China Plus" strategy adopted by many local companies, this will bolster demand for logistics requirements in Malaysia and Vietnam.