Mapletree Logistics Trust has been doing well amidst the COVID-19 pandemic due to the nature of its properties and tenants. Its share price is currently up more than 17% year to date. Let's take a quick look at the 4 key takeaways from the Q1 results of Mapletree Logistics Trust.
1. Growth in Gross Revenue and NPI
Mapletree Logistics Trust (MLT) has grown its gross revenue as well as its NPI year on year.
This growth is mainly due to :
Higher contributions from their existing assets
Accretive acquisitions made in FY19/20
Lower property expenses due to lower utilities cost, maintenance expenses and FY19/20 divestments
The increase is partially offset by rental rebates granted to tenants impacted by COVID-19 as well as the divestment of 6 properties in FY19/20.
2. Growth in DPU
MLT has also managed to grow its DPU year on year by 1% even though they had a larger unit base. This is great seeing that with COVID-19 impacting many businesses and tenants, it's hard for REITs to even maintain their DPU, let alone increase it.
3. Healthy Financials
MLT's aggregate leverage stood at 39.6%, with slightly lower weighted average borrowing cost of 2.3%.
Gearing A Little Too High For Comfort?
From their recent AGM, a shareholder asked "MLT's current aggregate leverage ratio is at 39.3%, is there a comfortable target that the management is looking at? Will this be a constraint for MLT's future growth?".
Note that the AGM was before the results release, which is why the gearing stated is 39.3%
The response in short is that MLT's gearing of 39.3% is well below MAS's gearing limit of 50%. At MLT's current gearing, they have a debt headroom of about S$945 million before gearing reaches 45% and S$1.95 billion till 50%. They also pointed out that have more than sufficient liquidity to meet their debt obligations in the next two financial years. It is good to note that they have stated that, they are comfortable with the current gearing level of around 40%. They will also gear up above 40% on a temporary basis if an attractive investment opportunity presents itself. If there are any sizable acquisitions, they will consider equity raising to partially fund the acquisitions so that gearing is maintained at around 40%.
In a nutshell, they have a huge debt headroom even at a gearing ratio of 39.3%. It is also good to know that should a large acquisition come, an equity fundraising (EFR) might take place which investors can take advantage of through subscribing in excess units.
4. Portfolio Rejuvenation
MLT has been actively growing and improving their portfolio with Asset Enhancement Initiatives (AEIs) and acquisitions. The redevelopment of the Mapletree Ouluo Logistics Park in Shanghai China has been completed in May 2020 and we'll be able to see the revenue increase coming from this asset from Q2 onwards.
MLT has also made an acquisition recently on a Grade A Logistics Property in Brisbane Australia. The asset is freehold and is expected to be completed by Q3 of FY20/21. They already have a tenant on board with a 10 years lease term with annual rent escalation. The acquisition will not only help diversify MLT's assets but also help diversify their tenant base.
Final Thoughts
Overall, the Q1 results of Mapletree Logistics Trust shows us that they are on the right track and is doing well amidst the COVID-19 pandemic. They have managed to increase their DPU year on year despite a larger unit base. With the 2 projects above contributing to MLT's Q2 and Q3 revenue, MLT is well positioned to do great for the year.
I personally hold a very small position in MLT and have been looking for opportunities to increase my position. I'm hoping for an EFR to come soon so that I can increase my position at a discounted price. At its current price and valuation, it is way too high for me to invest in it now.
As always, you can take a look at my portfolio updates to see my current positions! Also, use my referral code for an extended 3 months of premium access to StocksCafe! P.S. I'm running a telegram chat group for you guys to share and discuss investment-related topics so come on in! I'll be there too! You can join the chat here: https://t.me/joinchat/D4iHeEVapnGC1lWcFEupVw
Are you new to the stock market and don't know what you should do to avoid losing half your portfolio through bad picks? Or perhaps you are an experienced investor/trader looking for fantastic opportunities and picks in the market that you might have missed out on?
If so, look no further because I am running a Premium Subscription that offers services such as:
Access to both my Singapore and US Tech Watchlist with Preferred Entry Prices
Telegram Group Invitation Where I Share Market Updates and My Personal Views
Monthly Tradable Opportunities with Trade Setups
On-Demand In-Depth Fundamental and Technical Analysis on Any Stock of Your Choosing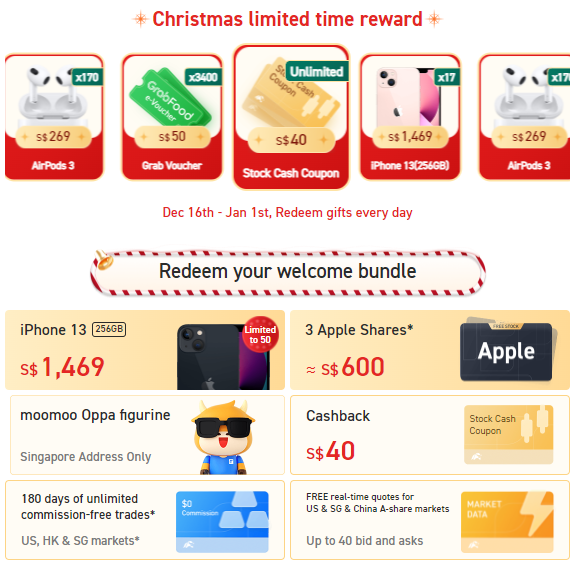 For the ongoing promotional period (Nov 30th – Dec 31st), when you deposit (First Deposit) SGD 2,700 successfully into your account, you will be rewarded 1 Apple (AAPL) share worth around SGD 220 as well as an SGD40 Stock Cash Coupon Bundle. Stand a chance to win a brand new iPhone 13 (256GB ,~S$ 1,469), Airpods 3, $50 Grab vouchers as well as $40 Stock Cash Coupons during the Christmas limited time reward promotion that is ongoing between Dec 16th – Jan 1st.
If you have yet to sign up for a FUTU SG securities account with moomoo powered by FUTU you can use my referral link here. For opening an account, you will be given 180 days of unlimited commission-free trades across the US, HK, and SG markets (do not apply for Stock Options and Futures). You will also be given free real-time Level 2 US Market Data, Level 1 SG Market Data, and now Level 1 for China A shares too!
Read Also: moomoo Trading App Review: Everything You Need To Know in 2021