Parkway Life REIT (SGX: C2PU) is hands down, Singapore's most defensive REIT with the exception of Keppel DC REIT. Being a healthcare REIT makes them not only recession-proof but pandemic-proof as well since they own hospitals and healthcare is a non-cyclical industry. In this article, I'll be covering Parkway Life REIT, Singapore's most defensive REIT, and whether or not it is a good buy now at its current valuation.
Portfolio Overview
Parkway Life REIT is one of the largest listed healthcare REITs in Asia with an enlarged portfolio of S$2.75 billion. The REIT is defensive with its long-term lease structures which protect its downside. It also provides a stable stream of income which is supported by regular rental revisions.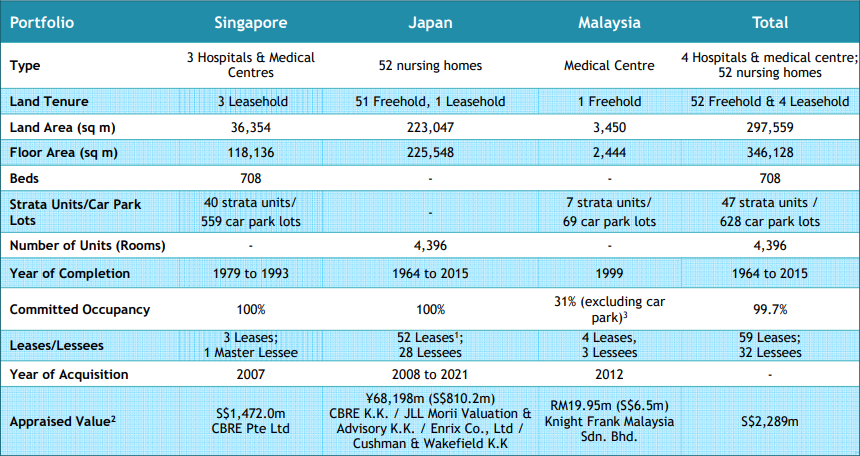 As we can see from their portfolio, they are very diversified with properties across 3 key countries in Asia, Singapore, Japan, and Malaysia. It's good to note that they own a total of 52 Freehold properties and 4 Leasehold properties, 3 of which are in Singapore. The 3 Singapore hospitals are well secured by its master lessee, Parkway Hospitals Singapore which is a fully owned subsidiary of Parkway Life REIT's sponsor, IHH Healthcare.
Read Also: Parkway Life REIT Just Announced A New Proposed Master Lease With The 3 Singapore Hospitals Under Them! What Does This Mean For Shareholders?
Many people see this as a key risk because if the master lessee decides to stop renewing their lease, Parkway Life REIT will see a huge problem with finding new tenants. For me, I view this as a sign of stability because its master lessee is its sponsor, indirectly of course. The 52 nursing homes in Japan are key assets because Japan has an aging population. These nursing homes will be a key factor for Parkway Life REIT's strong revenue growth in Japan.
FY2021 Results
Consistent Growth In Gross Revenue and NPI
| Year on Year Difference | FY2021 | FY2020 |
| --- | --- | --- |
| Gross Revenue | S$120.705 million (-0.2%) | S$120.892 million |
| Net Property Income (NPI) | S$111.234 million (-1.1%) | S$112.528 million |
This is the first since FY2016 whereby Parkway Life REIT has posted a year-on-year drop in Gross Revenue and NPI. In FY2021, they posted a net drop in their Gross Revenue and NPI year over year by -0.2% and -1.1% respectively. The marginal drop is due to the divestment made during the year as well as the depreciation of the Japanese Yen. Despite this, Parkway Life REIT is still a very defensive REIT and is set to bounce back stronger in FY2021 with the newly acquired assets.
Strong Growth In Distributable Income and DPU
| Year on Year Difference | FY2021 | FY2020 |
| --- | --- | --- |
| Distributable Income | S$85.178 million (+2.1%) | S$83.409 million |
| Distribution Per Unit (DPU) | 14.08 cents (+2.1%) | 13.79 cents |
The Distributable Income segment, as well as DPU, still managed to grow despite the drop in Gross Revenue and NPI, by 2.1%. The net growth is due to lower financing costs from loans, lower interest costs on their SGD borrowings as well as the missing one-off COVID-19 related relief measures for tenants in 2020. It is fantastic to see that despite a drop in the revenue numbers, the Distributable Income and DPU still saw net growth.
Strong Balance Sheet
| | As at 31 Dec 2021 | As at 31 Dec 2020 |
| --- | --- | --- |
| Aggregate Leverage | 35.4% | 38.5% |
| Interest Coverage | 21.5x | 18.1x |
| Average Cost of Debt | 0.52% | 0.53% |
Parkway Life REIT's financials are steady as ever with a very strong interest coverage ratio of 21.5x, an improvement from the year prior at 18.1x. They also managed to pay down some of their debt, reducing their aggregate leverage from 38.5% to 35.4%.
During 2H 2021, a total of JPY7.71 billion (approximately ~S$91.6 million) was drawn down via Short Term Loan ("STL") to fund the Japan acquisitions. They also executed a 5-year up to JPY7.71 billion committed loan facility on 29 December 2021 which will be drawn down in March 2022 to term out the STL.
It is good to note that with Parkway Life REIT's current gearing of 35.4%, they have a debt headroom of S$410.7m before reaching 45% gearing and $686m before reaching 50% gearing. Not to mention the fact that they can also do an EFR (Equity Fundraising), the sky really is the limit for Parkway Life REIT.
Parkway Life REIT is also the only REIT in Singapore that has not yet done any form of equity fundraising be it rights issues or preferential offerings. Since its IPO in 2007, the number of outstanding units stood at 605.02 million. This is because it did not have a general mandate to issue new units.
5-Year Performance
Revenue Growth
Note : Chart figures are in S$'000
As we can see, the overall 5-year trend for Parkway Life REIT is up. Just to note that Parkway Life REIT had a divestment gain of S$5.39 million in FY2017. This is not reflected in the chart as it is a one-off income item and it will make Parkway Life REIT's performance seem very inconsistent and inaccurate.
DPU Growth
Note : Chart figures are in S$ cents
Similarly, we can see that the overall DPU trend for Parkway Life REIT is consistently going up. The divestment gains in FY2017 contributed an additional 0.89cents to the DPU for that year. This gain is not added in the chart as they are one-off income items and do not show the real story behind Parkway Life REIT's performance.
NAV Growth
Note : Chart figures are in S$ dollars
The 5-year trend shows that Parkway Life REIT has managed to grow its NAV/share year on year consistently by 32.95% across the 5 years. This growth comes from the aggressive acquisition and strategic divestments of the Japan assets they own over the years. There were several acquisitions and divestments made every year to help Parkway Life REIT aggressively grow its NAV/share. The majority of the growth also came within the last year whereby the overall portfolio had a valuation gain of S$239.2m.
It's also good to note that despite all the acquisitions and divestments, Parkway Life REIT has managed to consistently grow its Gross Revenue, NPI, and DPU, bringing consistent and increasing value to shareholders.
Potential Growth Catalysts
Acquisition In New Key Markets
As mentioned earlier, Parkway Life REIT is the only REIT without a general mandate to issue new units. This has soon changed in June 2020 during their AGM, whereby the management asked unitholders to approve a general mandate. The general mandate allows the REIT to issue up to 20% of the units outstanding in a given year. Based on a pro-rata situation involving an equity fundraising or rights issue, the REIT could potentially issue up to 50% of its units outstanding in a calendar year.
Parkway Life REIT could be hinting at a potential acquisition in a new developed market. If Parkway Life REIT is planning to go into another Asia market, I'm guessing they will go for either Taiwan or South Korea.
Why Taiwan
Fantastic Healthcare System
Taiwan's healthcare facilities are considered to be of a high standard, easy to access, and is very affordable. The current healthcare system in Taiwan, known as National Health Insurance (NHI), was instituted in 1995. The government-run, single-payer scheme provides patients easy access to a large network of contracted hospitals and clinics, most of which are privately owned. The system promises equal access to healthcare for all citizens, and the population coverage had reached 99% by the end of 2004.
With patients enjoying universal access to high-quality healthcare services and abundant medical facilities, low out-of-pocket costs, and short waiting times, public satisfaction with the NHI is high. Health expenditure represented 6.6% of Taiwan's GDP in 2018, lower than the OECD average of 8.8%, with the NHI accounting for 53% of total spending.
As of 2019, Taiwan had a total of 22,992 medical care institutions, of which 480 were hospitals while the remaining 22,512 were clinics. The total number of hospitals did drop from 669 in 2000 to 480 in 2019 due to the closure or merging of smaller hospitals. The total number of clinics grew aggressively from 17,413 in 2000 to 22,512 in 2019.
Relatively Low Interest Rate
Taiwan's interest rate stood at a 20-year record low of 1.13% in March 2020. It has since stayed stagnant, standing at 1.125% as of the 17th March 2022 consensus. With the interest rate staying constant at such a low rate, it is great for REITs as it allows them to get access to cheap debt. Based on these factors, I believe Taiwan is a great key market to get into for Parkway Life REIT to continue bringing consistent value to shareholders.
Why South Korea
Fantastic Healthcare System
Similar to Taiwan, South Korea also has a fantastic healthcare system put in place. South Korea offers world-class healthcare to not only its own citizens but tourists and visitors. Healthcare in South Korea is run by the Ministry of Health and Welfare and is free to all citizens. The system is funded by a compulsory National Health Insurance (NHI) scheme which covers 97% of the population.
South Korean hospitals are very well equipped, with a good doctor to patient ratio, and the so-called Big Four – Seoul National University Hospital, the Samsung Medical Centre, Asan Medical Centre, and Yonsei Severance Hospital – boast some of the best facilities in the region, if not the world.
As of 2016, according to the Ministry of Health and Welfare, South Korea had about 65,000 medical institutions, 341 of which are large general hospitals, 1,386 are long-term care hospitals, 1,510 are hospitals and 30,157 are clinics. The remaining included 3 tuberculosis hospitals, 1 leprosy hospital, 42 mental hospitals, 223 dental hospitals, 16,996 dental clinics, and many others.
Aging Population
South Korea is ranked 41st in the top 50 countries with the largest percentage of older adults, with 15.1% of its total population being aged 65 and older. With an aging population, similar to Japan, Parkway Life REIT can look into not only acquiring hospitals and clinics but also nursing homes.
Near Negative Interest Rate
Similar to Taiwan, South Korea's interest rate stood at a 21-year record low, reaching 0.50% in May 2020. It has since recovered slightly to 1.25% as of 14th Jan 2022. Despite the slight recovery, the interest rate is still relatively low which allows for a low cost of debt. Based on these factors, I believe South Korea is also another great key market to get into for Parkway Life REIT to continue bringing consistent value to shareholders.
Current Valuation
Of course, before we invest in any company, we should always do it at the right price and valuation. Let's take a look at Parkway Life REIT's current valuation based on its closing price ($4.65/share) today. Based on its last closing price, Parkway Life REIT is priced with a 1.987x PB ratio and a 3.03% annualized dividend yield. It is good to note that there are no significant REITs that we can use to make comparisons other than First REIT, and as such, there will be no comparison being done as the numbers won't be meaningful.
Based on its current valuation, we can see that Parkway Life REIT is priced at a pretty high premium and has a relatively low yield. This makes investors rethink about investing in this REIT because the return is so low but most investors fail to realize that the yield is so low because of how defensive the REIT is. Even in the worst times, with multiple macro trends and factors involved, Parkway Life REIT has managed to grow its DPU and NAV year over year.
Final Thoughts
Parkway Life REIT is a fantastic and defensive REIT to hold though the valuation might not be attractive because of the high premium you are paying but always remember that when buying high-quality assets, a premium must be paid in order to hold such assets. You won't be able to find an A5 Wagyu steak at the same price as a normal steak cut in the supermarket. My first tranche for Parkway Life REIT was at $3.80, during a minor correction in December 2020. Since then, I have not added any more positions but am looking into accumulating more during dips in the share price.