Parkway Life REIT (SGX: C2PU) has just announced a new proposed master lease with the Singapore hospitals that are in their portfolio. Parkway Life REIT has seen a very stable and consistent growth in its share price as of late, seeing it grow by x% over the past few weeks. With this new announcement, what do shareholders need to take note of? In this article, I will be sharing my thoughts and views on this new announcement as well as what you should do if you are invested or have yet to invest in Parkway Life REIT.
Overview on The Proposed Transaction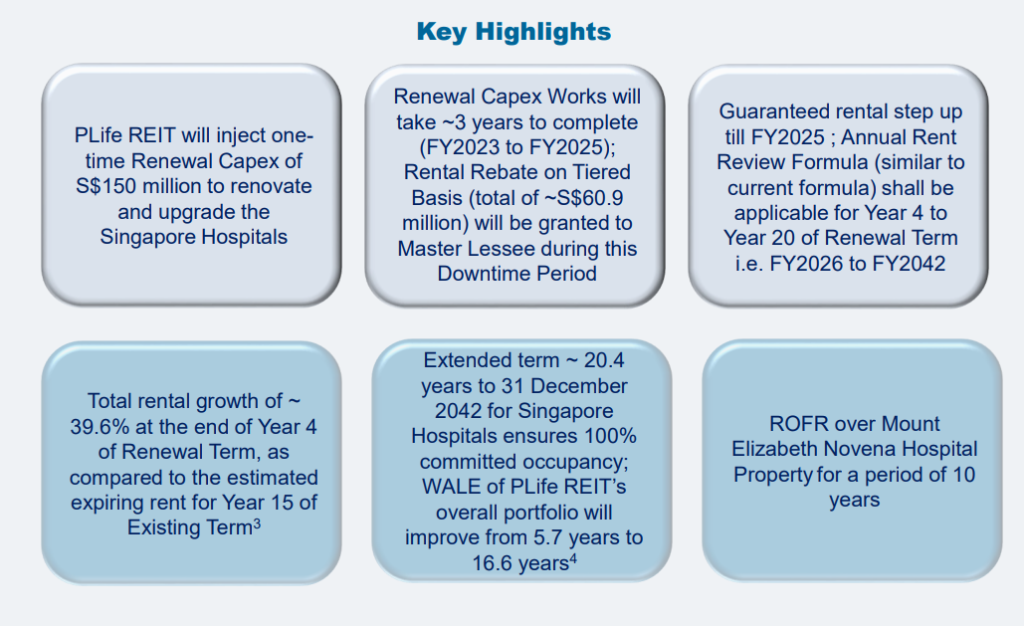 To start, let's run through the overview of the proposed transaction and what's going to happen for Parkway Life REIT. As mentioned, this proposed transaction will involve Parkway Life REIT injecting a one-time Renewal Capex of S$150 million to renovate and upgrade the Singapore Hospitals that are in its portfolio. The upgrade will take approximately 3 years to complete, starting on 1st January 2023, and is expected to end by FY2025. During this period, the Master Lessee will be granted a rental rebate on a tiered basis of about S$60.9 million.
Key Benefits of The Transaction
In this section, I'll be going through the key benefits of this transaction for Parkway Life REIT as well as shareholders.
ROFR Over A High Quality Asset
Secondly, through this transaction, Parkway Life REIT also gained a Right of First Refusal (ROFR) over Mount Elizabeth Novena Hospital through its sponsor for a period of 10 years. Previously, Parkway Life REIT was offered the same ROFR at its IPO but it has since expired in 2012. The ROFR over such a high-quality asset will provide further growth potential for Parkway Life REIT to grow its portfolio meaningfully.
Increased Portfolio Stability
First off, Parkway Life REIT will see a huge increase in portfolio stability with this new master lease agreement. With the rental term now extended by approximately 20.4 years to 31st December 2042, this ensures that the assets have a 100% committed occupancy. In addition, Parkway Life REIT's overall portfolio WALE will see a drastic jump from 5.7 years to 16.6 years. Not to mention, there is an additional option for a further term of 10 years until 2052 should Parkway Life REIT choose to exercise it.
The proposed transaction definitely improves Parkway Life REIT's portfolio stability as it provides long-term income certainty, stability, and sustainable occupancy for the overall portfolio.
Read Also: Is Parkway Life REIT A Good Buy Now?
Pro Forma Effects
As we can see, the overall proposed transaction seems fantastic for Parkway Life REIT but what are the pro forma effects? This is the part that investors need to take close note of so without further delay, let's take a look at the pro forma effects of the proposed transaction.
DPU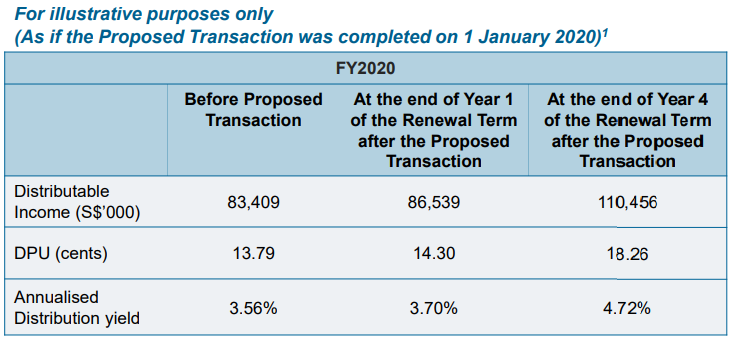 Starting off with DPU, by the end of Year 1 of the Renewal Term, the pro forma DPU is expected to increase by approximately 0.51 cents or 3.7%. At the end of Year 4 of the Renewal Term, where the Tiered Rent Rebate no longer applies and the rent review formula kicks in, the pro forma DPU is expected to increase by approximately 4.47 cents or 32.4%.
This is definitely a huge jump to Parkway Life REIT's DPU as most shareholders know. Historically, the REIT has managed to consistently grow its DPU year over year but in the low single digits. The drastic growth in DPU over the next 4 years represents a compounded annual growth rate (CAGR) of 7.27%.
NAV and Gearing
Looking at the pro forma Net Asset Value (NAV) and Gearing of Parkway Life REIT, we can see that the REIT will stand to enjoy a huge decrease in its Gearing from 38.5% to 34.5% as well as an increase of its NAV by approximately S$240.2 million or 19.8%. At the beginning of Year 4 of the Renewal Term, post completion of the Renewal Capex Works, the pro forma NAV is expected to increase by approximately S$478.7 million or 39.4% while on the other hand, the Gearing will increase slightly to 37.3%.
What Does It Mean For Shareholders?
First off, I believe many shareholders were worried about this because the lease was coming towards an end soon and if the master lessee, which is also the sponsor, chooses not to renew, it could be a very big problem for Parkway Life REIT. As expected, when a REIT has a strong sponsor, there is nothing to worry about as the sponsor was sure to renew without a doubt. What was unexpected was the additional facelift that Parkway Life REIT intends to do for the 3 hospitals, thus increasing the value of the hospital and the rental income that it will receive in the future.
The transaction is funded 100% through the REIT itself, without needing shareholders to provide any additional capital to help with the process. As a result, the transaction becomes not only DPU accretive but also NAV accretive for shareholders. I'm sure no shareholder would be upset with having their investment grow organically without any additional capital outlay.
Final Thoughts
I've always talked highly about Parkway Life REIT, covering its past few results release as well as an intensive coverage on the REIT itself. I am also a long-term shareholder, with my initial tranche entered at $3.80. With the announcement, I am considering adding more to my position if the price sees any near-term weakness or correction. Despite the high valuation and low yield which many investors have frowned upon, I've always talked highly about Parkway Life REIT being a first-class, must-have in every REIT investor's portfolio. The REIT is not only highly defensive but also offers a fantastic yield on top of the ever-growing share price.
As a final note, I've always described Parkway Life REIT as such, "Remember that when buying high-quality assets, a premium must be paid in order to hold such assets. You won't be able to find an A5 Wagyu steak at the same price as a normal steak cut in the supermarket".