We never know when a recession may come. It can hit us when we least expect it and we wouldn't even be prepared for it. So what can we do to protect ourselves as well as our portfolios? Buy strong recession proof companies that can consistently churn profits even in times of a recession!
Singapore Exchange (SGX:S68)
Business Model
SGX runs the entire infrastructure that allows people to buy and sell shares, REITs, ETFs, bonds, derivatives, etc. SGX has three main business divisions :
Equities and Fixed Income
Derivatives
Market Data and Connectivity
The Equities and Fixed Income division provides issuer services, securities trading and clearing as well as post-trade services. The revenue from the Derivatives segment comes from providing derivatives trading and clearing services, membership and collateral management. Lastly, the Market Data and Connectivity segment provides market data and connectivity services for end users.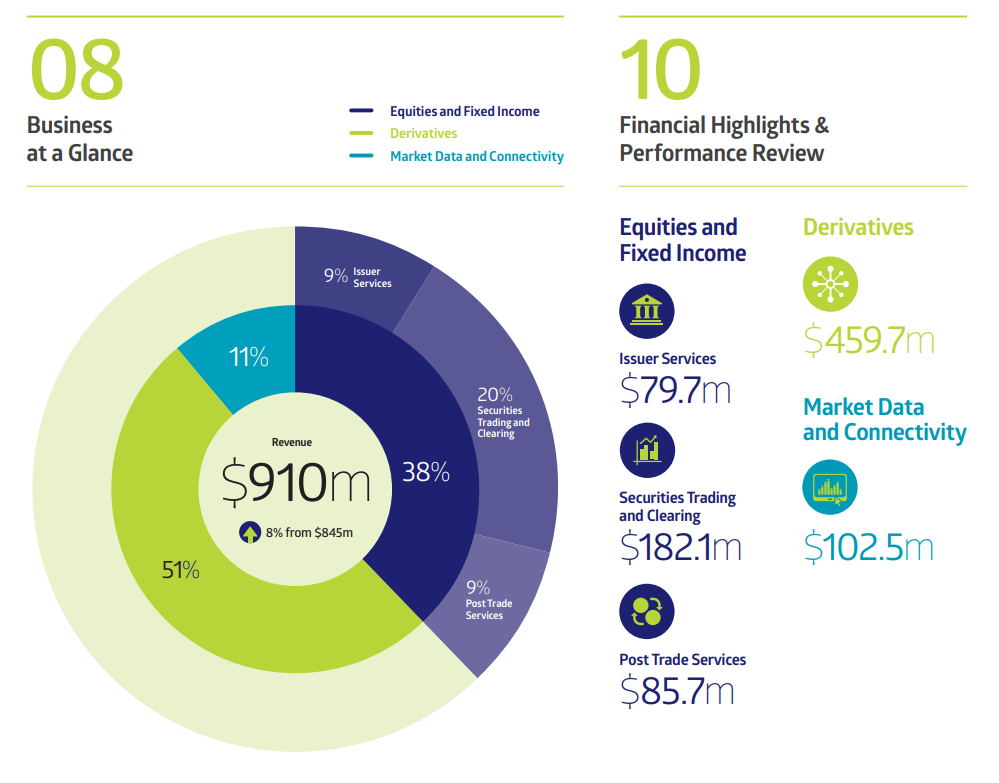 It's good to note that from their FY2019 AR, the derivatives division account for 51% of their total revenue, with equities and fixed income accounting for 38%, and with market data and connectivity accounting for the remaining 11%.
What Makes This Company Recession Proof?
Firstly, the company is a monopoly business whereby they are the only company that is offering these products and services. There is no other company or service that the public can use to buy stocks and bond off the market other than using custodian brokerage facilities.
Secondly, the company is non-cyclical. This means that they are not affected by macroeconomic or systematic changes in the overall economy. SGX's products and services are used daily, even when in a recession. When there is more volatility in the market, SGX stands to profit more as there are more transactions being made.
Prior to this I've written an analysis on SGX so you can check that out here !
SBS Transit (SGX:S61)
Business Model
SBS Transit has 3 main sources of revenue :
Bus Services
Rail Services (North East Line, Downtown Line, Sengkang and Punggol Light Rail Transit System)
Advertising Services (Banners and Ads on buses and at MRT platforms)
Their business model is fairly simple and easy to understand. This is great as we want a company that is easy to understand so that we can accurately predict its future cash flows.
What Makes This Company Recession Proof?
Firstly, the company is also a monopoly business as there is only one other company that is offering bus and rail services (SMRT). SBS Transit owns a large market share of the bus packages (9 out of 14) as well as almost half the rail services (4 out of 9 including LRTs). In comparison, SMRT only owns 4 out of the 14 with the exception of 1 bus route shared with SBS Transit and the other 5 rail services.
Secondly, the company is also non-cyclical. This means that they are not affected by macroeconomic or systematic changes in the overall economy. Even in times of a recession, people still need to take the public transport to travel around. This can help the company churn consistent profits even in the worst of times.
Prior to this I've written an analysis on SBS Transit so you can check that out here !
Final Thoughts
It's always great to hold some recession proof companies as they help you balance out your portfolio so that you are not too heavily weighted into cyclical companies or industries. I personally like to hold some of these companies as they have the ability to provide me a consistent stream of cash flow in the form of dividends during recessions.
As always, you can take a look at my portfolio updates to see my current positions! Also, use my referral code for an extended 3 months of premium access to StocksCafe! P.S. I'm running a telegram chat group for you guys to share and discuss investment-related topics so come on in! I'll be there too! You can join the chat here: https://t.me/joinchat/D4iHeEVapnGC1lWcFEupVw
Are you new to the stock market and don't know what you should do to avoid losing half your portfolio through bad picks? Or perhaps you are an experienced investor/trader looking for fantastic opportunities and picks in the market that you might have missed out on?
If so, look no further because I am running a Premium Subscription that offers services such as:
Access to both my Singapore and US Tech Watchlist with Preferred Entry Prices
Telegram Group Invitation Where I Share Market Updates and My Personal Views
Monthly Tradable Opportunities with Trade Setups
On-Demand In-Depth Fundamental and Technical Analysis on Any Stock of Your Choosing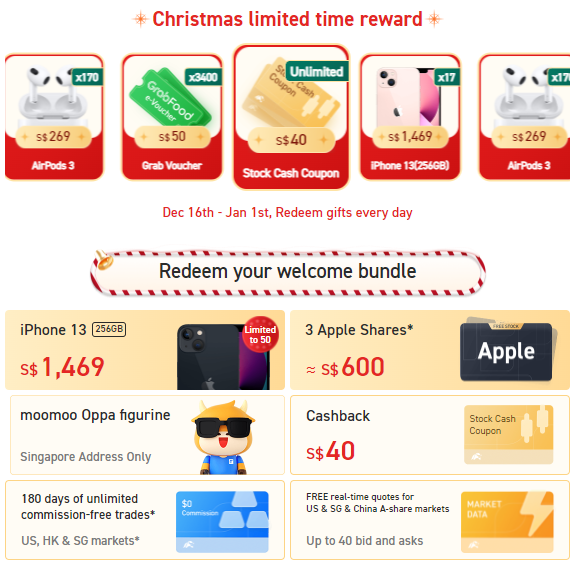 For the ongoing promotional period (Nov 30th – Dec 31st), when you deposit (First Deposit) SGD 2,700 successfully into your account, you will be rewarded 1 Apple (AAPL) share worth around SGD 220 as well as an SGD40 Stock Cash Coupon Bundle. Stand a chance to win a brand new iPhone 13 (256GB ,~S$ 1,469), Airpods 3, $50 Grab vouchers as well as $40 Stock Cash Coupons during the Christmas limited time reward promotion that is ongoing between Dec 16th – Jan 1st.
If you have yet to sign up for a FUTU SG securities account with moomoo powered by FUTU you can use my referral link here. For opening an account, you will be given 180 days of unlimited commission-free trades across the US, HK, and SG markets (do not apply for Stock Options and Futures). You will also be given free real-time Level 2 US Market Data, Level 1 SG Market Data, and now Level 1 for China A shares too!
Read Also: moomoo Trading App Review: Everything You Need To Know in 2021