SBS Transit is no stranger to Singaporeans. They own some of the public bus and train services we take every single day. It is always great to invest in companies that you know and understand well, especially if you use their products and services. In this article, I'll share with you all you need to know about SBS Transit.
Business Model
SBS Transit has 3 main sources of revenue :
Bus Services
Rail Services (North East Line, Downtown Line, Sengkang and Punggol Light Rail Transit System)
Advertising Services (Banners and Ads on buses and at MRT platforms)
Their business model is fairly simple and easy to understand. This is great as we want a company that is easy to understand so that we can accurately predict its future cash flows.
Bus Contracting Model
As per quoted from Channel News Asia
"Under the model, operators bid for a package of routes through competitive tendering. The Government owns all fixed and operating assets and retains fare revenue while bus operators earn a fee for running services. Bus operators also have to meet service standards set by the Land Transport Authority (LTA). This is a departure from the previous privatised model where operating assets, such as depots and buses, were owned by both the Government and the two incumbent operators, SBS Transit (SBST) and SMRT. The bus operators kept all the fare revenue which they used to pay for operations and operating assets. This model, said the Government, did not incentivise operators to expand their capacity ahead of demand or improve service levels."
The short summary is that with the new model set in place, it incentivizes operators to provide high standards of service. SBS Transit will be paid a flat fee for each bus service they run with incentive fees if they meet certain standards set by the LTA. This way, SBS Transit can solely focus on providing a high standard of service set by the LTA, minimizing cost and maximizing profits.
It is good to note that SBS Transit owns a large market share of the bus packages (9 out of 14) as well as almost half the rail services (4 out of 9 including LRTs). In comparison, SMRT only owns 4 out of the 14 with the exception of 1 bus route shared with SBS Transit and the other 5 rail services.
Financials
As we can see, SBS Transit has been consistently growing their revenue and net profit. It's EPS grew by 382% in a short span of 5 years or an average of 76.4% per year. Not to mention, their profit margins have been increasing exponentially from a mere 1.63% to 5.63%.
We can also see that SBS Transit has been able to improve their Return on Equity from 5.2% in 2015 to 15.9% in 2019. Not forgetting the fact that they have been increasing their dividends and net asset value year on year. This is a something you can rarely find in Singapore listed companies whereby they can consistently increase their dividends and net asset value year on year without diluting shareholders.
Looking at their statement of cash flows, we can see that they had a sharp decrease in net cash from operating activities year on year. This is mainly caused by the large increase in Trade Receivables and Payables. Taking that aside, it is great that the company is consistently generating positive free cash flow.
Valuation
Current Ratio : 0.95
Quick Ratio : 0.39
Price/Earnings Ratio : 11.74 (Share Price @ $3.06)
Return on Equity : 15.9%
Dividend Yield : 4.26% (Assuming $0.1305/share)
Personally, I dislike the fact that their current ratio is below 1 but I believe that the downtown line will start to turn profitable and help the company be more financially stable. Though that might take some time as the daily ridership took a huge hit when Singapore went into circuit breaker.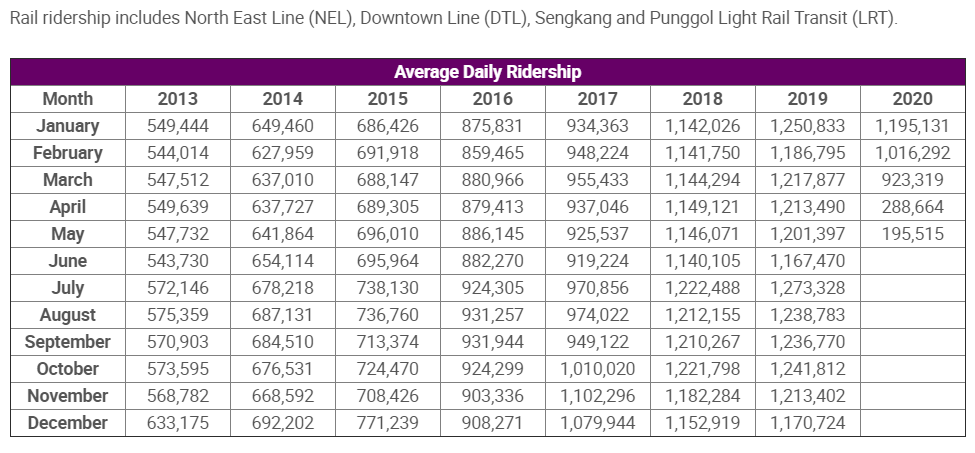 The daily ridership fell greatly in April and May. I believe for the downtown line to start turning profitable, it will need to hit a daily ridership above 500,000. In 2019, it only managed to hit an average daily ridership of 476,712, an increase of 6% from the year prior. To put it into perspective, SBS Transit will only need to increase their daily ridership for the downtown line by 4.89% from last year to reach 500,000.
We have to remember that as of Dec 28, bus and train fares will go up by 7%. This will in turn help SBS Transit as their revenue for their rail services come directly from fares paid by commuters. The average fare for Downtown line commuters stands at $0.67. With the 7% increase taken into account, SBS Transit's average fare will increase to $0.713. This is assuming the average daily ridership does not increase or decrease. With the start of phase 2 in Singapore, I believe the daily ridership will start to trend upwards and resume back to what it was in January by the end of the year.
Final Thoughts
The share price has been falling due to the reduced daily ridership which will impact its revenue for the year. Despite that, I am very confident that the daily ridership will start to trend up when Singapore starts to open up more of the economy. If one chooses to invest in SBS Transit, it should be for the long term. This way, any near term noise or volatility is not important to me.
I am invested in SBS Transit for the long term because of 2 key reasons :
I take their bus and rail services everyday (Downtown Line)
Their business model is easy to understand and the company has a very predictable stream of cash flow