SGX has recently announced the cessation of their licence agreement with MSCI, other than for MSCI Singapore, allowing it to expire in February 2021. What does this mean and what should investors do with this new information? In this article, we'll take a look at the impact this will have on SGX's future earnings and revenue, as well as whether or not we should invest in them.
Business Model
SGX runs the entire infrastructure that allows people to buy and sell shares, REITs, ETFs, bonds, derivatives, etc.
SGX has three main business divisions
Equities and Fixed Income
Derivatives
Market Data and Connectivity
The Equities and Fixed Income division provides issuer services, securities trading and clearing as well as post-trade services. The revenue from the Derivatives segment comes from providing derivatives trading and clearing services, membership and collateral management. Lastly, the Market Data and Connectivity segment provides market data and connectivity services for end users.
From their FY2019 AR, the derivatives division account for more than 50% of their total revenue, with equities and fixed income accounting for 38%, and with market data and connectivity accounting for the remaining 11%.
Financials
As you can see, SGX has been consistently growing their top and bottom line over the past 5 years with an average growth rate of 3.36% and 2.41% per year respectively.
Also, we can see that SGX's CapEX has been consistently reduced year on year from 76 million in 2015 to 58 million in 2019.
Not to mention, SGX has been consistently growing its NAV as well as earnings per share.
Financial Ratios
Operating Profit Margin : 50.7%
Net Profit Margin : 42.4%
Return On Equity : 35.8%
Current Assets to Total Liabilities : 1.51
Dividends and Overall Growth Potential
SGX has been able to grow its dividends while maintaining a healthy payout ratio within 80-90% for the past 5 years. Disregarding the spike in 2018, the growth has been slow but consistent and steady over the past 5 years, from $0.29/share in 2015 to $0.30/share in 2020.
The company has been strategically retaining their profits as you can see in their balance sheet from 2017 to 2019.
This strategic move will help the company when doing future acquisitions on other exchanges or subsidiaries. A good example would be the recent acquisition SGX made on Scientific Beta, a research-based index firm that will provide more diverse products for investors. SGX made a deal, buying a 93% stake in the company for €186 million (S$280 million).
The acquisition will allow the SGX to bring new capabilities to its index business and cater to the increasing market interest for different ways to represent investment strategies and risks. It can also broaden its index offerings, even expanding into green investing.
You can read the rest of the acquisition in this news article by The Straits Time : SGX acquires research-based index firm for S$280 million
SGX's Subsidiaries
SGX has many subsidiaries under its arm, ranging from exchanges to companies providing consultancy services.
As you can see, SGX is huge! Some of their subsidiaries are a in a monopoly market such as The Central Depository, also known as CDP. Using CDP as an example, they are in a monopoly market which means that there are no other competitors that can offer services similar to what CDP offers. The only alternative for people to buy shares is to use custodian services whereby your shares are being held by the bank or institution.
So why is this good? Well, CDP charges a small fee whenever you make a buy or sell transaction and have the shares being transferred to and from CDP. They also charge a huge transaction fee when you want to transfer your shares out of CDP to a custodian account/broker. Since there are no competitors in this market, CDP sets the price on these fees, allowing them to control the price according to their preference.
Long Term Growth Prospects
As long term investors, we should always consider a company's potential growth in the future before investing in them. Let's take a look at what SGX has planned for the future.
As we can see, the management has been and will be acquiring strategic assets as well as actively widening their product offerings.
SGX Announces Launch of Singapore Single Stock Futures
On June 2nd, SGX announced the launch of single stock futures for 10 SGX listed stocks. These 10 stocks are, ComfortDelgro, DBS, Genting, Keppel, OCBC, Singtel, Thai Beverage, UOB, Wilmar and Yangzijiang Shipbuilding.
With these new products, SGX will be able to grow yet another stream of revenue for its derivatives division.
Near Term Negative Impacts
Coming back to the main topic, how big is the impact of the cessation of their licence agreement with MSCI towards SGX's revenue?
We can see that the cessation will impact SGX in the short term as these contracts currently account for quite a portion of their derivatives' daily average volume (DAV), around 15% of their equity derivatives' DAV and around 12% of total derivatives' DAV.
The potential pro-forma negative impact on FY2021's net profits after tax (NPAT) will be between 10% to 15% (assuming a full 12 months are used and before any mitigating actions).
Final Thoughts
Now taking into account all the positive and negative news, I am still pretty bullish on SGX. I like their monopoly business as well as its long term potential growth prospects. It has only been 6 months into FY2020 and they have already made 2 acquisitions to further grow their business and revenue streams.
So if I want to buy SGX, what price should I buy SGX at?
Recent Share Buyback
SGX did a share buyback on June 2nd, buying back 75.1k shares off the market at $8.30 per share.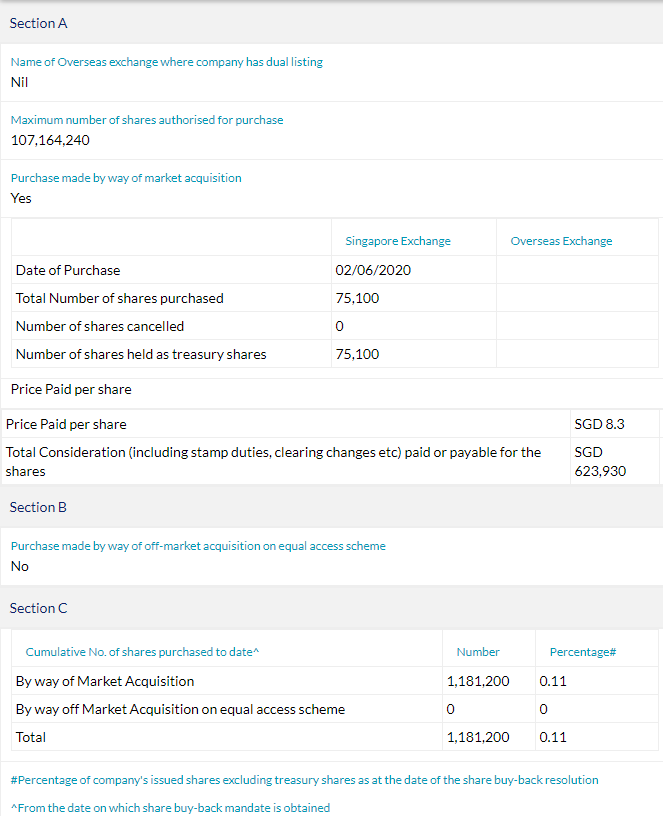 Companies usually perform share buybacks when they deem the share price to be undervalued at that particularly price. Using the share buyback as a benchmark, I feel that buying shares of SGX at $8.30/share or less is a great bargain as you are purchasing shares at a lower price than the company itself.
I have made recommendations for members in the Premium Subscription to buy SGX a few days back if they have some spare capital to invest because, SGX is a fantastic company to own. With fantastic financials and a huge economic MOAT, there is nothing stopping SGX from growing twice in size in the next 5 – 10 years.