As most investors will know right now, VICOM (SGX: WJP) recently announced a proposed stock split 1:4.
Based on the volume weighted average price of S$7.813 per Share for trades done on 12 February 2020, after the implementation of the Share Split would be equal to or higher than the theoretical Share price of S$1.953 per Share
Rationale Behind The Split
With the reduced share price, it becomes more affordable to investors, increasing liquidity
With the reduced share price, there will be an increase in the number of shareholders
Does It Affect Current Shareholders?
No ! There will be no change for current shareholders.
What Should You Do?
There is of course 2 things you can do now. Buy now or buy later. There is no telling that the stock will drop or go up after the stock has split, but a stock split does often indicate to the market that the company has been growing and will continue to grow even after the split.
What I Think Will Happen
Post split, most probably the stock will run higher. Why? Because VICOM has been talked about everywhere, giving high, stable and growing dividends year over year. Now that it is more affordable for everyone, those who couldn't afford it previously will surely join the party.
What Am I Going To Do?
Well I think the market has already priced in the effects of the stock split so getting in now won't be getting you much gains, even with the dividends. I will personally sit out for now but I might buy some more if it dips along the way like the past 2 days.
If you're interested in its dividend growth along the years, you can check out this article I wrote, "5 Dividend Growth Stocks to Hold for the Next 10 Years".
Update : I've written a post-split article on VICOM, Should We Buy VICOM After The Stock Split?
As always, you can take a look at my portfolio updates to see my current positions! Also, use my referral code for an extended 3 months of premium access to StocksCafe! P.S. I'm running a telegram chat group for you guys to share and discuss investment-related topics so come on in! I'll be there too! You can join the chat here: https://t.me/joinchat/D4iHeEVapnGC1lWcFEupVw
Are you new to the stock market and don't know what you should do to avoid losing half your portfolio through bad picks? Or perhaps you are an experienced investor/trader looking for fantastic opportunities and picks in the market that you might have missed out on?
If so, look no further because I am running a Premium Subscription that offers services such as:
Access to both my Singapore and US Tech Watchlist with Preferred Entry Prices
Telegram Group Invitation Where I Share Market Updates and My Personal Views
Monthly Tradable Opportunities with Trade Setups
On-Demand In-Depth Fundamental and Technical Analysis on Any Stock of Your Choosing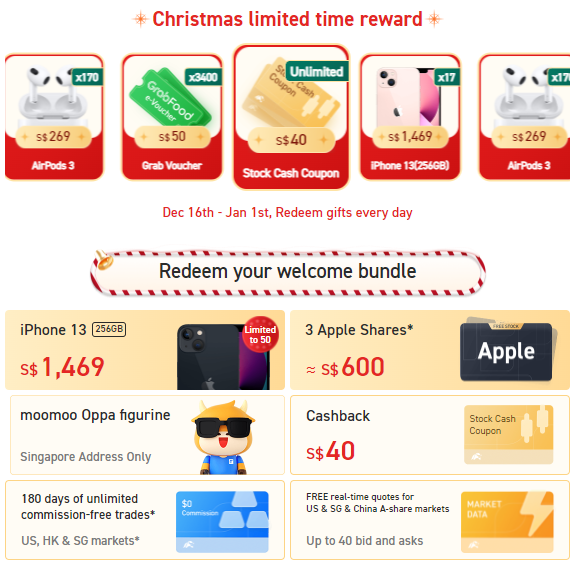 For the ongoing promotional period (Nov 30th – Dec 31st), when you deposit (First Deposit) SGD 2,700 successfully into your account, you will be rewarded 1 Apple (AAPL) share worth around SGD 220 as well as an SGD40 Stock Cash Coupon Bundle. Stand a chance to win a brand new iPhone 13 (256GB ,~S$ 1,469), Airpods 3, $50 Grab vouchers as well as $40 Stock Cash Coupons during the Christmas limited time reward promotion that is ongoing between Dec 16th – Jan 1st.
If you have yet to sign up for a FUTU SG securities account with moomoo powered by FUTU you can use my referral link here. For opening an account, you will be given 180 days of unlimited commission-free trades across the US, HK, and SG markets (do not apply for Stock Options and Futures). You will also be given free real-time Level 2 US Market Data, Level 1 SG Market Data, and now Level 1 for China A shares too!
Read Also: moomoo Trading App Review: Everything You Need To Know in 2021