10th June is the first day of VICOM's post stock split. On that day, VICOM (SGX: WJP) opened at $2.50 and closed at $2.41, with the day's low at $2.26. Now that VICOM is much more affordable for investors, should we buy it now? In this article, I'll be sharing my thoughts on whether or not we should buy VICOM post-stock split.
Impact Of The Split
The stock split essentially did not impact current shareholders in any way. There is no dilution to shareholders since the only change is the number of shares issued out into the market. There is no change in equity since there is no additional capital being pumped into the company.
Key financial ratios like the PE ratio and the dividend yield will not change.
The only changes are in ratios that are calculated using "per share" such as the dividend per share which will be divided by 4. If you buy 400 shares of the new VICOM, you'll be getting the exact same amount of dividends you'd get if you had 100 shares of the old VICOM.
Current Valuation
Let's take a look at its current valuation based on its new share price per share of $2.33. Take note that the numbers you see below is for VICOM before the stock split so you will need to divide the numbers by 4.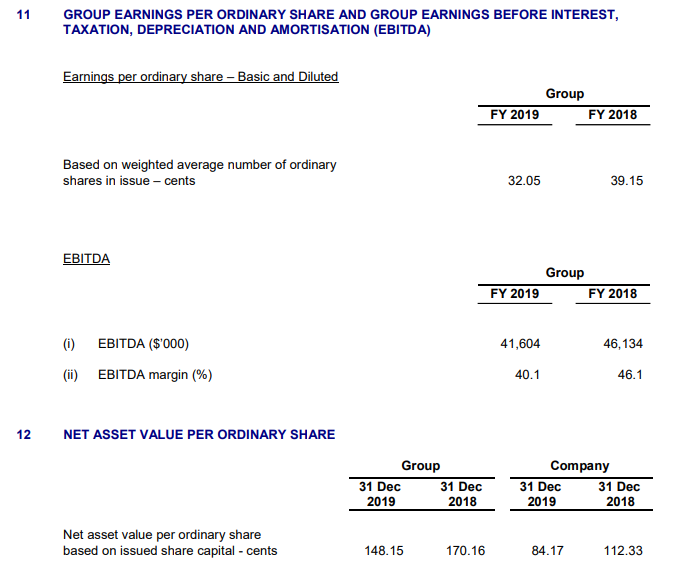 PE Ratio : 29.08
PB Ratio : 6.291
Forward Dividend Yield : 4.12%
(Assuming no special dividends, forward dividends/share = $0.096)
Buy Or Not?
The current valuation for VICOM is quite high and the yield is actually quite low if there is no special dividends being paid out. A more reasonable price to enter VICOM would be below $2.26, which would equate to a pre split price of $9.04, lower than its last closing price before the split.
The reasoning behind VICOM's high valuation is due to 2 reasons.
#1 Monopoly Business
VICOM is a great example of a monopoly business with a huge economic MOAT. VICOM is Singapore's leading provider in vehicle inspection and technical testing services. Currently, they hold more than 75% market share of the vehicle inspection business in Singapore. The best part of VICOM is that they have a very predictable and consistent cash flow. This is because in Singapore, vehicles are mandated to be inspected every 2 years.
#2 Dividend Growth
As I've covered in my previous article, 5 Dividend Growth Stocks to Hold for the Next 10 Years, VICOM has been consistently growing their dividends for the past 10 years.
They paid out $0.0775/share in dividends in 2008 and in 2019, they paid out an impressive $0.459/share dividend. That is an insane 492.26% increase in 11 years. The share price of course rocketed with the stock, increasing 328.73% from 3rd Jan 2008 to 27th Dec 2019. In total, that is a ~381% gain in a short 11 years including dividends.
Final Thoughts
VICOM is equivalent to a golden goose that lays golden eggs. It can't grow anymore but it will lay a golden egg every year for its owners to sell off and enjoy. To me, VICOM is a safe dividend play, a company with a consistent and predictable stream of cash flow.
To me, I won't buy VICOM unless the share price comes down to a more reasonable price range. The market is filled with so many other attractive companies for you to buy, I don't see why you would go for VICOM unless you want something to buy for your retirement and you want something that is predictable and consistent.
As always, you can take a look at my portfolio updates to see my current positions! Also, use my referral code for an extended 3 months of premium access to StocksCafe! P.S. I'm running a telegram chat group for you guys to share and discuss investment-related topics so come on in! I'll be there too! You can join the chat here: https://t.me/joinchat/D4iHeEVapnGC1lWcFEupVw
Are you new to the stock market and don't know what you should do to avoid losing half your portfolio through bad picks? Or perhaps you are an experienced investor/trader looking for fantastic opportunities and picks in the market that you might have missed out on?
If so, look no further because I am running a Premium Subscription that offers services such as:
Access to both my Singapore and US Tech Watchlist with Preferred Entry Prices
Telegram Group Invitation Where I Share Market Updates and My Personal Views
Monthly Tradable Opportunities with Trade Setups
On-Demand In-Depth Fundamental and Technical Analysis on Any Stock of Your Choosing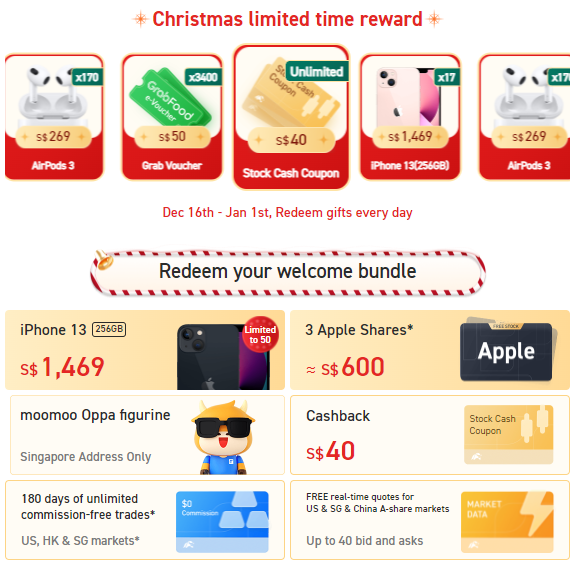 For the ongoing promotional period (Nov 30th – Dec 31st), when you deposit (First Deposit) SGD 2,700 successfully into your account, you will be rewarded 1 Apple (AAPL) share worth around SGD 220 as well as an SGD40 Stock Cash Coupon Bundle. Stand a chance to win a brand new iPhone 13 (256GB ,~S$ 1,469), Airpods 3, $50 Grab vouchers as well as $40 Stock Cash Coupons during the Christmas limited time reward promotion that is ongoing between Dec 16th – Jan 1st.
If you have yet to sign up for a FUTU SG securities account with moomoo powered by FUTU you can use my referral link here. For opening an account, you will be given 180 days of unlimited commission-free trades across the US, HK, and SG markets (do not apply for Stock Options and Futures). You will also be given free real-time Level 2 US Market Data, Level 1 SG Market Data, and now Level 1 for China A shares too!
Read Also: moomoo Trading App Review: Everything You Need To Know in 2021