With the recent pandemic, many investors are now warier with regards to their portfolio and are now seeking stronger "safe havens" to anchor down their portfolio. Companies with strong MOATs and predictable cash flow can help provide a steady stream of income even in times of a recession. VICOM (SGX: WJP) is one such company that fulfills these requirements. In this article, I'll be sharing with you all that you need to know about VICOM in 2021 before investing in the company.
Business Model
VICOM is Singapore's leading provider in vehicle inspection and technical testing services. The Singapore law mandates regular vehicles be inspected after your vehicle is 3 years old, after which the vehicle must be inspected every 2 years. After a vehicle is 10 years old, it must be inspected every year. Depending on the type of vehicle, the inspection frequency might increase as well.
This makes the overall business boring but predictable, which is why VICOM is a fantastic cash cow for investors and specifically dividend investors.
VICOM's Moat
Currently, VICOM holds more than 75% market share of the vehicle inspection business in Singapore. This makes VICOM's moat extremely strong as compared to its competitors in the market.
Not to mention the fact that anyone who owns a vehicle will definitely know VICOM, making their moat even stronger as the company has become a "household name".
5-Year Performance
Just to note, all figures are adjusted for the recent share split which you can read about here.
Predictable Revenue and Net Profit Growth
Note : Chart figures are in millions
As we can see, VICOM's revenue and overall net profit have been rather consistent and predictable. The revenue has definitely fallen off in FY2020 due to the pandemic which has disrupted their business. In Q2 F2020, they had to close most of their service centres. On top of that, the LTA has allowed private cars which had their inspection due during the Circuit Breaker period, to extend their deadline by 6 months which further delays VICOM's stream of income.
Unstable Per Share Growth
Note : Chart figures are in S$ cents
From the chart above, we can see that VICOM had managed to grow its NAV from FY2016 to F2018 but started to see it dip in FY2019 and FY2020. This instability is due to the company having a payout ratio above 100% from FY2017 to FY2019. Though this may be worrying for some, it is good to note that VICOM has a huge cash position and no huge plans for it. This is why they have distributed it back to shareholders as a way to reward and bring value for them.
Technical Analysis
Looking at the chart here, VICOM looks pretty slow-moving over the past few months. We can see that the stock is slowly moving towards a squeeze between a resistance and support line. From here, based on the MACD, if it manages to diverge and show signs of a trend reversal, we can expect to see VICOM break the resistance level. There is also an upcoming dividend in May which could help push the price higher.
Reasons To Invest In VICOM
As with every investment, you should lay out all the reasons as to why you are investing in a certain company. I'll be covering 2 key reasons why investors should take a good look at VICOM.
Low Risk Appetite
VICOM is a fantastic company for low-risk investors because the stock price is not very volatile. You won't see the stock price skyrocket 200% overnight and then drop back down 50% the next day. Since it is in a non-cyclical industry, it's a relatively slow-moving stock that provides a lot of stability to investors. Together with the fact that it is a monopoly, VICOM is the type of anchor you want, holding down your portfolio in volatile times.
Dividend/Income Investor
VICOM also presents an attractive opportunity for dividend and income investors as the dividends distributed are rather generous. As mentioned, the company has not much use for the huge cash position in their balance sheet and as such, is very generous in distributing all their earnings back to shareholders. This provides investors a rather steady and predictable stream of cash flow when investing in VICOM.
Final Thoughts
VICOM is equivalent to a golden goose that lays golden eggs. It can't grow anymore but it will lay a golden egg every year for its owners to sell off and enjoy. To me, it is a safe dividend play, a company with a consistent and predictable stream of cash flow. Investors who are looking for a safe haven, consistent and stable company to invest in should definitely take a look at VICOM.
As always, you can take a look at my portfolio updates to see my current positions! Also, use my referral code for an extended 3 months of premium access to StocksCafe! P.S. I'm running a telegram chat group for you guys to share and discuss investment-related topics so come on in! I'll be there too! You can join the chat here: https://t.me/joinchat/D4iHeEVapnGC1lWcFEupVw
Are you new to the stock market and don't know what you should do to avoid losing half your portfolio through bad picks? Or perhaps you are an experienced investor/trader looking for fantastic opportunities and picks in the market that you might have missed out on?
If so, look no further because I am running a Premium Subscription that offers services such as:
Access to both my Singapore and US Tech Watchlist with Preferred Entry Prices
Telegram Group Invitation Where I Share Market Updates and My Personal Views
Monthly Tradable Opportunities with Trade Setups
On-Demand In-Depth Fundamental and Technical Analysis on Any Stock of Your Choosing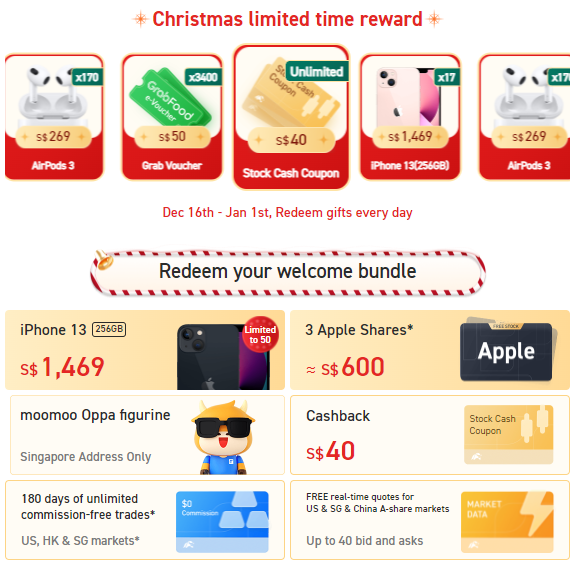 For the ongoing promotional period (Nov 30th – Dec 31st), when you deposit (First Deposit) SGD 2,700 successfully into your account, you will be rewarded 1 Apple (AAPL) share worth around SGD 220 as well as an SGD40 Stock Cash Coupon Bundle. Stand a chance to win a brand new iPhone 13 (256GB ,~S$ 1,469), Airpods 3, $50 Grab vouchers as well as $40 Stock Cash Coupons during the Christmas limited time reward promotion that is ongoing between Dec 16th – Jan 1st.
If you have yet to sign up for a FUTU SG securities account with moomoo powered by FUTU you can use my referral link here. For opening an account, you will be given 180 days of unlimited commission-free trades across the US, HK, and SG markets (do not apply for Stock Options and Futures). You will also be given free real-time Level 2 US Market Data, Level 1 SG Market Data, and now Level 1 for China A shares too!
Read Also: moomoo Trading App Review: Everything You Need To Know in 2021