Palantir (NYSE: PLTR) is definitely the new talk of the town with all the hype surrounding it thanks to r/wallstreetbets and analysts rating and rerating the stock over and over again. Palantir has recently released its FY2020 results and it is very promising but, the stock price has since seen a huge dip from its all-time highs. This has definitely caused some anxiety to investors who invested. Let's take a deep dive into what happened to Palantir and whether or not it is still a good buy.
Read Also: Palantir (NYSE: PLTR) – The Most Mysterious And Intriguing Tech IPO in 2020
Fantastic Revenue Growth
Jumping right into the revenue segment, we can see fantastic growth year on year. The Q4 revenue grew 40% while the FY2020 revenue grew 47%. It's also good to note that Palantir has crossed US$1B in revenue which is a pretty big achievement.
Revenue Distribution
Palantir has always been known to have mainly government agencies under their clientele but they have since started to diversify out more into the commercial space as well.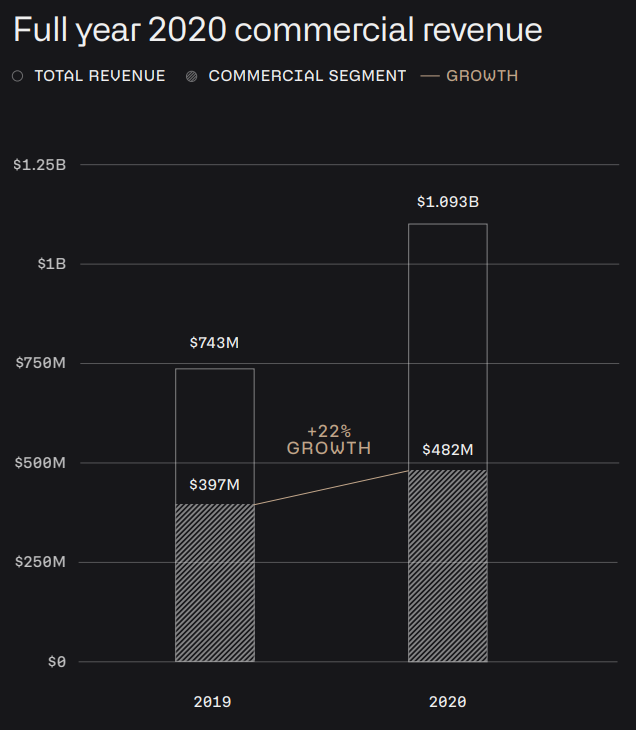 Starting off with their commercial revenue, we can see that it grew 22% year on year which is great as this segment is still small and growing. I believe that many companies are still on the fence about whether or not to use Palantir but of course, this will slowly start to change as more and more companies start using Palantir's product suite. The commercial customers accounted for 44% of the total revenue which is a big improvement from last year at 39%.
Palantir also saw a 107% revenue growth from US commercial customers, aided by investments in account-based salesforce and channel partnerships. This is something that I talk a lot about, which is when companies like Salesforce invest in other SaaS companies. They can bring in customers and partnerships, increasing synergy across many channels for these SaaS companies. Another great example would be Snowflake which Salesforce also invested in.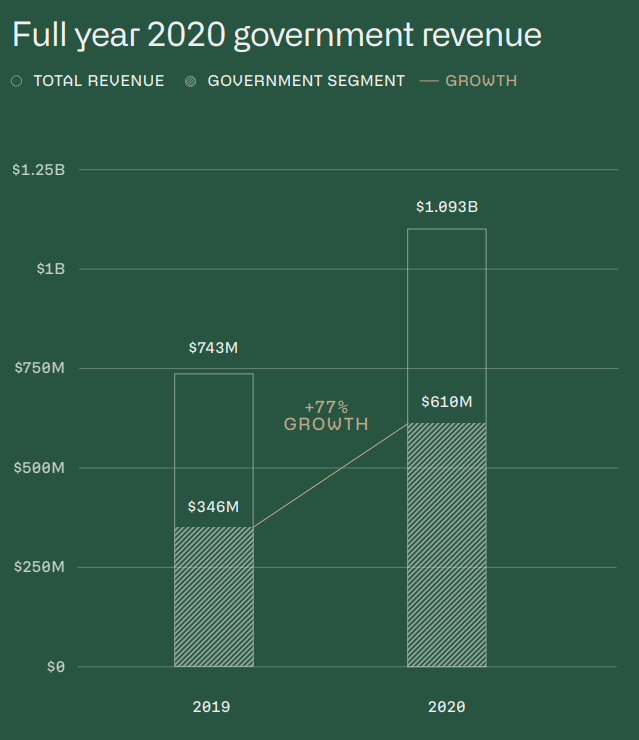 Moving onto the government segment, Palantir saw a huge 77% growth year on year. The government segment now accounts for a smaller portion of the total revenue but has also grown to >US$500M. Many are still concerned that Palantir has a high portion of its revenue coming from government agencies but I believe this is a pro rather than a con. Government agencies are known to be very sticky with the products and technologies they use, not changing for decades unless they really have to. They are also very stable which lowers the chance of defaulting customers.
Significant Customer Growth
Moving onto my favorite segment, customer growth, which is one of the most important factors to gauge how much a company can grow. Let's take a look into how well Palantir performed in this segment for FY2020.
Read Also: After Palantir's Exciting Inaugural Demo Day 2021, I Held An AMA
Increase in High Contract Deals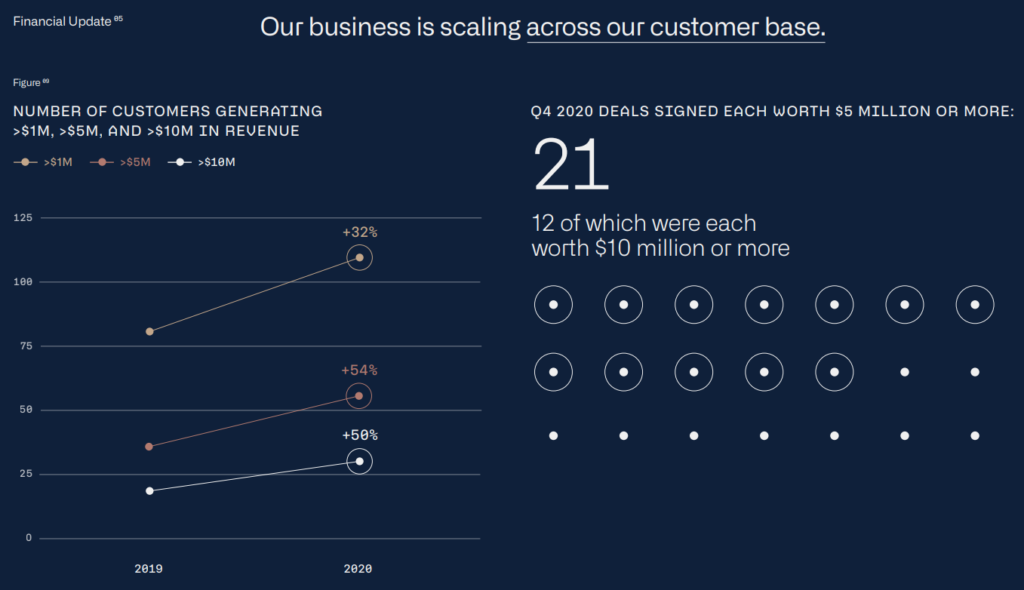 Right off the bat, Palantir talked about the big contracts and deals they had. In Q4 2020 alone, they signed 21 deals worth > US$5m, 12 of which are worth > US$10m. The number of customers generating >US$1m, >US$5m, and >US$10m in revenue are also increasing aggressively year on year by 32%, 54%, and 50% respectively.
Average Revenue Per Customer
Moving onto average revenue per customer, we can see fantastic growth year over year. The average revenue per customer shot up by 41% from US$5.6m to US$7.9m. We can also see the average revenue from Palantir's top 20 customers grew by 34% from US$24.8m to US$33.2m.
Contract Overview
Last but not least, the contract overview for Palantir moving into FY2021. As of FY2020, Palantir had a total deal value of US$2.8B which represents a 24% growth year on year. The Dollar-weighted average contract duration stands at a solid 3.6 years which means customers will be using Palantir for quite a while before deciding to drop the product suite. I personally feel that if a company uses a certain product for more than 3 years and likes it, they are most probably going to stick with it for a few more years.
Palantir's RPO increased 124% year on year to US$597.4m in FY2020. The current RPO increased by 114% year on year. The RPO is similar to deferred revenue whereby the client hasn't paid the full amount of the contract yet. These clients most probably paid an upfront amount and will pay the remaining when the product/service is fulfilled.
Palantir's annual contract value also grew 49% year on year based on a dollar-weighted duration. That is pretty huge considering how Palantir is already so big, yet it can still grow its annual contract value by 49%.
FY2021 Outlook
Palantir's management has also given a guidance for its FY2021 outlook. We should expect the FY2021 revenue to grow in excess of 30% and the Q1 of FY2021 should see a 45% growth in revenue. These numbers are pretty conservative in my opinion because when we look at the number of new contracts they have, we can definitely see upwards of 50% revenue growth year over year for Q1.
Final Thoughts
Palantir has also placed a very interesting 1 liner in their presentation slides for their 5-year outlook. They plan to hit a revenue of US$4B or more in FY2025. I personally believe this is quite realistic seeing as they already hit the US$1B mark in FY2020. For them to hit US$4B in FY2025, they will need to achieve a Compounded Annual Growth Rate (CAGR) of 31.95%, which is quite achievable with covid pushing more and more government agencies to start using Data Analytics suites to better help them analyze their huge data sets. Palantir's AI/ML models will also serve as a huge additional plus point when compared to its peers.
I've since added on more and more positions into Palantir as the dip is too attractive to miss out. Palantir's long term potential is getting clearer and investors should definitely hop on before the hype catches on and Palantir hits the moon. I will be holding on for a good 5-10 years before even thinking about selling. I see Palantir going to US$200B in the next 5 years to come and subsequently hitting US$500B.