With Palantir's (NYSE: PLTR) Inaugural Demo Day just finishing a while back and its results being released soon, many investors are starting to watch Palantir closely, accumulating along the way as results day draws closer. The company is definitely a very mysterious one and many investors are still clueless about what they do. As such, I held an Ask Me Anything (AMA) in my Official Telegram Group as well as on Reddit. Let's dive right into the questions and answers!
Background Information: My education, as well as work experience, is in the tech space
Read Also: Palantir (NYSE: PLTR) – The Most Mysterious And Intriguing Tech IPO in 2020
Thoughts on Palantir's tie-up with Rio Tinto?
Original Question: Any idea if Palantir's tie up with Rio Tinto would boost their revenue significantly?
Their tie-up with Rio Tinto is definitely a good thing but whether or not it will boost revenue significantly is another question. Here are some question marks that aren't answered yet:
They didn't say how many years is the partnership, it just says "Multi-Year Enterprise Partnership"
They didn't say how much they paid Palantir on this
On the bright side, we do know that for Rio Tinto's mining operations, we can imagine how Palantir can come into play, to help them better improve business operations through data visualization. With Palantir being able to connect people with data, this can help them ensure a few important things like safety measures being put into place due to covid-19 or increasing operation efficiency by spreading out employees into key mining areas.
Furthermore, with the amount of data being collected, Palantir's Foundry has a built-in A.I. and Machine Learning solution that can be easily integrated to assist with Rio Tinto's business team as well as operations team.
Do you think the valuation is frothy currently?
Original Question: Do you think at current levels, valuation is frothy? Given p/s ratio of over 50x. I guess we can also throw the traditional valuation method out the window in recent times, given how tesla's valuation of over 1500 time p/e.
Let's talk about valuating high growth tech companies. I personally don't like to use traditional valuation methods or ratios like PS or PE because those are based on historical values and numbers. When investing in high growth companies, we expect them to grow exponentially over the long term.
When I valuate high growth tech companies, I only do qualitative analysis on them. Who is the management team? What are their products? Who are their customers? What is their plan over the next 5 years? Who are their competitors and do they have an edge over these competitors?
Of course, looking at numbers are important but I look at numbers like Customer Growth, Churn Rate, DBNER, and DBNRR instead of looking at revenue growth, expenditure growth, etc.
Does Palantir have any competitors?
Original Question: Does Palantir have any competitors? Seems to me that Splunk and C3 ai are operating as pure AI / ML platforms whereas Palantir also takes into account the human expertise/experience in their respective products but not 100% sure here.
Realistically, I don't see any direct competitors. Yes, you can argue that on the AI/ML side, Splunk and C3 AI are somewhat competitors but you have to know that Palantir offers an entire suite that covers everything from connecting people with data in real-time to data analytics tools and systems like the AI/ML platform. From what I know, there aren't any companies that have such a suite.
Furthermore, they secured many contracts with government agencies, which have a history of not changing providers very often. This gives them an additional edge over any competitors that might want to steal some market share.
Follow Up Question: Since barriers of entry are very high and if Palantir continues to win contracts over time, can we claim they will have a monopoly? Also, do you think Palantir will eventually become the operating system for the modern enterprise? If yes, then my guess is that their valuation could reach 15x-20x.
It's a pretty sound and reasonable assumption if they continue to win contracts. As for your second question, Palantir becoming the operating system for the modern enterprise is highly unlikely because their product suite isn't a "must-have" for most companies. They are only relevant to companies that require real-time updates and a very comprehensive suite for data analytics such as government agencies and such.
What is Palantir's biggest technological challenge/hurdle over the next few years?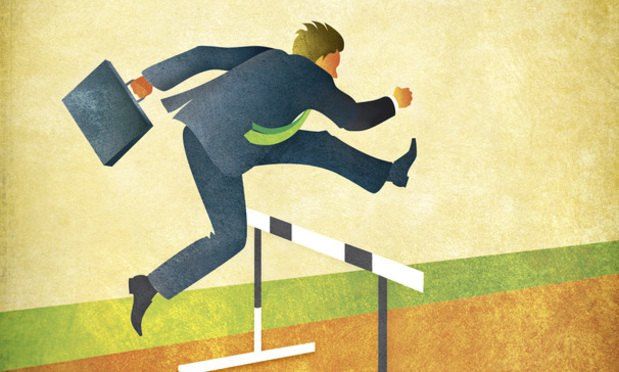 Original Question: What is Palantir's biggest technological challenge/hurdle at the moment and within the next few years?
From what I see, some of their existing problems will soon be solved such as:
Improving the AI/ML platform
Solution: More data sets = better ML training
Deployment and Bug Fixes
Solution: Apollo
Industry moving towards Code-Less/Code-Free
Solution: Platform already integrated
Here are some concerns I have for the next 3-5 years:
How can they be more Fortune 500 friendly?
As mentioned in one of my replies, I don't see Palantir being the go-to operating system for most enterprises. Their suite is just not that applicable for these companies. This will factor definitely affect their TAM. It will be interesting to see Palantir introduce another product suite for enterprises.
Speed and Integration
Can they make the setup, deployment, and overall integration faster? With everything moving onto the cloud, can they ensure high-speed processing not only with the data servers for data analysis but also for the real-time platforms that they offer in their suite.
Security
Thus far, we haven't heard any security breaches from Palantir and we hope not to hear any in the future. Regardless, we have to be prepared because Cybersecurity is a growing concern over the next 3-5 years. Wonder what Palantir will do to counter this. Perhaps introduce a new Security product into their suite?
Imagine I'm 5 years old, explain to me what Palantir does?
Original Question: Imagine I'm 5 years old, could you explain to me what Palantir does?
In short, Palantir brings all sorts of data together and make connections that previously was not possible. Now any non-technical person can start asking questions that previously were not possible.
Most big companies have silo data, which is data that is only accessible by certain departments of a company. One department might have all the access to sales data, and the other has manufacturing data. Now say you want to see connections between these datasets, normally it's very hard to ask the right questions because you don't have the underlying data or you have to have the database/data analytics create these reports for you. All this takes time and a lot of effort which is very undesirable.
Palantir manages to bring all this data and more (unstructured data like pictures, notes, etc), connect it all together, and put it up with a great user interface. Now people in the company have all these connections with different datasets and they can begin asking questions they never could before.
Do you think an executive or upper-level manager of an F500 company, for example, would have been able to understand the value of the tech from the demo?
Original Question: Do you think an executive or upper-level manager of an F500 company, For example, would have been able to understand the value of the tech from the demo?
Honestly, it might be hard for them to understand it unless they are well trained in tech. For a tech person like myself, I loved Demo Day. The presentation was fantastic and the people talking knew their stuff. It's really hard to explain how great their technology is unless you work in this field so a lot of people think Demo Day was a huge fluke.
Based on my experience, most managers and even C-level executives don't understand tech even though they are under the tech department. Some might be trained in that aspect, with certificates and degrees but they don't know much, other than the basics taught in school. Of course, the keyword I use is MOST, because I've also met some who are very competent and definitely knew their stuff.
Do you think Palantir's government clients will develop their own data service and replace Palantir in the future?
Original Question: Their big customers are institutions or government. It seems like they are really involved in critical governmental work, like criminal prevention or security. As such, do you think the US government will develop its own data service to take over Palantir's service in the future?
In short, I highly doubt they will do their own service to overtake/replace Palantir because of 3 simple factors.
Too much work
It is too labor-intensive to hire a ton of manpower to develop a new system as compared to just flat out using a great service that is already tried and tested. Creating a platform like Palantir could easily take years of work before it's actually ready for use.
Costs too much
Similar to the previous point, hiring all this manpower is too costly and the end goal would not be as cost-saving as you'd think.
Might end up being subpar to Palantir
Palantir is a very well built company being over 17 years old. Its products have been tested and improved upon over the past decade or so and it's really hard to replicate their product suite. Even if the government tried to replicate their product suite, it might just end up being subpar and less efficient than Palantir's.
What's so significant about demo day? What insight did it give regarding the future of the company?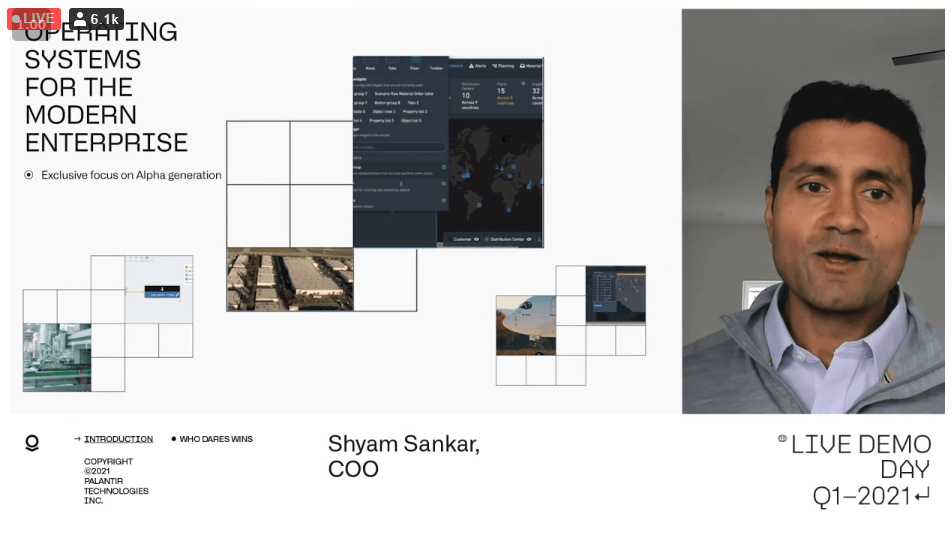 Original Question: What's so significant about demo day? And what insight did it give regarding the future of the company?
It was the first time retail investors get to see what the product is like. On the website, there is a ton of text and descriptions for each product, which most non-tech people won't understand. This allows them to showcase it straight while explaining the key features and functionalities.
From Demo Day, it makes me more confident, now being able to see their products rather than reading their description. As you know, descriptions can be deceiving and can be very different from the real thing. Demo Day served as a confirmation for me that the team knows what they are doing and has a fantastic product at hand.
Demo Day was very technical for the average investor. How will it affect investors' interest and what could help increase investors' interest in Palantir?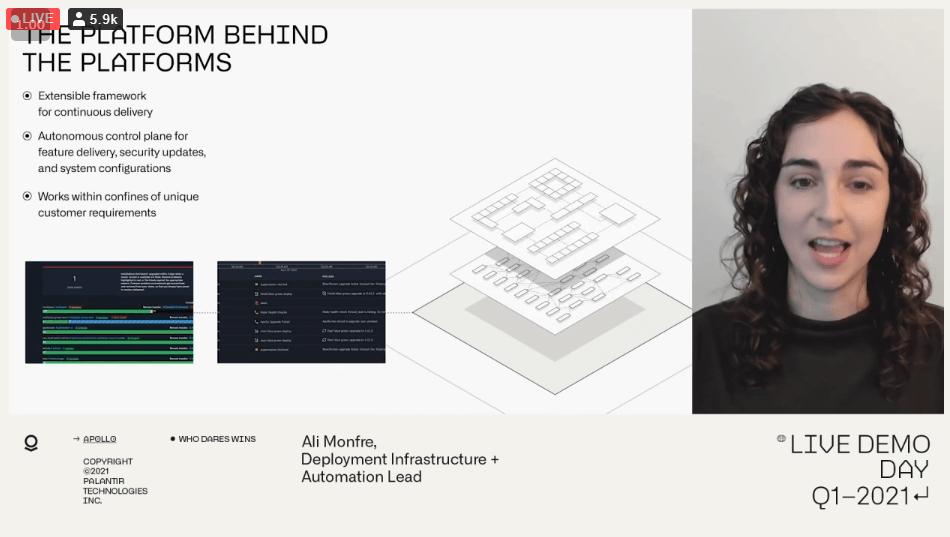 Original Question: The demo day presentation was very technical. I watched it with delight but how will it affect investor interest? I mean will investors be interested enough to support palantir? What could make the interest increase?
Yes, the presentation was super technical and I feel that this was how they wanted to put it across. It would've taken too much effort to try and dumb it down for everyone and even if they did that, I doubt most of these people would believe/understand what the company is going for.
Firstly, the technical presentation, for investors with a technical background such as myself, will understand fully not only the product offering but also the product's technical roadmap for the next few years to come! This is definitely a positive impact on investors' interest in Palantir.
I feel that the upcoming results and potential client contracts will prove to investors that Palantir is ready to bring on Enterprise and F500 clients, not just government agencies.
Technical analysis on each individual product offering from Palantir (Gotham, Foundry, Apollo), as well as your theories on where the tech is headed in the next 10 years.
Original Question: Would love to hear your technical analysis on each individual product offering from Palantir (Gotham, Foundry, Apollo), as well as your theories on where the tech is headed in the next 10 years.
Across the board, all the 3 products are well done, very simple to understand, and is very useful in making core business decisions when working with Big Data. I wanna dive into Apollo especially because this product's purpose is so important for Palantir's key clients right now (Government Agencies).
When software companies sell their software out, they will often have bug patches, new features, and such that will be pushed out as time passes. These updates are usually done over the cloud when deployed out to their servers.
The difference with Palantir is because its customer base is usually government agencies that require high security. These clients will usually have all their software in their own servers which are private cloud. This poses an issue when new updates need to be pushed out to these clients.
With Apollo, it works as a delivery man that is able to constantly push new updates immediately out to the clients without any downtime or human intervention. This gives Palantir a huge selling point/edge over other companies and products.
Let's get onto the future predictions.
Gotham
Some interesting features that could be added like Enhanced GPS tracking, Detection Alerts, and even Simulations. With the platform's AI and machine learning models being improved as more data is being used to enhance it, there is no doubt that all these features will soon become a reality. I believe that as the models improve to a certain level, they can start introducing suggestions such as "You should do this instead" or "How about this method".
Foundry

The Foundry platform is a pretty straightforward one, being a data analytics and visualization tool. Possible upgrades and features include allowing more data sets to be merged and analyzed, the AI and machine learning model jumping in and providing more accurate insights as well as suggested actions to take.
I believe that data analytics should not be bound to only data scientists but also other business departments such as sales & marketing. As such, it'll be pretty cool to see the platform improve into a more user-friendly tool, allowing people from all backgrounds to easily understand the data and visualization.
Apollo
Apollo is definitely the one I'm most excited about. The possibilities are endless with Apollo as they can improve on so many areas such as Security, Scalability, Deployment Speed, and Efficiency. I also foresee some M&A with certain Automation and DevOps tools in the market now like Docker and Jenkins. These products are currently very popular in this field and have the ability to be merged well with Apollo, further enhancing the product.
Final Thoughts
I hope that this summarized AMA has helped you better understand Palantir as an Investor. The upcoming results release is definitely highly anticipated and I'm sure there will be tons of good news as well because the share lock-up is due 3 days after the release of the results. The management has also put up an earnings QnA page for investors to ask any questions. If you have any questions for the management, head on over here.
I personally have been accumulating Palantir for a very long time now and will continue to as I like the long-term outlook for the company despite what the media says. The upcoming earnings results will definitely prove to shareholders that Palantir isn't just a WSB meme stock that is being pumped and dumped.