Apple Inc. (NASDAQ: AAPL) has outshined most of the companies in the tech industry. After the recent stock split, Apple's stock has fallen more than 20% from its recent highs, making investors consider if now is the right time to buy some of Apple's stock.
For a better sense of the future, AAPL might hover around the $100-$115 range throughout October. But through all this, the Apple iPhone 12 is about to launch. Most investors think that it is "the calm before the storm". In this article, I'll be sharing if now is the right time to invest in Apple's stock.
Business Overview
Apple is a very well known company as they are the makers of the iPhone, Macbook and iPad. From 1987 to 2000, Apple's stock rose to 20% in total. This is hard to believe as Apple is already up over 40% just year to date. Many investors know about Apple but don't know if it is the right company to invest in as it is already so big. Some would say, "how much bigger can it get?".
Does Apple Have A Moat?
Do you realize that some, if not most, Apple customers spend like high-value customers when they walk into an Apple store. You will also realize that they do not exhibit the same behaviors at other retailers. Apple's customers are incredibly loyal and show their love by opening their wallets. Think about it. Whenever a new iPhone is released, there will always be a long line of customers waiting outside of the Apple store overnight.
Some might argue that most iPhone users do not purchase their services such as the additional iCloud storage, Apple music and so on but you will realize that once they start purchasing these services, they tend to spend more as time passes.
Not to mention, Apple is great at nudging users to sign up for their services. If you own an iPhone, you will know that they prompt you to buy additional iCloud storage way before your iCloud storage is actually full. They also ask you if you want to buy the Apple Care plan as a form of insurance if anything bad happens to the phone.
Apple's Ecosystem
Apple's ecosystem encompasses every service and device they currently make and even includes many of the features on its devices.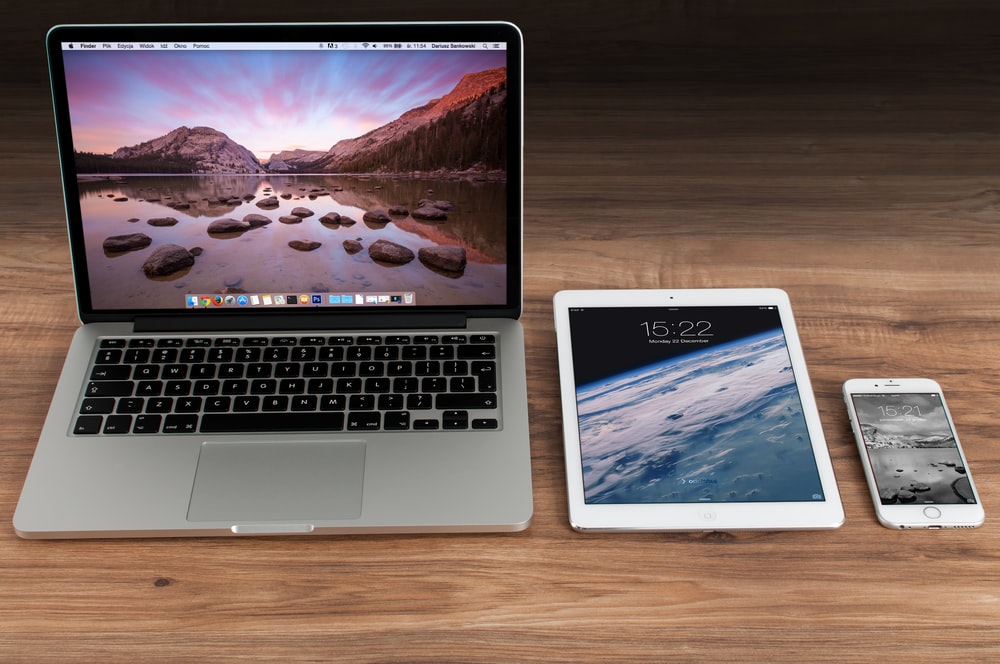 Whether you have an iPhone, iPad, iMac, MacBook, Apple Watch, pair of AirPods, Apple TV, or HomePod, your Apple devices are made to work with one another in useful ways. What separates these interactions from the competition is how well these features are implemented as well as how restrictive they can be. The ecosystem has plenty of great features that can be overlapped such as the AirDrop or sharing content through the iCloud.
Financials
Income Statement
| Year on Year Difference | 9M Ended June 2020 | 9M Ended June 2019 |
| --- | --- | --- |
| Product Revenue | $170.598 billion (+5.08%) | $162.354 billion |
| Services Revenue | $39.219 billion (+16.1%) | $33.78 billion |
| Total Revenue | $209.817 billion (+6.98%) | $196.134 billion |
| Gross Profit | $80.267 billion (+8.35%) | $74.079 billion |
| Net Income | $44.738 billion (+7.62%) | $41.57 billion |
Despite its huge size, Apple has shown time and time again that it is able to keep on growing. A key area to note is that Apple has been able to aggressively grow their services revenue which is a good thing because this segment of their revenue is highly recurring. As this segment accounts for a larger part of the total revenue, it will help bring about stability to Apple's performance in the long term.
Balance Sheet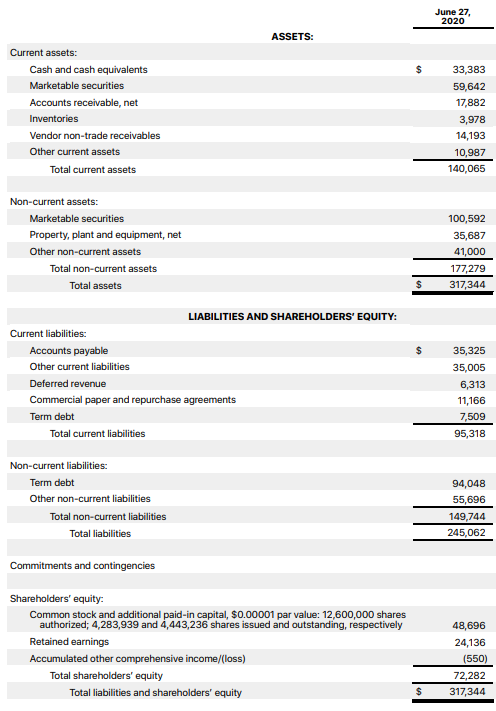 Apple's balance sheet is very healthy with a current ratio of 1.47x, a strong cash position and not much short term debt. Apple being at the mature stage of its lifecycle, does not need to retain much of its earnings. As such, the company not only gives out an attractive dividends but it also does share buybacks.
Dividend Growth
Apple's dividend growth is remarkable with a 5 Year Growth Rate (CAGR) of 10.50%. They have been able to consistently grow it for the past 8 years and I'm confident they can continue to grow it for the next 10 years down the line because they have been maintaining a very conservative payout ratio of ~25%. Apple brings a lot of value to shareholders with its high dividend growth rate, continuous share buybacks as well as its history of stock splits.
Apple's Stock Splits
Stock splits aren't something new when it comes to Apple. It took about 38 years for Apple to increase its market cap to $1 Trillion. Adding two years more (40 years total), Apple split its stock to give the company a stock boost which worked well as it took Apple to its second trillion in market cap.
Three weeks after the recent stock split on 31st August, AAPL dipped as much as 18%. This decrease is making a lot of people skeptical about investing in Apple but it is good to note that from 1987 to 2000, Apple's stock rose a mere 20% in total. Apple's stock movement has become more volatile in the recent years as it is a growing household name. The slightest of news now triggers a sudden spike or sell down in its stock price. To me, the 18% drop could represent an opportunity to accumulate for the long term.
Should You Buy?
AAPL rose to unmatched heights amongst its peers in the tech industry. With its market cap currently sitting at around $1.8 trillion, many investors are hesitant on whether or not it can grow further but history itself is the evidence of how Apple is the perfect company to invest in.
At $109, AAPL is priced with an annualized PE ratio of 31.9x. If you are looking to invest in AAPL, the right approach here is to buy some today and continue to accumulate on pullbacks whenever the valuation is attractive. I'm not saying that AAPL is going to be next 10 bagger but it can definitely grow into a multi bagger in the future. Not to mention the huge dividend growth that comes along with the capital appreciation.
Final Thoughts
I personally do not own any AAPL stock but I like the company. The business model is simple to understand and they have a relatively interesting moat. They have a certain stickiness that makes current users keep on spending and wanting more.
I do want to point out that Apple, in my eyes, is no longer a growth or innovative company. It is now a mature company that is reinventing its old products with new features rather than a growing company that is inventing new products with new features.
As always, you can take a look at my portfolio updates to see my current positions! Also, use my referral code for an extended 3 months of premium access to StocksCafe! P.S. I'm running a telegram chat group for you guys to share and discuss investment-related topics so come on in! I'll be there too! You can join the chat here: https://t.me/joinchat/D4iHeEVapnGC1lWcFEupVw
If you have not made an account and want to try out Tiger Brokers, feel free to use my referral code (SGSTOCKM) or sign up through this link so that you can get these rewards!

You can check out my review on them here : Start Saving Up On Commission Costs ! Use Tiger Brokers !
---
If you're interested to know about my BUYs and SELLs before they appear on the site or you're looking for someone to guide and mentor you, take a look at the Premium Subscription service I'm doing now.
As always, you can take a look at my portfolio updates to see my current positions! Also, use my referral code for an extended 3 months of premium access to StocksCafe! P.S. I'm running a telegram chat group for you guys to share and discuss investment-related topics so come on in! I'll be there too! You can join the chat here: https://t.me/joinchat/D4iHeEVapnGC1lWcFEupVw
Are you new to the stock market and don't know what you should do to avoid losing half your portfolio through bad picks? Or perhaps you are an experienced investor/trader looking for fantastic opportunities and picks in the market that you might have missed out on?
If so, look no further because I am running a Premium Subscription that offers services such as:
Access to both my Singapore and US Tech Watchlist with Preferred Entry Prices
Telegram Group Invitation Where I Share Market Updates and My Personal Views
Monthly Tradable Opportunities with Trade Setups
On-Demand In-Depth Fundamental and Technical Analysis on Any Stock of Your Choosing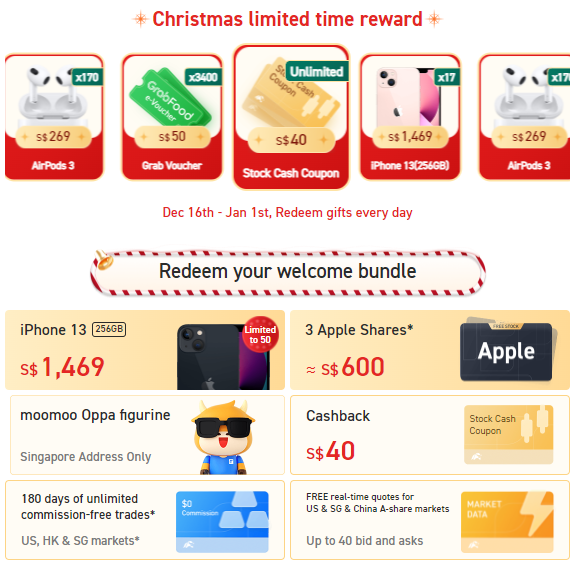 For the ongoing promotional period (Nov 30th – Dec 31st), when you deposit (First Deposit) SGD 2,700 successfully into your account, you will be rewarded 1 Apple (AAPL) share worth around SGD 220 as well as an SGD40 Stock Cash Coupon Bundle. Stand a chance to win a brand new iPhone 13 (256GB ,~S$ 1,469), Airpods 3, $50 Grab vouchers as well as $40 Stock Cash Coupons during the Christmas limited time reward promotion that is ongoing between Dec 16th – Jan 1st.
If you have yet to sign up for a FUTU SG securities account with moomoo powered by FUTU you can use my referral link here. For opening an account, you will be given 180 days of unlimited commission-free trades across the US, HK, and SG markets (do not apply for Stock Options and Futures). You will also be given free real-time Level 2 US Market Data, Level 1 SG Market Data, and now Level 1 for China A shares too!
Read Also: moomoo Trading App Review: Everything You Need To Know in 2021