On June 9th, Tiger Brokers announced that they have launched Tiger Trade, a mobile and online trading application which had access to the Singapore Exchange. Many are wondering if they are reliable or not and is it worth using them so today in this article, I'll be sharing the key points you need to know about Tiger Brokers!
Background
Founded in 2014, Tiger Brokers is an online stock brokerage start-up backed by Interactive Brokers Group Inc, Xiaomi Inc, ZhenFund and Wall Street investment guru Jim Rogers.
As a rising star in the industry, the Fintech company is committed to serving the best interests of stock investors and being a gateway to build their global portfolios.
It is also good to note that Tiger Brokers (Singapore) Pte Ltd is a licensed broker under the Monetary Authority of Singapore (MAS).
These are also their licensed entities
Custodian or CDP?
Tiger Brokers is a custodian broker which means that the stocks you buy and sell on their platform stays in their platform. It is good to note that there are no custodian fees or platform fees you need to pay.
Just to put it into perspective, I've compared it to the other custodian brokers available in Singapore.
Broker
Inactivity Fee?
Custodian Fee?
Tiger Brokers
None
0
Standard Chartered
None
0
SAXO
USD 100 when there are no trades executed for a period of 6 consecutive months (180 days).
0.12% p.a. with a monthly min. fee of SGD 5 or equivalent
USD 5 per month (if SGX stocks are held or traded)
FSM
None
0
Fee Structure?
Broker
SGX
US Market
Tiger Brokers
0.08%, no minimum*
* = (Promotion of no minimum charge is valid till 31 December 2020)
$0.01 / Share,
minimum 1.99 USD
Standard Chartered
0.20%, minimum 10 SGD
0.25%, minimum 10 USD
SAXO
0.10% – 0.12%, minimum 9-15 SGD
0.06%, minimum 4 USD
FSM
0.08%, minimum 10 SGD
0.08%
minimum 8.80 USD
It is also good to note that there is a withdrawal fee that will be charged by the bank when you make a withdrawal. This is what the Customer Service Agent told me, "Tiger Brokers Singapore does not charge any fee for deposit or withdrawal, but the bank currently charges 5 SGD per transaction if you withdraw SGD to Singapore bank account. If you withdraw USD, the fee will be 30 USD. And if you withdraw HKD, the fee will be 300 HKD. And it all depends on banks."
*Edit : As of 2nd July, I've confirmed with a tiger brokers staff and they have recently changed their bank over to a local one (DBS) as to minimize cost. With lower costs, they are no longer charging the 5 SGD upon withdrawal.
Markets You Can Trade
For Tiger Brokers, you are able to trade in 3 markets, the Singapore market, the U.S. market and the Hong Kong market.
Foreign Exchange Rates
I can't find any exact data or information for it but from what I can find, it matches closely to what you can find on https://www.xe.com/, so the rates are pretty competitive!
User Interface
Take a look at a few of the pictures I've taken below. This is the user interface for the desktop version if you download the application.
Take a look at the mobile app version of the Tiger Trade app. I like that the overall User Interface is simple and easy to navigate.
Final Thoughts and Personal Experience
The entire sign up process was very simple and quick. I managed to sign up and finish opening up my account in about an hours time. Then, it took about another 15 minutes to fund my account. The entire process was fast and efficient and I did not face any issues along the way.
It was also great that they have live customer support to help answer any queries you have! The customer support has been very helpful in answering all my questions.
All in all, I'll start using Tiger Brokers for short-medium term trades and positions so that I can take advantage of the volatile market and make use of the low commission costs.
So far today, I've already made 2 short trades today. The first being ComfortDelgro which I bought at $1.62 and sold off at $1.63. The second being CDL Hospitality Trust which I bought at $1.18 and sold at $1.19. Typically, if I did these trades on my usual broker, DBS Vickers, I would incur so much commission cost that I would be making a loss on these 2 trades.
As always, you can take a look at my portfolio updates to see my current positions! Also, use my referral code for an extended 3 months of premium access to StocksCafe! P.S. I'm running a telegram chat group for you guys to share and discuss investment-related topics so come on in! I'll be there too! You can join the chat here: https://t.me/joinchat/D4iHeEVapnGC1lWcFEupVw
Are you new to the stock market and don't know what you should do to avoid losing half your portfolio through bad picks? Or perhaps you are an experienced investor/trader looking for fantastic opportunities and picks in the market that you might have missed out on?
If so, look no further because I am running a Premium Subscription that offers services such as:
Access to both my Singapore and US Tech Watchlist with Preferred Entry Prices
Telegram Group Invitation Where I Share Market Updates and My Personal Views
Monthly Tradable Opportunities with Trade Setups
On-Demand In-Depth Fundamental and Technical Analysis on Any Stock of Your Choosing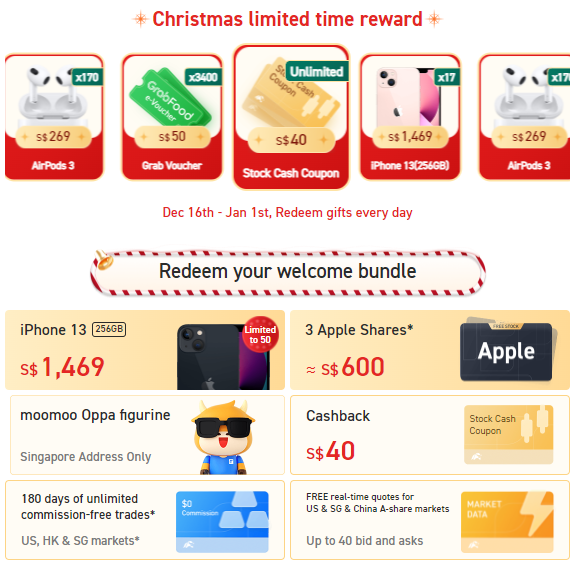 For the ongoing promotional period (Nov 30th – Dec 31st), when you deposit (First Deposit) SGD 2,700 successfully into your account, you will be rewarded 1 Apple (AAPL) share worth around SGD 220 as well as an SGD40 Stock Cash Coupon Bundle. Stand a chance to win a brand new iPhone 13 (256GB ,~S$ 1,469), Airpods 3, $50 Grab vouchers as well as $40 Stock Cash Coupons during the Christmas limited time reward promotion that is ongoing between Dec 16th – Jan 1st.
If you have yet to sign up for a FUTU SG securities account with moomoo powered by FUTU you can use my referral link here. For opening an account, you will be given 180 days of unlimited commission-free trades across the US, HK, and SG markets (do not apply for Stock Options and Futures). You will also be given free real-time Level 2 US Market Data, Level 1 SG Market Data, and now Level 1 for China A shares too!
Read Also: moomoo Trading App Review: Everything You Need To Know in 2021