With oil prices recovering to almost $30 after the recent price crash, many investors are curious what oil stocks to buy so that they can take advantage of this volatility. I'll be sharing with you the 1 oil stock you can invest in and sleep soundly at night. Rex International!!
Rex International (SGX:5WH)
Business Model
The company's main activities are in offshore oil exploration in assets located in Oman and Norway.
The company owns Rex Virtual Drilling, which is developed by its Swedish founders. Rex Virtual Drilling is a liquid hydrocarbon indicator that studies resonance information in seismic data to locate hydrocarbons directly. The company believes that Rex Virtual Drilling substantially increases the chance of success of finding oil in exploration drilling and is offering the technology as a de-risking tool to other oil exploration companies.
Rex International Holding has achieved three offshore oil discoveries since its listing in July 2013; one in Oman and two in Norway. The company is also expanding its business with research into sustainable energy solutions. The company's proposed new business in Sustainable Solutions for Materials takes inspiration from Sweden, a country that practices a circular economy or a cradle-to-cradle approach, that involves using products that can be reused completely.
Financials
Note that Rex International reports its financial statements in USD.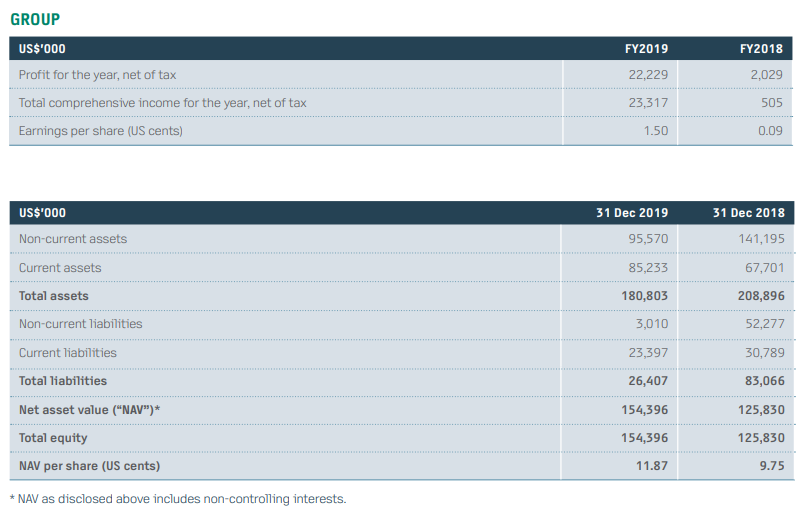 Year on year, the company grew phenomenally, growing its profits more than 10 times, its total income over 40 times. Also, the EPS has grown substantially as well, from 0.09 to 1.5.
This profit in FY2019 was largely due to the divestment of interests in the Rolvsnes discovery and related assets by the Group's 90 per cent subsidiary Lime Petroleum AS ("LPA") in Norway.
Looking at its balance sheet, we can see that Rex International has a high current assets to total liabilities ratio. This indicates that the company has sufficient current assets to pay for all its long term and short term liabilities.
This is a strong sign that the company is fundamentally sound and isn't drowning in debt. This ensures that we can invest in it while having a peace of mind.
Also, the company managed to grow its NAV/share year on year by over 20% !
Looking at the company's statement of cash flow can help us better understand its overall business and financial health. We can see that year on year, there is a huge increase whereby the company had a negative net cash in the year prior as compared to FY19 where the company had a positive net cash from operating activities.
Why Rex International Over Other Oil Companies
Based on the last closing price of $0.132/share, Rex International
Has a PB ratio is 0.776
Has a PE ratio is 6.29
is one of 2 companies in this sector that has a current asset to total liabilities ratio of > 1, the other being China Aviation.
($0.132/share) is cheaper than China Aviation ($0.995/share)

Easier to get into for investors with small capital such as myself
Should You Invest In Rex International?
Well you should ask yourself, are you ready for the volatility? Companies in the O&G sector are very volatile, especially in times like these where the oil prices are rapidly moving everyday. On some days, your position could be sitting at -5% and some days it could be sitting at +5%. If you want some exposure to this sector, I'd advise you to size your position according to your risk appetite.
Personally, I have a position in Rex International as well as some of my students from my Premium Subscription Service. I made a buy call on 10th April. This was before the price crash and before OPEC finally agreed to cut the oil production on 12th April. This is a short to medium term trade and not meant for long term holding.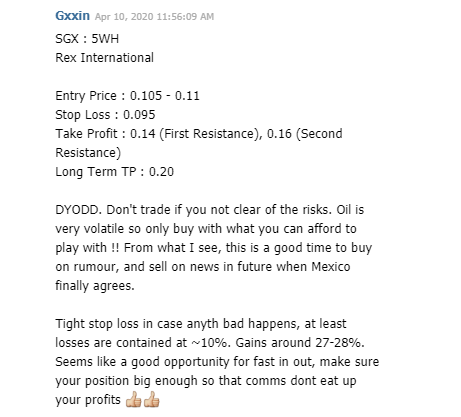 As you can see, for those who followed this trade, they would be sitting on big profits right now, though the past few weeks haven't been the smoothest of rides. For those who are interested to join the service, head over here to read more about it!