With Oil prices recovering steadily over the past year and well into FY2021, many investors are looking at possible companies to invest in so that they can ride this recovery trend. Rex International (SGX: 5WH) is one such company that is also a small-cap gem. There's been a ton of good news pouring its way so without further delay, let's dive into whether or not you should invest in this small-cap gem in 2021.
Note: This is a sponsored post but the views and opinions of Rex International are of my own.
Update On Rex International
Let's start the article with the newest updates on Rex International since the start of the year.
Completion of Yumna Well 2 and 3
Rex International started the year strong with the completion of Yumna Well 2 and 3 which further increased the oil production from 9,000 stb/day to 30,000 stb/day. The operating costs are also well maintained at a low US$80,000/day.
As of 5th April, Rex International shared an update that the 3 wells were tested steadily over a week at rates of 20,000 stb/day and the production rate has since then been optimized in accordance with the reservoir management plan, aimed at maximizing recovery from the Yumna Field.
On top of this, they also drilled Zakhera 1 well on the 21st of February using the rig that was used for Yumna 2 and 3. The prospect is located about 12km south of the Yumna Field.
Lime Petroleum Awarded New Licences
Rex International's subsidiary, Lime Petroleum, continues to receive more awards, 4 in Norway including one with discovery. This brings up their total licenses to 13 in their portfolio.
On 7th April, Lime Petroleum has offered to do a swap of licenses with ONE-Dyas Norge AS. The rationale behind it is for them to hold licenses which are closer to production, hence lowering exploration risks.
FY2020 Performance
Moving on, let's dive into Rex International's FY2020 performance to see how they fared during the pandemic.
Income Statement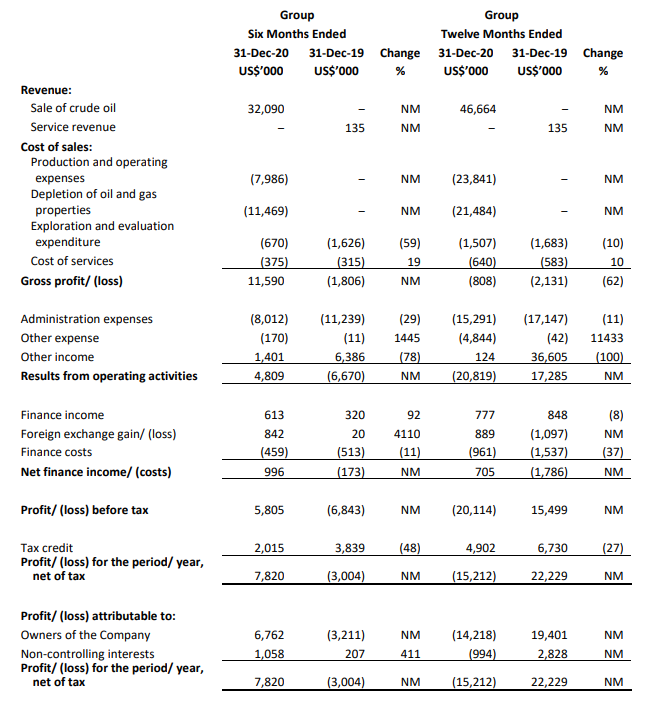 From a quick glance, we can see that Rex International incurred a huge loss this year as compared to 2019 but let's dive deeper into why this happened.
Starting from the revenue segment, we can see that they incurred some revenue from the sale of crude oil thanks to the drilling in Oman. Moving onto the cost of sales, we can see where majority of the expenses came from, which is the initial setting up and production of the drills. As it is the initial setup cost, we can expect to see a huge decrease moving into FY2021.
It is also good to note that the sale of Crude Oil was done when oil prices were still weak and hovering around $20-$40 as compared to right now, which is hovering around $60. We can definitely expect to see a strong increase in this segment in FY2021.
Balance Sheet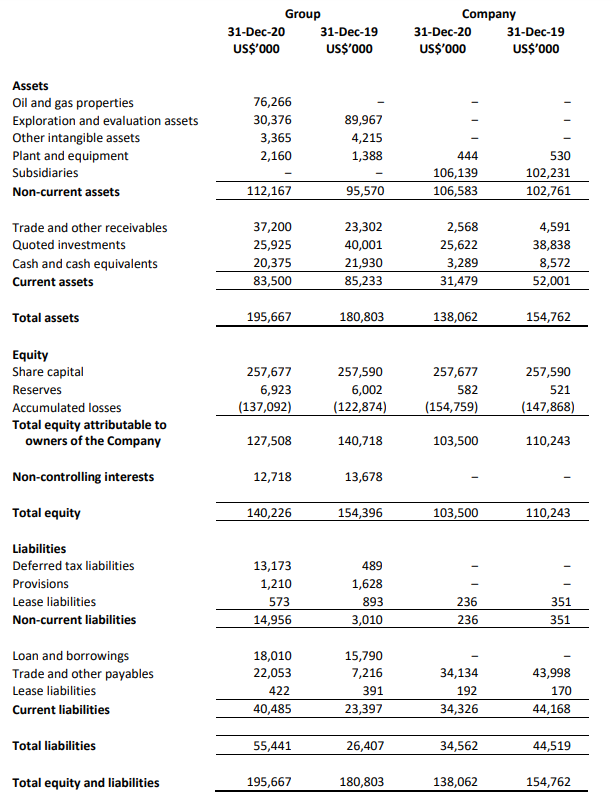 On a brighter note, Rex International does have a very healthy balance sheet with a current ratio of > 2. I would have preferred if they had a larger cash position in their balance sheet but seeing as they spent a ton on the initial setup of the drills in Oman, it is understandable why the cash balance is not as high as I would want it to be.
Looking Back A Year Ago
A year ago, I wrote a similar article covering why Rex International is a good choice if you want exposure to the oil sector.
Read Also: If You Want Exposure To The Oil Sector, You Should Invest In This Stock
Since then, I've also written another article with regards to my predictions on how well Rex International will do for the year. Let's take a look at how well I fared.
Read Also: Rex International Is Set To Break New Highs In 2020!
Predictions Made
| | | | | |
| --- | --- | --- | --- | --- |
| | | Prediction | Did It Happen? | |
| | | Revenue Prediction | Surpassed Expectations | |
| | | Additional Licenses Awarded To LPA | Yes | |
| | | Possible Dividend Policy | No | |
| | | Unlock Value Through Divestment of Shrek Prospect | No | |
Moving Forward
Moving forward, I will share a few of my new predictions here and look back again a year later to see how well I fared.
| | | | |
| --- | --- | --- | --- |
| | | Prediction | |
| | | FY2021 Revenue From Sale of Oil US$191m-US$239m | |
| | | Possible Dividend Policy | |
First off, my prediction on how much Rex International will make from the sale of oil is rather conservative and here is how I calculated it.
| | | | | | | |
| --- | --- | --- | --- | --- | --- | --- |
| | Production Rate (Daily) | Average Oil Price | Revenue | Operating Costs | Government's Entitlement | Net Profit |
| | 20,000 | $62 | $1,240,000 | $80,000 | 40% | $664,000 |
If you didn't know, Rex International has to do a profit cut/sharing with the government for all oil barrels sold found from the Oman prospect. The above assumption is conservative because it assumes that the oil prices will not move for the entire year and that the production rate will not be increased.
A daily net profit of $664,000 comes up to a monthly net profit of $19.9m and projected FY2021 revenue of $239m. The lower end of the prediction comes from a 20% revenue cut which could come from increased operating costs, lower oil prices, or overall lowered production rate.
Secondly, I am still confident that the management will start a dividend policy after seeing the restart of the share buyback mandate. The company will soon be very cash flow positive and have a strong cash balance that cannot be reused efficiently to bring value to shareholders. As such, share buybacks and dividends could be a better alternative for shareholders.
Final Thoughts
The golden question that you should ask yourself right now is should you invest in Rex International at its last close price of $0.182. It is good to note that Rex International is an oil drilling company and because oil is a very volatile commodity, investors should be ready for a handful of volatility when investing in this company. On top of that, with the company being a small-cap, this might create increased volatility when there is huge trading being done. I personally am still invested and will continue to invest more as Rex International has a ton of upside to go before I realize any profits.
Where To Find Such Small Cap Gems?
Rex International is one of the many small-cap gems that can be found in the Singapore market but how can we find them within the Singapore market of 700 listed companies? Check out Investor-One.
ShareInvestor started Investor-One in 2017, supported by SGX with the intention to bring more awareness to Catalist-listed stocks. The site has since expanded to include Main Board stocks as well with a focus on small and mid-cap companies. Here are some of the key features of the platform:
Editorial Articles Written on Small and Mid-cap stocks
Performance page which showcases a brief overview of the market, with a summary of the top 5 most actively traded stocks, stocks at a 52-week low, stocks with lowest P/E, highest dividend yield, lowest P/B, etc.
Insights on the latest IPOs
Quick Facts page which showcases information on Stocks such as Insider Trades
Last but not least, don't forget to join ShareInvestor's telegram channel for the latest updates and news!