Keppel DC REIT (SGX: AJBU) is Singapore's first and only pure Data Centre REIT as well as the most overpriced REIT, with a PB of 2.16x @ $2.61/share. Many investors have avoided the REIT due to its rich valuations but is this a mistake? Based on the REIT's track record, it has been consistently improving year over year by double-digit figures and it has not shown any signs of slowing down. Let's take a deep dive into the 5 important takeaways from Keppel DC REIT 1H 2021 results.
1. Consistent Growth In Gross Revenue and NPI
| Year on Year Difference | 1H FY2021 | 1H FY2020 |
| --- | --- | --- |
| Gross Revenue | S$135.147 million (+9.0%) | S$123.95 million |
| Net Property Income (NPI) | S$123.834 million (+8.4%) | S$114.217 million |
Jumping right into the results, Keppel DC REIT has posted yet another strong set of results, growing its Gross Revenue as well as NPI in the high single digits. This growth has been pretty consistent over the past few years and I'm confident that the REIT will continue to perform with similar growth in the future. With Data Centres being the next big trend, Keppel DC REIT will continue to see a huge demand in its assets, allowing them to maintain high occupancy rates and increase its rental reversion rates as time passes.
2. Exceptional Growth In Distributable Income and DPU
| Year on Year Difference | 1H FY2021 | 1H FY2020 |
| --- | --- | --- |
| Distributable Income | S$84.256 million (+12.4%) | S$74.98 million |
| Distribution Per Unit (DPU) | 4.924 cents (+12.5%) | 4.375 cents |
With strong growth in the NPI, comes exceptional growth in Distributable Income as well as DPU. Keppel DC REIT managed to grow its Distributable Income by an impressive 12.4% and its overall DPU increased by 12.5% year on year for the first half. This growth is mainly due to contributions from accretive acquisitions and the completion of asset enhancement initiative works.
This growth is really unchallenged amongst all REITs in Singapore. For a dividend growth investor like myself, Keppel DC REIT is an important must-have in my portfolio. The best part about investing in REITs with this growth level is that my yield on cost will keep on growing exponentially as time passes. Based on a yield on cost of 3%, growing at a rate of 20% year over year, we can expect it to grow exponentially, to upwards of 7.4% over the next 5 years.
3. Solid and Stable Financials
| | As at 30 Jun 2021 | As at 31 Dec 2020 |
| --- | --- | --- |
| Aggregate Leverage | 36.7% | 36.2% |
| Interest Coverage | 12.9x | 13.3x |
| Average Cost of Debt | 1.5% | 1.6% |
Moving onto the financials, we can see that the aggregate leverage has increased slightly from 36.2% to 36.7% but the management is comfortable with the current debt headroom to pursue any possible growth opportunities in the future should any arise. The interest coverage ratio stands strong at 12.9x which means the REIT has the ability to gear up to 50% if they want to. Last but not least, the average cost of debt is also relatively low at 1.5%, a slight improvement from half a year ago.
4. Portfolio Stability
Looking at Keppel DC REIT's portfolio, we can see that it is very resilient and stable with a long WALE of 6.5 years. The portfolio is very diversified across multiple tenants in different industries as we can see below.
The total occupancy rate stands at a solid 98.0% with the majority of its leases (79.7%) expiring in 2025 and beyond. The occupancy rate improved due to 3 key factors:
Completion of Intellicentre 3 East Data Centre (IC3 East DC), commencing the 20-year triple net master lease
Exercised option for the 30-year extension of the leasehold land tenure for Keppel DC Singapore 2 with effect from 1 Aug 2021
Proactive leasing efforts resulted in new, renewal and expansion leases secured with clients at the Singapore and Dublin data centres, including some renewals ahead of expiry
5. Growth Potential
As with all investments I make, I want an investment that grows over time rather than stays consistent and flat line over the next 3-5 years. Let's take a look at some of the growth potential that Keppel DC REIT has.
Maiden Data Centre Acquisition into China
With the increased demand for everything to move onto the cloud, the demand for Data Centres are also increasing rapidly. Keppel DC REIT expects the European Data Centre market to grow by >40% to over US$25b by 2024 despite the limited new supply. APAC Data Centre spending is also expected to surpass US$35b by 2024 to account for >35% of the global market.
As I've mentioned in my previous results coverage for Keppel DC REIT, a potential acquisition is on the way as we can see Keppel DC REIT having a relatively low aggregate leverage and the share price being priced at such a huge premium that any form of equity fundraising for acquisitions will definitely be accretive for shareholders.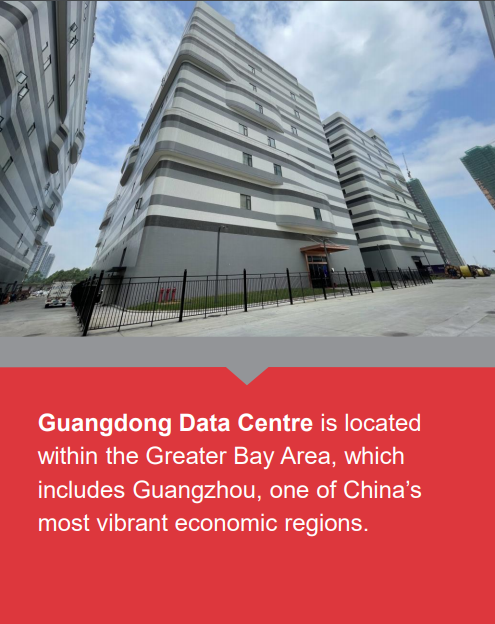 Released together with the 1H 2021 results was the announcement of a new acquisition, marking Keppel DC REIT's maiden acquisition into the China market for Data Centres. The strategic acquisition of Guangdong Data Centre in Jiangmen, Guangdong Province proves to be a fantastic acquisition with a triple net lease for 15 years and the acquisition price representing a 7.8% discount to the independent market valuation.
Guangdong Data Centre consists of a 7-story data centre designed in accordance with the Code for Design of Data Centre Grade A GB. The asset is 1 of 6 data centres buildings to be completed in the Bluesea Intelligence Valley Mega Data Centre Campus. This acquisition also gives Keppel DC REIT the right of first refusal to acquire the remaining 5 data centres to be developed.
The Manager intends to fund the Total Acquisition Cost (approx. S$132m) with a mix of debt and/or equity. The structure and timing of the equity fund raising exercise have not been determined by the Manager as of the date of the announcement. The final decision regarding the proportion of the debt and equity to be employed to fund the Total Acquisition Cost will be made by the Manager at the appropriate time. Post completion of the Transaction, Keppel DC REIT's aggregate leverage is estimated to be 37.5%
Completion of Intellicentre 3 East Data Centre
As of 13th July 2021, Intellicentre 3 East Data Centre (IC3 East DC) in Sydney, has been completed with a total development cost of A$26.0m (approx. S$26.6m). This also commences the 20-year triple net master lease with Macquarie Data Centres for Intellicentre Campus. The completion of IC3 East DC is a fantastic set of news for Keppel DC REIT as we can start to see the asset start contributing to the overall portfolio performance in the next few quarters to come.
Widened Mandate
With the newly expanded investment mandate for Keppel DC REIT, they can now principally invest, directly or indirectly, in a diversified portfolio of income-producing real estate assets which are used primarily for data centre purposes, as well as real estate and assets necessary to support the digital economy. The manager introduced this expansion which is expected to strengthen KDC's portfolio for the long term while maintaining its focus on real estate assets which are used primarily for data centre purposes. This will allow Keppel DC REIT to continue to invest in assets with stable cash flows, attractive yields and accretive returns.
Shortly after, Keppel DC REIT announced a non-binding term sheet for a proposed investment in M1 network assets. This investment is expected to be highly yield accretive, without having to assume any operational risks. The management also expects the investment to generate long-term stable income to shareholders for the next 15 years.
The mandate gives access to wider range of opportunities such as data centre campuses with non-data centre assets (e.g. distribution centre, fibre network) and edge data centres. Moving forward, it seems that the management is confident in this mandate expansion and we can expect to see more of such investments that can help strengthen Keppel DC REIT's portfolio.
Final Thoughts
Without much saying, Keppel DC REIT has yet again performed way past expectations, kicking off the year strong with a solid set of results for 1H 2021. Although the REIT's nature is highly defensive, it has definitely performed remarkably well. Keppel DC REIT is one of the prime examples of low risk with high reward as long as you can hold on and stay the course.
Some investors will definitely argue that the yield is too low or there are better opportunities. Perhaps there are better opportunities elsewhere but, I don't think you can find a REIT that grows at this pace anywhere in the Singapore market. Yes, Keppel DC REIT is overpriced with a PB > 2 and a relatively low yield but think about its historical performance. When has Keppel DC REIT ever been "fair valued"?