Similar to Fastly's Q1 2021 Earnings, after Fastly Q2 2021 Earnings were released, the share price took another huge dive from $44.54 to a low of $33.87. The share price did recover during the day to close at $39.93 and continued to recover the next day to a closing price of $41.24. Investors are definitely concerned if they should average down, continue to hold on, or cut their losses short as the company might continue to revisit all-time lows. In this article, I'll be covering the 5 important takeaways from Fastly Q2 2021 earnings and how I feel about the continued drop in price
1. Earnings Estimate In Range
| | Q2 2021 | Q2 2020 | Q1 2021 |
| --- | --- | --- | --- |
| Revenue | $85.026 million (+13.88%) | $74.663 million | $84.852 million |
| Gross Profit | $44.706 million (-0.58%) | $44.966 million | $47.358 million |
| Operating Expenses | $102.174 million (+72.00%) | $59.404 million | $97.321 million |
| Net Loss | $58.295 million (+303.15%) | $14.46 million | $50.683 million |
Fastly Q2 2021 earnings showed improvement from the quarter before, better managing investors' expectations and performing in range with the estimates mentioned in the Q1 2021 earnings. Fastly's top line of $85.026 million was in line with the estimates made in Q1 2021 which was between $84 – $87 million. When compared to Q1 2021, we can see that Fastly managed to achieve marginal growth in terms of its top line but saw a similar dip in its gross profit.
The gross profit fell marginally by 0.58% due to higher cost of sales while the overall operating expenses grew aggressively by 72% year over year. The net loss, as expected of a high-growth tech company, widened significantly for Q2.
Business Metrics Taking A Hard Hit
| | Q2 2021 | Q1 2021 | Q4 2020 |
| --- | --- | --- | --- |
| Dollar-Based Net Expansion Rate (DBNER) | 126% | 141% | 144% |
| Net Retention Rate (NRR) | 93% | 110% | 116% |
| Last-twelve-month (LTM) NRR | 121% | 135% | 137% |
| Total Customer Count | 2,581 | 2,458 | 2,326 |
| Enterprise Customer Count | 408 | 395 | 378 |
| Average Enterprise Customer Spend | $702,000 | $705,000 | $681,000 |
Moving onto the business metrics which took a hard hit, we can see that across the board, everything fell significantly quarter on quarter. Most notably and importantly, the DBNER and NRR fell significantly quarter on quarter by 15bps and 17bps respectively.
Despite that, the customer growth is still consistent with the enterprise customer count growing by 3.3% and the total customer count growing by 5%. The average enterprise customer spend did fall slightly by $3,000 which is expected as it is directly correlated to the DBNER and NRR.
What Caused The Drop?
On June 8, Fastly's network experienced a global outage affecting nearly all customers. The outage resulted from an undiscovered software bug that was triggered by a valid customer configuration change. Fastly managed to detect the bug within one minute and returned 95% of its network to normal within 49 minutes, but customers were negatively impacted.
As a result, Fastly saw traffic volumes decrease and issued credits to customers following the incident. Given the usage-based nature of its business model, this resulted in an impact to the Q2 results. Fastly expects to see a downstream impact on revenue from the outage in the near-to medium-term as they continue to work with their customers to bring back their traffic to normal levels. Fastly's CEO, Joshua Bixby, mentioned that they will continue to implement significant measures to ensure increased resiliency for their customers and their users, and will continue to engage with their customers to regain their confidence in Fastly.
On top of this, several customers delayed the deployment of new traffic onto Fastly's platform as well. Despite this delay, Fastly is still confident in its ability to address issues related to the outage and assist customers in onboarding onto their platform.
Despite the outage being very worrying for investors, it is good to note that Fastly actually detected the bug within 1 minute and returned 95% of its network to normal within 49 minutes. This means that their IDS or IPS is very well developed and responsive. Coupled with a fast response team on the job, Fastly has proved to its clients and users that they are a reliable platform to work with, providing high availablity and swift response times despite one off outages.
2. Outage Drags Onto Q3 2021 and FY2021 Estimates
Moving into 2H 2021 and more specifically Q3 2021, Fastly expects similar performance to its past 2 quarters with an estimated revenue between $82 – $85 million. This will represent a 15.5% – 19.7% growth year over year. This is definitely a lot slower than what we'd expect from a high-growth tech company like Fastly but with all the setbacks that it has faced over the past year, it is still a respectable growth rate.
On top of that, we can see that Fastly actually reverted its FY2021 estimates a lot lower from $380 – $390 million in last quarter's estimates to $340 – $350 million. I believe this is mainly due to the impact of the outage in Q2 2021, negatively impact Fastly for the rest of the year as mentioned in the CEO's letter to shareholders.
3. New Blood Enters The Scene
After a string of bad news for Fastly, there is definitely some good news being shared this quarter. Starting off the list will be the introduction of new blood into Fastly's management. Let's dive into the background and history of the 2 new members of Fastly's management that will hopefully help grow the company to greater heights.
Newly Appointed CFO – Ron Riskling
Starting off will be the new incoming Chief Financial Officer that will replace Adriel Lares who has served as Fastly's CFO for the past 5 years, Ronald W. "Ron" Kisling. Kisling is expected to join Fastly in August after ending his 7-year long tenure with Fitbit, serving as CFO for the last 3 years. Before that, he was also serving as a CFO in Nanometrics and PGP Corporation. Based on his history and track record, investors can be confident in his ability to help grow Fastly to greater heights once he gets settled in.
Newly Appointed CRO – Brett Shirk
Next on the list will be the newly appointed Chief Revenue Officer, Brett Shirk, effective 22 February 2021. Shirk joins Fastly with over 25 years of experience in the cloud and security industry, most recently as CRO at Rubrik since Feb 2019. Before that, he served as SVP/GM (Americas) in VMware for 2 years, EVP (Worldwide Sales) in Veritas Technologies for nearly 2 years as well as a 13-year long tenure with Symantec with his last post being SVP (North America) for 3 years. Shirk also brings on a ton of experience that can definitely help Fastly accelerate to the next level.
4. Compute@Edge Gains More Traction
As mentioned in my previous Fastly Earnings Analysis, Compute@Edge is Fastly's saving grace. Let's take a look at how it has fared so far in Q2 2021.
What is Compute@Edge?
Just to recap, Edge computing is a distributed computing paradigm that brings computation and data storage closer to the location where it is needed to improve response times and save bandwidth. Fastly's Compute@Edge is the next generation of serverless computing. It combines the best in emerging technology to give developers unmatched power, scalability, security, and speed at the edge.
From the image above, you can see the amount of points of presence (POPs) that Fastly has globally. As we can see, Fastly's POPs are now in key areas in the world that requires the fastest speed, first world countires and regions such as the United States, Europe, Dubai, Asia and even Singapore.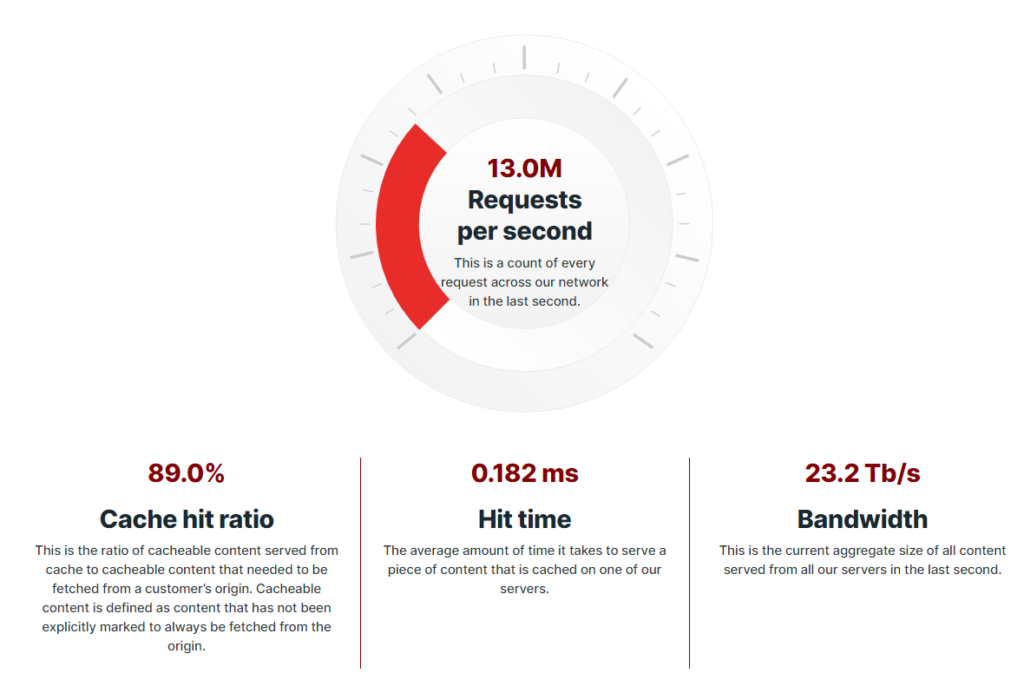 As you can see from the image above which was extracted from their website, they have a hit time of 0.182ms which is insane because that is faster than a blink (0.4 seconds). On top of that, they are also receiving a huge amount of traffic with 13M requests per second and serving an aggregate size of 23.2TB/s worth of bandwidth. An 89% cache hit ratio essentially means that 89% of all cacheable content is readily available at the customer's origin, which can thus further improve the response and loading time.
Fastly's Compute@Edge is literally, its competitive edge against all its competitors. As a developer, speed is everything. Users might look at the difference in numbers such as 1ms and 10ms as just a minute difference but in reality, when you are using an app, that 9ms can really make or break your user experience.
Not to mention, once you've signed onto a CDN, you are unlikely to change out, especially if you are an enterprise user because it is so hard to migrate everything without causing disruptions and downtimes. This further enhances Fastly's moat once an enterprise-level customer signs on.
Fastly's main target clientele is not the average food blogger or SMEs who just need a simple WordPress website. Their main target clientele are large-scale companies that require premium fast speeds, not just your average 10ms speed but rather, the premium 1ms speed. These clients are involved in key industries such as Video Streaming, Cloud Platforms, eCommerce Platforms, SaaS Providers, and Cybersecurity.
Some of Fastly's key clients include FuboTV, Stripe, Shopify, Github, and most notably their previous largest client, TikTok. As you can see, these clients require a high-speed connection and low bandwidth to meet the needs of their users. Fastly can help them easily scale their business operations through Compute@Edge.
Expansion in Customer Base Across Different Industries
Fastly saw Compute@Edge continue to gain more traction in Q2 2021, acquiring customers from various industries. Let's go through the key highlights mentioned in the earnings release.
Gaming
A large gaming platform leveraged Fastly's Nearline Cache feature as an elegant solution to virtually eliminate S3 origin egress costs while fitting seamlessly into its established workflow. Due to this, Fastly was able to capture a greater share of wallet within this customer's multi CDN approach.
Fastly did not reveal who this is but possible clients include Skillz, Roblox, Blizzard, and even Steam. There is no definite way to find out who it is as of now but it is reassuring to hear that Fastly managed to capture a greater share of wallet within this client's overall spending for CDNs.
Education/Ed-Tech
OpenSesame, required API security and a stronger Web Application Firewall (WAF) solution. Given Fastly's strong relationship and the ability to purchase through a single unified contract, they were excited to replace their incumbent provider with Fastly's next-gen WAF.
Financial Services
Paychex, an innovative software-as-a-service technology and mobility provider for payroll, benefits, human resources, and insurance, chose Fastly's next-gen WAF when they saw how easy it was to manage, deploy, and how well it protected them.
Additionally, Zopa, a UK-based neobank, having been a Fastly customer since 2019 added Compute@Edge to its engagement, leveraging it to drive new initiatives.
E-Commerce
An E-Commerce online platform that is transforming accessibility to high fashion has chosen to leverage Fastly's security portfolio while replacing their incumbent legacy providers. They chose Fastly to quickly scale and improve their overall digital experience while keeping their E-Commerce payments platform secure.
Fastly also did not reveal who this is and based on the industry, this client could literally be anyone because the scope is too big to determine who it is. Despite this, an E-Commerce client will definitely bring Fastly a big chunk of traffic which also translates to more revenue.
Travel
A multinational online travel booking service, which operates in 40 countries and is based in Europe, chose Fastly's VCL edge logic to replace their legacy configurations during their digital transformation to GCP. As a newly minted GCP partner, they instantly fell in love with Fastly's terraform integration, real-time logging, CDN management through API, and instant deployment.
Fastly did not disclose the client here as well but we can make an educated guess based on the information that was given. The only name that comes to mind would be Booking.com as it is based in the Netherlands and operates globally. This is definitely a huge win for Fastly given that the travel industry will start to see strong recovery post-covid which means that more traffic will start pouring in soon.
5. Updates on Signal Sciences
Introduction to Signal Sciences
Signal Sciences, if you don't know yet, SaaS company with a product suite directed at security. The hybrid and multi-cloud platform provides the highest level of security to ensure that your web applications are well secured and always available. You can see a quick overview at what their offerings can do for clients.

Just to summarize briefly, the overall product suite can help you improve your security by preventing malicious bots from performing malicious acts, limit the number of requests that can be made to prevent any potential threats, prevent any unauthorized API calls, prevent Account TakeOver (ATO) and block all Distributed Denial-of-Service (DDoS) Attacks. As you can see, Signal Science is the one-stop platform for all your web application security needs.
Integration Opportunities with Secure@Edge
As Fastly's partnerships evolve, they continue to broaden their product availability through various channels. Their next-generation WAF (formerly Signal Sciences) became available for customers to purchase via the Amazon AWS Marketplace, representing an important new route to market through channel partnerships.
This is a great example of how Fastly's refreshed go-to-market strategy is creating growth opportunities. Fastly also recently announced the achievement of a significant integration milestone with the Signal Sciences agent entering beta on the Fastly edge cloud. The combined precision of the Signal Sciences technology with the scale of the Fastly edge cloud gives customers a powerful solution to detect and defend against attacks, and is a compelling differentiator for Fastly in the market.
Finally, Fastly also introduced its first managed security offering, Fastly Response Security Service. This offering gives customers 24/7 access to experts in our Customer Security Operations Center, and an industry leading, 15-minute response time for critical security incidents. Providing this security expertise and assistance will help customers better prepare for and respond to attacks and other malicious activity keeping their business and users secure.
Final Thoughts
Fastly Q2 2021 earnings looked relatively weak to me from a quick glance. The falling business metrics like DBNER and NRR worries me because those are the metrics that I am most interested in. I prioritize these metrics higher than revenue growth or customer growth.
Nonetheless, I am still bullish on Fastly's long-term growth potential. I am very bullish on Compute@Edge as well as the integration of Signal Sciences, bringing enhanced value to its customers. I believe that the outage is a one-time, unexpected black swan event that is unlikely to be repeated in the near future. Even if it does happen again, I believe that Fastly will be more prepared to tackle it then.
As mentioned and unchanged from my previous results analysis, I am still holding shares of Fastly at a high average cost of $76.256. What am I going to do now with an unrealized loss of almost 50%? Thus far, I have yet to sell any shares of Fastly. My current stance is to hold until I see more clarity on their business with traffic returning back to normal.