Right after Fastly Q1 2021 Earnings were released, the share price took a huge dive from $58.06 to a low of $41.88, representing a 27.9% drop in just 2 days. Investors are now worried if they should continue to hold on or cut their losses short as the company might continue to dive lower. In this article, I'll be covering the 5 important takeaways from Fastly Q1 2021 Earnings and how I feel about the recent drop in price.
1. Near Miss in Earnings Estimates
| | Q1 2021 | Q1 2020 |
| --- | --- | --- |
| Revenue | $84.852 million (+34.8%) | $62.924 million |
| Gross Profit | $47.358 million (+32.8%) | $35.659 million |
| Operating Expenses | $97.321 million (+104.3%) | $47.635 million |
| Net Loss | $50.683 million (+322.7%) | $11.99 million |
Investors were disappointed that Fastly missed the upper end of their earnings estimate which was from $83 – $86 million. Although they fell short of the upper end, they still managed to fall within the range which is still a positive sign. The overall revenue and gross profit grew over 30% year on year which is great as this shows that Fastly is still growing at a relatively aggressive pace.
Another point that upset investors were the huge increase in Operating Expenses, which resulted in the huge widening of Net Loss, far from the estimates that were expected. Fastly estimated an operating loss of $14 – $10 million while the actual operating loss came up to almost $50 million. The Operating Expenses grew by over 100% year on year, making huge increases in the Research and Development segment as well as the Sales and Marketing segment. For fast-growing tech companies such as Fastly, it is quite common to see these areas grow exponentially year over year. It shows that the company is aggressively reinvesting into the business, maximizing its growth potential as early as possible.
Although Fastly did not meet the upper end of the earnings estimate, they still posted a respectable 34.8% growth year over year which is not easy to sustain given the loss of their biggest client, TikTok, last year. Investors should look beyond the short term and understand the long-term growth potential Fastly has before making any rash decisions to buy or sell.
2. Expected Slowdown in Q2 but Increase in FY2021 Estimates
As we can see, Fastly's Q2 2021 estimates of $84 – $87 million represents a huge slowdown in growth to a mere 12.5% – 16.5% year over year. The huge slowdown is due to the high base that was set in 2020 with revenue still coming in from their biggest client, TikTok. Despite this setback, Fastly has increased its FY2021 estimates by another $5 million on the lower and upper end. This shows that despite the slowdown in Q2, Fastly's management is still confident in delivering yet another stellar year with the new addition of Signal Science.
3. CFO Leaves
Investors are also in a state of confusion as it was revealed in Fastly Q1 2021's shareholder's letter that the current CFO, Adriel Lares will be stepping down after 5 years of service. He will continue in his role for a transition period while they search for a successor. He will also stay for a period of time after as an advisor to ensure a smooth transition.
I personally don't see any reason to panic as we can see that he still has some stake in Fastly which shows that he did not leave the company due to a fundamental issue but perhaps other personal reasons. If the higher-level management suddenly does a huge amount of selling and then decides to leave, that should be a huge red market for investors to take note of.
4. ARK Sold Out
Right after Fastly Q1 2021 earnings were released, ARK released in their daily trade information that they sold 1,464,856 shares of Fastly from their ARKW ETF. Currently, the ETF still holds 14,604 shares, which represents a 0.01% weightage in the overall ETF. Investors are wondering why such a huge fund like ARK would sell and taking it as a sign that they should follow suit as institutions tend to know more than retail investors.

It is indeed weird to see that ARKW still has a very minor stake in Fastly which begs the question. Why didn't they just sell their entire stake if they were unhappy with the results and Fastly's overall long-term growth potential? If ARK's investment thesis has changed for Fastly, wouldn't they just sell the entire stake instead of leaving a 0.01% left in their fund?
One possible explanation is that ARK still believes in the long-term potential that Fastly possesses but, feels that in the short term, we could see a huge nosedive before the share price bounces back up. As such, they could be attempting a "sell high buy low" strategy. Although I think that they would not try to attempt such a strategy, we can't rule out the possibility of that happening with all the negativity surrounding the company and the share price.
5. What is Fastly's Saving Grace?
Now investors are all wondering, should we just sell off now and move onto the next best thing? Perhaps invest in Cloudflare, Fastly's direct competitor. Let's take a look at what is Fastly's potential saving grace.
Compute@Edge
CDNs, or content delivery networks, are essentially a string of small computers, or servers, that link together to collaborate as a single computer. CDNs try to improve the performance of devices by placing these servers as close as possible to the people using those devices, in many different locations. When it comes to CDNs, users always face 2 key problems, slow response times and huge bandwidth usage. This is where Edge computing kicks in to solves these 2 problems.
Edge computing is a distributed computing paradigm that brings computation and data storage closer to the location where it is needed to improve response times and save bandwidth. Fastly's Compute@Edge is the next generation of serverless computing. It combines the best in emerging technology to give developers unmatched power, scalability, security, and speed at the edge.
From the image above, you can see the amount of points of presence (POPs) that Fastly has globally. As we can see, Fastly's POPs are now in key areas in the world that requires the fastest speed, first world countires and regions such as the United States, Europe, Dubai, Asia and even Singapore.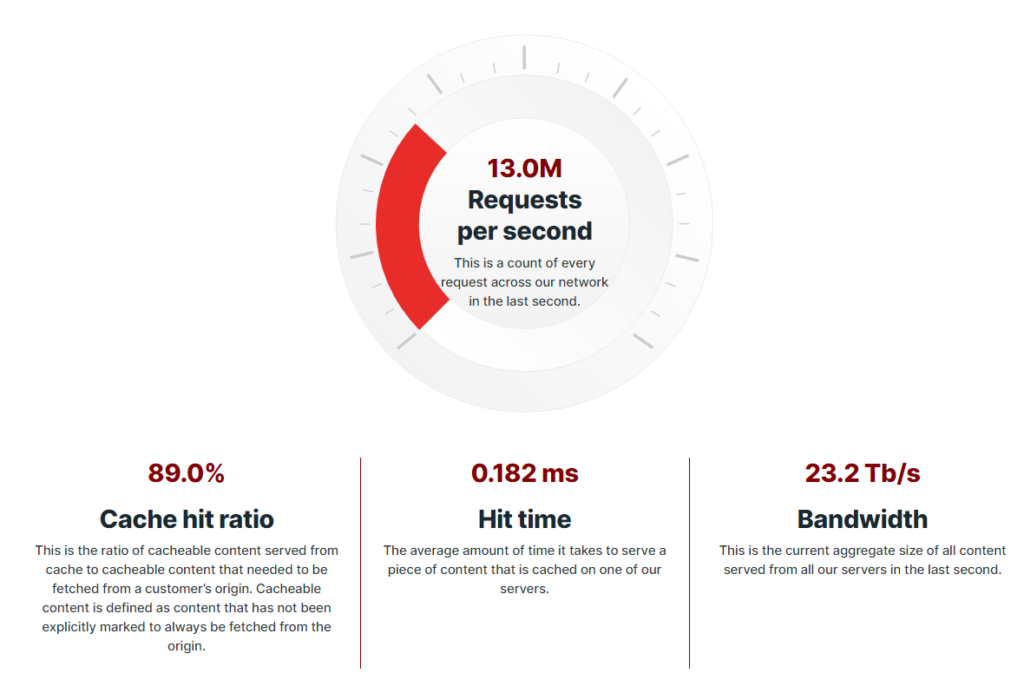 As you can see from the image above which was extracted from their website, they have a hit time of 0.182ms which is insane because that is faster than a blink (0.4 seconds). On top of that, they are also receiving a huge amount of traffic with 13M requests per second and serving an aggregate size of 23.2TB/s worth of bandwidth. An 89% cache hit ratio essentially means that 89% of all cacheable content is readily available at the customer's origin, which can thus further improve the response and loading time.
Fastly's Compute@Edge is literally, its competitive edge against all its competitors. As a developer, speed is everything. Users might look at the difference in numbers such as 1ms and 10ms as just a minute difference but in reality, when you are using an app, that 9ms can really make or break your user experience.
Not to mention, once you've signed onto a CDN, you are unlikely to change out, especially if you are an enterprise user because it is so hard to migrate everything without causing disruptions and downtimes. This further enhances Fastly's moat once an enterprise-level customer signs on.
Fastly's main target clientele is not the average food blogger or SMEs who just need a simple WordPress website. Their main target clientele are large-scale companies that require premium fast speeds, not just your average 10ms speed but rather, the premium 1ms speed. These clients are involved in key industries such as Video Streaming, Cloud Platforms, eCommerce Platforms, SaaS Providers, and Cybersecurity.
Some of Fastly's key clients include FuboTV, Stripe, Shopify, Github, and most notably their previous largest client, TikTok. As you can see, these clients require a high-speed connection and low bandwidth to meet the needs of their users. Fastly can help them easily scale their business operations through Compute@Edge.
Signal Sciences
Signal Sciences, if you don't know yet, SaaS company with a product suite directed at security. The hybrid and multi-cloud platform provides the highest level of security to ensure that your web applications are well secured and always available. You can see a quick overview at what their offerings can do for clients.

Just to summarize briefly, the overall product suite can help you improve your security by preventing malicious bots from performing malicious acts, limit the number of requests that can be made to prevent any potential threats, prevent any unauthorized API calls, prevent Account TakeOver (ATO) and block all Distributed Denial-of-Service (DDoS) Attacks. As you can see, Signal Science is the one-stop platform for all your web application security needs.
With their merger with Fastly, we can expect Fastly's product offering to enhance even further with the increased protection customers can expect. I personally like the merger because Signal Science's product suite can be easily integrated with Fastly's be it for Fastly's own use or for Fastly's clients.
Final Thoughts
Fastly Q1 2021 earnings look pretty great to me from an investor's standpoint, with the revenue growing over 30% year over year. Not to mention the high Dollar-Based Net Expansion Rate (DBNER) of 139% as well as Net Retention Rate (NRR) of 107%, I am still very bullish on Fastly's long-term growth potential. They also achieved huge growth in customer count this quarter from 2,084 to 2,207 while enterprise customer count grew marginally from 324 to 336. The average enterprise spending also increased from $782,000 to $800,000.
I am still holding shares of Fastly at a higher average cost of $76.256. What am I going to do now with an unrealized loss of almost 50%? Thus far, I have yet to sell any shares of Fastly, and in addition to that, I am planning on averaging down on Fastly by accumulating even more shares. Edge Computing is definitely the next big thing in terms of cloud technology and Fastly is very well positioned to leverage this.
On top of that, the merger of Signal Sciences will further improve Fastly's overall product offering for all its clients. I believe that the merger has yet to show itself or rather, prove itself due to the lack of time it has. As such, we should wait out longer to evaluate if the merger was a good play or not.