As most of you may know, I've written an article previously covering Tiger Brokers. In that article, I compared them to other custodian brokers as well as shared some of their useful features and functionalities. You can check out the full article here : Start Saving Up On Commission Costs ! Use Tiger Brokers !.
I've been using Tiger Brokers since the 10th of June. It's been a little over 2 months now and I can say that entire experience has been nothing but wonderful. In this article, I'll be sharing with you the 4 reasons why I love Tiger Brokers and why you should start using them as well.
Note : This is a sponsored post
Brief Introduction
Founded in 2014, Tiger Brokers is an online stock brokerage start-up backed by Interactive Brokers Group Inc, Xiaomi Inc, ZhenFund and Wall Street investment guru Jim Rogers.
As a rising star in the industry, the Fintech company is committed to serving the best interests of stock investors and being a gateway to build their global portfolios.
Tiger Brokers (Singapore) Pte Ltd is a licensed broker under the Monetary Authority of Singapore (MAS).
These are also their licensed entities
It is good to note that when buying Singapore shares, these shares will be custodized with DBS while foreign shares will be custodized with other reputable brokers. The funds that are in your Tiger Brokers account is also with DBS. Being a Capital Markets Licensee under MAS, clients' funds and assets will have to be segregated from Tiger Brokers.
1. Wonderful User Experience
Simple Yet Informative User Interface
Tiger Brokers's U.I. seem simple on the surface but it also provides you with tons of information at your fingertips. Note that the pictures below are taken from their Desktop app and you can actually access all this information through their mobile app as well.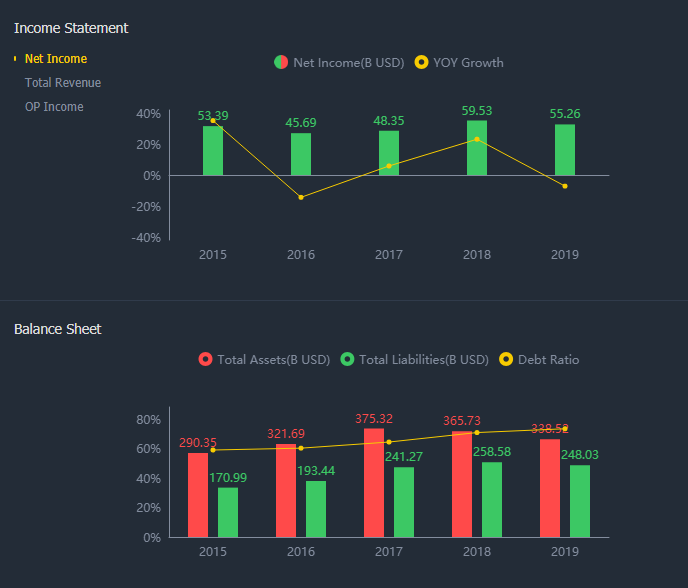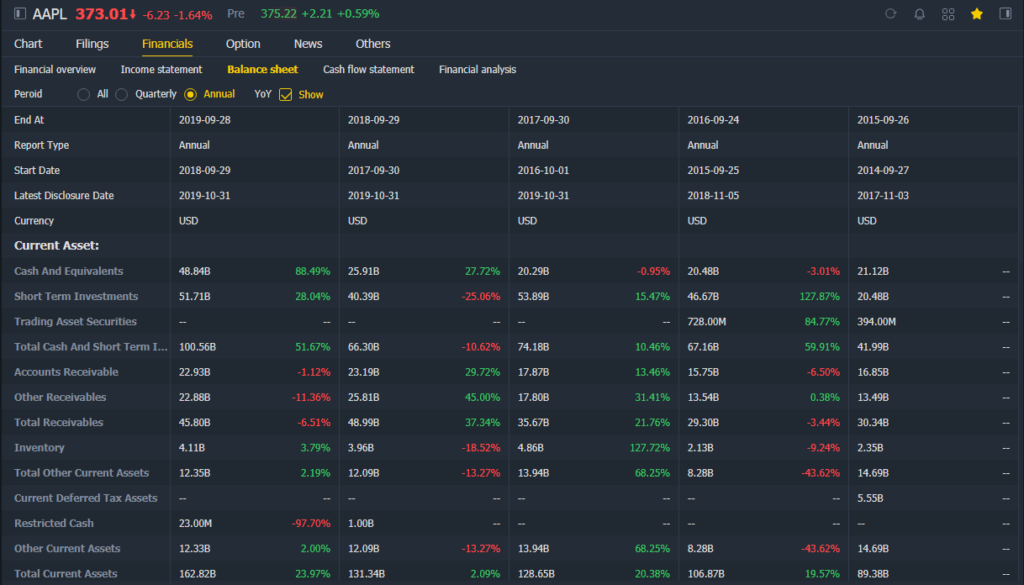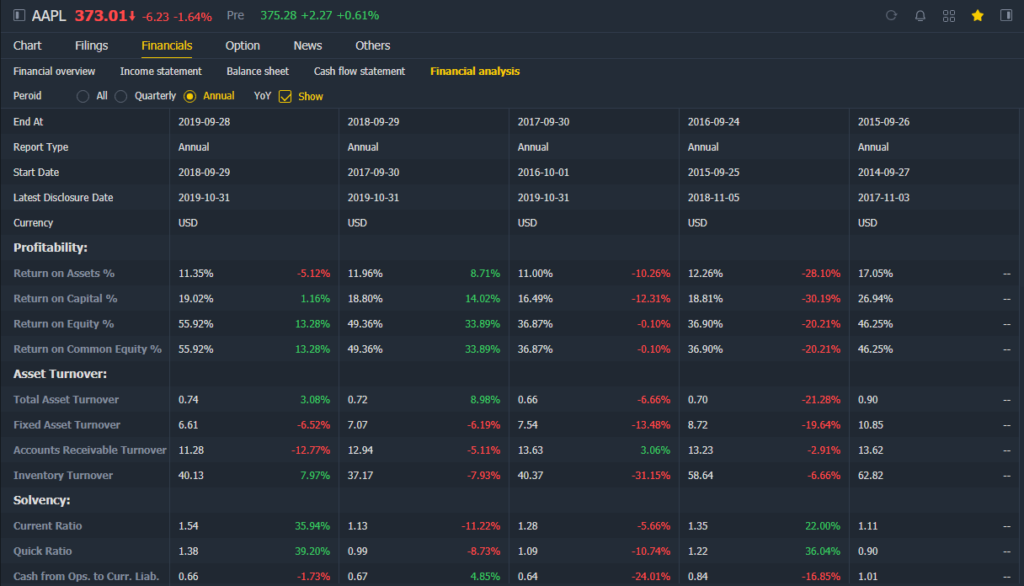 Using Apple (AAPL) as an example, we can see that there is actually tons of information that is being collated together by Tiger Brokers. We can view information such as the revenue and balance sheet changes of the company over the past 5 years, financial ratios such as current ratio and return on equity, etc. They even add in year on year changes so that you can easily tell if the company has been doing better or worse over time.
This functionality actually helps me speed up the process of finding all the information needed through their result releases and then calculating the changes year on year. I can just look through this section and get all the information I need to make my fundamental analysis.
Not to mention the fact that all of this information is free to access. You just need to create a Tiger Brokers account which is free and you can gain access to all these information. The best part is you don't have to fund the account to begin using it.
Easy To Make Transactions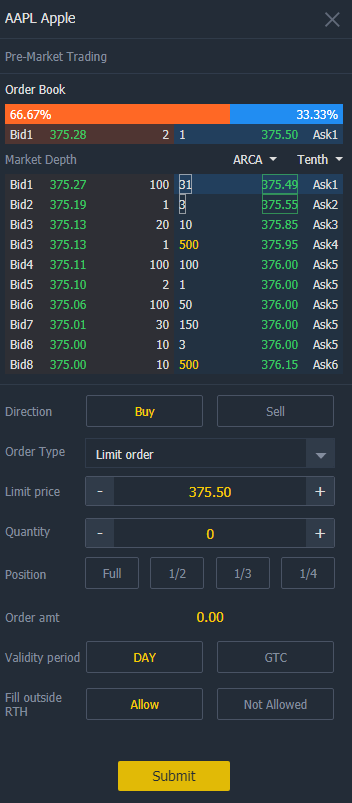 You can easily make transactions through their Desktop/Mobile app thanks to their U.I. which is simple enough for you to make your buy/sell transactions without much hassle.
As you can see from the image, you can set your order type, be it a "Limit Order" or a "Market Order". You can set the price and the quantity you want to buy. You can actually have the app help you portion out your trades based on the amount of cash you have available. You can set the trade to be only half, a third or even a quarter or your available cash.
Keep Track Of Your Positions and Trade History
On the main dashboard of the desktop app, you can easily find your current positions as well as their net profit/loss. This is very useful because you don't need to keep track of it elsewhere such as in a spreadsheet. They even show you your total commission cost in the details section.
In the mobile app, you can find the same information under "Trade".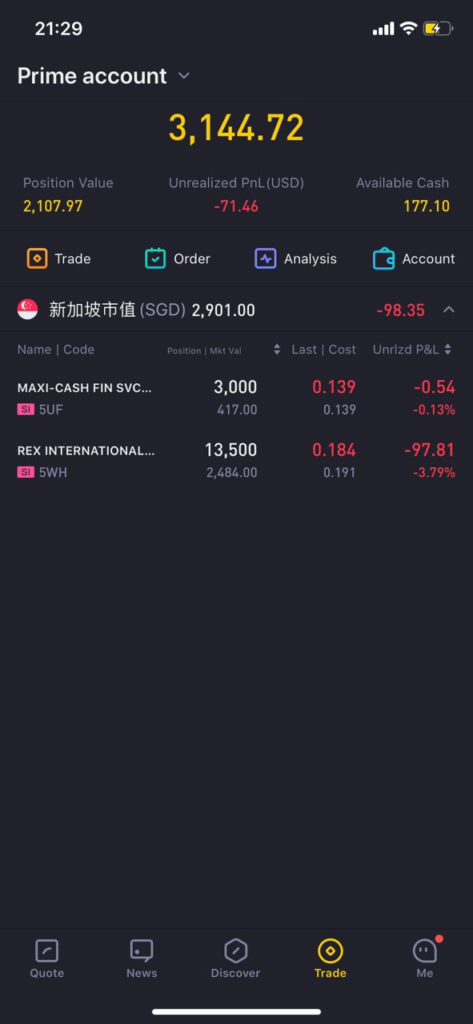 You can also keep track of your transaction history to see how you've grown your account over time. They also show you information such as total PnL, your annualized return % as well as a little pie chart to show your win rate from your trades.
The same information can be found in the mobile app as well under the "Analysis" button in the "Trade" screen.
2. Efficient Customer Support
Unlike our local brokers i.e. DBS Vickers, Tiger Brokers has a direct live chatting service with their customer support team. With this, you can chat directly with their customer support team rather than sending an email and waiting for a response after 2-3 business days.
I personally used DBS Vickers prior to Tiger Brokers and it is a real pain in the a** to try and reach their customer support via the hotline. It takes 10-20 minutes just to get my call connected with one of their agents. It'll take an additional 5 minutes to give them my information and explain to them my issue. Sometimes they can't even solve it over the phone and I need to send a follow up email to them.
With Tiger Brokers, I don't need to go through all that hassle as the customer support team is very helpful and efficient.
3. If You're A Regular Trader
If you trade regularly, you should definitely check out Tiger Brokers. They have a new ongoing program called "Ace Trader" that incentivizes users that make frequent trades every month. Users who make over x amount of transactions in a month will receive many gifts and rewards.
I've added in a table below to show the different levels as well as the rewards that are entitled to each of them.
I personally like this program a lot because this is the first time I've heard a brokerage actually incentivize users to trade more frequently. With our local brokerages, even if you trade frequently, as long as you're not a privilege client, you pay the same transaction fees each time you make a transaction. To be one of their privilege clients, you need to hit a minimum AUM with the bank, usually around S$200k-300k.
For Tiger Brokers, you just need to trade often and you're instantly part of the program. How cool is that?
For more information, you can check out the link here.
4. If You Want Low Commission Transactions
You should also check out Tiger Brokers if your current brokerage commission costs are eating into your profits. Prior to Tiger Brokers, I was using DBS Vickers Cash Upfront. This meant that my commission costs were $10++. I felt that this Cash Upfront fees were acceptable but the minimum commission was the killer for me. Having the minimum commission set at $10, making transactions under $1000 meant that my commission cost already take up more than 1% of my total transaction value. This can easily eat into your profits especially if you are a smaller sized investor like myself, who can't afford to make high value transactions all the time.
Tiger Brokers's fees are as such :
| | Commission Charges | Minimum Commission |
| --- | --- | --- |
| SG Stocks | 0.08% of Total Transaction Value | min S$2.88 |
| US Stocks | US$ 0.01 / Share | US$ 1.99 |
| HK Stocks | 0.06% of Total Transaction Value | HK$ 15 |
Note that all commission charges are inclusive of the commission as well as the platform fee. Tiger Brokers is doing a promotion whereby there is no minimum commission charge for all SG stock transactions until 31st December 2020. I personally am going to take full advantage of this in the meantime to make as many meaningful trades as I can. Without the minimum commission, you have the freedom to buy 100 shares at a time without paying ridiculous fees due to minimum commission charges per transaction.
Final Thoughts
I personally enjoy and will continue to use Tiger Brokers in the future for most of my trades even after they bring back the minimum commission charge. Even with the minimum commission charge, it's only S$2.88 as compared to DBS Vickers which is $10. Not to mention the free market data as well as all the in-depth information that Tiger Brokers offer for free.
Some clients might be skeptical when using Tiger Brokers due to the fact that they are not as recognized in Singapore and that they are a custodian broker. Custodian brokers bring a risk whereby if the company goes under, users' funds and assets under management might not be retrievable. The good news for Tiger Brokers is that they segregate the funds and assets from the company itself. Instead, all the funds and assets will be parked under DBS. This means that if Tiger Brokers goes under, clients will be able to get back all the funds and assets under their name. Tiger Brokers will not be able to use or touch any of the clients' funds or assets.