Frasers Centrepoint Trust (SGX: J69U) is another very well-known REIT amongst Singapore REIT investors. They own a portfolio of heartland retail malls in Singapore such as Causeway Point, Anchorpoint, Waterway Point, etc. They differ from Capitaland Mall Trust due to the nature of their assets. CMT owns malls that are around the town/central area as well as some heartland malls. Let's take a quick look at the 4 key takeaways from the 3Q results of Frasers Centrepoint Trust.
Edit: Please note that the Gross Revenue and NPI as well as DPU numbers are from the 1H2020 ending in 31st March. They have not released any numbers for the 3Q of 2020.
1. Slight Increase in Gross Revenue and NPI
| Year on Year Difference | 1st Half 2020 | 1st Half 2019 |
| --- | --- | --- |
| Gross Revenue | S$99.92 million (+0.9%) | S$99.014 million |
| Net Property Income (NPI) | S$72.283 million (+0.6%) | S$71.831 million |
Frasers Centrepoint Trust, surprisingly, had a slight increase in Gross Revenue and NPI. The retail sector has been hit pretty badly due to the COVID-19 pandemic and the expected outcome was that retail REITs would be badly affected.
I believe the slight increase is due to the fact that FCT's portfolio of assets are all heartland malls. These malls tend to have higher footfall than the other malls due to their location. These malls are located near neighborhoods and are easily accessible by foot or public transport.
It is also good to note that the increase could also be because of the acquisition of 40% stake in Waterway Point.
With Singapore moving into Phase 2 in the middle of June, heartland malls will see a faster and earlier recovery than the other malls in Singapore such as those in the town/central area. This is a great sign moving forward as it shows that FCT's portfolio has the ability to still bring value to shareholders even in tough times like these.
2. Reasonable Drop in DPU
| Year on Year Difference | 1st Half 2020 | 1st Half 2019 |
| --- | --- | --- |
| Distributable Income | S$71.023 million (+25.7%) | S$56.5 million |
| Distribution Per Unit (DPU) | 4.67 cents (-24.2%) | 6.157 cents |
Firstly, taking at look at the Distributable Income, we can see a huge increase of 25.7% from the year prior. This is mainly due to a huge increase in dividends from their associates (PGIM ARF and SST). With the increase in stake earlier this year, this contributed to their income greatly.
If we compared the income available for distribution before dividends, there was a slight drop of 5.1% from the year prior. This further boosts the fact that the PGIM ARF acquisition was a good move made by FCT.
Even though there is a large increase in Distributable Income, the DPU still fell due to an enlarged unit base and FCT retaining some cash. FCT retained a total of ~S$18.8 million which is about 26.5%. I think this is a smart move, retaining some cash to pay down any short term liabilities or debt that may come their way.
3. Healthy Financials
| | As at 30 June 2020 |
| --- | --- |
| Aggregate Leverage | 35.0% |
| Interest Coverage | 4.8x |
| Average Cost of Debt | 2.5% |
Taking a look at their financials, we can see that their gearing fell to 35%. At the start of July, after their acquisition of stake in PGIM ARF, their pro-forma gearing was 36.2%. It's great that they managed to push it down to 35% in a short span of 3 weeks.
It's also good to note that their interest cover ratio of 4.8x and average cost of debt at 2.5%, greatly outperforms Capitaland Mall Trust. It shows that they are in a better financial position than its peer CMT.
4. Slight Drop In Occupancy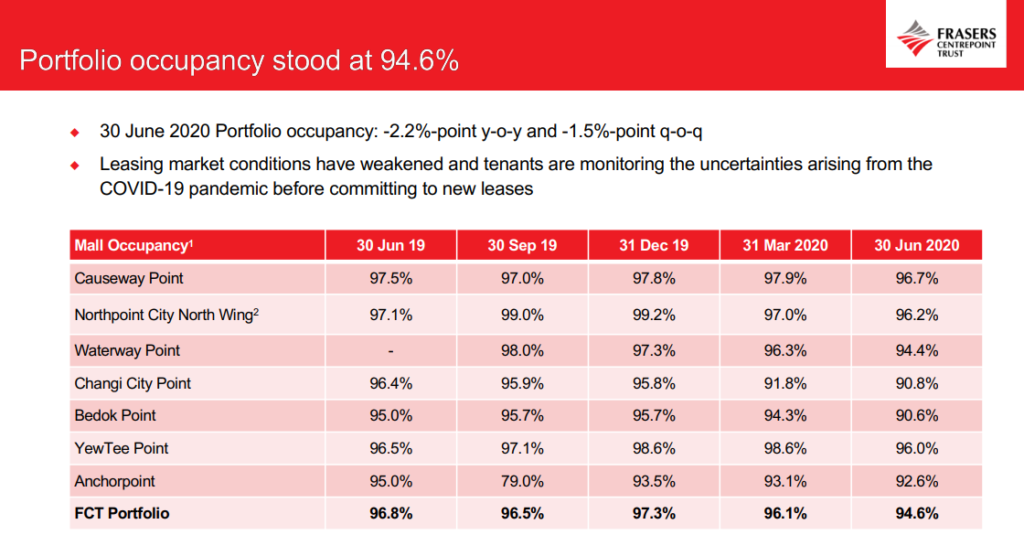 Frasers Centrepoint Trust's occupancy few by 2.2% as compared to the year prior. This is mainly due to the drop in occupancy at Anchorpoint, Bedok Point and Changi City Point. It is pretty surprising how FCT managed to increase their Gross Revenue and NPI even though they had a drop in occupancy. It is a good sign because when the occupancy rate improves, we can expect to see a greater increase in Gross Revenue as well as their NPI.
Acquisition of PGIM ARF
Frasers Centrepoint Trust recently announced that they will increase their stake in PGIM Real Estate Asia Retail Fund Limited (PGIM ARF) by 12.07% to a total of 36.89%. This brings the total combined interest between FCT and its sponsor to 100%. This means that they have full control of the assets under PGIM ARF and can choose to acquire and pipeline them into FCT. I've written an extensive coverage on this and you can read about it here : Frasers Centrepoint Trust Increased Their Stake In PGIM ARF! What Does This Mean?
In a short summary, I'm looking forward to FCT acquiring PGIM ARF's assets. These assets will further boost their portfolio of heartland malls and as a whole, value-add to shareholders. I'll be conserving some capital on the side while waiting for the EFR to come in.
Final Thoughts
Overall, the 3Q results of Frasers Centrepoint Trust was better than I expected. It's good that they made the smart move of retaining more capital instead of distributing it out to shareholders. Furthermore, with the retention of capital, they can use it to fund their future acquisition of the PGIM ARF assets. The lesser the amount needed, the better for shareholders as there will be a lower chance for dilution post-EFR.
I personally have a small position in FCT and will not be adding anymore until the EFR. When the EFR comes, I'll be increasing my position then, by subscribing in excess.