Mapletree Logistics Trust (SGX: M44U) has been doing well amidst the COVID-19 pandemic due to the nature of its properties and tenants. Let's take a quick look at the 4 Important takeaways from the FY2020 results of Mapletree Logistics Trust and find out how they are doing after their long string of acquisitions over the past year.
1. Remarkable Growth In Gross Revenue and NPI
| Year on Year Difference | FY2020 | FY2019 |
| --- | --- | --- |
| Gross Revenue | S$561.14 million (+14.3%) | S$490.777 million |
| Net Property Income (NPI) | S$499.112 million (+13.8%) | S$438.544 million |
Mapletree Logistics Trust (MLT) ended off the year strong with solid growth in both their Gross Revenue (14.3%) and NPI (13.8%). Taking into account that the industrial and logistics sector was barely affected by the pandemic, the strong set of numbers were in line with expectations in addition to MLT's management, which is very active in growing the portfolio and bringing value to shareholders.
2. Consistent Growth In Distributable Income and DPU
| Year on Year Difference | FY2020 | FY2019 |
| --- | --- | --- |
| Contribution from Joint Ventures | S$31.052 million (+104.6%) | S$15.179 million |
| Distributable Income | S$350.099 million (+9.8%) | S$318.773 million |
| Distribution Per Unit (DPU) | 8.326 cents (+2.3%) | 8.142 cents |
With a strong set of numbers in the earlier part, the Distributable Income definitely followed suit and increased by 9.8% year over year. It is good to note that the contribution from the joint ventures segment increased by a whopping 104.6% from the year prior. This segment consists of MLT's 50% interest in 15 joint venture properties acquired in Nov 2019 and June 2018.
It is also impressive that MLT managed to grow its DPU by 2.3% year over year despite the huge increase of 12.7% in the overall share base. This definitely shows the strength of MLT's management team, being able to grow DPU despite the enlarged share base.
3. Solid and Stable Financials
| | As at 31 March 2021 | As at 31 March 2020 |
| --- | --- | --- |
| Aggregate Leverage | 38.4% | 39.3% |
| Interest Coverage | 5.1x | 4.9x |
| Average Cost of Debt | 2.2% | 2.5% |
We can also see that MLT has managed to improve its financials from the year prior, lowering its aggregate leverage from 39.3% to 38.4% as well as improving its Interest Coverage ratio from 4.9% to 5.1%.
Last but not least, MLT also managed to improve its average cost of debt by 0.3%. from 2.5% to 2.2%. As of 31st March 2021, the total debt outstanding stood at S$4.226 billion. This meant that for every 0.1% drop in the average cost of debt, MLT saves an estimated S$4.226 million or S$0.001 in terms of DPU. This might seem like a small drop but if MLT were to enter markets with lower interest rates like Europe, this could be very beneficial for shareholders as the theoretical DPU increases substantially.
4. Portfolio Stability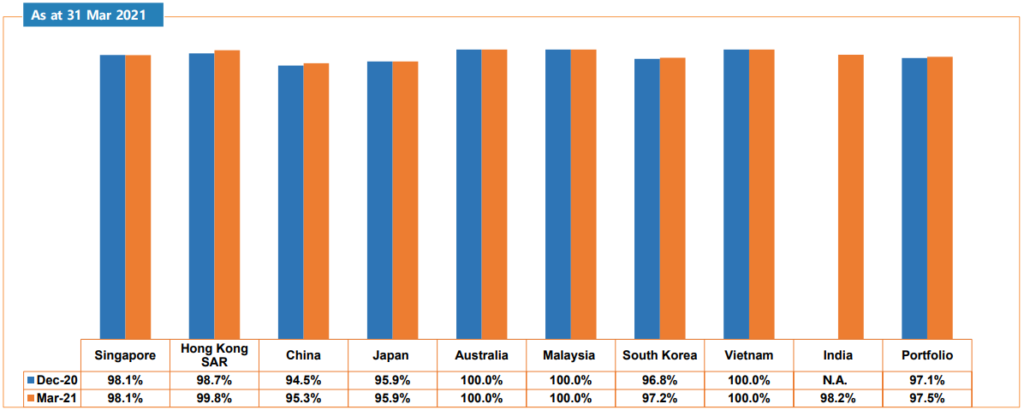 Moving into MLT's portfolio, we can see that the occupancy across the entire portfolio holds strong at 97.5%, an improvement from last quarter's 97.1%.
We can also see that there were key improvements from assets in Hong Kong SAR, China, South Korea as well as introducing new Indian assets that were acquired recently. The remaining assets in Singapore, Japan, Australia, Malaysia, and Vietnam held strong with no change quarter on quarter, with most standing at 100% occupancy.
It is also good to note that the overall portfolio has a WALE of 3.6 years and had an average rental reversion for leases renewed or replaced in 4Q FY20/21 of 2.4%.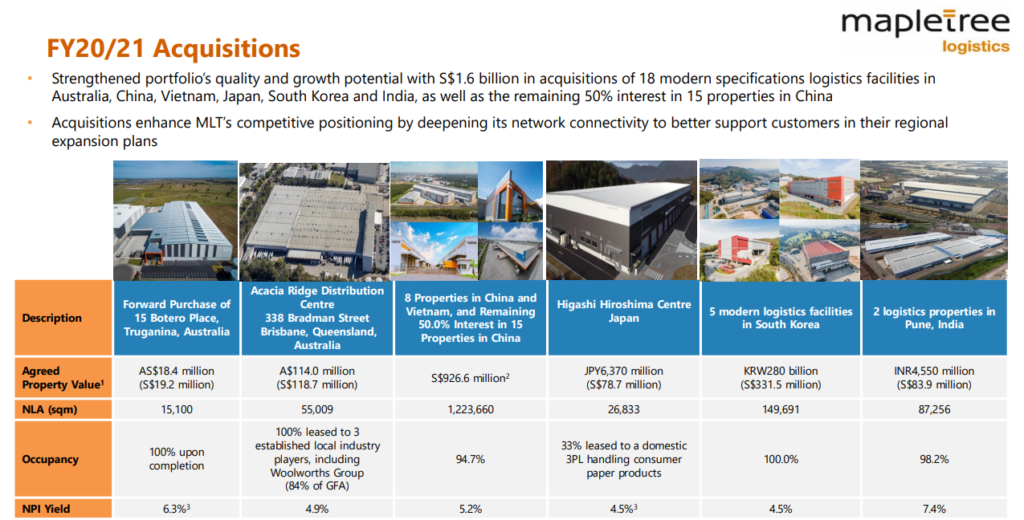 As we can see from the list of acquisitions above, MLT had a splendid year, introducing 18 modern specifications logistics facilities as well as the remaining 50% interest in 15 properties in China, totaling a portfolio growth of S$1.6 billion. We can definitely expect MLT's management to be just as proactive moving into FY2021 as they continue to grow and improve MLT's portfolio.
Final Thoughts
Overall, the FY2020 results of Mapletree Logistics Trust were great and definitely proved to shareholders time and time again that MLT is a key asset to hold in every dividend investor's portfolio. MLT not only brings stability due to the nature of its asset class but also, because of how well the management performs, bringing in consistent growth to the portfolio. Shareholders will be pleased to receive a pay raise every year as the DPU continues to increase consistently year over year.