I've recently taken a long position in Disney after a long consideration. I'll be sharing a few reasons why I finally decided to do so.
Fantastic Business Model
Disney has a very simple to understand business model. They own Pixar, Marvel, Lucasfilm and that's not all. In 2019, they acquired 21st Century Fox, which includes Fox film and TV studios, the National Geographic channel and many more.
Disney is all around us, from young children who watch their cartoons to adults watching actions films under Marvel. Not to mention, they own theme parks as well in various countries, which is another source of income for them.
Wide Economic MOAT
As mentioned previously, Disney has many assets under its wing, making it a giant behemoth in this industry and definitely not a force to be reckoned with. This gives them a huge advantage over their competitors. With so many streams of income, they are not easily impacted by new competitors joining the industry, or current competitors that are growing.
Strong Growth Prospects
With so many assets under Disney, does this mean they won't be growing anymore? Of course not ! They have been actively innovating new ways to grow its business, be it through acquisitions or new businesses.
Disney+
Disney recently released Disney+, which is a subscription based platform where subscribers can watch all the TV shows and movies that are under Walt Disney. These include Marvel movies, Star Wars, The Simpsons, and many many more. There are over 7,500 episodes and over 500 films in their library of content.
Disney is doing a great job on innovating new ideas and new ways to build additional streams of income. I like that they started Disney+ and are fighting for market share with other streaming platforms like Netflix and Apple TV.
Also, it's good to note that Disney is very competitive with pricing. They currently have a bundle which includes ESPN+ and Basic Hulu, for just $12.99/mo. That's right, you can access all the content from all three platforms for as much as Standard Netflix costs on its own.
Re-opening of Theme Parks
Currently, Disney's theme parks are closed due to the coronavirus. This will hit their revenue significantly since it accounts for over 35% of its revenue in FY2019. But rest assured, even with the closure of these theme parks, they have already built many strong streams of income to help them tide through this tough time with income coming from Disney+, Media Networks and others. Also, when the pandemic clears up and travel resumes, we can be assured that they will re open all their theme parks again.
Should You Invest In Disney?
Well you have to like their business model first. If you don't, I strongly recommend you to stay away. I believe that when investing in a company, you should like their business model, maybe even support it. I watch a ton of movies and I realised that most of theses movies are under Disney.
They have already transformed into a household name whereby, when you say the phrase Disney, an image will almost instantly pop into your mind. Something like this…
I love their business model and I like that they are still trying to innovate new ways to build more streams of income. I will be looking to increase my holdings in the near future when their stock becomes attractive again!
As always, you can take a look at my portfolio updates to see my current positions! Also, use my referral code for an extended 3 months of premium access to StocksCafe! P.S. I'm running a telegram chat group for you guys to share and discuss investment-related topics so come on in! I'll be there too! You can join the chat here: https://t.me/joinchat/D4iHeEVapnGC1lWcFEupVw
Are you new to the stock market and don't know what you should do to avoid losing half your portfolio through bad picks? Or perhaps you are an experienced investor/trader looking for fantastic opportunities and picks in the market that you might have missed out on?
If so, look no further because I am running a Premium Subscription that offers services such as:
Access to both my Singapore and US Tech Watchlist with Preferred Entry Prices
Telegram Group Invitation Where I Share Market Updates and My Personal Views
Monthly Tradable Opportunities with Trade Setups
On-Demand In-Depth Fundamental and Technical Analysis on Any Stock of Your Choosing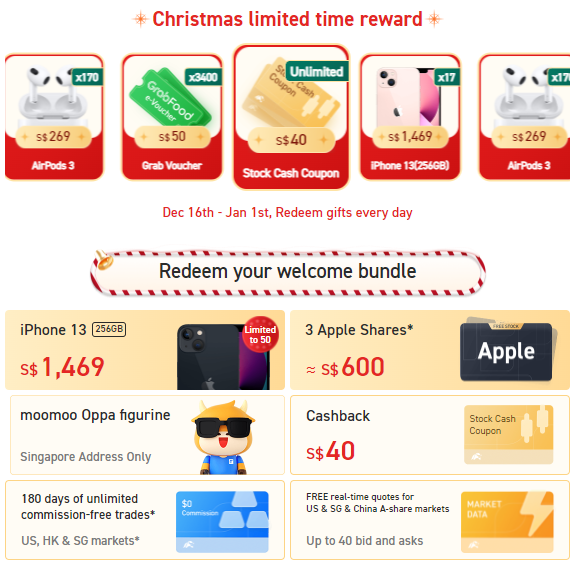 For the ongoing promotional period (Nov 30th – Dec 31st), when you deposit (First Deposit) SGD 2,700 successfully into your account, you will be rewarded 1 Apple (AAPL) share worth around SGD 220 as well as an SGD40 Stock Cash Coupon Bundle. Stand a chance to win a brand new iPhone 13 (256GB ,~S$ 1,469), Airpods 3, $50 Grab vouchers as well as $40 Stock Cash Coupons during the Christmas limited time reward promotion that is ongoing between Dec 16th – Jan 1st.
If you have yet to sign up for a FUTU SG securities account with moomoo powered by FUTU you can use my referral link here. For opening an account, you will be given 180 days of unlimited commission-free trades across the US, HK, and SG markets (do not apply for Stock Options and Futures). You will also be given free real-time Level 2 US Market Data, Level 1 SG Market Data, and now Level 1 for China A shares too!
Read Also: moomoo Trading App Review: Everything You Need To Know in 2021