As of 4th July 2022, it was announced that the Ascott, a wholly-owned subsidiary under Capitaland Investment, is planning to acquire Oakwood Worldwide from Mapletree Investments. The acquisition will increase The Ascott's global portfolio by 81 properties, boosting their global presence in key markets such as Cheongju (South Korea), Zhangjiakou, and Qingdao (China) as well as many other countries. With such a huge acquisition, could Ascott Residence Trust (SGX: HMN) stand to gain anything from it? In this article, we'll cover more details regarding the acquisition and what this could potentially mean for Ascott Residence Trust (ART).
Acquisition Details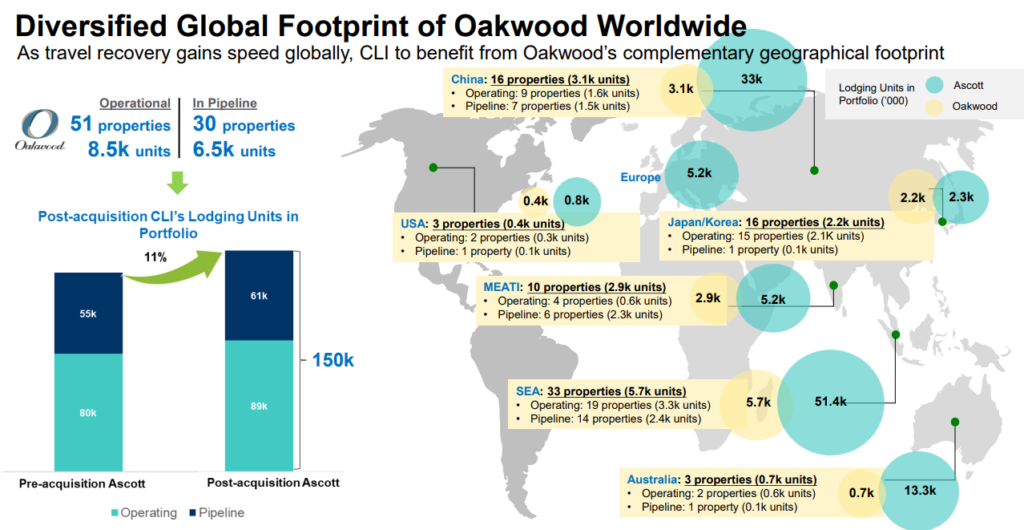 As we dive deeper into this acquisition, we need to first understand what is being acquired. Based on the Investors Presentation, we can see that The Ascott will be acquiring 51 operational properties as well as 30 properties that are currently in pipeline. Based on the illustration above, we can see that majority of the pipeline assets are in SEA and China. This acquisition is definitely a good one without a doubt as Oakwood has already solidified itself as a well-recognized brand name, with a well-established reputation of 50 years. The Ascott can definitely leverage on this as well as other avenues such as onboarding the new Oakwood properties onto Ascott's loyalty program.
Although there were no clear indications on how much the acquisition cost, estimates have been thrown around that The Ascott might have paid somewhere in the range of $40m to $50m.
Ascott Residence Trust's Current Pipeline
As of Ascott Residence Trust's 2021 Annual Report, ART has a right of first refusal (ROFR) to approximately 20 properties in the Sponsor's pipeline. Additionally, ART has also been granted a ROFR by its sponsor over any proposed sale of properties that are used as serviced residences or rental housing properties in Europe and the Pan-Asia region. Outside of ART's ROFR, its sponsor still holds nearly 900 properties across 200 cities in 39 countries. This huge pipeline of potential assets could help accelerate ART's growth over the next couple of years as the Sponsor starts to recycle assets to free up capital for more acquisitions, selling these assets over to ART.
Possible Future Pipeline Assets
Post-acquisition, ART will have a much wider variety of assets that could potentially be pipelined down to them in the near future. Some of the key assets that caught my attention are properties located in SEA as well as Japan and Korea because these countries fall within the Pan-Asia region, which ART is entitled to a ROFR should the sponsor decide to sell any of these properties in the future.
As of 31st March 2022, from ART's 1Q 2022 business updates, we can see that ART has a gearing of 37.8% which is slightly high but thanks to its huge size (S$7.7B), this means that they have an approximate S$1.8B debt headroom. On top of that, their overall balance sheet is quite stable with a relatively low cost of debt at 1.6% p.a. as well as a decent interest coverage ratio of 3.5x. This means that ART is quite ready for large acquisitions should the opportunities present themselves. Not to mention the fact that they could also do an Equity Fundraising (EFR) which could open up even more doors for them, funding even larger acquisitions.
Final Thoughts
Ascott Residence Trust has come a long way over the past few years, growing immensely in size after its acquisition of Ascendas Hospitality Trust. At its current size, it's able to carry out large acquisitions easily without doing any form of EFR which might dilute its current shareholders. The only issue with ART now is that the global economy has been hit hard due to the pandemic. As it starts to slowly recover, the economy gets hit with even more issues such as war tensions, rising inflation, and interest rates. Despite all this, the economy will inevitably recover over the long run and the demand for travel will also recover in due time.
It is good to note that ART's management has been very proactive in redeveloping and rejuvenating its assets during this time, such as the redevelopment of Somerset Liang Court which is expected to be complete in 2H 2025 as well as the new development of a student accommodation in South Carolina, USA, which is expected to be complete in 2Q 2023.
Based on ART's last close ($1.14), it is currently paying out a trailing twelve-month (TTM) yield of 3.789% and is valued at a Price/Book ratio of 0.983x. Based on this, ART seems to be reasonably priced at the moment based on the poor outlook over the next 12 months with the ongoing pandemic and poor economic state. Despite this, if ART continues to do more portfolio enhancements or even make meaningful acquisitions, we could see it rising back to all-time highs in no time.