With the stock market being filled with uncertainties, traditional valuation models and metrics might not be as useful and accurate when investing. While researching various data sets to analyze the market, I came across Strike.market which is a platform that offers alternative data for investors. In this article, I will share more about the platform and how you can use this interesting alternative data to help further improve your investing strategies.
Introduction
Strike.market is founded by Jakub Rož who is also a stock investor as well as a huge tech innovator that loves to build online products. He started Strike.market in Jan 2021 but only launched it 5 months ago, with the goal of helping investors make the best investment decisions at the right moment with real-time data, combining both traditional and alternative data.
Features
Next, we will talk about the platform's key features so that you know what you can get access to when you sign up for your free account.
Dashboard
When you first sign in, you will be greeted with an amazing dashboard that gives you a quick glance over the current trending stocks, a smart feed as well as your own watchlist. For the smart feed, you can even filter it based on stock tickers as well as the type of datasets such as insider trading, financials, result releases, and even alternative data such as social media, google trends, web traffic, job, and Twitter mentions.
The dashboard also has an interactive watchlist segment in which you can easily add stock tickers just by using the search bar. Once added, you can find the earnings calendar as well as dividend calendar for all the stocks that are on your watchlist.
Screener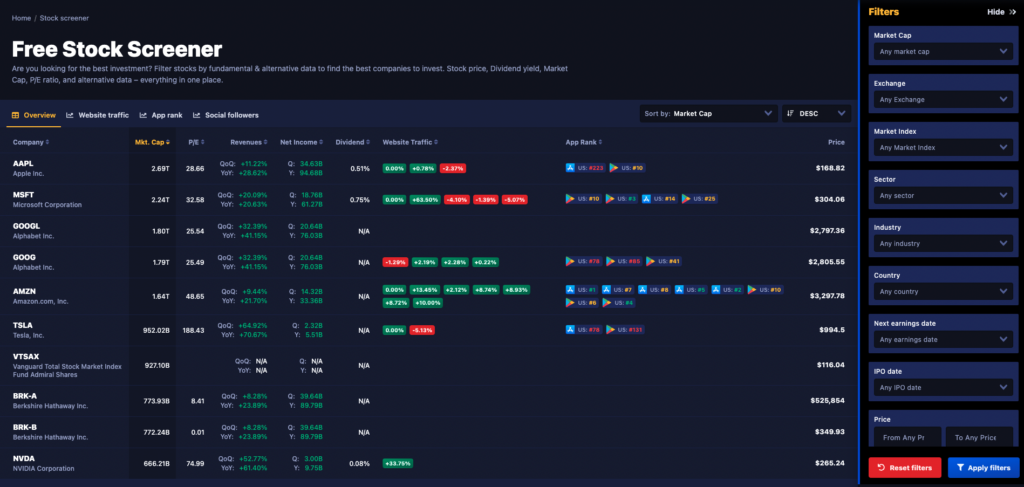 Next would be the Screener which works differently from other traditional screeners you might have used in the past. From the first glance, you can see that there are a lot of data points and metrics shown such as Market Cap, P/E, revenue and net income, dividend yield as well as alternative data such as website traffic and app ranking.
The screener includes general filtering options such as Market Cap, Exchange, Market Index, Sector, Industry, Country as well as Price. There are also fundamental filtering options such as P/E, Q/Q, or Y/Y revenue growth, profit margin, and dividend yield. As for the alternative data filtering, you can screen by metrics such as the number of job openings, website traffic, social media followers, mobile app ranking as well as if the company is led by the founder itself.
As you can see, the screener offers not only traditional screening metrics but also interesting alternative data that lets you dive even deeper into your analysis.
Hedge Fund Holdings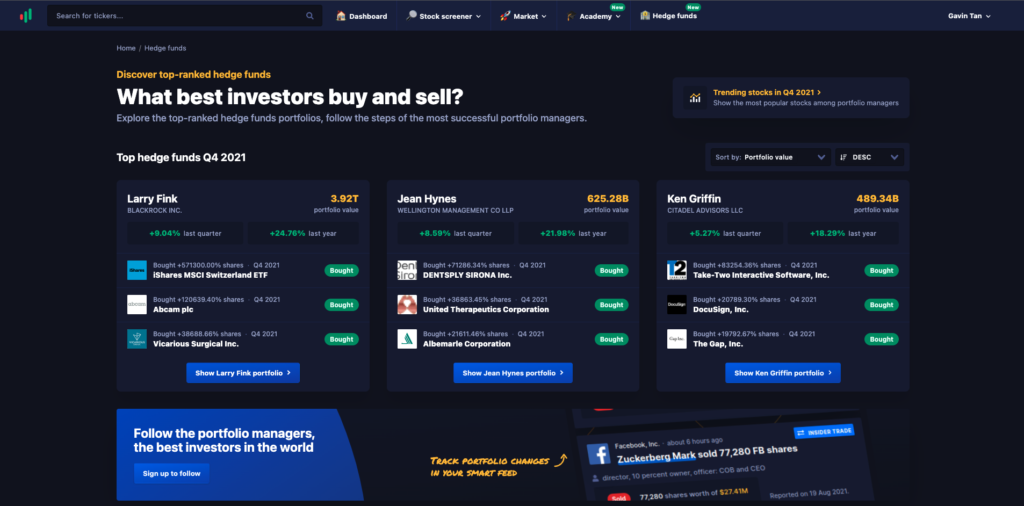 Another interesting feature with Strike.market is the Hedge Funds tab which lets you discover and explore the top-ranked hedge funds and their portfolios, so you can follow the steps of the most successful portfolio managers today.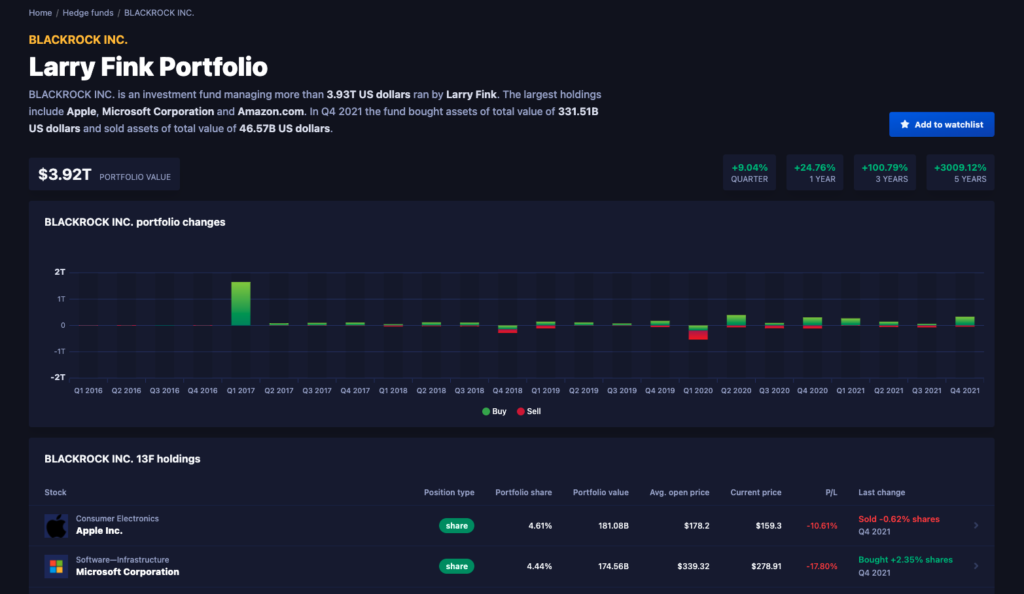 The tab shows a lot of information such as the Fund Manager, the portfolio they manage, the estimated average cost per share for their positions as well as recent changes such as recent buy/sell transactions. You can also look at the portfolio performance over the past 5 years, quarter to quarter.
Academy
Last but not least is Academy, which is Strike.market's self-managed blog which helps investors better understand and use the platform through helpful tips. Through Academy, investors can explore the various ways to utilize the Strike.market platform to better suit their own investment needs and strategies.
Final Thoughts
After using Strike.market for a few weeks, I've realized that the alternative data is quite an interesting data set that is almost never seen before across most investing tools. Although the dataset might not be as relevant depending on the company and industry you are researching on, an additional set of data would never hurt in firming up your investment thesis. Personally, I'm very impressed with the screener because I can screen for companies that have a lot of job openings which are also increasing over time, which indicates that the company might be ramping up its business operations.
If you want to try out Strike.market for yourself, sign up for a free account right now using this link. The entire platform is currently free to use and there will be many more features to come as the team continues to build.