Introduction :
SATS is the leading provider of gateway services and food solutions in the region. SATS caters to the needs of the aviation sector and a host of other businesses in hospitality, food, healthcare, freight and logistics industries besides governments.
Business Models :
Food Solutions
SATS' Food Solutions business comprises airline catering, food distribution and logistics, industrial catering as well as chilled and frozen food manufacturing.
Gateway Services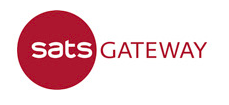 From airfreight, baggage, and ramp handling, passenger services, aviation security, cargo, warehousing, perishables handling to cruise handling and terminal management, SATS offers a full spectrum of customised gateway services to their clients. Besides being the leading ground handler and in-flight catering service provider at Changi International Airport, one of the best airports in the world, they also have ground handling and in-flight catering presence in more than 40 airports across Asia.
Financials :
Revenue increased y-o-y but overall expenses increased as well, causing operating and overall profit to fall slightly.
Looking at the cash flow statements, we can see that there is an increase in operating cash flows before working capital changes. There was a huge increase in receivables which resulted in FCF to decrease for 2Q19-20 and 1H19-20. Though the FCF is positive, a decrease in FCF should warn investors to be careful and watch out for any big problems that occur arise.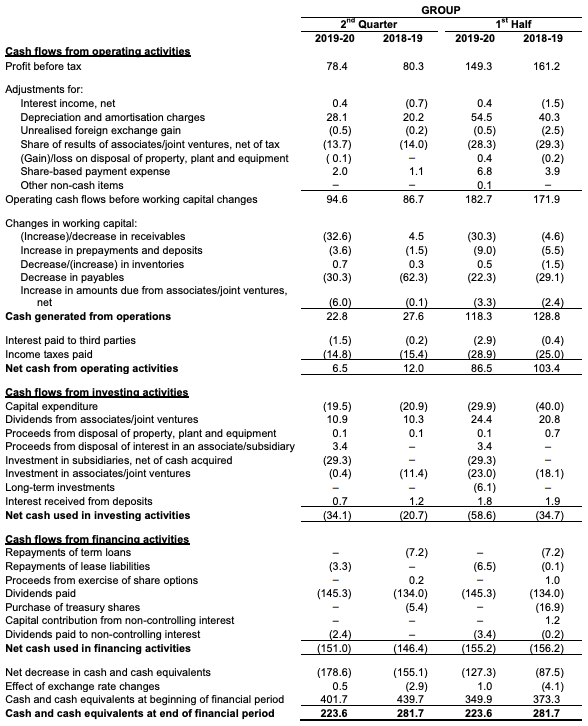 Ratios :
Current Ratio : 1.7064
Quick Ratio : 0.6927
Yield : ~4.24% ( Assuming payout of $0.19 @ $4.48/share )
Dividend Payout : ~ 90.48% (From stockscafe)
NAV/Share : $1.46/share
Price/Book Ratio : 3.068
Personal Thoughts and Positions :
I like SATS for its increasing dividends year on year even though they payout less than 100% of their earnings. The business model is simple to understand. There is limited downside as the market has already priced in the upcoming quarter to be affected due to the Wuhan Virus, "Novel CoronaVirus".
SATS is currently very undervalued and I feel that the market has incorrectly priced in the downside of the stock. The virus is temporary, so when it goes by, SATS will go back to being profitable. I am very bullish on SATS and will look to enter a position when I have cash to invest in.
From a TA's point of view, 2 reasons to buy this stock. Firstly, it is in the "oversold" range when you use the RSI indicator. Secondly the stock has just rebounded from a support level. I would suggest not entering a position so soon, though the fundamentals are okay with the company, with the nCoV being a negative catalyst to the company, I will be closely monitoring the market and the overall sentiment.
I believe that it is better to enter a position when the stock is going on an uptrend, rather than trying to catch the stock at its lowest. No one can ever know when and where is the lowest point and when the stock will reverse into an uptrend. I will be stocking up my warchest, waiting for the nCoV to die down before entering any new positions.
As always, you can take a look at my portfolio updates to see my current positions! Also, use my referral code for an extended 3 months of premium access to StocksCafe! P.S. I'm running a telegram chat group for you guys to share and discuss investment-related topics so come on in! I'll be there too! You can join the chat here: https://t.me/joinchat/D4iHeEVapnGC1lWcFEupVw
Are you new to the stock market and don't know what you should do to avoid losing half your portfolio through bad picks? Or perhaps you are an experienced investor/trader looking for fantastic opportunities and picks in the market that you might have missed out on?
If so, look no further because I am running a Premium Subscription that offers services such as:
Access to both my Singapore and US Tech Watchlist with Preferred Entry Prices
Telegram Group Invitation Where I Share Market Updates and My Personal Views
Monthly Tradable Opportunities with Trade Setups
On-Demand In-Depth Fundamental and Technical Analysis on Any Stock of Your Choosing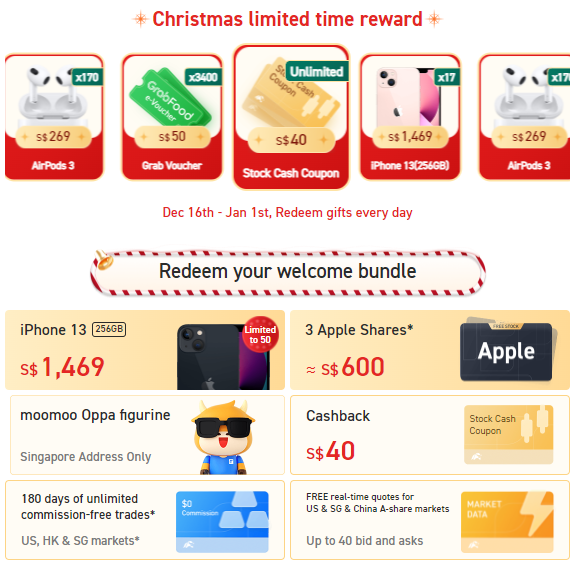 For the ongoing promotional period (Nov 30th – Dec 31st), when you deposit (First Deposit) SGD 2,700 successfully into your account, you will be rewarded 1 Apple (AAPL) share worth around SGD 220 as well as an SGD40 Stock Cash Coupon Bundle. Stand a chance to win a brand new iPhone 13 (256GB ,~S$ 1,469), Airpods 3, $50 Grab vouchers as well as $40 Stock Cash Coupons during the Christmas limited time reward promotion that is ongoing between Dec 16th – Jan 1st.
If you have yet to sign up for a FUTU SG securities account with moomoo powered by FUTU you can use my referral link here. For opening an account, you will be given 180 days of unlimited commission-free trades across the US, HK, and SG markets (do not apply for Stock Options and Futures). You will also be given free real-time Level 2 US Market Data, Level 1 SG Market Data, and now Level 1 for China A shares too!
Read Also: moomoo Trading App Review: Everything You Need To Know in 2021