Introduction :
SATS is the leading provider of gateway services and food solutions in the region. SATS caters to the needs of the aviation sector and a host of other businesses in hospitality, food, healthcare, freight and logistics industries besides governments.
Business Models :
Food Solutions
SATS' Food Solutions business comprises airline catering, food distribution and logistics, industrial catering as well as chilled and frozen food manufacturing.
Gateway Services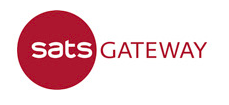 From airfreight, baggage, and ramp handling, passenger services, aviation security, cargo, warehousing, perishables handling to cruise handling and terminal management, SATS offers a full spectrum of customised gateway services to their clients. Besides being the leading ground handler and in-flight catering service provider at Changi International Airport, one of the best airports in the world, they also have ground handling and in-flight catering presence in more than 40 airports across Asia.
Financials :
Revenue increased y-o-y but overall expenses increased as well, causing operating and overall profit to fall slightly.
Looking at the cash flow statements, we can see that there is an increase in operating cash flows before working capital changes. There was a huge increase in receivables which resulted in FCF to decrease for 2Q19-20 and 1H19-20. Though the FCF is positive, a decrease in FCF should warn investors to be careful and watch out for any big problems that occur arise.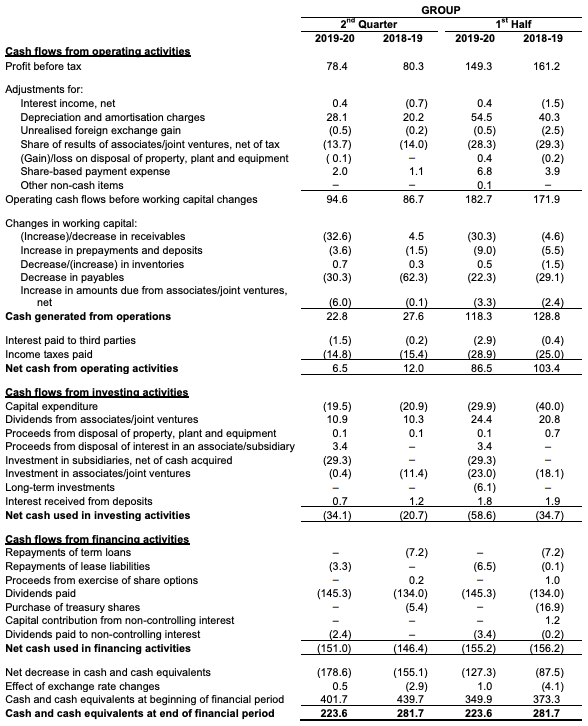 Ratios :
Current Ratio : 1.7064
Quick Ratio : 0.6927
Yield : ~4.24% ( Assuming payout of $0.19 @ $4.48/share )
Dividend Payout : ~ 90.48% (From stockscafe)
NAV/Share : $1.46/share
Price/Book Ratio : 3.068
Personal Thoughts and Positions :
I like SATS for its increasing dividends year on year even though they payout less than 100% of their earnings. The business model is simple to understand. There is limited downside as the market has already priced in the upcoming quarter to be affected due to the Wuhan Virus, "Novel CoronaVirus".
SATS is currently very undervalued and I feel that the market has incorrectly priced in the downside of the stock. The virus is temporary, so when it goes by, SATS will go back to being profitable. I am very bullish on SATS and will look to enter a position when I have cash to invest in.
From a TA's point of view, 2 reasons to buy this stock. Firstly, it is in the "oversold" range when you use the RSI indicator. Secondly the stock has just rebounded from a support level. I would suggest not entering a position so soon, though the fundamentals are okay with the company, with the nCoV being a negative catalyst to the company, I will be closely monitoring the market and the overall sentiment.
I believe that it is better to enter a position when the stock is going on an uptrend, rather than trying to catch the stock at its lowest. No one can ever know when and where is the lowest point and when the stock will reverse into an uptrend. I will be stocking up my warchest, waiting for the nCoV to die down before entering any new positions.