Introduction :
Haw Par Corporation Limited is a Singapore-grown multinational Group. They have a diversified business model which helps provide a stable stream of income as well as show that the company is well rounded.
Business Models :
Well they own the iconic Tiger Balm Brand. If you don't know them, you must be living under a rock. With a unique herbal formulation that has over 100 years of proven success in over 100 different countries, Tiger Balm's world renowned ointment, is arguably one of the world's leading and most versatile topical analgesic brand.

Past investments include Underwater World Singapore, Chengdu Haw Par Oceanarium, L'Aquarium Barcelona, golf driving range and bowling centres, which rendered them competent in operating and designing leisure assets.

They currently own and operate the Underwater World Pattaya in Thailand, which was launched in 2003. Located in Pattaya, a paradise by the sea and a short drive from Bangkok, Underwater World Pattaya is away from the hustle and bustle of the city, rendering it the ideal venue for special events.
From the Haw Par website's Leisure section
Currently, Haw Par owns properties in both Singapore and Malaysia, Haw Par Centre and Haw Par Glass Tower as well as Haw Par Technocentre in Singapore and Menara Haw Par in Malaysia. The properties are positioned in prime areas that are set to attract businesses that want to distinguish themselves from the rest.
From the Haw Par website's Property section
Currently, Haw Par has substantial investments in United Overseas Bank Limited, UOL Group Limited and United Industrial Corporation Limited. All of which have provided a source of stable income for the company, through recurring dividends.
Financials :
Revenue and overall profit decreased slightly for 3Q2019 due to increased cost of sales and other expenses. For the 9M2019, there is an increase in revenue and overall profit even though cost of sales increased, due to the reduced finance expenses and increase in other sources of income. All in all, overall profit dropped 16.9% for 3Q2019 but increased 180.9% for the 9M2019.


Looking at the cash flow statement here, there is an increase in FCF for the 3Q2019 and 9M2019 even though the amount of dividends being distributed increased. This is a great sign of a healthy company, having positive FCF.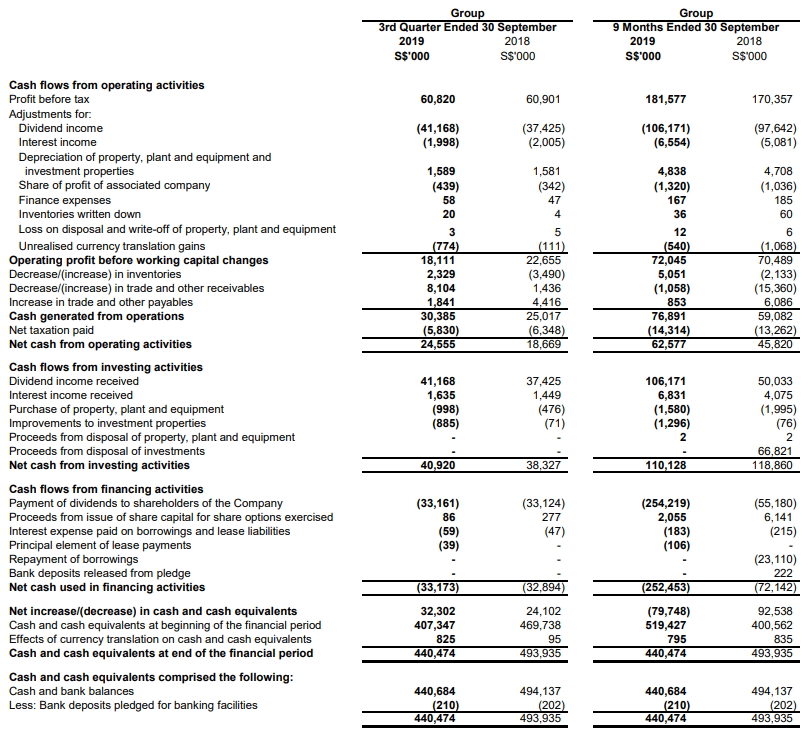 Ratios :
Current Ratio : 29.42
Quick Ratio : 4.28
Yield : ~1.98% ( Assuming payout of $0.25 @ $12.60/share )
Dividend Payout : ~ 29.12% (From stockscafe)
NAV/Share : $13.71/share
Price/Book Ratio : 0.919
Personal Thoughts and Positions :
Haw Par Corporation right now is my next stock position I will get into for a few reasons. It is currently undervalued now having its P/B ratio go below 1. My assumption for the amount of dividends it will pay ($0.25) will most probably not come true, and that it will pay more than that, simply because of the amount of excess cash it has and the low payout ratio. For this year Haw Par Corporation rewarded its shareholders by paying out 1.15/share, equivalent to a 9% yield at it's current price. This resulted to a payout ratio of 133.94%, which is okay since this is the first time they paid out more than 70% of their profits.
I foresee that the dividends will not only increase y-o-y, but also that they might give out such high amounts of dividends soon again. Assuming that they payout only 90% of their profits, they will still payout a whopping $0.85859/share. I'll gladly take the 6.8% yield thank you very much. I like their business model because it is so simple. My family members and friends all use Tiger Balm Products, me included. I don't see them magically disappearing off the shelves in the next 5 years to come.
From a TA's point of view, it's currently going on a downtrend and is now being "oversold". This as a great entry point even though it is heading for a downtrend. I believe in its business model and its potential future profits will bring the stock's price back up. Due to the stock being "oversold" and "undervalued", I feel that at its current price, there is already a margin of safety being factored in. Therefore, I will be looking to pick this stock up when my warchest is ready to go.