Square is one of the fastest growing payment processors in 2020, leading in mobile credit card processing. Their services have been popular in Japan, United States, United Kingdom, Canada, and Australia, helping over 2 million small businesses to get up on their feet. With many other players in the same niche such as Paypal and Stripe, how does Square fair against its competitors. In this article, I'll be sharing with you all you need to know about Square.
Business Overview
Square is a payment processing company with a suite of simple to use SaaS products that help empower businesses, giving them an ecosystem of tools to seamlessly accept payment and finance growth. The company was founded in 2009 by Jack Dorsey and Jim McKelvey and launched its first app and service in 2010.
The original inspiration for Square came to Jack Dorsey when Jim McKelvey was unable to complete a $2,000 sale of his glass faucets and fittings because he could not accept credit cards. This just goes to show that the best ideas come about from the most random of situations.
CEO & Management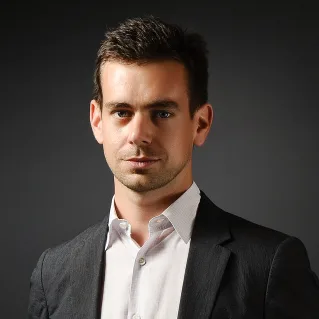 You will be amazed to hear that the CEO and co-founder of Square, Jack Dorsey, was also the co-founder of Twitter. He is the chairman and co-founder of both Twitter and Square. With his experience and knowledge in the tech industry being brought onto Square, we can expect great things from the tech veteran.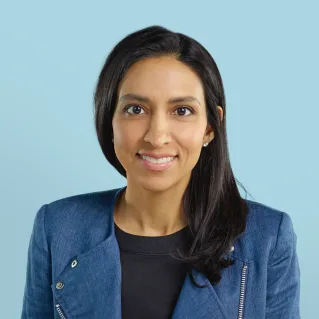 Along side Jack Dorsey is Square's CFO, Amrita Ahuja who joined the company since Jan 2019. Amrita Ahuja was previously working at Activision Blizzard, serving as a Vice President for the Strategy and Business Development team for 2 years before moving to the Finance and Ops team for another 2 years also serving as a Vice President. After that, she was moved into the role of Senior VP for the Investors Relations team. She was then promoted to CFO of Blizzard Entertainment in March 2018 and served as the CFO for 11 months. Bringing on Amrita Ahuju will prove beneficial for Square with her long line of experience and knowledge.
Key Investors Involved
Square started off the first round of funding in Nov 1, 2009 with 20 investors in total, raising a total of US$10 million. Along the years, Square has done a few more rounds of funding, and a total of 3 exits for early investors. Square's most notable exits include Emailage, Mezi and Neumob. The company has raised a total of US$590.5 million through the 9 funding rounds with a total of 44 investors.
It is also interesting to note that Square has also attracted GIC, a global long-term investment firm that manages Singapore's foreign reserves.
Products and Services
Square offers a wide range of products such as Square POS, a full Point of Sale suite that can be easily integrated into any business such as restaurants or retail stores as well as Square's Cash App, a mobile payment service that allows you to send, spend, save, and invest your money in the safest and easiest way possible.
All these services have a lot of unique features that you won't get when compared to its competitors. Let's take a closer look into each of their products and services.
Square POS
Square POS offers a suite of business solutions that can be easily integrated into any business such as restaurants or retail stores.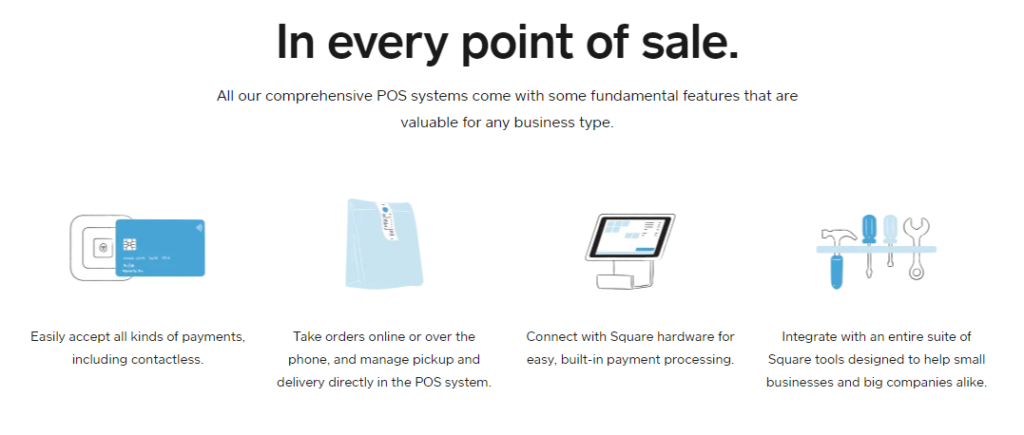 Square does offer a specific suite for a specific businesses such as Restaurants and Retail shops. These suites are more fine tuned to suit their business needs.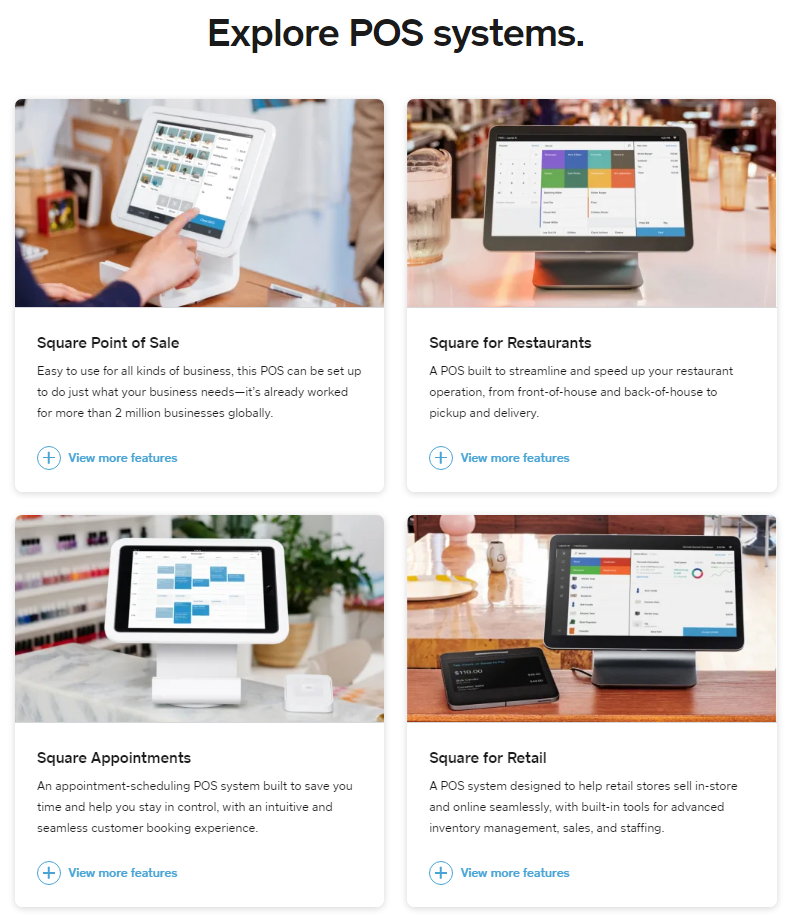 Square Hardware
Square also sells hardware to businesses that require physical devices such as a register or terminal for payment uses. Here are some of the hardware that they sell :
Square Register
Square Terminal
Square Reader for Magstripe
Square Reader for Contactless and Chip
Cash App
Square's Cash App is a peer-to-peer (P2P) payment service. The app was first launched in 2013 to compete with services such as Stripe and Venmo. Peer-to-peer payment services allow consumers to use their smartphones to pay for goods and services, pay bills, as well as transfer money to friends and family.
Later on, Cash App expanded its functionalities beyond just a peer-to-peer payment service by also allowing users to receive direct deposit payments and ACH payments, as well as purchase cryptocurrency through the platform. Most recently, Cash App introduced a new feature called Investing, allowing users to trade stocks commission-free within the application.
How Does It Make Money?
If Cash App is free to download and its core functionalities are also free, how does the app make any money? Well, Cash App makes money by charging businesses to use their application and by charging individual users transaction fees to access additional services.
Cash App charges businesses that accept Cash App payments 2.75% per transaction. These transactions can be made in two ways:
An individual makes an in-application peer-to-peer payment to a business.
An individual uses the Cash Card, a Visa prepaid card that users can order and is linked to their in-application balance to pay a business.
Cash app also charges users a 1.5% fee to expedite transfers from their Cash App account to a bank account. Users have the option of transferring their funds into a bank account immediately rather than waiting for the standard deposit time, which is two to three days. Individuals can also use the platform to make personal payments using a credit card, instead of their Cash App balance, for a 3% transaction fee.
Competitors
Even though Square provides one of the best credit card processing services, it isn't ideal for everyone. For some businesses, it's not affordable anymore. For Square POS, its key competition is against Paypal Here and ShopKeep. As for Square's Cash App, its main competitors are actually long time players in the market and are very well known, namely Stripe and Venmo.
Competitive Edge
The main reason for businesses to choose Square is the minimal fee credit card processing. Why do you ask? Square charges no additional costs monthly or annually. The monthly and annual maintenance fees are charged by the large mobile credit card solution providers all over the globe. In other words, the transaction has no additional costs, just a flat rate. However, the awesomeness doesn't stop here. In addition to their fantastic and easy to use mobile app, you also get a whole suite of POS service software that is very useful for your business.
As for regular users, the key reason to choosing Square over the more traditional Venmo or Stripe is the fact that the app is always evolving to stay ahead of its competition. It started off as a simple peer-to-peer payment service but has since evolved into a huge financial services app that allows you to do way more than just sending money or making payments.
You can now buy and sell cryptocurrency as well as trade stocks. Not only that, it also allows users to deposit their paycheck directly to the app's mobile wallet, allowing users to immediately pay off any debts owed to friends, invest in stocks, then transfer any remaining balances back to their checking or savings account instantly.
Financials
No matter how great a company is, we should always look at their financials to make sure that the company is on the right track and has proven consistent growth in its past results. I'll be taking a look at their historical data from 2018 till date.
Revenue Growth
Note : Chart figures are in thousands
Starting off with Square's revenue performance, we can see that the hardware segment has been relevant stale across the past 10 quarters. The subscription and services segment performed slightly better but still contributes to a small portion of the total revenue. The transaction segment performed really well until 2020 where the transaction revenue started to see a dip. This can be due to the Covid-19 pandemic, causing businesses to close, therefore reducing revenue coming from this segment.
The key thing to note is that the bitcoin segment started off slow but has since skyrocketed since Q3 2019 and has overtaken the transaction segment of Square's revenue, making it the largest segment as of Q2 2020. It's also nice to see that Square has been consistently growing its total revenue as well as its gross profit quarter on quarter for the past 10 quarters. Its total revenue grew around 47.5% on average while its gross profit grew around 46.6% on average quarter on quarter.
Operating Expenses
Note : Chart figures are in thousands
Taking a look at Square's operating expenses, we can see that most of the key areas are growing slowly such as product development and sales & marketing. The revenue growth definitely exceeds the operating expenses growth which is a good thing as we can look back at the revenue growth and concur that Square doesn't need to spend a whole lot on these areas to have huge growth in their revenue.
Balance Sheet Stability
Note : Above figures are in thousands
Taking a look at Square's balance sheet, it looks pretty healthy with a large cash position of US$1.97bn. They also have a current ratio above 1 which tells us that they company has sufficient liquidity to pay down any short term debt.
Cash Flow Analysis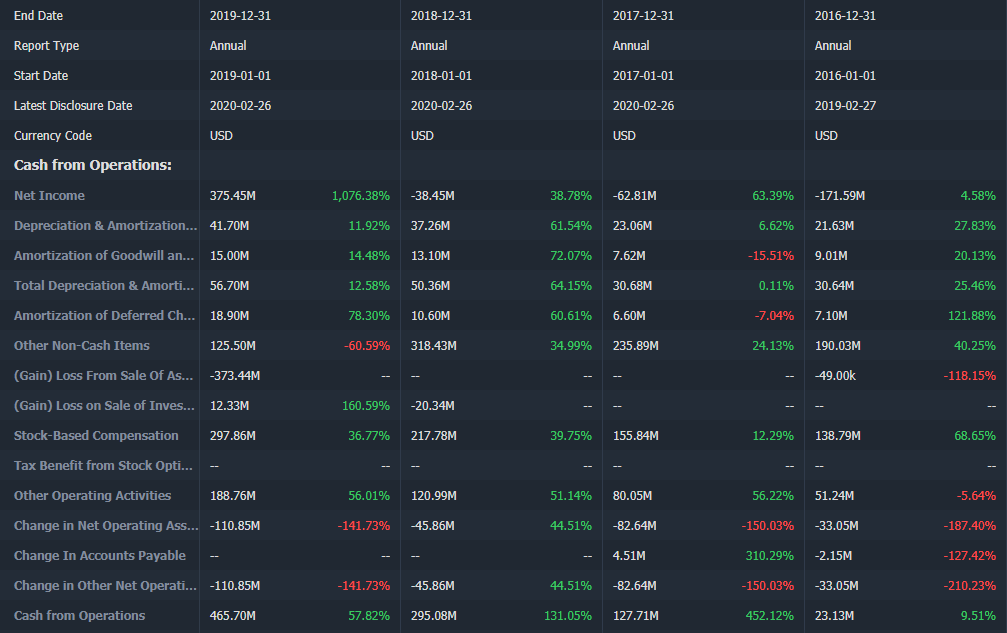 Note : Above information acquired from Tiger Brokers' platform
Looking at Square's cash flow, we can see that the company has a very healthy cash flow, increasing at a very fast pace over the past 4 years. This is mainly due to Square being profitable in 2019, thus greatly improving the overall cash flow for the company.
Final Thoughts
Just recently, Square bought $50 million in bitcoin as part of larger investment in cryptocurrency. This definitely surprised everyone in the tech industry. On top of this, they also announced that they will release the 3Q 2020 results on Nov 5th after market close. Putting all this together, Square has definitely seen and will continue to see increased volatility in its share price as it gets closer to results day.
My forecast is that Square will definitely show yet another stellar quarter and hit new highs again. The question comes down to what investors are looking for when investing in the company. I don't foresee Square growing 100x because that would mean its market cap grows to a phenomenal 8 trillion dollars. Of course, in the next 10 years to come, Square definitely has the room to grow a 10x in terms of valuation and I believe that it will happen.
Square has definitely caught my eye as a huge FinTech play, coming onto the scene and disrupting the old school players in the industry but I will only start to accumulate if the stock price gets hit with a pullback. I look forward to see what more Square has to offer for both users and investors.