Supermarkets are making amazing sales now with people running to supermarkets and hoarding goods, but which supermarket stock is the best deal right now ?
There are 4 common supermarkets in Singapore:
Cold Storage
Giant
Sheng Siong
NTUC Fairprice
Of these supermarkets, only Dairy Farm (SGX:D01), which owns Cold Storage and Giant, and Sheng Siong (SGX:OV8) are listed on the Singapore Stock Exchange (SGX). Since NTUC isn't listed, I won't be including them into the comparison.
Brief Introduction
Dairy Farm has various businesses, in many countries. They not only own supermarket chains like Cold Storage and Giant, but they also own convenience stores (e.g. 7-Eleven) and beauty shops (e.g. Guardian).
Sheng Siong is our beloved day to day supermarket we go to. Their stores are always located near our homes like at HDB void-decks and such. Their prices are slightly cheaper than some of its competitors like Cold Storage.
Earning Power
(FY2019 v FY2018)
Sales / Revenue
Gross Profit Margin
Net Profit After Tax
Earnings Per Share (Basic)
Dairy Farm
US$ 1.19b
(-4.7% y-o-y)
31.6%
(+1.77% y-o-y)
US$ 325m
(+381.48% y-o-y)
US¢ 23.93
(+281.66% y-o-y)
Sheng Siong
SGD$ 991m
(+11.26% y-o-y)
26.9%
(+0.37% y-o-y)
SGD$ 75.7m
(+7.42% y-o-y)
SGD¢ 5.04
(+7.01% y-o-y)
From Dairy Farm and Sheng Siong's Annual Report
Verdict : Dairy Farm Wins(?)
So yeah Dairy Farm's performance seems a lot better than Sheng Siong but that is only on the surface. If we look back at Dairy Farm's AR, we'll come to find out that the "Profit attributable to shareholders" has been declining since 2015, from US$424.4m to US$323.8m. Their underlying EPS has also been declining from US¢31.66 to US¢23.72.
It is also good to note that Dairy Farm's associates and joint ventures have been churning higher amounts of profit from US$17.9b in 2015 to US$27.7b in 2019.
Ratios
(FY2019 v FY2018 )
Current Ratio
Quick Ratio
Dairy Farm
0.361
(-1.1% y-o-y)
0.288
(+2.13% y-o-y)
Sheng Siong
0.959
(-20.7% y-o-y)
0.861
(-22.4% y-o-y)
From Dairy Farm and Sheng Siong's Annual Report
Verdict : Sheng Siong Wins
Yes Sheng Siong's ratios did fall about 20% as compared to the year before, but the fall in liquidity is due to the acquisitions made during the year. Towards the end of the year, Sheng Siong made an announcement to purchase Block 118 Aljunied Avenue 2, for an aggregate consideration of S$29,500,000. Due to this acquisition, the net cash position fell and therefore causing a drop in the liquidity ratios.
Though the decrease, Sheng Siong's ratios are much closer to 1 than Dairy Farm, which signifies that its financial health is much stronger. I am very certain once the store opens up at the new location, profits will soon be able to cover the cost of acquisition.
Current Valuation v Historical Avg
(FY2019 v FY2018 )
P/E
Net Asset Value
Price/Book
Dividend
Payout Ratio
Dividend Yield
Dairy Farm @ US$ 4.93
20.6
US¢ 89.39
(+7.35% y-o-y)
5.515
US¢ 21
(No change)
87.8%
4.26%
Historical Average
27.12
–
7.28
–
–
2.83%
Sheng Siong @ SGD$ 1.33
26.4
SGD¢ 21
(+8.25% y-o-y)
6.33
SGD¢ 3.55
(+4.41% y-o-y)
70.4%
2.67%
Historical Average
22.7
–
5.65
–
–
3.27%
From Dairy Farm and Sheng Siong's Annual Report
Verdict : Dairy Farm Wins
Dairy Farm's current valuation is very attractive as compared to its historical averages while Sheng Siong is actually considered overvalued when compared to its historical averages.
Growth Prospects
Verdict : Tie
Sheng Siong has been actively trying to expand the number of stores they currently have open, even opening stores in China.
Dairy Farm on the other hand is actively building up their associates and other business sectors, like its "Health and Beauty" sector as well as its "Home Furnishings" sector, expanding their operations all around ASIA, in countries like Taiwan, Hong Kong, Indonesia, etc.
Both companies are actively growing their business operations so I give both sides a point !
Final Conclusion
Verdict : Dairy Farm is the Better Pick
Based on the comparisons made above, Dairy Farm does appear to be more attractive at its current valuation, but I do have some concerns with its liquidity. Having current and quick ratios being so low, it could be an issue for the company when they have to pay off their debts.
Despite the liquidity issues, Dairy Farm is on a big sale right now, and it even pays a stable 4.26% dividend yield while you sit back and reap the capital gains.
Currently I do not own any positions in either companies but I will look to pick up Dairy Farm when it dips.
As always, you can take a look at my portfolio updates to see my current positions! Also, use my referral code for an extended 3 months of premium access to StocksCafe! P.S. I'm running a telegram chat group for you guys to share and discuss investment-related topics so come on in! I'll be there too! You can join the chat here: https://t.me/joinchat/D4iHeEVapnGC1lWcFEupVw
Are you new to the stock market and don't know what you should do to avoid losing half your portfolio through bad picks? Or perhaps you are an experienced investor/trader looking for fantastic opportunities and picks in the market that you might have missed out on?
If so, look no further because I am running a Premium Subscription that offers services such as:
Access to both my Singapore and US Tech Watchlist with Preferred Entry Prices
Telegram Group Invitation Where I Share Market Updates and My Personal Views
Monthly Tradable Opportunities with Trade Setups
On-Demand In-Depth Fundamental and Technical Analysis on Any Stock of Your Choosing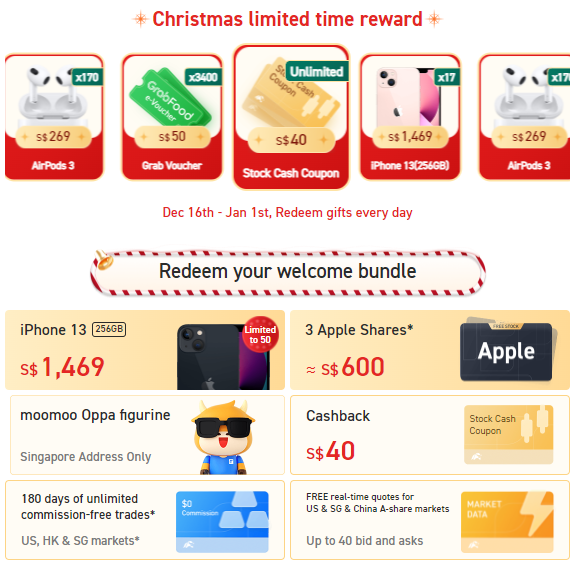 For the ongoing promotional period (Nov 30th – Dec 31st), when you deposit (First Deposit) SGD 2,700 successfully into your account, you will be rewarded 1 Apple (AAPL) share worth around SGD 220 as well as an SGD40 Stock Cash Coupon Bundle. Stand a chance to win a brand new iPhone 13 (256GB ,~S$ 1,469), Airpods 3, $50 Grab vouchers as well as $40 Stock Cash Coupons during the Christmas limited time reward promotion that is ongoing between Dec 16th – Jan 1st.
If you have yet to sign up for a FUTU SG securities account with moomoo powered by FUTU you can use my referral link here. For opening an account, you will be given 180 days of unlimited commission-free trades across the US, HK, and SG markets (do not apply for Stock Options and Futures). You will also be given free real-time Level 2 US Market Data, Level 1 SG Market Data, and now Level 1 for China A shares too!
Read Also: moomoo Trading App Review: Everything You Need To Know in 2021