Sea Limited has become one of the largest companies in the world and one of the fastest growing companies in Singapore. As of mid June, Sea Limited is the largest Singapore founded company with a valuation of over US$45bn (S$63bn), beating DBS which has a valuation of S$55bn. Since then, Sea Limited has been a pretty hot topic as its growth skyrocketed this year. In this article, I'll be sharing my thoughts on Sea Limited and whether or not it's a great investment opportunity now.
Business Overview
Sea Limited was founded by Forrest Li in 2009. Also known as Garena. Sea Limited also owns another popular business entity called Shopee. It is really interesting to see that many people know Garena and Shopee but don't know anything when it comes to Sea Limited as a company.
CEO & Key Management
Forest Li has probably made the biggest impact on the gaming industry. Being the owner of Garena's Free Fire, the game had exploding popularity when it was released. Moreover, Free Fire is still as popular as some other battle royale. Li had a vision greater than most. With gaming, eCommerce, and digital payments, the Sea group has evolved a lot through all these years.
Chris Feng, CEO of Shopee and SeaMoney, joined the company in March 2014 and has served as the chief executive officer of Shopee since July 2015 and as the chief executive officer of SeaMoney since March 2020. Before joining Sea Limited, Chris was part of the Southeast Asia founding team at Rocket Internet SE from December 2011 to February 2014, establishing ventures such as Zalora and Lazada. Chris also served as regional managing director at Zalora and chief purchasing officer at Lazada during his tenure at Rocket Internet SE. With all that experience, Chris is well positioned to bring Shopee as well as SeaMoney to greater heights with his knowledge and expertise.
Key Investors Involved
Sea Limited first started off their angel round of investments back in July 29, 2008 with 2 investors involved, raising a total of US$2 million. They then had a few more rounds of investments before the IPO involving 15 investors, raising a total of US$720 million.
It is also interesting to note that after the IPO, Tencent Holdings acquired a US$1.4bn stake in the company in March 2019. With a large company like Tencent Holdings coming into play, we can expect great things to come from Sea Limited.
Products and Services
Sea Limited has products that can be classified into three sections:
Digital Entertainment
eCommerce
Digital Finance Services
Garena – Digital Entertainment
Garena develops one of the most interesting games that are being played all around the globe right now. Their vision is to normalize eSports gaming as much as they can to let people turn their passion into a profession.
In 2019, Garena's Free Fire was the most downloaded game globally and the top-grossing in Southeast Asia and Latin America and as of May 2020, Garena's Free Fire has over 80 million daily active users globally
Shopee – eCommerce
Shopee is a very familiar brand for most Singaporeans that shop online. Shopee was released in 2015, and now it has become the leading eCommerce hub in Taiwan and Southeast Asia. The marketplace is easy, intuitive, and user friendly. It not only provides the best experience to the customers, but many people are using this platform to build their own businesses.
Shopee's only real competitor in Singapore is Lazada which is owned by Alibaba Group. Both eCommerce platforms sell a wide range of products as well as give out discounts and vouchers almost weekly.
SeaMoney – Digital Finance Payment
Shopee's fastest growing segment is their digital finance payment, also known as SeaMoney. In Southeast Asia, Sea Money is the largest digital payment service used for financial purposes. It includes features like mobile wallet, payment processing, AirPay, ShopeePayLater, and a lot of other innovative stuff. SeaMoney is Sea Limited's first step into the financial technology (FinTech) space and it has been a great move thus far.
Financials
Next, we'll be taking a dive into Sea Limited's financials and I'll be referring to their 2Q2020 results.
Revenue Growth
Sea Limited saw huge growth year on year for its total adjusted revenue which includes their digital entertainment, eCommerce as well as digital financial services segments. It is good to note that all 3 segments saw huge growth year on year with the digital entertainment segment growing 62%, the eCommerce segment growing a massive 188% and their digital financial services segment growing a tremendous 325%.
Similar to most growing tech companies, Sea Limited has spent an increasing amount in terms of Sales and Marketing expenses as well as Research and Development expenses. This is not surprising as most growing tech companies want to accelerate growth in the early stages of their lifecycle by aggressively acquiring as many customers as possible. With all these factors in mind, it is not surprising to see Sea Limited growing their total operating expenses by 72.8% year on year.
Balance Sheet Stability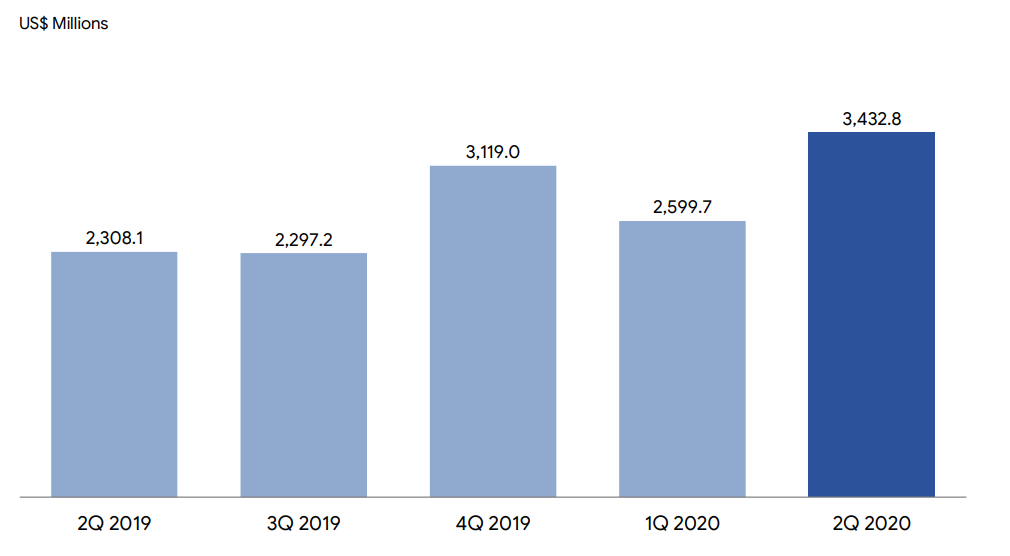 Taking a dive into Sea Limited's balance sheet, we can see that they have a huge cash reserve of over US$3.4bn. They have been growing their cash reserves rather consistently quarter on quarter. It's also reassuring to know that they have sufficient cash reserves to pay off any and all short term liabilities and debt.
Cash Flow Analysis
Based on the 6M2020, the company is generating a positive cash flow of US$74.44 million. This is a huge improvement from the year prior which only generated a positive cash flow of US$7.73 million. The 863% growth shows that Sea Limited is on the right track and is growing healthily.
Potential Growth Catalysts
Sea Limited's valuation has already grown over 300% year to date which begs the question of whether the company has any upside left. Let's take a look at 2 potential growth catalysts that might skyrocket Sea Limited's valuation further.
Singapore Digital Banking License
As most investors would know, Sea Limited has been shortlisted for one of 5 digital bank licenses that the Monetary Authority of Singapore (MAS) plans to issue in 2020. Among the 5 licenses being issued, 2 of which are digital full bank licenses which functions very similarly to our traditional banks with the exception of not having a physical bank branch to visit. The remaining 3 licenses are digital wholesale bank licenses which are more catered towards the non-retail part of banking. The digital wholesale bank licenses are mainly to cater to the monetary needs of SMEs.
Now, Sea Limited has been shortlisted to obtain the digital full bank license. In the running are also well known names such as a joint bid from Grab and Singtel as well as a joint bid from Razer, Sheng Siong Holdings, FWD, LinkSure Global, Insignia Venture Partners and Carro. The competition is pretty fierce but most investors are already pricing in the fact that both Sea Limited as well as Grab and Singtel will get the digital full bank licenses. If so, I believe that this can bring further upside for Sea Limited as this allows them to further leverage on SeaMoney together with the digital bank platform.
As of 2Q 2020, we can see that SeaMoney has been aggressively growing, having made over US$1.6bn in mobile wallet payments as well as having over 15 million quarterly paying users for the mobile wallet services. With the newly acquired bank license, it will further boost SeaMoney in terms of platform usage as well as customer acquisition.
Increased Demand For eCommerce Platforms
As we all know, ever since the COVID-19 pandemic, online sales hit a new high as shoppers turn to online eCommerce platforms. With Shopee being well positioned in Southeast Asia, they saw a huge growth in terms of sales and users.
As we can see, gross orders hit a 150% increase year over year and gross merchandise value (GMV) hit a 110% increase year over year. We can definitely expect to see similar growth for the next 2 quarters moving into 2021 as the COVID-19 pandemic is still a concern.
Final Thoughts
From an investor's point of view, the company is growing with a healthy balance sheet and a bright future that is all up for better. With strong growth in revenue and positive cash flow, the company has been and will continue to consistently grow. With the above mentioned potential growth catalysts, I believe that Sea Limited has way more upside to go and can definitely be the next 10 bagger in the making.