With the recent price hike for raw materials and consumer durables globally, one will start to ponder whether it is too late to invest in this industry before their stock prices reacted fast enough to reflect the changes in financial performances. In this article, I'll be diving deep into mineral commodities stocks, reviewing their recent financial performance, and valuate them based on their potential future cash flow to see if they're a good investment now in 2021.
Why Mineral Commodities Stocks?
The global low-interest rate climate led by the Fed since 2009 and the rising concern of higher inflation with the onset of $1.9 trillion Covid-19 relief bill signed by USA's President Biden, many institutional and retail investors flocked to commodities investment acting as a safe haven to hedge against the booming inflation risk.
Among the mineral commodities stocks listed within SGX which focus mainly on the extraction, refinery, and first stage of manufacturing, some notable names include Southern Alliance, Fortress Minerals, VC Plus (also known as Anchor Resources Limited before 6 May 2021), Silkroad Nickel and CNMC Goldmine. Let's start by looking into each of their financial performances over the past few years.
Financial Performances
SouthernAlliance
The group is based in Pahang, Malaysia, and is involved in the exploration, mining, and processing of iron ore. Some of these contracts can be outsourced to external contractors due to strategic planning by the management of the company. The group is currently given the licenses to carry out exploration and mining projects at 3 sites in Johor, Malaysia.
It has only been listed on SGX Catalist since 26 June 2020.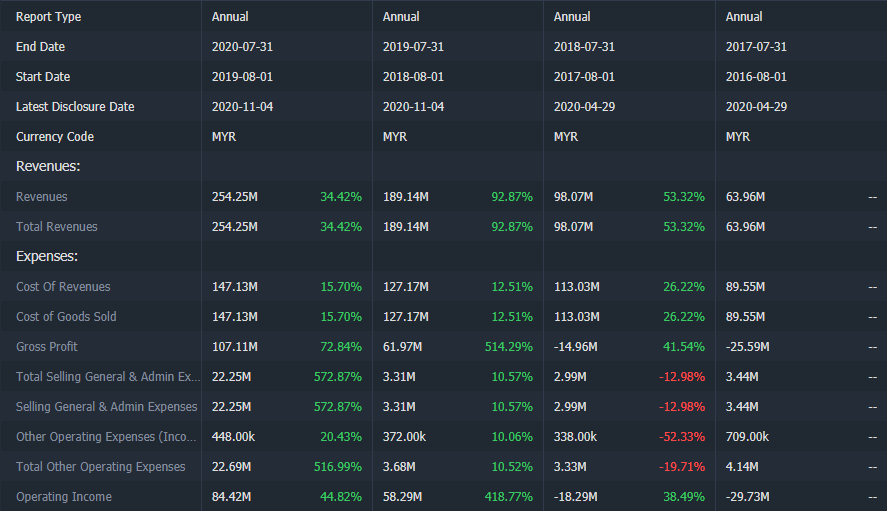 Over the past 4 years, Southern Alliance has been able to consistently grow its business rapidly, both its top and bottom line. Especially since the company's base currency is in Malaysia Ringgit, it's important that they are able to grow fast and consistently to beat the loss due to forex.
When we dive into the recent 1H FY2021 results, we can see that there was continued growth in the overall business, with strong growth in net profit as well as EPS. The main underlying reason behind the increase in gross profit and net profit includes a 44.3% increase in averages realized selling price (ARSP) for iron ore concentrate though there is a slight decline in sales volume by 6.8%.
The business outlook remains optimistic due to increasing demand coming from China. In H2 2020, the group will also focus on exploration activities such as the ongoing one at Chaah mines to capitalize on the effects of the pandemic.
Fortress Minerals
The group is based in Singapore and is principally in the business of exploration, mining, production and, sale of iron ore concentrates. It produces magnetite high-grade iron ore concentrates mined from Malaysia and sells its iron ore concentrates primarily to steel mills in Malaysia and trading companies in the People's Republic of China.
It has been listed on SGX Catalist since 27 March 2019.

The strong growth is similarly due to the combined effect of an increase in sales volume of iron ores and the ARSP. Moving forward, demand for iron ore will continue to grow in 2021 with the price of high-grade iron ore rising further by 7.6% year-to-date. This is largely due to expected recovery from most economies when the normality of the supply chain is achieved.
VC Plus
The group is based in Malaysia and is principally in the business of exploration, mining, and production of gold for sale in Malaysia. At the Lubuk Mandi Mine, the Group's processing facilities utilize the gold treatment and extraction method of flotation, carbon-in-leach, electrowinning, and smelting to produce gold from tailings material.
It has been listed on SGX Catalist since 18 March 2016.
The decline in revenue is largely due to Movement Control Orders ("MCOs") issued by the Malaysian Government to curb the spread of the Covid-19 virus. There was no production in the granite business for FY2020 as workers of the contractor were not able to return to Malaysia due to travel restrictions.
With the announcement of MCO 3.0 from May 12 to June 7, 2021, the business outlook in the near future remains gloomy until the COVID-19 situation in Malaysia can be safely under control. Revenue will remain close to 0 and the trend of recurring loss quarter-to-quarter will continue.
Silkroad Nickel
The group is based in Indonesia and is principally in the business of exploration, mining and production and, sales of nickel ore. Its main business focus is within Indonesia.
It has been listed on SGX Catalist since 20 Oct 2006.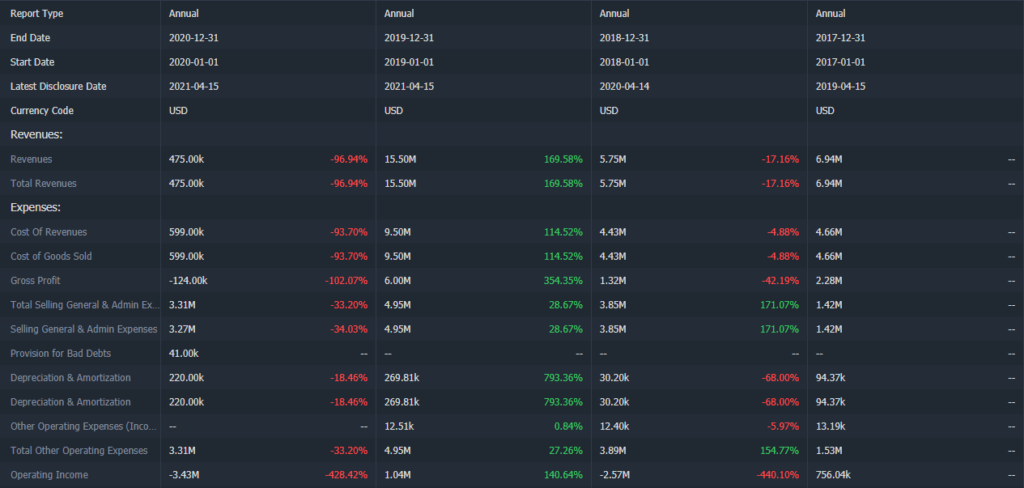 Due to the onset of COVID-19, both the production volume and sales volume of nickel plummeted, and revenue fell by over 96.9% to merely US$475,000. Workers from China were also temporarily suspended due to travel restrictions and various local safety measures were in place which hinders the overall production volume. No nickel ore was sold in the second half of 2020.
With the ongoing wave of COVID-19 mutant from India spreading quickly to most nations, Indonesia's healthcare system remains vulnerable and susceptible to becoming overwhelmed if she cannot bring the community spread under control quickly. Therefore, outdoor business activities which include exploration and mining remain strictly under the high-risk category. The nickel mining business is unlikely to recover by the end of 2021 and recovery could be very gradual.
CNMC Goldmine
The group is based in Singapore and is principally in the business of exploration, mining of gold, and the processing of mined ore into gold doré for subsequent sale. Its mining sites include areas in Singapore and Malaysia.
It has been listed on SGX Catalist since 28 Oct 2011.
The significant decline in revenue is largely due to the first MCO introduced from 18 March 2020 to 5 May 2020 with lingering disruptions thereafter. To further worsen the blow, the all-in cost of production for every ounce of gold rose to US$1,650 in FY2020 from US$1,166 in the previous year. It went up even higher to US$1,800 in 2H2020 from US$1,334 in 2H2019. As a result, the group suffered a first annual loss in nine years.
Assumptions
Moving forward, before investors can correctly valuate these mineral commodities stocks, they will need to make a set of assumptions for the short term and long term so that they can discount any potential risks that they might face. Here are some of the assumptions I've made for these companies to validate my valuations.
SouthernAlliance
It will likely ride on the trend of higher volume and ARSP thus the performance for the FY2021 will exceed FY2020. Nonetheless, the trend will slow down by 2023 due to the abundance of iron ores and the close to full recovery from the delayed construction projects due to Covid-19. We can make a conjecture that EPS can rise further at 20% for both FY2021 and FY 2022 before slipping down to around 6.5 cents and experiencing a steady 2% year-on-year growth afterward.
For dividends, the company doesn't have a fixed dividend policy but elects to give out about 10% of yearly earnings as dividends.
Since the company went IPO less than 1 year ago, data for earnings forecasts and dividend payout is too little for conclusive statements to be made.
Fortress Minerals
It will be in a very similar situation as SouthernAlliance due to the nature of their business. We also predict that EPS can rise further at 20% for both FY2021 and FY 2022 before slipping down to around 4.0 cents and experiencing a steady 2% year-on-year growth afterward.
Similarly, there is also no fixed dividend policy but stated that it aims to distribute >15% targeted distribution. A 20% distribution rate is assumed right here.
Likewise, the company went IPO slightly more than 2 years ago, thus a longer assessment period will be necessary to evaluate any trend and grasp the group's management style.
VC Plus
It is facing a heavy setback from the various rounds of MCOs in Malaysia. Given the dire circumstance from the new wave of Covid-19 coming from the new Indian variant mutant, their core business in gold production and sales will face stiff challenges in terms of labour cost and ramping up the sales volume back to the norm. A loss will continue in FY 2021 and FY 2022 as an initial investment in Fintech is still necessary. If the conditions are all right, then by FY2023, the EPS can turn positive while experiencing a short speed growth before settling at an EPS of 3.5 cents in FY2026.
Given the fact that the group is making losses over the past few years, there is currently no dividend payout for now and in the foreseeable future. Nonetheless, it will likely issue dividends of up to 1/3 of its EPS when it turns profitable.
Silkroad Nickel
The impact of COVID-19 on their business is terrific, production volume of nickel fell to close to 0. Nonetheless, the price of nickel has been rising steadily over the past year by over 40% and if their core business in Indonesia can resume back to the norm quickly, EPS can shoot up rapidly momentarily which isn't sustainable in the long run given their sluggish performances compared to their peers.
When this is coupled with the fact that nickel products such as Li-ion batteries are facing greater scrutiny from the regulatory bodies around the world, the market players will be facing greater challenges in the long-run. Just for FY 2022, EPS can easily shoot up to 1.50 cents due to rising demand from gaining popularity in electric vehicles before sliding to 0.30 cents and remain status quo as the cost rises due to green regulations and market competition intensifies.
The group doesn't issue any dividends since their IPO in 2006 but this could change in the future when they streamlined their operations to reduce operating costs and expand out their businesses to further increase their sales revenue.
CNMC Goldmine
The Covid-19 situation in Malaysia must be brought under full control before its EPS can experience rebound through the effects of investors utilizing gold as the best hedge against higher anticipated inflation. EPS in FY2021 will remain negative at close to their EPS in FY2020 as most of their business operations remain restricted. For FY2022 and FY2023, they will experience some of their best performances when business operations can resume back to 100% and fear of the ongoing inflations will push up gold prices even further. Once the gold hype is gone, EPS will revert to the norm at around 1.50 cents.
The company's dividend policy is that it will desire to pay up to 30% of its net profits for each financial year going forward.
Forecasts
| Companies | Year 0 | Year 1 | Year 2 | Year 3 | Year 4 | Year 5 | Year 5 onwards |
| --- | --- | --- | --- | --- | --- | --- | --- |
| SouthernAlliance | 7.70 | 9.24 | 11.0 | 6.50 | 6.63 | 6.76 | 6.90 |
| Fortress Minerals | 4.90 | 5.88 | 7.06 | 4.00 | 4.08 | 4.16 | 4.25 |
| VC Plus | -0.45 | -0.70 | -0.20 | 0.40 | 1.12 | 1.98 | 2.00 |
| Silkroad Nickel | -1.89 | 1.00 | 0.6 | 0.30 | 0.30 | 0.30 | 0.30 |
| CNMC Goldmine | -1.16 | -1.00 | 2.50 | 2.50 | 1.42 | 1.45 | 1.48 |
Using 5 years of earning forecast for the diluted EPS as a basis, we can have a good estimate of the intrinsic value per share. To complement the forecast, we can include the dividend forecast too as it acts as a key source in the return of investment for minority shareholders.
(Forecasted earnings per share in SGD cents)
| Companies | Year 0 | Year 1 | Year 2 | Year 3 | Year 4 | Year 5 | Year 5 onwards |
| --- | --- | --- | --- | --- | --- | --- | --- |
| SouthernAlliance | 0.77 | 0.93 | 1.1 | 0.65 | 0.66 | 0.67 | 0.69 |
| Fortress Minerals | 1.23 | 1.47 | 1.77 | 1.00 | 1.02 | 1.04 | 1.06 |
| VC Plus | 0 | 0 | 0 | 0.12 | 0.33 | 0.60 | 0.6 |
| Silkroad Nickel | 0 | 0.3 | 0.18 | 0.18 | 0.18 | 0.18 | 0.18 |
| CNMC Goldmine | 0 | 0 | 0.75 | 0.75 | 0.43 | 0.44 | 0.45 |
(Forecasted dividends per share in SGD cents)
Valuations
Based on a Dividend Discount Model as well as a Discounted EPS Model, we can see the estimated valuation of the 5 mineral commodities stocks mentioned above.
| Companies | P/E ratio | Dividend Yield (Present) | V1 (SGD cents) | V2 (SGD cents) | Average (SGD cents) |
| --- | --- | --- | --- | --- | --- |
| SouthernAlliance | 0.77 | 0.93 | 1.1 | 0.65 | 0.66 |
| Fortress Minerals | 1.23 | 1.47 | 1.77 | 1.00 | 1.02 |
| VC Plus | 0 | 0 | 0 | 0.12 | 0.33 |
| Silkroad Nickel | 0 | 0.3 | 0.18 | 0.18 | 0.18 |
| CNMC Goldmine | 0 | 0 | 0.75 | 0.75 | 0.43 |
V1: For all mineral commodities stocks, a P/E ratio of 20 is assumed to be the norm point for the valuation. We are taking the EPS at year 5 as the basis discounted to present value. Right here, we are focusing on long-term investment which ignores the short-term fluctuations due to Covid-19.
V2: A discount rate of 2.5% (long-term inflation rate) is used to calculate future cash flows from dividends when finding the valuation. Terminal value from year 5 onwards will be discounted back to the present value. This ignores the effect of the differences in dividend policy from company to company but can be used as a good gauge for companies with similar dividend policies.
Final Thoughts
Investing in stocks is a high-risk yet high-reward adventure and this is especially so for small-cap stocks. Given the uncertainty faced by many mineral commodities stocks due to the suspension of their core business regions within Southeast Asia such as Malaysia and Indonesia, it will wise to keep a close watch of the local regulations which will change the tide quickly given the sharp increase in mineral commodity prices. EPS can shoot up quickly if all the conditions are right and prices will follow suit soon afterward to push down the P/E ratio back to the norm.