Insurance is one of the largest markets in the world, generating over $5 trillion in annual revenue and it's being disrupted by Lemonade (NYSE: LMND) today. Month after month, having to pay for insurance leaves a bitter taste in the mouths of most people. Lemonade is trying to transform that lemon into something sweet by simplifying the process. The company is building an insurance experience that is easy, affordable, and hassle-free by injecting technology and accountability into an industry that often lacks both. Without further delay, let's take a look at the most talked-about disruptor in 2020.
Business Overview
Lemonade is an Insur-Tech company, focused on disrupting the insurance industry by injecting technology and AI. The company uses AI and big data to run its work processes such as allowing customers to purchase insurance or making claims. On the backend, the company uses AI to manage workflows and predict possible frauds. On the frontend, they utilize AI chatbots to interact with customers, underwrite policies, and pay claims. This allows Lemonade to provide a high-quality user experience at a lower cost than traditional insurers.
CEO & Management
Daniel Schreiber has served as Lemonade's Co-Founder, CEO, and Chairman of the board of directors since the company was founded in June 2015. Before Lemonade, Daniel was serving as President of Powermat Technologies from 2011 to 2015 and from 2003 to 2011, he served as Senior VP of Marketing at Sandisk.
With Daniel's experience and vision, he has managed to bring Lemonade to greater heights and I have no doubts that he will continue to do so as he disrupts the insurance industry.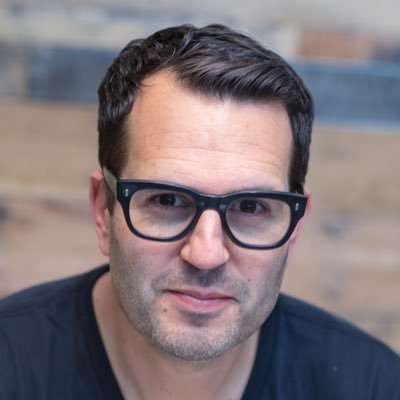 Shai Wininger has served as Lemonade's Co-Founder, President, COO, and CTO since the company was founded in June 2015. Before co-founding Lemonade with Daniel, Shai founded Fiverr in 2009 as the CTO, managing the engineering, design, and product departments. He also served in senior management positions across several companies from 1999 to 2010.
A company like Lemonade definitely needs a CTO like Shai, with strong knowledge and experience. Taking Fiverr as an example of the capabilities Shai has, I believe Lemonade has so much more potential to grow with its products and services.
Tim Bixby has served as CFO of Lemonade since June 2017. Before Lemonade, Tim has served as a CFO for other companies as well such as Shutterstock (2011-2015) and LivePerson(1999-2011).
For a company like Lemonade, it requires a very experienced CFO to take advantage and help the company maintain a strong balance sheet to help weather through tough times. With Tim's experience, I believe Lemonade is definitely in good hands and will do very well in the years to come.
Last but not least, John Peters, the Chief Insurance Officer of Lemonade, serving since September 2016. Before Lemonade, John has served as the Executive Vice President of Commercial Insurance Operations and the Chief Underwriting and Product Officer, Regional Companies Group for Liberty Mutual Insurance in Boston.
With Lemonade being in the insurance industry, having an experienced professional on deck will definitely serve the company well. With John's long line of experiences, with over 10 years in the insurance industry, It will definitely benefit Lemonade moving forward as they widen their scope into other insurance products.
Key Investors Involved
Lemonade's largest investor is Softbank Group who currently holds 21.18% of the shares outstanding.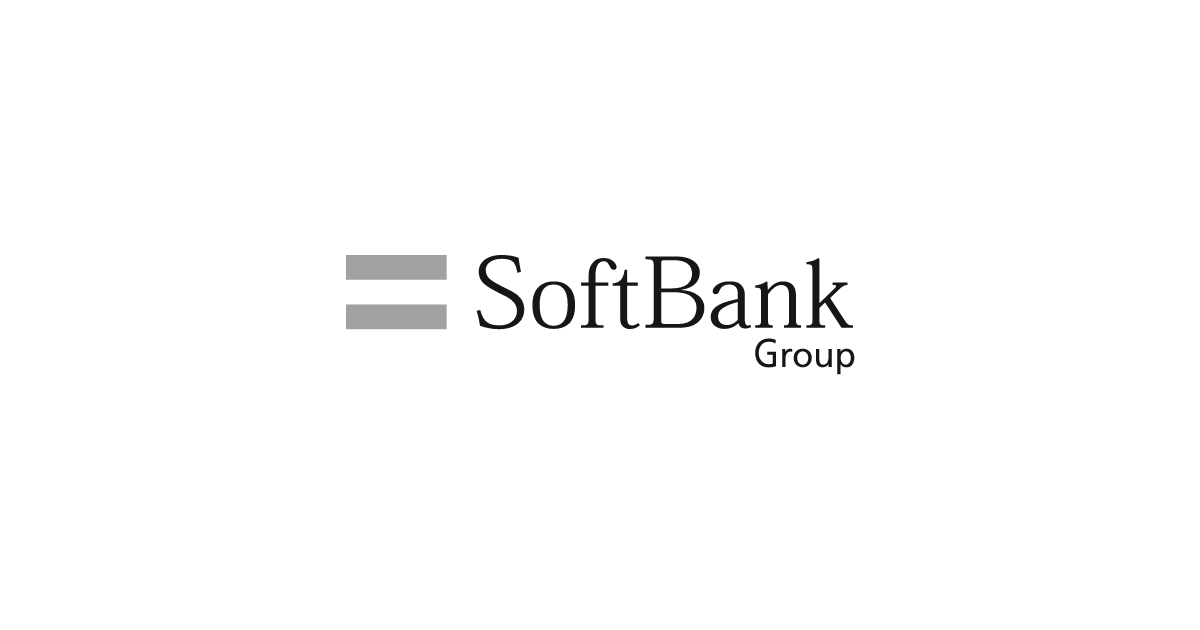 It's also pretty interesting to note that some of the key investors involved in Lemonade are the 2 Co-Founders, Shai, and Daniel who both hold a relatively large % of the shares outstanding, 6.93% and 5.75% respectively. Tim Bixby also holds a stake in Lemonade, 0.49% of the shares outstanding.
This is pretty important as we need to know that the upper management and some of the big boys have huge skin in the game as this means that they gave their vote of confidence in the company and expect it to do very well in the long term. This also incentivizes the upper management to perform well and grow the company as they will benefit through their stake in the company.
Products and Services
As of December 2020, Lemonade sells renters, homeowners, pet welfare insurance. This is a pretty small range of products but in due time, the company will definitely grow its product range to offer wider coverage for new and current users.
How Does Lemonade Work?
Lemonade has a fixed-fee business model based on proportional reinsurance, which is essentially insurance for insurance companies.
Here's how it works: When Lemonade receives premiums from customers, it keeps a flat fee (25%) and pays or "cedes" the remaining 75% to reinsurance companies. In exchange, the reinsurance companies take responsibility for 75% of claims. They also pay Lemonade a commission (25% of 75% = 18.75%) for bringing them business.
As time passes, we would optimistically want them to continue pushing down their loss ratio.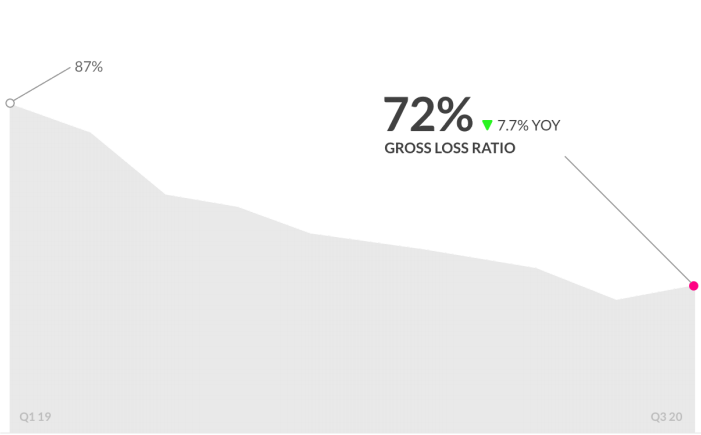 Based on Lemonade's Q3 2020 report, they have managed to drop their gross loss ratio substantially and it is now below 75%, standing at 72% for the quarter. They are on track to go well below 70% within the next few quarters and reach industry averages between 40%-60%.
How Is Lemonade Different From Traditional Insurance Carriers?
By retaining the money that they don't pay out in settlements, traditional insurance firms make money. This means they lose profit every time they pay your demand. This is why it is often so difficult to get your claims paid quickly and in full.
Lemonade, on the other hand, was constructed differently. Lemonade receives nothing by delaying or rejecting claims because they only take a flat fee, unlike any other insurance company. This allows the company to manage and pay as many claims as possible immediately.
What Makes Lemonade Special?
The key reason why the P2P concept of Lemonade works is that it's completely AI-driven. Lemonade does not run or compose policies by agents for any physical entities. Buyers apply, request, and file claims online or via the mobile app instead. This keeps the running costs slim and allows Lemonade to put much of the proceeds into claims and giveback. It also helps to keep rates down, with home insurance beginning at $35 a month and insurance for tenants at $5 a month.
Lemonade's Giveback Feature
Giveback is a special feature of Lemonade, whereby excess/unclaimed cash is recycled each year towards nonprofit organizations. A simple illustration below explains how Giveback works.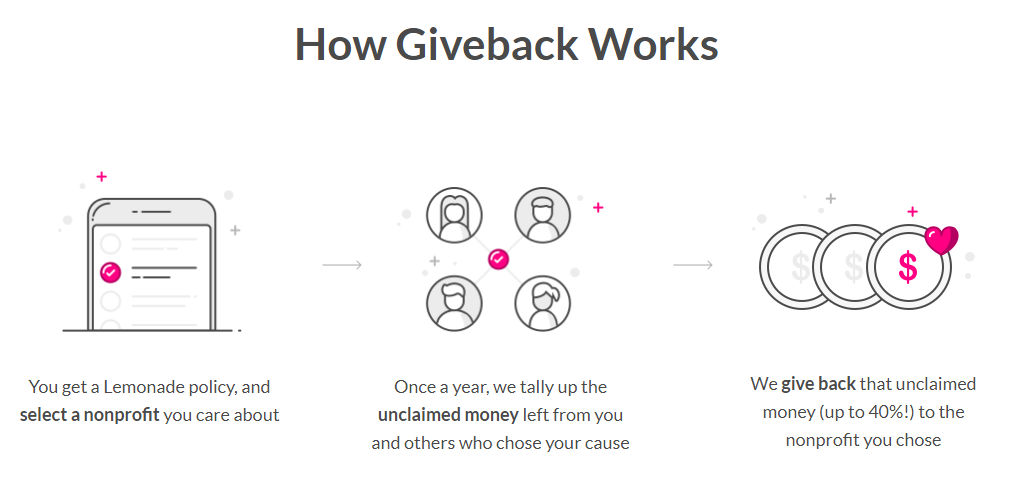 This is a very unique feature and definitely makes Lemonade very different from its competitors. Traditionally, insurance companies will just keep any excess/unclaimed cash as profits. For Lemonade, they simply charge a flat fee, and whatever is left actually belongs to the policyholders. Lemonade will then give back a portion of the excess to nonprofit organizations on behalf of its users.
This way, policyholders who don't make a claim, won't feel like all their premiums are being swallowed away by the insurance company, but rather, are given back to society, towards a nonprofit organization of their choosing.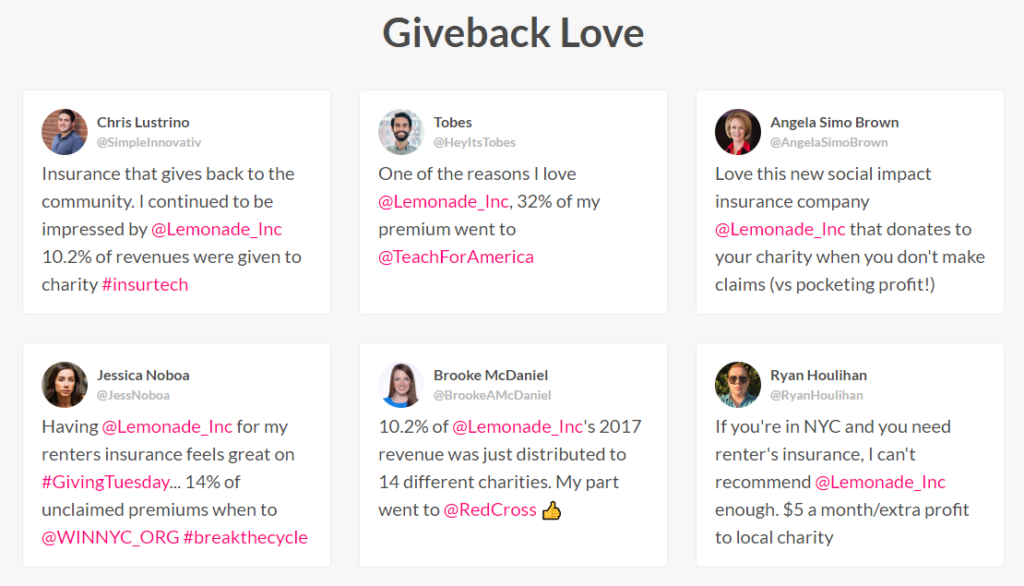 As we can see from the image above, Lemonade clients enjoy amazing insurance this way, and society gets a little push for the better.
Why Choose Lemonade?
Lemonade is still relatively new which definitely puts doubt in customers' minds before buying insurance from them. As such, I've come up with a few reasons why customers would prefer Lemonade over traditional insurance companies.
Free family coverage – Lemonade automatically covers your entire family at no extra cost.
Simple and Convenient – Lemonade makes it easy to sign up and make claims
Incredibly Competitive Rates – Get insurance for tenants as low as $5/month
Lemonade Giveback – Any excess/unclaimed cash is given to a nonprofit of your choice
In reality, much of the competition from Lemonade comes from traditional insurance providers who view this disruption of the insurance industry with concern. Lemonade, with its appealing lower costs premiums, social good platform, and transparent pricing policies, can definitely give traditional insurance providers a run for their markets.
Financials
Last but not least, the numbers behind Lemonade. Let's take a look at how well the company has done so far.
3Q 2020 Results
Lemonade released its latest earnings report, Q3 2020 on Nov 10th so let's take a quick dive and see how well they did for the quarter.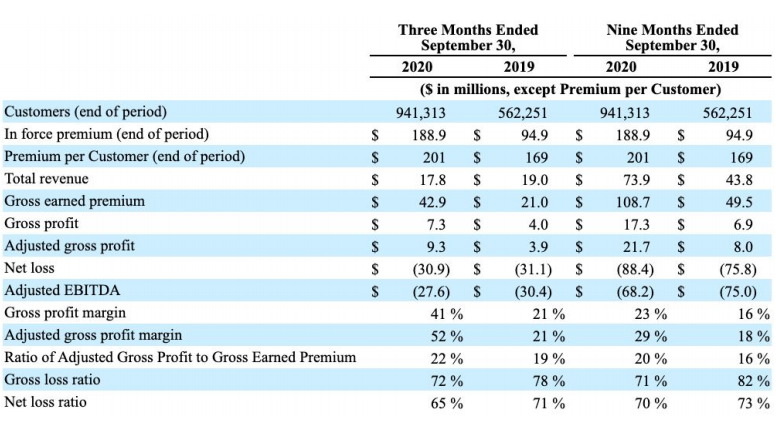 Lemonade's In Force Premium (IFP) increased by 99% to $188.9 million as compared to the third quarter of 2019, primarily due to a 67% increase in the number of customers, as well as the 19% increase in premium per customer.
It's pretty amazing to see that Lemonade's customer count is still increasing rapidly, growing 67% to 941,313 y-o-y. It's premium per customer also grew 19% y-o-y to $201. The growth in premiums came from the introduction of Pet insurance together with customers taking on more policies, including higher value homeowner policies.

A key section to take note of will be the revenue section, which dropped y-o-y for the quarter from $19 million to $17.8 million. This is because Lemonade's current business model of proportional reinsurance, only went into effect at the beginning of the quarter, thus increasing the proportion of premiums that were ceded. This meaningfully improves the capital efficiency of the business but can make year-on-year or quarter-on-quarter comparisons of revenue misleading.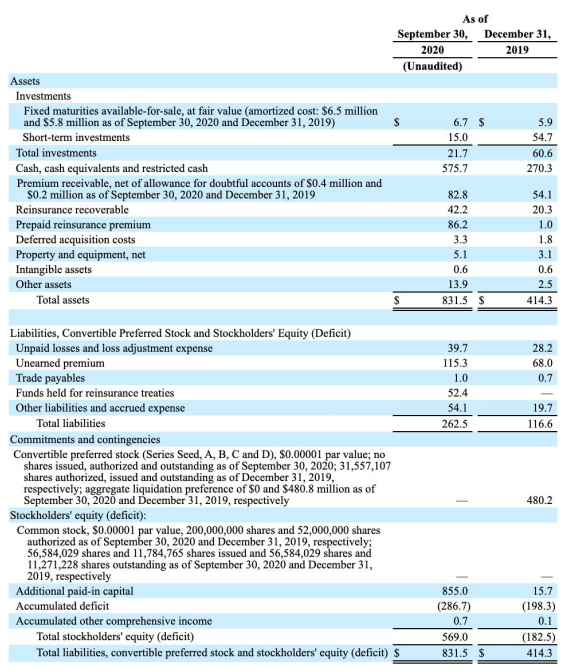 Lemonade's balance sheet remains very stable and strong with a huge increase of more than 100% in cash and cash equivalents y-o-y. The investments section has been decreased substantially but has been offset by the increase in prepaid reinsurance premiums and premium receivables.
Customer Growth
As we can see, Lemonade has managed to grow its customer base substantially over the past 9 quarters, even increasing every single quarter. This is the type of growth we want to see from a young disruptor, aggressively expanding their reach and growing their customer base.
Operating Growth
Note : Chart figures are in millions except for Premium Per Customer
Similarly to the customer growth, looking at the past 9 quarters of Lemonade, we can see very consistent growth in the business with growth in force premium as well as premium per customer. The total revenue and gross profit segment slumped this quarter due to the changes in their business model as mentioned above.
Overall, there is a very consistent growth trend and the best part is the fact that the premium per customer is growing as the number of customers grows. This allows the in force premium to grow exponentially as time passes.
Strong Growth Catalysts
With Lemonade's share price increasing rapidly recently, is there any further upside left? Let's take a look.
Expanding Their Product Offering
Lemonade's management has announced in its shareholder's letter in Q3 2020 that it will start to branch into life insurance. Life insurance is outside of the bounds of 'Property & Casualty' insurance, yet Lemonade plans to breach this categorical boundary and test a life insurance product sometime in the next 2-3 months. With Lemonade being customer-centric, this means prioritizing product launches based on customer needs, rather than regulatory frameworks.
Lemonade has also shared that the teams they respect at other tech-enabled insurance companies have at times struggled to make the economics of digital acquisition work with term life policies, and they offer no assurances that they will fare any better. Lemonade is placing a bet on term life, then, not because they have high conviction it will be a winner, but because its expected value is high: the ante is modest, the odds are fair, and the prize is big.
The ante is modest because Lemonade will not be underwriting term life policies themselves, and will be leveraging the technologies, customers, and brands they've already paid for.
The odds are fair because the same 'me to we' lifecycle events that trigger graduation from renting to homeownership are often triggers for buying one's first life insurance policy too. The average age for buying a first home is about 33 in the US, which is also about the average age that college grads have their first child, and is also about the average age of Lemonade's customers.
The prize is big because the global term life insurance market stands at about $800 billion this year, and is expected to grow more than 10% CAGR to over $2 trillion by the end of the decade
Expanding into Other Regions
Another huge growth catalyst for Lemonade is to expand into other regions and markets. They currently serve only in the US across several states as well as Germany and the Netherlands. Lemonade expanding into other regions such as Asia and Europe will definitely help grow the business exponentially.
Bonjour la France
On December 8th, Lemonade has finally launched in France. The French offering has been crafted specifically for the French customer, but will also embody what's loved by Lemonade customers elsewhere: a simple and delightful experience powered by artificial intelligence, instant claims, and the ability to support local and global charities through the company's annual Giveback.
Additionally, and similar to the German and Dutch products, the French product will have the added benefit of being based on the company's Policy 2.0, a new kind of insurance policy made for the 21st century. Policy 2.0 is a
brief, easy to understand, and transparent insurance document designed for ordinary people (and not lawyers) – a consumer-friendly departure from the dense and dated policies that dominate the market.
While Lemonade is steadily enlarging its European footprint, it should be noted that their investments are lopsided in the direction of the US by design, and will remain that way for the next while. Lemonade's management expects the European business to continue to grow, but so long as the marginal dollar spent in the US delivers outsized returns relative to the EU, they will allocate their capital accordingly.
Lowering of Loss Ratio
As Lemonade transitions into a more predictable and consistent business model, they are targeting to achieve a loss ratio less than 75%. The reason why the key number is 75% is because 25% of the net premiums are kept as Lemonade's profits while the remaining are ceded off to reinsurers. If Lemonade manages to maintain this level (under 70%), they get to keep more of the net premiums as operating profits.
Final Thoughts
Overall, Lemonade is definitely a company to watch for the next 2 years as they continue to disrupt the insurance industry with all its innovations. As Lemonade continues to grow regionally and through its product offerings, it has the potential to be a 10 bagger or even a 100 bagger thanks to the large Total Addressable Market (TAM).
I've been watching Lemonade for a while now and will be looking to accumulate on dips when I have cash to deploy. This company is surely one you should not miss out if you want to invest in new and innovative disruptors.