Elon Musk, the CEO of Tesla (NASDAQ: TSLA) aspires to produce and sell over 20 million electric vehicles by the year 2030. This audacious goal, if achieved, could make the young company twice its size in the automotive industry, covering roughly 20% of the global vehicle market. Is Tesla ready for Musk's vision? Is Tesla still a good buy after its 3-for-1 stock split? Let's deep dive into some recent updates about the company to answer these questions.
Q2 FY2022 Earnings
| | Q2 2022 | Q1 2022 | Q2 2021 |
| --- | --- | --- | --- |
| Automotive Revenues | $14.602 billion (+43%) | $16.861 billion | $10.206 billion |
| Total Revenues | $16.934 billion (+42%) | $18.756 billion | $11.958 billion |
| Total Gross Profit | $4.234 billion (+47%) | $5.46 billion | $2.884 billion |
| Adjusted EBITDA | $3.791 billion (+52%) | $5.023 billion | $2.487 billion |
| Net Income (GAAP) | $2.259 billion (+98%) | $3.318 billion | $1.142 billion |
Starting off with Tesla's recent Q2 earnings which crushed Wall Street's expectations with regards to their revenue ($16.5B) and EPS ($1.81). Tesla outperformed expectations with total revenues well over $16.9B and GAAP EPS at $1.95. Across the board, we can see that Tesla has done very well this quarter, achieving over 40% growth year over year across most metrics.
One key thing to note is that Tesla's automotive gross margin has actually fallen year over year from 28.4% to 27.9%. This is primarily due to 2 key reasons: inflation and increased competition for battery cells and other components of Electric Vehicles (EV). Despite the drop in gross margin, the key reasons are factors that are outside of Tesla's control. As such, there isn't much to worry about because the drop in gross marign isn't caused by a fundamental reason with regards to Tesla but rather, macro factors that cannot be stopped or controlled.
| | Q2 2022 | Q1 2022 | Q2 2021 |
| --- | --- | --- | --- |
| Net Cash from Operating Activities | $2.351 billion (+11%) | $3.995 billion | $2.124 billion |
| Capital Expenditures | $1.73 billion (+15%) | $1.767 billion | $1.505 billion |
| Free Cash Flow | $621 million (+0.32%) | $2,228 million | $619 million |
| Free Cash Flow Margin | 3.667% (-29.15%) | 11.879% | 5.176% |
Looking at Tesla's cash flow, it has done well year over year, growing its Free Cash Flow (FCF) marginally but its free cash flow margin has definitely taken a nosedive as its total revenues have grown significantly in comparison to its FCF. With the current pandemic situation, it's definitely a good sign to see that Tesla is continuing to produce positive FCF.
Vehicle Production/Delivery
To better understand how Tesla has been doing, we also need to look into their vehicle production and delivery numbers and analyze if they have seen an uptick in numbers or a slump.
Despite the world of vehicle production and deliveries being significantly affected by the pandemic, Tesla outperformed everyone in the auto industry for volume producers. It broke all the industry estimates put out by the analysts regarding Tesla's Q2 productions and deliveries even in hard times of the pandemic, chip shortage, and its Shanghai factory being shut down for most of the second quarter. As we can see from the 2 charts above, Tesla confirmed 254,695 deliveries and the production of 258,580 vehicles in Q2 2022.
Even with such great numbers, it was the first down quarter in two years. However, June 2022 was still the highest production month in Tesla's history. Despite the drop in growth q-o-q, I am confident that Tesla has the capabilities to scale up its numbers and bring itself back up to speed for the rest of the year. In August, Elon Musk announced that a new gigafactory location could be revealed before the end of 2022. Ultimately, Tesla's goal is to build 10 to 12 gigafactories around the world to help churn out its EVs, with each factory estimating an average output of 1.5 – 2 million units, which comes up to approximately 15 – 24 million units just from the giga factories alone.
I feel that another important metric to look at is the number of supercharger stations and connectors there are out in the market. It comes naturally that with more supercharger stations and connectors readily available in the market, it will entice more users to make the switch over to Tesla's EVs. In Singapore alone, we already have 9 superchargers ready for usage. One common thought that has always hindered Singaporean drivers to make the switch over to Tesla's EVs is the number of superchargers available. The worry of, "what if my car runs out of battery and there are no superchargers nearby?" has always scared consumers away but as Tesla continues to add more superchargers around the country and globally, it will help combat that worry and convince users to make the leap over to Tesla's EVs.
Taking a look at Tesla's numbers for their supercharger stations and connectors, it is continuing a strong uptrend in growth since Q1 2020 and I don't expect it to stop any time soon. On top of its 3,971 supercharger locations as of Q2 2022, Tesla has also opened a total of 709 stores and service locations, representing a growth of more than 18% in stores and service centre locations year over year as well as a 34% growth in the number of total supercharger stations.
3-for-1 Stock Split
In the second half of August 2022, Tesla announced a 3-for-1 stock split. The investors who couldn't buy the $900 stock of the company prior to the split can now buy it for a little less than $300 post split. Ideally, this should've been a good move, with the stock's price expected to rise in the near future. But that, unfortunately, didn't happen. Tesla's stock lost nearly 10% of its value after the stock split on 25th August, reaching a low of $270 on 2nd September before bouncing back up to its post split price.
Before going deeper to understand this unexpected course of the situation, it is vital to understand some important points regarding a stock split. Here is a short explanation. A stock split is simply a company's way of increasing the number of shares outstanding by splitting the already shared shares to its shareholders i.e., issuing more shares to current shareholders. It can improve the trading liquidity and make the stock seem affordable to new investors, but there is no effect on the market capitalization and value of the entity. This can also result in an increase in the share price of the company. As small investors start buying the more-affordable stock, the demand for the stock gets boosted, which ultimately results in an increase in the share price.
So Why Did The Share Price Drop?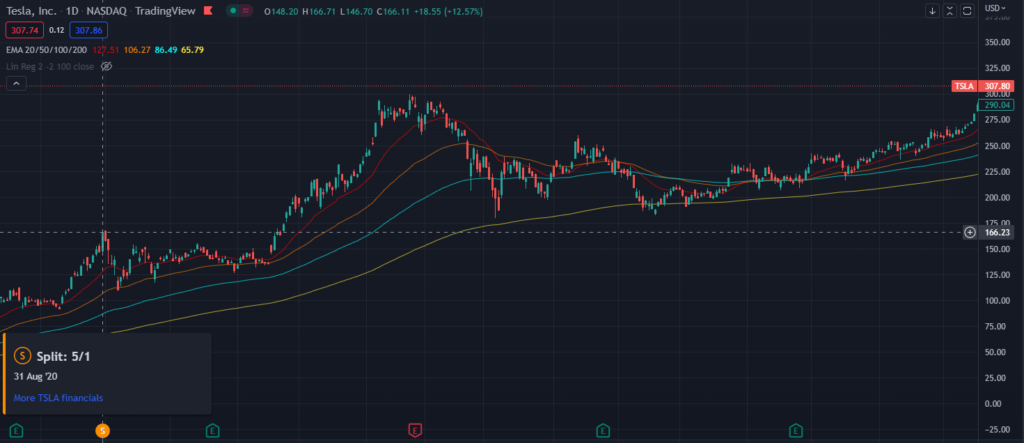 In an ideal situation, we would get to Tesla's share price continue to skyrocket like how it did during its previous stock split (5-for-1) back in August 2020. After its split, it saw a small dip but then proceeded to skyrocket to new highs just a few months after. It has been approximately 1 month since the split so it might still be too early to tell where the share price could go over the near term.
Bull Case in 2022
Earlier this year, when Tesla hosted a conference call to discuss its Q4 2021 earnings, it was revealed that the company expects deliveries to grow at or above 50% in 2022– during times of significant global supply chain uncertainty. Even though the company's officials announced a delay in the launch of new vehicles, the Chief Financial Officer (CFO) Zach Kirkhorn said that the 50% increase in deliveries can be achieved even if the company's two new factories fail to launch online. This optimistic attitude, surely, makes a strong bull case; the company's ability to execute and reinforce its leadership position in the EV market even when the market is at a tipping point.
On top of all this, Tesla continues to be a strong player in the EV space with its numbers, strong track record and metrics to show for. As we continue into the last quarter of 2022, if Tesla were to announce a confirmed location for their next gigafactory, it could definitely help spearhead the company forward.
Final Thoughts
Tesla's Q2 earnings definitely show that despite the rough market conditions, rising inflation and interest rates, the company can still continue to grow at a fast face. If global supply chain issues start to ease off moving into 2023, we can definitely expect Tesla to keep on growing and even doubling in size over the next few years. The stock split will definitely do wonders for the share price but of course, has no material impact on the company itself. Let's wait and see what happens over Tesla's Q3 earnings to see if they have even more good news to announce for shareholders as we move into the last few months of 2022.