As a value investor, I always spend a lot of time sieving through hundreds of stocks, reading their annual report, looking at their track record and historical performance over the past 3 to 5 years. I have always wanted to find an easier alternative to streamline part of this process so that I can spend more time on other things such as gaining knowledge on new industries. Now, I use moomoo's app for quite a while now and it has helped me in my fundamental analysis, and I am going to show you how through 2 key features that can be found in the app.
Disclaimer: The information written in this article is based on my own research and opinions.
Note: This is a sponsored post
Stock Screener
The first key feature that the moomoo app has that proves very useful for value investors would be the in-app stock screener. Investors can use over 100+ data indicators provided by the stock screener to sort out stocks that meet their own investment preferences, save them, and continue to track to find investment opportunities.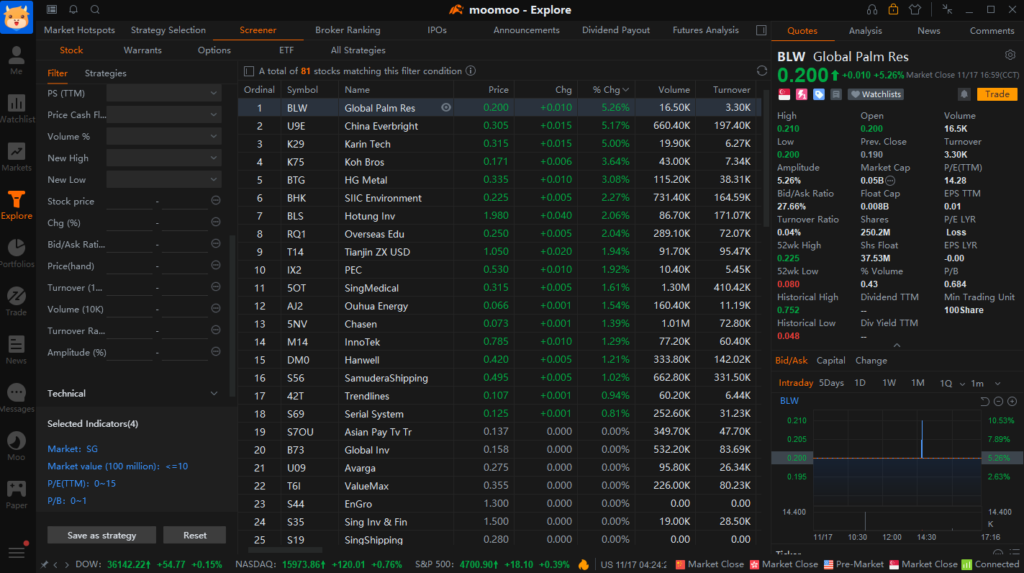 Some of the metrics you can screen stocks with include Market Cap, % change, Volume, Price/Earnings (PE) ratio, Price/Book (PB) ratio, shares outstanding, and many more. A generic value investor in the Singapore market would use a screener similar to the one above which includes the following criteria:
Market Cap under $1 billion
PE Ratio under 15x
PB ratio under 1x
Although there are plenty of options to further screen out the best value picks for your portfolio, this gives a very good overview as to what the moomoo app's stock screener can do. On top of screening by financial metrics, it can also screen stocks based on technical metrics as well such as MA, EMA, RSI, MACD, etc.
Even though investors shouldn't use screeners alone when making investment decisions, it can help filter out the big majority that does not fit your selection criteria. This can help you streamline the process of finding a new investment opportunity as well as avoid possible bad ones that you might have missed out on. You can always save your different criteria and continue to monitor it, see the changes, and use these to make better investment decisions.
In-Depth Fundamental Analysis
The second key feature is the in-depth fundamental analysis which can be found in the app. Under this segment, there are several key points I'd like to emphasize that will prove to be a great help to value investors. For this segment, we will be using Japfa from the Singapore market as an example.
From a quick glance, we can see that when you search for a specific stock, you will be greeted with the stock's price chart as well as the company's current valuation such as PE and PB on the side which can be found under the "Quotes" tab.
Historical Financial Data
Of course, we also want to analyze a company's past track records to see how it has been performing over the past 3 to 5 years. Under the "Analysis" tab, you can find all the information you need to do your research.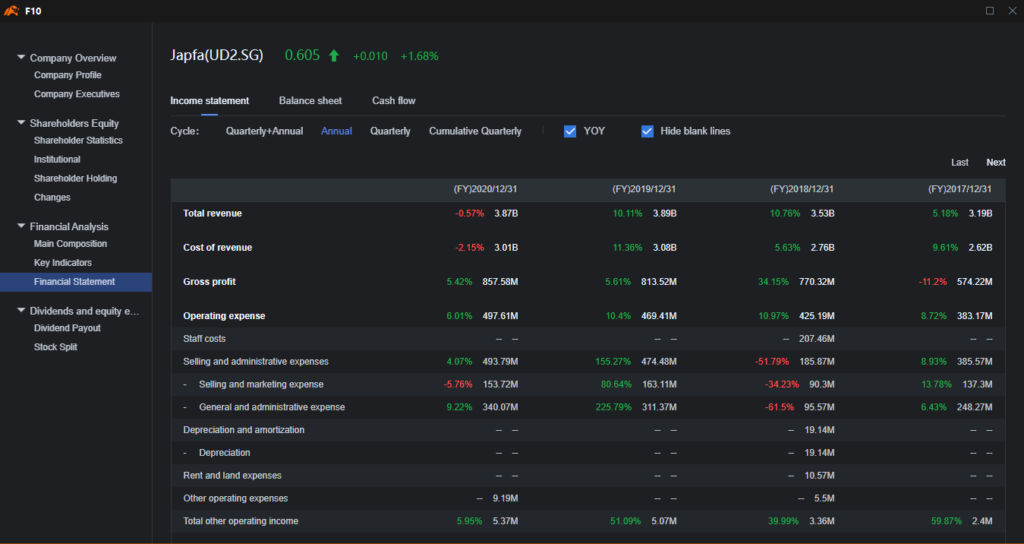 All the data you need to make an in-depth analysis on any stock ranging from their quarterly income statement, cash flow statement, balance sheet, and even dividend payout, moomoo's app have it all for you with just a click of a few buttons. This will definitely streamline your research process when vetting if a stock is a right investment for your portfolio.
The graphical display format makes it clear and easy to read thus saving investors time and trouble to analyze the company's information. For US stocks in specific, it also provides forecasts of "total income, US stock earnings, and profit before interest and taxes" to assist investors in decision-making.
Institutional Information
Lastly, moomoo app also aggregates institutional information so that you know where all the "smart money" is heading.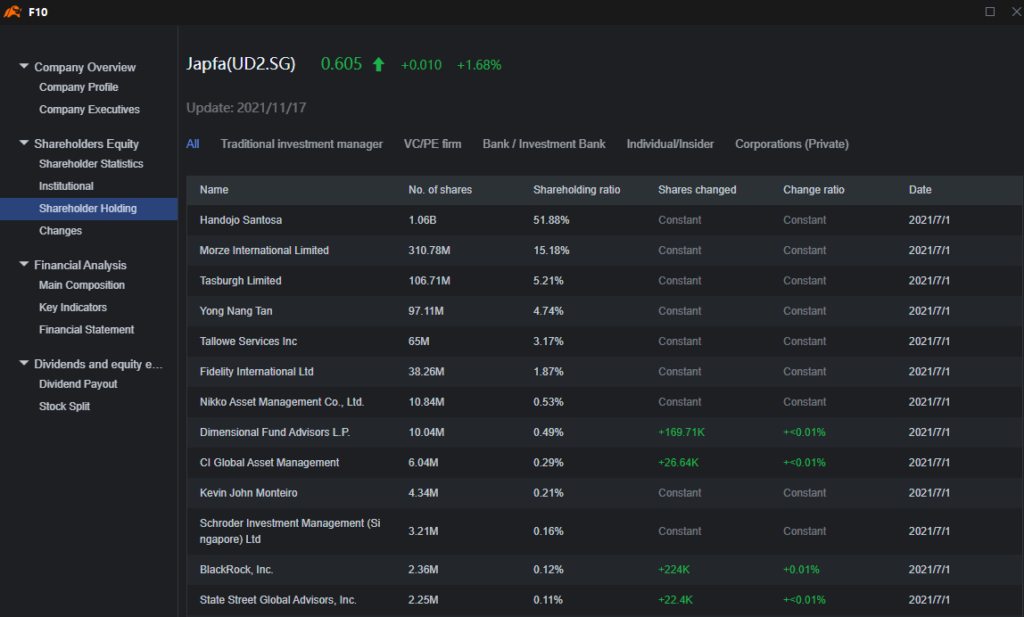 It aggregates information such as the number of shares being bought or sold, the date that these transactions took place as well as the institution involved.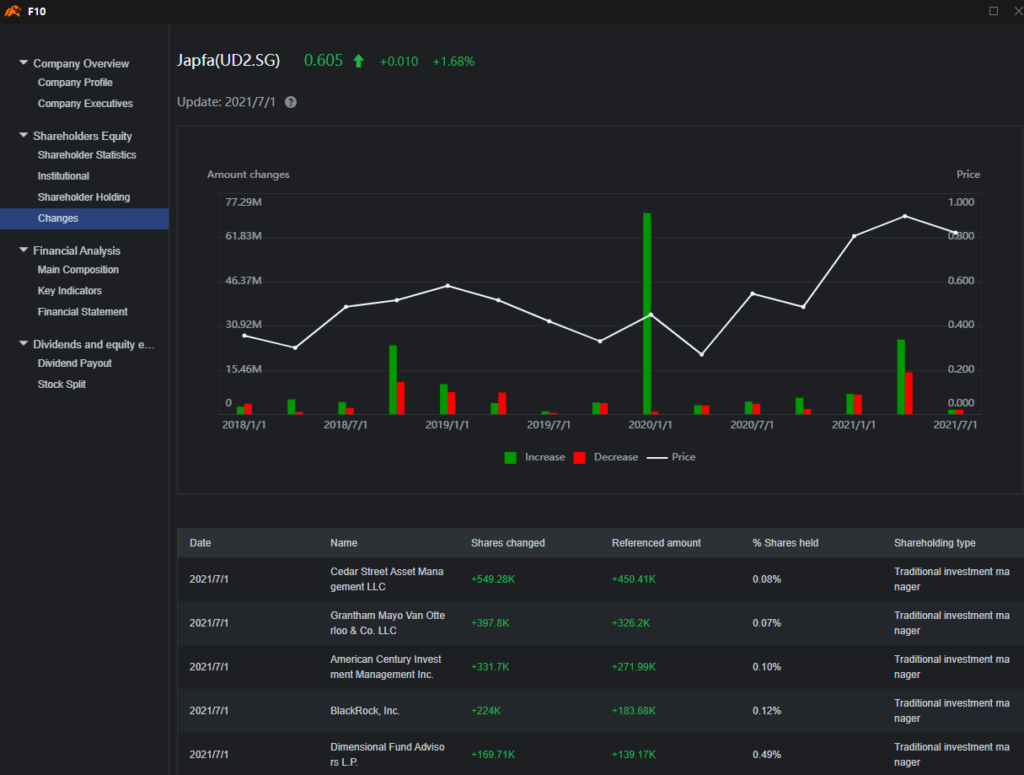 Something I really like about this feature is that it shows you a quick graph with the net increase/decrease as well as the price the shares were transacted on each date that there were institutional transactions.
Final Thoughts
As a value investor myself, I find moomoo trading app really useful as it helps me accelerate the entire process from screening stocks to doing fundamental analysis. All the information I need to make an informed decision is readily available through moomoo app. On top of all the fundamental data that I have access to, I can further improve the screening process by finding the top stocks that are currently positively trending over the long term using technical metrics like MA or EMA.