With the Coronavirus vaccine being widely distributed across the world, we can expect the global economy to start recovering in 1H2021. As such, investors are starting to look at retail and commercial REITs to ride the recovery trend as the economy bounces back. Lendlease REIT (SGX: JYEU) is one that has definitely gathered a ton of attention recently with its share price rallying over 10% the past month. Without further ado, let's get started.
Portfolio Overview
Lendlease REIT has a total of 2 assets in its portfolio, one in Singapore and one in Milan.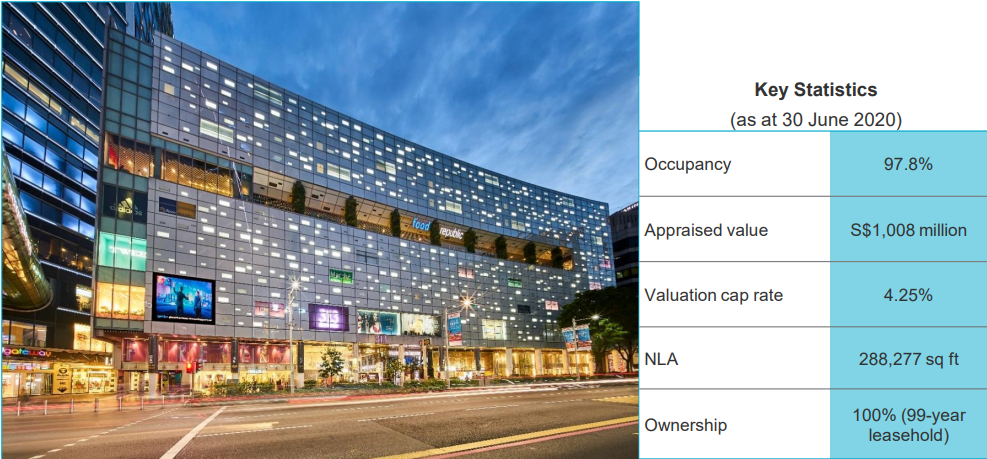 Its Singapore asset, 313@somerset, is a very well-known shopping mall in Singapore, located at the heart of Singapore. The asset is a 99-year leasehold and has a decent valuation cap rate of 4.25%. Its occupancy rate fell by 1.4% as compared to its last 2 quarters but still holds strong at 97.8%.
Its Milan asset, Sky Complex, is a Grade-A Office, comprising of 3 office buildings and has excellent accessibility via the public transport system. The property is fully leased to Sky Italia, a British satellite television platform. The asset is also freehold which definitely helps its value appreciate over time. It also has a decent valuation cap rate at 5.25%. The best part about this asset is that its occupancy rate has been maintained at a high 100% thanks to Sky Italia being a very stable tenant.
FY19/20 Performance
After looking into Lendlease REIT's portfolio, let's look at the REIT's performance for FY19/20. Do note that Lendlease REIT is newly IPO-ed, so the comparison figures used are the forecasted estimates from the prospectus.
Revenue Growth
Note: Chart figures are in S$'000
From a first glance, Lendlease REIT might look like a poor performing REIT, failing to beat its forecast estimates on its first year of IPO but that isn't the case. Yes indeed, Lendlease REIT did not meet its forecast numbers in its first year of IPO but that is because of the Covid-19 pandemic. If you look into the first 2 quarters, we can see that Lendlease REIT actually beat its forecasted estimates slightly.
Note: Chart figures are in S$'000
The most recent quarter, from March 2020 to June 2020, was the only quarter that underperformed, with its Gross Revenue dropping more than 40% and its NPI dropping more than 50%. The drop mainly came from its Singapore asset, 313@somerset, having its income falling 90.3% for the quarter as compared to its forecast. Its Milan property, Sky Complex, only had its income fall by 2.3% as compared to its forecast.
The drop in revenue is justified as the Singapore circuit breaker pushed all the retail malls out of business with all the safety measures being put in place such as the closure of non-essential workplaces and food establishments are only allowed to offer take-away, drive-thru, and delivery of food. Singapore's economy is definitely recovering smoothly with the drop in community cases and the fact that the government will be offering free vaccinations to all Singaporeans as well as long-term residents. This will definitely help Lendlease REIT recover moving into 2021.
DPU
Note: Chart figures are in S$ cents
Firstly, just to clarify, Lendlease REIT does not have a 1st quarter DPU because they were listed in October 2019, which was during the 2Q of their Financial Year. Moving onto Lendlease REIT's DPU history, we can see that they have performed well over the 2nd and 3rd quarter, beating its DPU forecasts. The 4th quarter did miss forecasts by a huge portion, dropping by 62.5%.
This definitely shows how great Lendlease REIT is, managing to do well on its first year of IPO. If we were to disregard the effects of the pandemic, we can actually expect to see Lendlease REIT recovering well into 2021 and getting back on track to hitting and beating forecasted estimates.
Portfolio Occupancy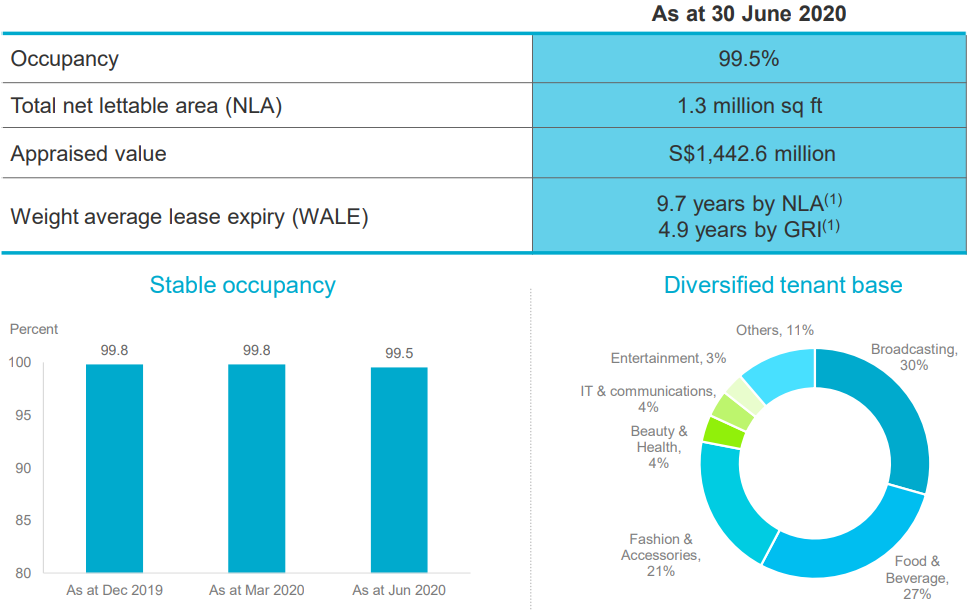 Jumping onto Portfolio Occupancy, we can see that Lendlease REIT has a very stable portfolio with its occupancy standing at a strong 99.5%, only dropping 0.3% as compared to the 2 quarters before. We can also see that the portfolio has a very long WALE, 9.7 years by net lettable area (NLA) and 4.9 years by gross rental income (GRI).
The overall portfolio is very diversified, with its largest tenant (Sky Italia) accounting for 30% of its total tenant base. The long WALE comes from its Milan asset which has a WALE of 11.9 years by NLA and GRI while its Singapore asset has a WALE of 1.9 years by NLA and 1.8 years by GRI.
Balance Sheet Stability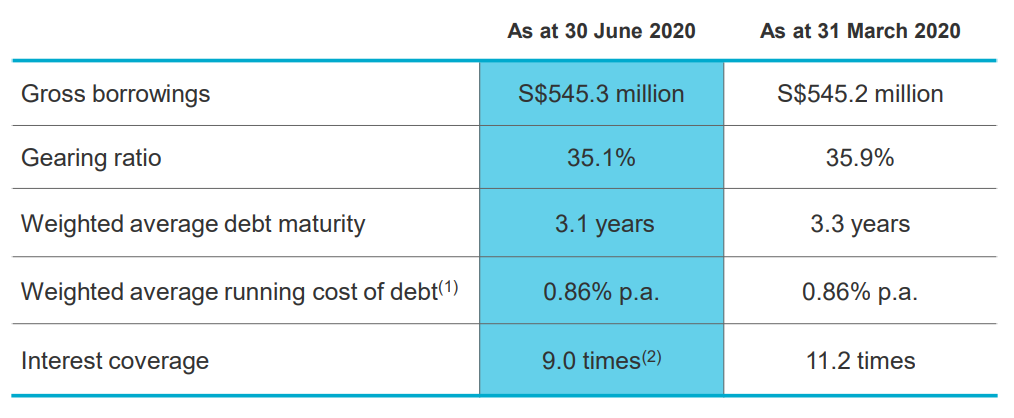 Lastly, let's take a look at Lendlease REIT's balance sheet. From a quick glance, we can definitely see that Lendlease REIT has a stable balance sheet with a gearing ratio of 35.1%, dropping 0.8% from the quarter before. We can also see that the weighted average debt maturity is 3.1 years and the weighted average cost of debt is 0.86%. Lastly, an interest coverage ratio of 9x is very healthy and allows the REIT to gear up to 50% as compared to the previous cap of 45%.
Potential Growth Catalysts
Now that we've looked into the REIT's financials, we need to see if there are any potential growth catalysts that can skyrocket the REIT to greater heights. Let's take a look at a few that I've identified for Lendlease REIT moving into 2021.
Potential Pipeline Assets
Lendlease REIT has a rather large sponsor, Lendlease, which is listed on the ASX. The sponsor holds stakes in 3 fantastic assets in Singapore, namely Parkway Parade (10% interest), Jem (75% interest), and the newly opened Paya Lebar Quarter (30% interest).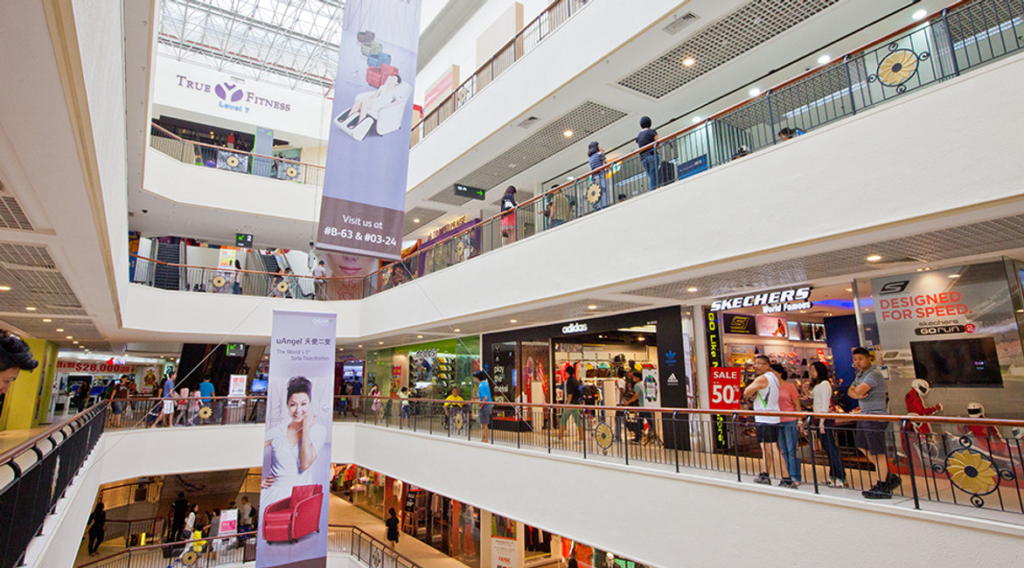 These assets are prized jewels that can be a great boost to Lendlease REIT's portfolio, bringing about great value as well as improving diversity.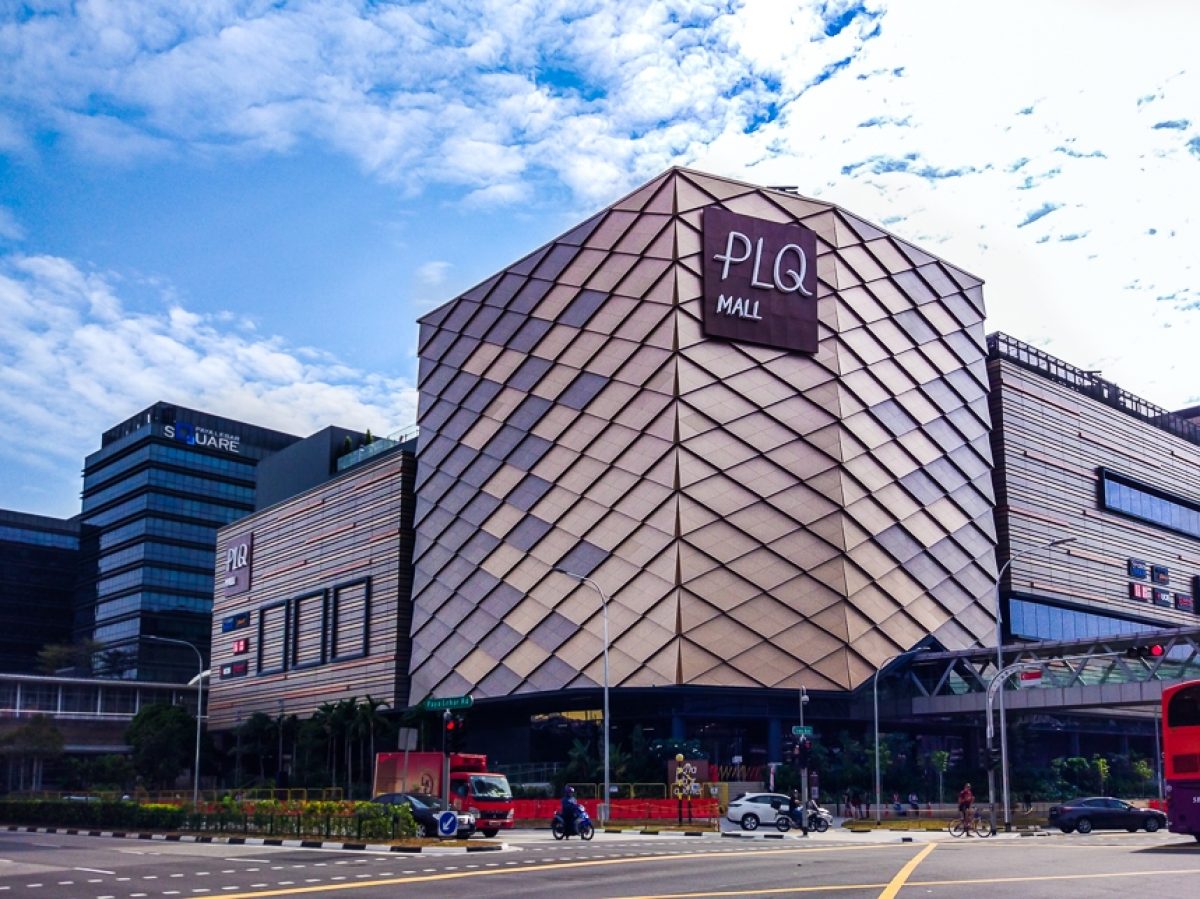 Lendlease REIT recently acquired a 5% stake in Lendlease Asian Retail Investment Fund 3 (ARIF3), which holds a 75.0% indirect interest in Jem. This brings Lendlease REIT's effective stake in JEM to 3.75%. The parent still holds a 15.1% stake in ARIF3 which could be sold to Lendlease REIT at a future stage. The acquisition is expected to be DPU accretive by 2% for Lendlease REIT's FY21.
We can expect Lendlease REIT to continue increasing its stake in JEM moving into 2021 and perhaps gaining stakes in the other 2 assets as well.
Post Covid Recovery
Moving into 2021 and with Singapore entering Phase 3 starting 28th December, we can expect Singapore's economy to slowly recover. We can also expect retail malls to start seeing increased footfall, though not back to pre-covid levels just yet but definitely an increase from the first half of 2020. We can also start to expect more companies to have employees back in the office, which ultimately improves the commercial side of Lendlease REIT's portfolio.
Current Valuation
Let's take a look at the current valuation of Lendlease REIT based on the last close price of $0.73.
Price/Book Ratio: 0.88
Dividend Yield (LTM): 4.18%
It's good to note that Lendlease REIT's dividend yield is only for 3 quarters so the numbers could be slightly inaccurate. Looking at the current valuation, we can see that Lendlease REIT is definitely very undervalued for 2 key reasons.
Firstly, the PB ratio is standing at 0.88x as compared to when it first IPO-ed with a PB ratio of 1.08x. Investing in Lendlease REIT now allows you to get in at a much lower valuation than those who got in during the IPO.
The second key reason is the fact that the dividend yield is only accounting for 3 quarters. The actual DPU based on the IPO prospectus is $0.0528 for FY2021. This brings the dividend yield up to a whopping 7.23%. Assuming a haircut of around 20% due to the current pandemic situation, the dividend yield is still standing strong at 5.79%. This gives investors a great opportunity to invest in an undervalued REIT and whilst waiting, get paid a 5.79% yield every year.

Final Thoughts
Overall, Lendlease REIT is a fantastic and very undervalued REIT to buy and hold over the long term. The potential growth catalysts are definitely an added plus to its already cheap valuation. I do have a position in Lendlease REIT, albeit small and I definitely plan on accumulating more over time. Investors are definitely taking notice of this REIT and it won't be long before it zooms right up to its IPO price.
As always, you can take a look at my portfolio updates to see my current positions! Also, use my referral code for an extended 3 months of premium access to StocksCafe! P.S. I'm running a telegram chat group for you guys to share and discuss investment-related topics so come on in! I'll be there too! You can join the chat here: https://t.me/joinchat/D4iHeEVapnGC1lWcFEupVw
Are you new to the stock market and don't know what you should do to avoid losing half your portfolio through bad picks? Or perhaps you are an experienced investor/trader looking for fantastic opportunities and picks in the market that you might have missed out on?
If so, look no further because I am running a Premium Subscription that offers services such as:
Access to both my Singapore and US Tech Watchlist with Preferred Entry Prices
Telegram Group Invitation Where I Share Market Updates and My Personal Views
Monthly Tradable Opportunities with Trade Setups
On-Demand In-Depth Fundamental and Technical Analysis on Any Stock of Your Choosing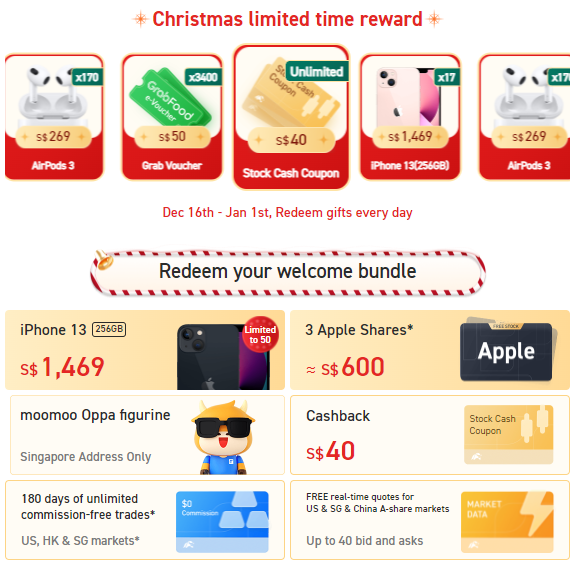 For the ongoing promotional period (Nov 30th – Dec 31st), when you deposit (First Deposit) SGD 2,700 successfully into your account, you will be rewarded 1 Apple (AAPL) share worth around SGD 220 as well as an SGD40 Stock Cash Coupon Bundle. Stand a chance to win a brand new iPhone 13 (256GB ,~S$ 1,469), Airpods 3, $50 Grab vouchers as well as $40 Stock Cash Coupons during the Christmas limited time reward promotion that is ongoing between Dec 16th – Jan 1st.
If you have yet to sign up for a FUTU SG securities account with moomoo powered by FUTU you can use my referral link here. For opening an account, you will be given 180 days of unlimited commission-free trades across the US, HK, and SG markets (do not apply for Stock Options and Futures). You will also be given free real-time Level 2 US Market Data, Level 1 SG Market Data, and now Level 1 for China A shares too!
Read Also: moomoo Trading App Review: Everything You Need To Know in 2021