Tesla's renowned CEO Elon Musk has made headlines for himself over the past few weeks, revolving around his ownership of Twitter and the possibility of a takeover and privatization of the company. With so much information pouring in over the past few weeks, here's a full overview of all you need to know about the event as well as possibilities you should consider if you are a shareholder of Twitter at the moment.
Backstory
According to a 13G filing released on the 4th of April, Elon Musk reportedly owns 9.2% of Twitter. Elon purchased the stake on March 14th, totaling nearly 73.5m shares. Right after that, Twitter's share price rose by over 25% during the premarket trading. Prior to this, Elon publicly called into question Twitter's approach to free speech via a poll conducted on his Twitter account on March 25th. Elon tweeted that "Free speech is essential to a functioning democracy. Do you believe Twitter rigorously adheres to this principle?" and noted in a follow-up tweet that "the consequences of this poll will be important."
Shortly after the 13G filing, Elon was invited to join Twitter's board of directors but rejected the invitation just 5 days after Twitter CEO Parag Agrawal announced it. I believe that Elon rejected it because he found out that if he were to become a board member, he could not hold more than 14.9% of Twitter's outstanding shares. This means that whatever initiative that he wants to impose, he will still need to go through the board of directors and shareholders. Since this is not what he wanted, he not only rejected the seat on the board but also announced an even bigger plan.
Takeover Offer
On April 13th, Elon made an SEC filing to take over Twitter with a cash consideration for each Common Stock at $54.20 per share, representing a 38% premium over the closing price on April 1st. The SEC filing included a letter to the Chairman of the Board, Bret Taylor, which states:
I invested in Twitter as I believe in its potential to be the platform for free speech around the globe, and I believe free speech is a societal imperative for a functioning democracy.

However, since making my investment I now realize the company will neither thrive nor serve this societal imperative in its current form. Twitter needs to be transformed as a private company.

As a result, I am offering to buy 100% of Twitter for $54.20 per share in cash, a 54% premium over the day before I began investing in Twitter and a 38% premium over the day before my investment was publicly announced. My offer is my best and final offer and if it is not accepted, I would need to reconsider my position as a shareholder.

Twitter has extraordinary potential. I will unlock it.
The SEC filing also included a voice script that noted a few interesting points. Firstly, Elon states that this is his "Best and Final" offer and that he isn't playing the back-and-forth game. He deems that the offer price is high and shareholders will definitely be happy with it. If the deal doesn't work, given that Elon doesn't have the confidence in management nor does he believe he can drive the necessary change in the public market, he will reconsider his position as a shareholder. Elon also notes that this isn't a threat but simply not a good investment without the changes that need to be made, whereby the changes can only happen when the company is privatized.
Rationale for Takeover
As mentioned previously, Elon Musk strongly believes in free speech and that it's very important for there to be an inclusive arena for free speech. The deal, if successful, will allow Elon Musk to take the company private and begin his plan of transforming Twitter into the "Arena for Free Speech" that he has talked about.
Twitter's Current Valuation
As an investor, should I be happy about the offer? Let's find out by determining Twitter's current valuation.
As we can see above, Twitter's total revenue has been growing consistently over the past 12 years since 2010. The company hasn't been profitable until 2018 and 2019, without falling right back into the red in 2020 and 2021. The company also has had a very inconsistent Free Cash Flow track record across the past 12 years, only hitting positive FCF in 2016, growing it slightly year over year, and seeing it drop back into negative in 2021.
When we talk about valuation, based on its last closing share price of $45.08 ($34.351B in market cap), Twitter is priced with a forward NTM (Next Twelve Months) Price/Sales ratio of 5.73x and a Price/Earnings of 53.44x. Despite its ever strong growth in revenue, Twitter has yet to find any clear path to profitability over the past few years as we can see from its track record.
Not to mention the fact that the current social media market has a lot more players as compared to 10 years ago with the likes of Tiktok, Pinterest, Snapchat, and Instagram joining the scene, on top of the older players such as Facebook. As such, Twitter doesn't seem like a very strong pick to me when it comes to this space.
Is Elon Musk Paying A Premium?
Yes, Elon Musk is paying a huge premium with this current offer but it is for a good reason as well. Elon Musk has always been determined to help make the world a better place, making Electric Vehicles (EVs) more affordable so that more people will be convinced to switch over to clean energy, donating to charity with the most recent one in November where he donated around $5.74B. Now, he is determined to offer the world an arena for free speech and he plans on using and transforming Twitter for that purpose, which is a good thing no doubt.
Possible Outcomes
So let's discuss the possible outcomes that could happen over the next few weeks as the Twitter Board of Directors considers the offer.
Counter-Offer Elon Musk
The first possibility would be that they counter-offer Elon Musk at a higher valuation for the company. Based on Elon's current offer, he is pricing Twitter at approximately $43B in terms of market cap. Elon has definitely picked a fantastic time to shoot this offer since Twitter's share price has fallen drastically over the past 1 year, from highs of $73.34 in July 2021 to recent lows of $31.30 in February 2022. As such, shareholders who want to get out now have a free ticket to exit the train and are rewarded relatively well in the process. Excluding the shareholders who purchased their shares between February 2021 to November 2021, all other shareholders should come out with a nice chunk of profits if they accept Elon's offer.
Flat Out Rejection
Another possibility would be that the Board of Directors rejects Elon's offer. Even Saudi Arabia's Prince Alwaleed bin Talal rejected Elon Musk's offer, saying that the deal doesn't come close to the intrinsic value of Twitter. To which Elon replied with an interesting tweet as you can see below.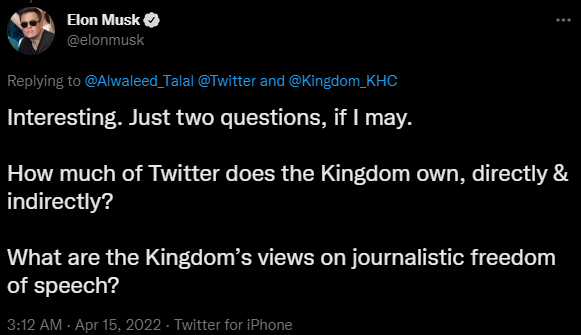 As such, it is definitely a possibility that Elon's offer could get rejected if the larger, institutional shareholders reject the deal. Even if the vote was brought to a shareholder's meeting, retail investors might not have enough voting power to sway the odds in Elon's favor.
Final Thoughts
Elon Musk is very inspired and of course, a very intelligent person. At the young age of 27, Elon built Zip2 together with his brother and sold it just 4 years later at $307 million in 1999. After that, he and his brother took the money they got from the sale of Zip2 and founded X.com which was then acquired the following year by PayPal. In October 2002, Elon Musk become a billionaire after PayPal was acquired by eBay for $1.5B. Afterward, he founded SpaceX with the intention of building spacecraft for commercial space travel. Around the same time, he co-founded Tesla Motors as well and has led the company to where it is today.
I strongly believe that he has the capabilities and foresight to create Twitter into the "Arena of Free Speech" that he has always talked about. I also agree that it is only possible to do so if he privatizes the company because if the company remains public, there will be too many distractions such as share price movement, analyst coverage, etc. which will negatively impact the progress of the company.
I have never been a shareholder of Twitter and neither will I be in the foreseeable future simply due to its lack of growth potential and path to profitability. Despite this, if Elon Musk's deal is successful and he keeps the company publicly listed afterwards, I might change my view on the company and support Elon in his mission to grow and improve Twitter.