Crypto.com is the one-stop shop for all your cryptocurrency needs ranging from trading, exchanging, storing, transferring, and even staking over 150+ cryptocurrencies (e.g. Bitcoin or Ethereum) as well as your local currency (e.g. SGD, EUR, USD, & 20 other fiat currencies). On top of their super platform, they even have a DeFi wallet and a Visa Card which allows you to spend your cryptocurrency anywhere that Visa is normally accepted around the world (and get up to 8% back). In this article, I'll be sharing with you everything you need to know about Crypto.com in 2021 and how to maximize your rewards with the Crypto.com Visa Card.
Introduction
Crypto.com was founded in June 2016 by Kris Marszalek (CEO), Rafael Melo (CFO), Gary Or (CTO), and Bobby Bao (Head of Corporate Development). In June 2017, they raised $26.7 million from their Monaco (MCO) initial coin offering. They're headquartered in Hong Kong and currently have a team of more than 900 people worldwide.
Crypto.com was previously known as Monaco (MCO) – but rebranded in July 2018 after the (expensive) acquisition of the Crypto.com domain.
They announced that they have 10 million users around the world earlier this year, after hitting 5 million just 4 months before.
Products
Crypto.com is best known for its Visa Card, but they have a whole range of product offerings:
Crypto.com App:

Buy and sell an ever-growing number of cryptocurrencies. You can use the app to receive, store, and send cryptocurrency as well

Crypto.com Visa Card: Convert your cryptocurrency and spend it anywhere that Visa is accepted
Crypto Earn: Earn up to 12% interest on your cryptocurrency deposits
Crypto.com DeFi Wallet: Store cryptocurrencies in a user-custodial wallet (i.e. you control the private keys). Can be connected with 'DeFi Swap', where you can swap between tokens and earn interest on your cryptocurrencies
Crypto.com App
With the Crypto.com app, you can buy, sell, store, exchange, and transfer over 150+ cryptocurrencies on Crypto.com. This includes Bitcoin (BTC), Ethereum (ETH), Litecoin (LTC), Ripple (XRP), and many other popular cryptocurrencies. You can buy these cryptocurrencies with a local currency like SGD, USD, or EUR. In either case, Crypto.com has been made the entire process simple, easy, and quick to do.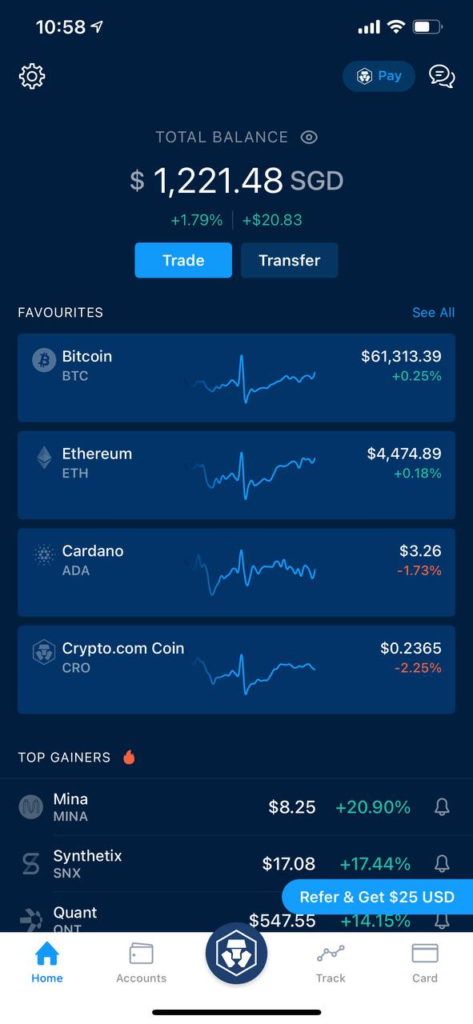 Intuitive User Interface
The entire app is very intuitive with all the key features easily accessible such as your account holdings page. As you can see, the "Accounts" page shows you your total balance, how much crypto you have in your wallet, how much you are staking with "Crypto Earn", how much is in your Crypto.com Visa Card, and how much is in your Fiat Wallet.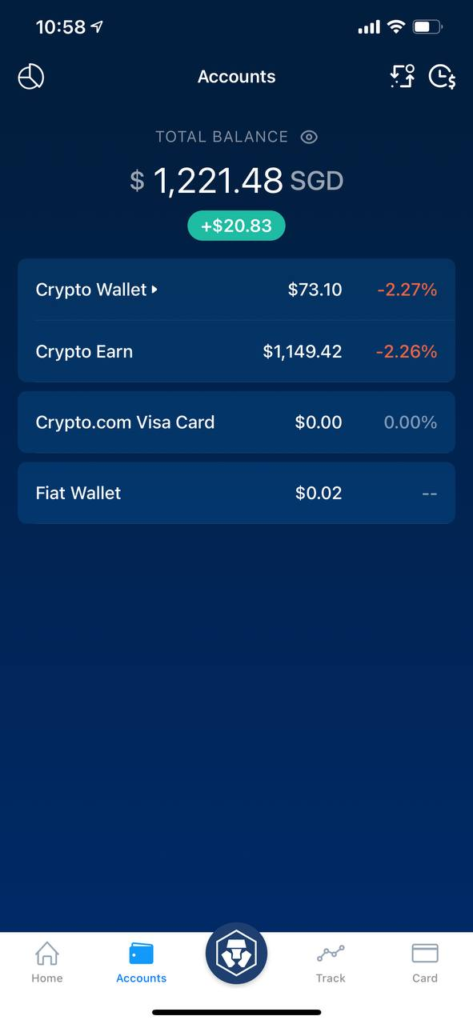 There is even a breakdown of your current assets (top left icon) which shows you 1 of 2 pie charts. The first of which shows a breakdown of all the coins you hold while the second shows the breakdown of the products you are using such as Crypto Earn and Crypto Wallet.
Supported Cryptocurrencies
As with most crypto platforms, not every cryptocurrency is available for trading. This could be due to region restrictions or just because the platform doesn't offer this cryptocurrency. For Crypto.com, they offer over 150+ cryptocurrencies such as your large caps like Bitcoin (BTC), Ethereum (ETH), and Cardano (ADA) as well as smaller caps like Polymath (POLY), Basic Attention Token (BAT), Compound (COMP), etc.
Here is a full list of supported cryptocurrencies in the crypto.com app.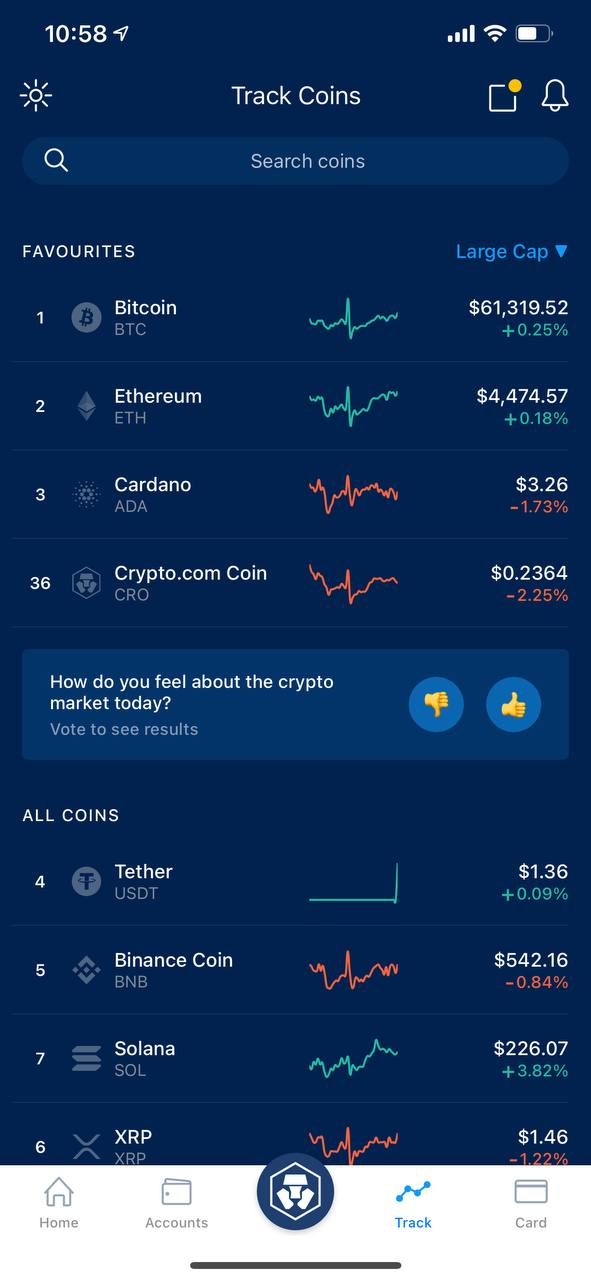 Fees and Limits
Depositing crypto into the Crypto.com App is free of charge as well as exchanging from crypto to crypto. If you were to withdraw any crypto, you will be subjected to a minimum withdrawal amount and a fixed withdrawal fee based on the crypto that you are withdrawing.
Assuming you stake 0 CRO, this is how the fee structure will look like. Of course, if you choose to stake CRO, the more you stake, the more discounts you are entitled to as your trading volume increases. If compared to its competitors, it stands near the middle in terms of fee pricing, losing out to Binance.com (0.1%) and Huobi Global (0.2%) but beating out Binance.sg (0.6%) as well as Coinbase (1.49%+). On top of that, deposits and withdrawals made with Xfers are free whereas, with a credit/debit card, it will cost 3.5% + $0.1.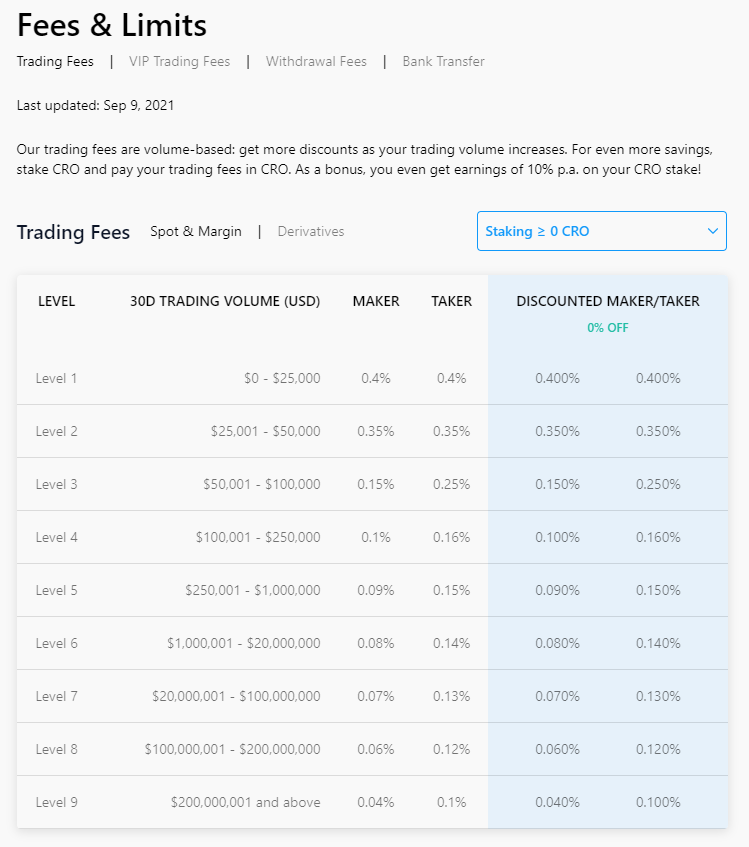 Crypto.com Visa Card
The Crypto.com Visa Card allows you to spend your cryptocurrency in-store and online. It's accepted anywhere that Visa is normally accepted, which is more than 54 million outlets and ATMs around the world. There is a wide range of different Crypto.com Visa Cards to choose from. To unlock more cashback and get access to additional benefits, you'll need to stake CRO in the Crypto.com app. The more CRO that you stake, the higher tier of card you'll be able to order.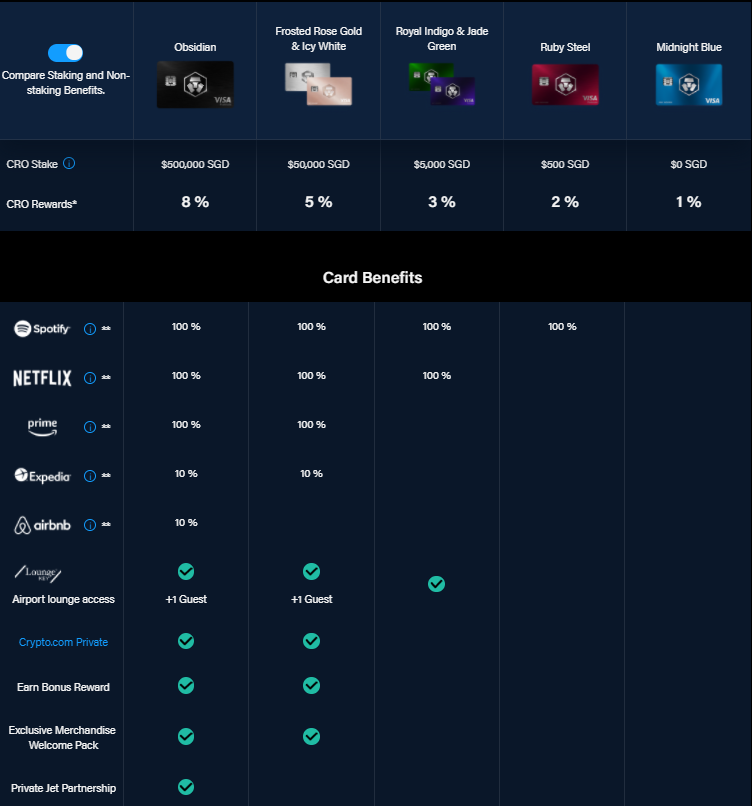 The Crypto.com Visa Card that offers the highest cashback, the Obsidian card, is quite out of reach for most retail investors like myself. At the time of writing, you'll have to stake SGD500,000 worth of Crypto.com Coin (CRO) in the Crypto.com app to get the Obsidian Black version.
However, the versions that require a lower CRO stake still provide you with competitive cashback on all your spending. If you're happy to stake the equivalent of SGD500, then you'll be able to get the Ruby Steel version which offers an attractive 2% cashback and a 100% rebate on your monthly Spotify subscription (up to USD12.99).
Which Card Offers the Most Value for Money?
In my opinion, based on the current staking requirements, the Royal Indigo/Jade Green card is the most value for money. To get this card, you will need to stake a minimum of SGD5,000 CRO. In turn, on top of the benefits gained from the previous card (Ruby Steel), you will get 3% cashback on all spending instead of 2%. You will also get a 100% rebate on your monthly Netflix Subscription (up to USD13.99).
At the time of writing, when you stake CRO for the maximum term (3 months), you are paid a 6% p.a. staking reward. If you upgrade to the Royal Indigo/Jade Green card, you will be paid a 10% p.a. staking reward. This increment reaches a maximum of 12% as you upgrade to the Frosted Rose Gold/Icy White card as well as the Obsidian card.
Assuming we only stake CRO for 6 months to get all the rewards mentioned, here is a breakdown of how much you will earn.

As we can see, the highest ROI comes from the Ruby Steel card which gives you a 24.59% ROI after the initial 6 months lock-up followed by the Royal Indigo/Jade Green card which gives you a 9.68% ROI after the initial 6 months lock-up. Note that the above calculations assume that the user spends $500/month as well as has both a Spotify and Netflix account which can enjoy the full rebate entitlement.
Even though the data states that the Ruby Steel card has a higher ROI, why do I still prefer the Royal Indigo/Jade Green card? Simply because it lets you earn on a bigger capital base. With smaller capital, it is easier to achieve higher gains because of the low base amount. As your capital becomes larger, it becomes harder to achieve a high risk-free ROI. For that reason, I feel that the 9.68% ROI on an SGD5,000 initial investment is very attractive, especially since it is risk-free (assuming crypto prices do not change).
If you have yet to sign up for an account, download and signup to Crypto.com using this link (or code: "sgsmi") and we'll both get FREE US$25 worth of CRO. This bonus is initially locked. To unlock it, you'll need to stake USD400 / SGD500 / £350 of CRO and order the Ruby Steel Crypto.com Visa Card.
What If I Don't Want To Stake Any CRO?
You can order the Midnight Blue version, which has no minimum stake requirements, which gives you 1% cashback on all your spending. Note that this is the only card that is made of plastic while the other cards are made of Metal.
Crypto Earn
Crypto.com's staking feature, also known as Crypto Earn, lets you put your money to work. With this feature, you can earn up to 14.5% interest per year depending on what cryptocurrency you're investing, how long you're locking it up for, and how many CRO tokens you have staked.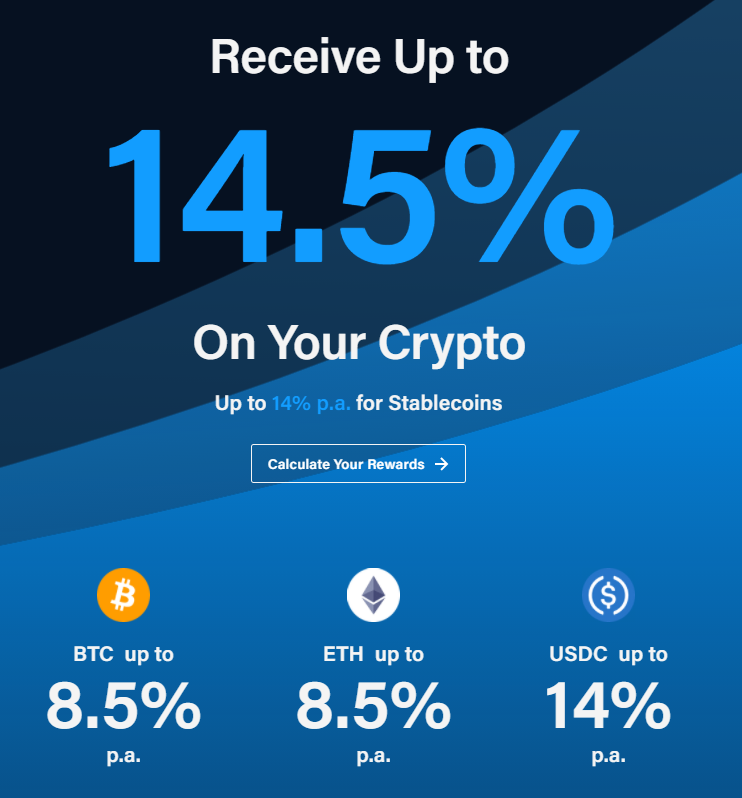 On top of the initial rate that is provided, as you stake more CRO, you are entitled to a higher reward percentage. Looking at the example below, if you stake USD5,000 worth of USD Coin for the maximum deposit term (3 months) and have SGD5,000 worth of CRO staked already, you enjoy a 12% p.a. reward which is paid out weekly (every 7 days).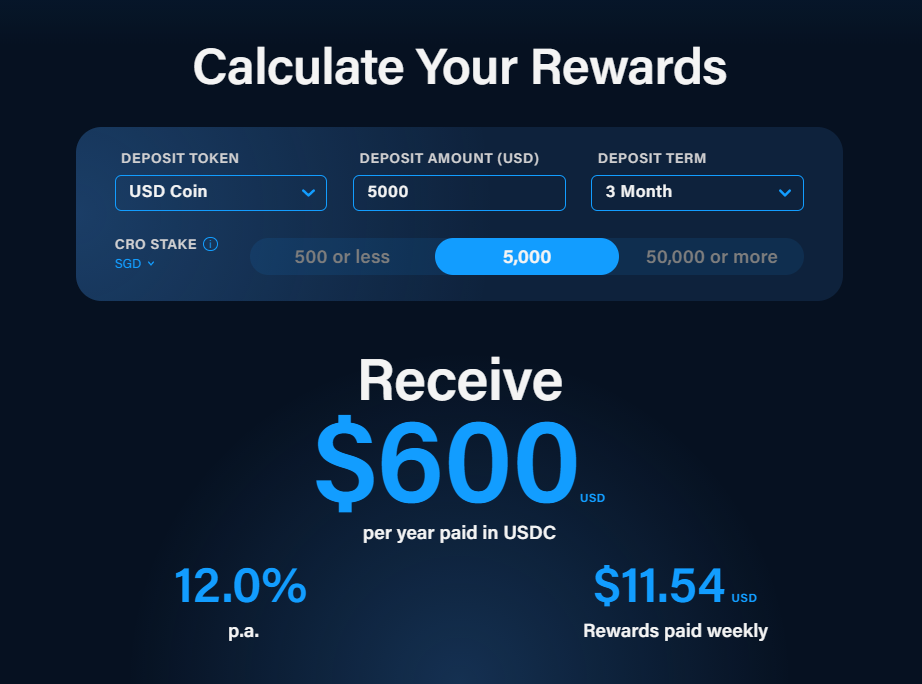 If you want to find out the reward rates for any specific cryptocurrency, with or without staking CRO, head over to their main website which also provides a calculator to help you make a more informed decision. You can see the current reward rates for some of the more popular cryptocurrencies such as Ethereum (6.5%), Bitcoin (6.5%), Tether (12%), Litecoin (3%), and many others.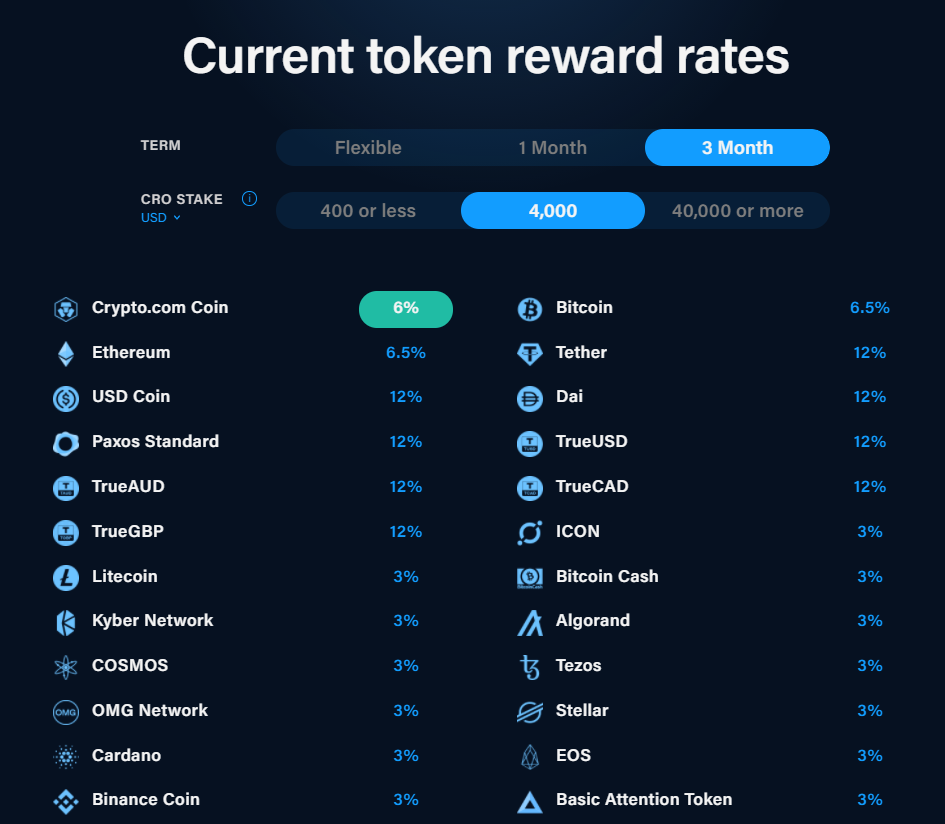 Crypto.com DeFi Wallet
Crypto.com created the Crypto.com DeFi Wallet because they believe that it's your basic human right to control your money, data, and security. The Crypto.com DeFi Wallet is designed to give you full control and secured custody of your crypto. With the Crypto.com DeFi Wallet (a non-custodial wallet), you can send crypto to anyone around the world at your preferred confirmation speed and the network fee.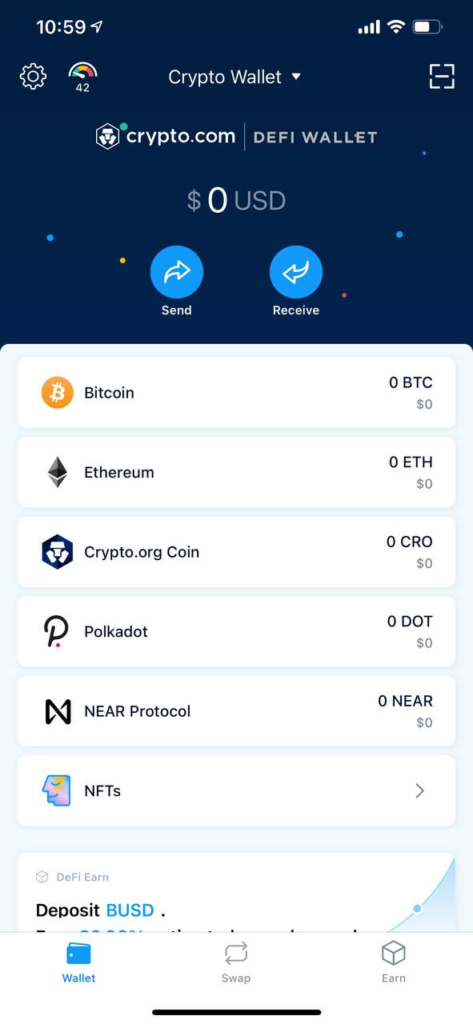 What Is A Non-Custodial Wallet?
Crypto.com DeFi Wallet is a decentralized wallet, which means you own your private keys. During wallet creation, you will have to write down your recovery phrase which when needed, you will be able to restore your funds. Having private keys means that you have full control over your funds, and you are the only one responsible for your funds. On the contrary, a custodial wallet is a type of digital wallet which keeps a user's private keys and provides backup and security for his/her assets. This is what our current Crypto.com App does.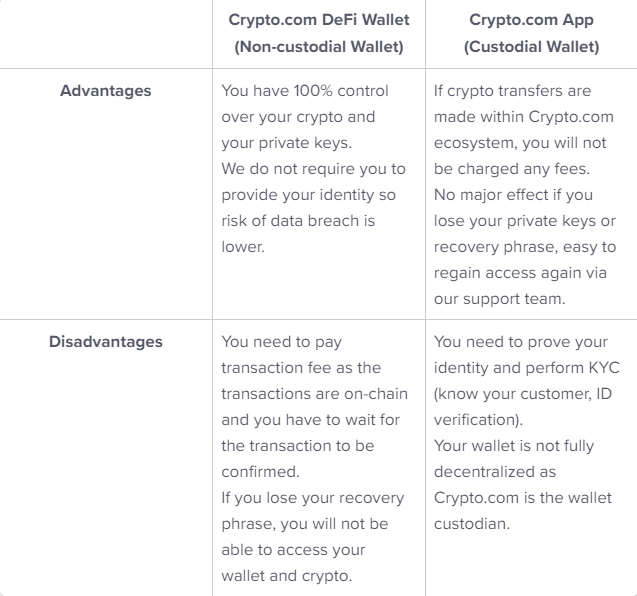 DeFi Earn
With Crypto.com DeFi Wallet, you can also earn interest upon depositing your crypto with DeFi Earn. DeFi Earn demystifies decentralized finance and allows you to deposit your crypto assets to DeFi protocols through native in-app integration. You can receive the best return because your tokens are deposited to the integrated protocol with the highest APY at the time of the deposit.
At this stage, the integration with the Compound Lending, Cosmos Staking, Yearn Earn V2, Crypto.org Chain Staking, and Aave Lending V2 protocols give you easy access to grow 12 crypto assets. The developers are still working hard to integrate more DeFi protocols to help you grow your digital assets easily.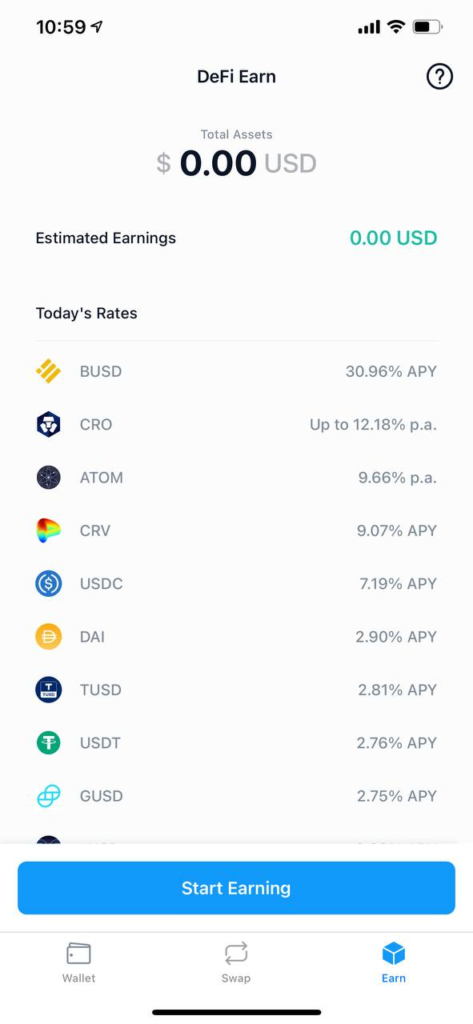 If the reward APY is so high on Crypto.com DeFi Wallet, why don't we just lock up all our crypto there instead? There are four major risks associated with staking on Crypto.com DeFi Wallet:
1. Capital Lock-Up: Similar to staking on Crypto.com, you will have to wait out the "unbending" period before you can transfer or trade your coin. This will reduce your ability to react to sudden shifts in the market which could be a good thing for some investors who don't have the discipline to buy and hold long term. As such, the value of your coin at the start of a stake may differ greatly than at the end.
2. Choosing an Inactive Validator: On the Crypto.org network, only the top 100 validators will be considered active and receive rewards. This means that anyone delegating to validators deemed inactive will be locking their coin in exchange for no rewards but with the same apparent risks. Fortunately, there is no cost and no delay to moving your stake from your current node to another, more active, and higher-paying node.
3. Slashing: Slashing is the more common and less painful punishment for misbehaving or poorly managed validators. When a validator fails to sign over 999 blocks over the last 2000, its role as a validator is suspended for an hour (or more if the operator isn't attentive). When this happens, all staked capital is "slashed" (reduced) by 0.1%, and no blocks will be signed and rewarded during jail time.
4. Tombstoning: This is the worst possible scenario; You have staked your money to a node that has become compromised or misconfigured to an extent that it caused a fatal error. That validator key has been revoked and all capital is slashed by 5% and is final.
By default, you will be assigned one of the Crypto.com managed nodes which might have high commission fees. Some private nodes may have lower commissions than the one you are currently delegated to and redelegating would mean an increase in your staking reward returns. For example, some of the top validator nodes operated by Crypto.com have commissions of 10%.
Again, you always retain full control of your coin and may move it to any other node at any point in time. As such, it is important for you to closely monitor the node you are using and ensure that none of the above risks occur. To do that, you can check out all the validators here. Alternatively, choosing a well-managed, enterprise-grade service provider will mitigate all the above.
Should I Stake on Crypto.com or Crypto.com DeFi Wallet?
As mentioned above, if you stake your crypto with Crypto.com, you can get up to 12% p.a. if you staked a minimum of SGD50,000 CRO. As for most retail investors like myself, this is highly unlikely which means we will only get a maximum of 10% p.a. on our SGD5,000 stake. So what do we do with our remaining CRO that is in our wallet, primarily earned from staking?
Firstly, you can stake it with Crypto.com for a reward rate of 6% p.a. given you stake CRO for the maximum period of 3 months. Alternatively, you can use Crypto.com DeFi Wallet and stake your CRO with DeFi Earn. At the time of writing, you can stake CRO up to a reward rate of 12.18% p.a. Even though the rate is significantly higher, there are more apparent risks to this as well so it is important to ensure you do your due diligence and understand the underlying risks when staking with either method.
Online Reviews
Last but not least, let's take a look at how Crypto.com is being rated amongst its users. For this segment, we'll take a look at Seedly, which has over 200 reviews on the platform with an average rating of 4.8/5 stars.
Most of the good reviews talk about the metal visa card and friendly UI whereas the few bad reviews come about from the slow onboarding process which occurred over a year ago. In addition to the wide range of reviews, there are also 76 discussions regarding Crypto.com ranging from tips and advice to comparing with other crypto platforms.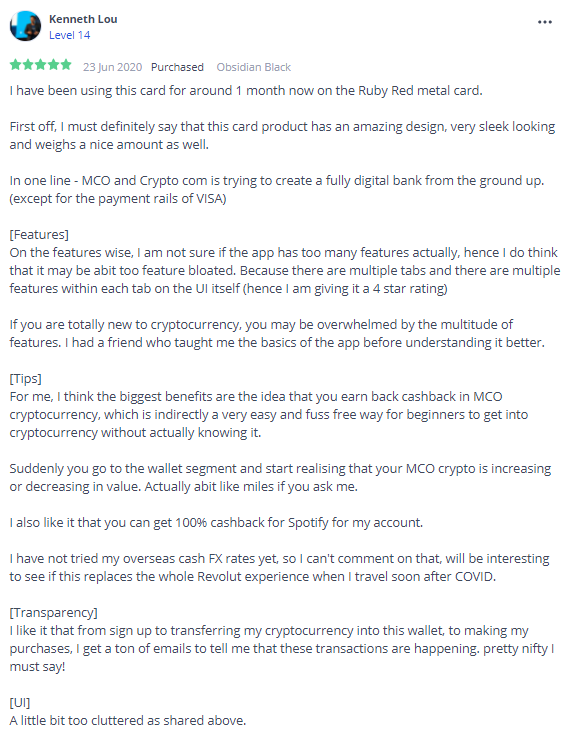 Final Thoughts
If you're new to the crypto space and don't know where to start, Crypto.com is a fantastic place for you to start your crypto journey. With the simple to use UI, attractive rewards, and low fees, anyone could create an account and start trading crypto. Personally, I was drawn by how easy it is to stake on the platform and the attractive rewards that came with the Crypto.com Visa Card. The entire process from creating an account, depositing fiat currency, buying crypto, and staking was fast, straightforward, and easy to understand.
I definitely recommend not just beginners but advanced crypto investors to try out Crypto.com. Although the platform might not be the best for active traders due to the fee structure, for long-term investors, it is the best place to be.
If you have yet to sign up for an account, download and signup to Crypto.com using this link (or code: "sgsmi") and we'll both get FREE US$25 worth of CRO. This bonus is initially locked. To unlock it, you'll need to stake USD400 / SGD500 / £350 of CRO and order the Ruby Steel Crypto.com Visa Card.
Ongoing Crypto.com Promotion
To celebrate a happy Mid-Autumn Festival, Crypto.com is giving away token and NFT rewards to new Crypto.com App users (Only for Singapore Users)! The first 100,000 Singapore users to sign up to the Crypto.com App and fulfill the Campaign Eligibility requirements during the Campaign Period will be rewarded with SGD 100 of CRO and an exclusive "Lion Mooncake" NFT.
Campaign Period: 6 September 19:30 SGT – 22 September 23:59 SGT
Campaign Eligibility:
Download and log in to the Crypto.com App
Complete KYC verification (Guide)
Trade (buy or sell) at least SGD 100 of CRO
Sign-up for the campaign using your unique Crypto.com App referral code
*New users are defined as those who complete KYC verification during the Campaign Period. Users who downloaded the Crypto.com App but did not complete KYC verification during the Campaign Period are now eligible to win.
*Users must create a Crypto.com/NFT account using the same email address as their Crypto.com App account, and connect both accounts to receive the exclusive "Lion Mooncake" NFT reward.
For more information, head over here.