According to UNESCO, amidst the COVID-19 pandemic, 91% of all students worldwide experienced school closure. With students looking online for courses and companies offering free courses to unemployed workers and university students worldwide for a limited time, online learning platforms garnered a lot of attention. The online learning platform, Coursera, saw more than 25 million enrollments from mid-March to mid-June 2020, a 520% increase from the same period in 2019. Let's take a closer look at this up-and-coming disruptor in 2021, changing traditional education forever.
Introduction
Coursera (NYSE: COUR) is an online educational content platform. Partnering with over 200 leading universities and companies, Coursera offers hands-on projects, courses, professional certification, and degree programs to bring flexible, affordable, job-relevant online learning to individuals and organizations worldwide. Many of the courses on Coursera are free for audit, students can access the educational content and sometimes even graded assignments for free, though they will not receive a certificate of completion at the end of the course.
Business Model
Coursera gets its revenue from its paid verified courses, degree programs, monthly subscription plans, and partnership programs with businesses, governments, and campuses for upskilling of workers and students.
Management Team
Co-Founder – Andrew Ng & Daphne Koller
Starting, we have the 2 co-founders, Andrew Ng and Daphne Koller. Both co-founders have a deep background in computer science and specialize in artificial intelligence. As of today, Andrew is still part of the management team as Chairman of Coursera's board while Daphne has moved onto other business ventures.
CEO – Jeff Maggioncalda
Moving on will be the head of the company, Chief Executive Officer, Jeff Maggioncalda. Jeff joined Coursera in June 2017 after his tenure also serving as a CEO at Financial Engines Inc. for almost 19 years. During his time there, the company grew rapidly under his leadership. Whilst serving as CEO of Coursera, Jeff is also a board member with Silicon Valley Bank for the past 10 years now, serving as an advisor to the management. With his experience, we can definitely expect great things for Coursera being run under Jeff.
CPO – Shravan Goli
The next key person would be the Chief Product Officer as well as GM for Consumer business, Shravan Goli. Shravan joined Coursera in March 2018 after his long tenure with Dice.com, serving as President for 4 years. During his time with Dice.com. he has also successfully led the growth strategy and operations for Dice, Dice International, ClearanceJobs, and Slashdot Media. On top of that, Shravan sparked impressive growth through product innovation while serving as President and Chief Executive Officer of Dictionary.com from 2009 to 2013. With his strong background in product growth, Coursera definitely has a strong CPO on deck that can help accelerate the overall business growth for the long run.
CMO – Kim Caldbeck
For a high-growth tech company like Coursera, other than sales, marketing is another key department that is crucial to the business's growth and success. Coursera brought Kim Caldbeck onto the team to serve as Chief Marketing Officer since April 2015. Kim first joined as a Director of Brand and Product Marketing but has moved onto the role of CMO in June 2018. Before Coursera, Kim had a long tenure of nearly 5 years with Facebook, launching many of Facebook's first consumer marketing campaigns in over 60 global markets. She also spent 2 years in business marketing at Facebook, helping advertisers build their brands and businesses in the digital world.
With her vast experience and strong connections, coupled with her amazing skill set, Coursera is set to disrupt the industry with such a strong CMO on board.
CCO – Betty Vandenbosch
A content-heavy company like Coursera, selling content as its main revenue source, requires a creative leader with innovative ideas that can help the company strategically create and plan content to help grow its user base and improve the overall value add to its customers. Coursera brought on Betty Vandenbosch in April 2020 as Chief Content Officer after her 2-year tenure as Chancellor at Purdue University Global. Before that, she worked at Kaplan University for over 10 years before it was acquired by Purdue University Global.
Throughout her years of experience, she oversaw academics for more than 32,000 students, most of whom earned their degrees online, while holding the position as chancellor of Purdue University Global. She has also won several awards in teaching and research. For a company like Coursera, bringing on Betty as a CCO will help the company immensely in terms of growth and overall strategic planning for content.
CFO – Kenneth Hahn
Last but not least, we need a strong leader to lead the company's finances and help drive strategic growth for the company on an international scale. Coursera brought on Kenneth Hahn in June 2020 after ending his 3-year tenure with Collective Health as CFO. Kenneth has accumulated over 20 years of experience serving as CFO in both public and private companies including Collective Health, iControl Networks (acquired by Comcast), QuinStreet, and Borland Software. With Kenneth's vast experience as CFO, Coursera is definitely in good hands.
Key Investors
A sign of confidence with Coursera: almost all 9.26% of shares owned by individual/insiders are held by members of the management team, with co-founder and chair of Coursera board, Andrew Ng, owning 5.97%.
Competitor Analysis
Coursera has a handful of competitors in the same niche such as Udemy, Udacity, and Linkedin. As such, let's cover the key strengths and weaknesses Coursera has when comparing with each of its competitors.
Coursera v. Udemy
Starting with Coursera's strengths, instructors and teachers on the platform are required to be certified based on their qualifications before being allowed to teach as compared to Udemy, which allows almost anyone to start teaching an online course. As such, certificates produced by Udemy are not usually recognized. On top of that, Udemy also lacks quality control on the courses offered.
On the flip side, Udemy does offer better discounts which make their courses more affordable. Additionally, they also have a larger content base with over 150,000 courses available as compared to Coursera which only has about 4,000.
Verdict: Coursera wins due to the higher quality of content being offered to consumers.
Coursera v. Udacity
Moving onto the next competitor, Udacity, Coursera has a clear edge as Udacity has a much smaller course offering with only a few hundred courses available. Not to mention the fact that Udacity courses are also rather expensive in comparison to Coursera. The only strength Udacity has over Coursera is that despite having a significantly smaller course offering, courses are carefully selected and high quality is ensured.
Verdict: Coursera wins due to having a wider course offering at a more affordable range for customers.
Coursera v. Linkedin Learning
Last but not least, Linkedin Learning has been slowly growing as time passes as it leverages on its already well-established platform. Coursera's course offering is suited for a wide range of individuals ranging from those who want to get their degree online to those who want to learn new skills whereas Linkedin Learning is much suited for individuals who already have a degree and might want to learn supplemental or additional knowledge to complement their existing skill set.
Verdict: Neutral as both platforms are targeting different customer demographics.
Financials
Coursera delivered a set of strong results for Q2 FY2021 as the company recognizes the structural demand for online learning beyond the COVID-19 pandemic. Let's take a look at how well Coursera did for Q2 FY2021.
Revenue
| | Q2 2020 | Q2 2021 Forecast | Q2 2021 | Q3 2021 Forecast |
| --- | --- | --- | --- | --- |
| Total Revenue | $73.3 million | $89 to $93 million | $102.1 million (+38.5%) | $105 to $109 million |
| Adjusted EBITDA | -$7.9 million | -$9.5 to -$12.5 million | -$2.9 million | -$7.5 to -$10.5 million |
Starting with the revenue segment, we can see that Coursera has continued strong growth into Q2 2021, growing its revenue by 38.5% to $102.1 million. On top of the strong growth, they also beat the forecasts made of $89 to $93 million. The adjusted EBITDA came up to -$2.9 million, a huge improvement from the year prior of -$7.9 million. They also beat the forecasts which ranged from -$9.5 to -$12.5 million.
Moving forward to Q3 FY2021, Coursera has a very conservative forecast of $105 to $109 million for total revenue and an adjusted EBITDA of -$7.5 million to -$10.5 million. This represents quarter-on-quarter growth of just 2.84% to 6.76% for the revenue portion. In contrast, investors can definitely expect a much stronger growth if Coursera continues to ride on the current momentum.
Revenue Breakdown
| | Q2 2020 | Q2 2021 |
| --- | --- | --- |
| Consumer Revenue | $50.4 million | $62.0 million (+23.0%) |
| Enterprise Revenue | $16.7 million | $28.2 million (+68.9%) |
| Degrees Revenue | $6.7 million | $11.9 million (+77.6%) |
As we break down the revenue into the 3 main segments, consumer, enterprise, and degrees, we can see that the degrees and enterprise segment grew the most year over year mainly due to its smaller size, allowing for bigger growth. Overall, the consumer revenue still accounted for more than 60% of Coursera's overall revenue. It is perfectly reasonable for this as Coursera is still in the midst of growing its enterprise as well as degrees segment to help better diversify the business's revenue stream.
| | 2017 | 2018 | 2019 | 2020 |
| --- | --- | --- | --- | --- |
| Total Revenue | $95.6 million | $141.7 million (+48.2%) | $184.4 million (+30.1%) | $293.5 million (+59.2%) |
| Consumer Revenue | $85.6 million | $107.5 million (+25.6%) | $121.0 million (+12.6%) | $192.9 million (+59.4%) |
| Enterprise Revenue | $7.4 million | $26.8 million (+262.2%) | $48.2 million (+79.9%) | $70.7 million (+46.7%) |
| Degrees Revenue | $2.5 million | $7.4 million (+196%) | $15.1 million (+104.1%) | $29.8 million (+97.4%) |
Digging deeper into Coursera's revenue breakdown from 2017 to 2020, we can see that there has been huge growth in the enterprise and degrees section. This means that whatever Coursera's management is doing to expand these 2 segments, they are doing something very right and very well. The consumer segment has also been growing exponentially as well with 2020 seeing the largest growth thanks to the pandemic.
Cash Flow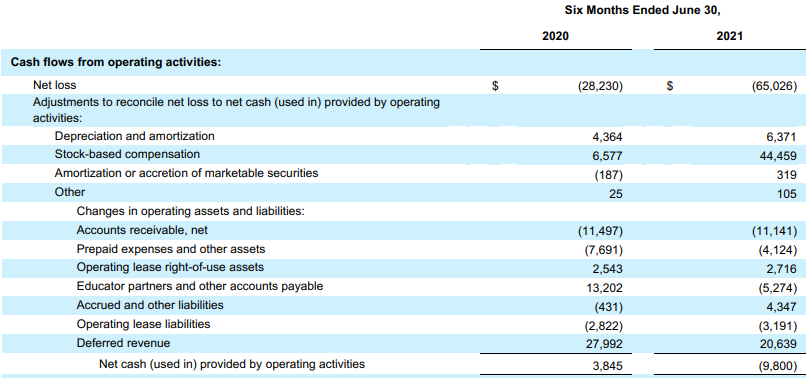 Last but not least, taking a look at the cash flow for Coursera, we see a huge drop in terms of net cash provided by operating activities. A year ago, it was at a positive $3.845 million and a year later, it fell to nearly -$10 million. There isn't a huge reason as to why this is so but we can only assume that it is due to the huge jump in net loss which was a result of accelerating Coursera's growth.
Similarly, the free cash flow fell from a net positive of $8.331 million to a net negative of $8.498 million. Typically, this would be a point of concern for investors when looking at high-growth tech companies but for Coursera's case, seeing that this is only Q2 FY2021's results, they might just be leveraging on the huge growth potential that is available now to accelerate their growth. Investors can definitely stay calm with the huge cash position of over $800 million and near 0 debt, Coursera has the room to leverage up and burn cash to accelerate its growth potential in the near term 12-24 months.
Opportunities
With fast-growing improvements in technology and constantly evolving workflows to improve productivity in our economy, there is an increased demand for online learning as businesses, governments, and individual learners seek the skills required to compete in today's economy. Moreover, demand for some skills is not met by traditional channels like in-person learning and the in-person classes might be costly.
Coursera provides legitimate digital education for people that allows people all over the world to learn more efficiently and adapt more easily to the introduction of new automation at work.
With Coursera's strength in the credibility of its certifications and its ability to bring courses from renowned institutions online, Coursera should focus on strengthening this aspect of its business model to stand out from other similar companies. The more widely recognized it is as a higher-education institution, the more the number of users and thus the more valuable the company becomes.
Threats
With the rise in demand Coursera is facing, Coursera might not be able to cater to the increasing student body size. As such, Coursera must find a way to manage this large student population without reducing its quality of grading and education service. Moreover, with the increasing competition in the industry, Coursera must work to improve on its service provided such that users will choose them over other competitors.
Final Thoughts
Personally, I believe online education platforms will become more popular over the years, with more people seeking cheaper online options to prove their skills helps them stay relevant in the ever-changing working world and help with employability. Coursera, being one of the well-known brands in the industry, will most likely benefit from this trend and become more valuable over the years. As long as it maintains the credibility of its certifications, I believe Coursera will remain one of the leading online education platforms.