Affirm (NASDAQ: AFRM) recently went public on 13th January 2021, issuing a total of 28 million Class A common stock at $49 a share. On the day of IPO, Affirm closed strong at $97.24, almost increasing by 100%. Affirm has since been on many investors' radar as it's the up-and-coming FinTech company to watch. As the results were released, the stock closed 7.85% lower in the post-market. Let's take a deep dive into the results to find out why.
Phenomenal Revenue Increase
| | 3M Ended December 31, 2019 | 3M Ended December 31, 2020 | 6M Ended December 31, 2019 | 6M Ended December 31, 2020 |
| --- | --- | --- | --- | --- |
| GMV | $1.3 billion | $2.1 billion (+61.5%) | $2.2 billion | $3.6 billion (+63.6%) |
| Total Revenue | $130 million | $204 million (+56.9%) | $217.9 million | $378 million (+73.5%) |
| Transaction Costs | $92.7 million | $114.1 million (+23.1%) | $155.3 million | $244.1 million (+57.2%) |
| Gross Revenue | $37.3 million | $89.9 million (+141.0%) | $62.6 million | $133.9 million (+113.9%) |
Starting off with the Revenue segment, we can see that Gross Merchandise Volume (GMV) saw a huge increase year on year for the quarter as well as the 6 months ended. The total revenue improved significantly while the transaction costs only increased slightly, allowing the overall gross revenue to increase more than 100%. We can also see that Affirm has grown remarkably as you can see the 3M 2020 revenue is almost equal to the 6M 2019.
For FinTech companies like Affirm and Square, GMV is such an important factor to take note of as it really shows you the number of transactions as well as the volume of funds being transacted in the platform.
Revenue Breakdown
Breaking down the revenue segment, we can see that the Merchant Network Revenue is the biggest contributor and has increased substantially year over year.
Rapid Active Consumers Growth
| | December 31, 2019 | June 30, 2020 | December 31, 2020 |
| --- | --- | --- | --- |
| Active Consumers | 3.0 million | 3.6 million | 4.5 million |
| Transactions per Active Consumer | 2.1 | 2.1 | 2.2 |
The second key thing for these FinTech companies to look at is the number of active consumers as well as transactions per active consumers. As we can see, Affirm grew remarkably over the past year, growing its active consumers by 20% from December 31st, 2019 to June 30th, 2020 and another 25% from then to December 31st, 2020. This represents a full 50% growth year over year.
The transactions per active consumer managed to grow by 0.1, which may seem small but it means that an additional 4.5 million transactions were made. Now that is really amazing.
Rock Solid Balance Sheet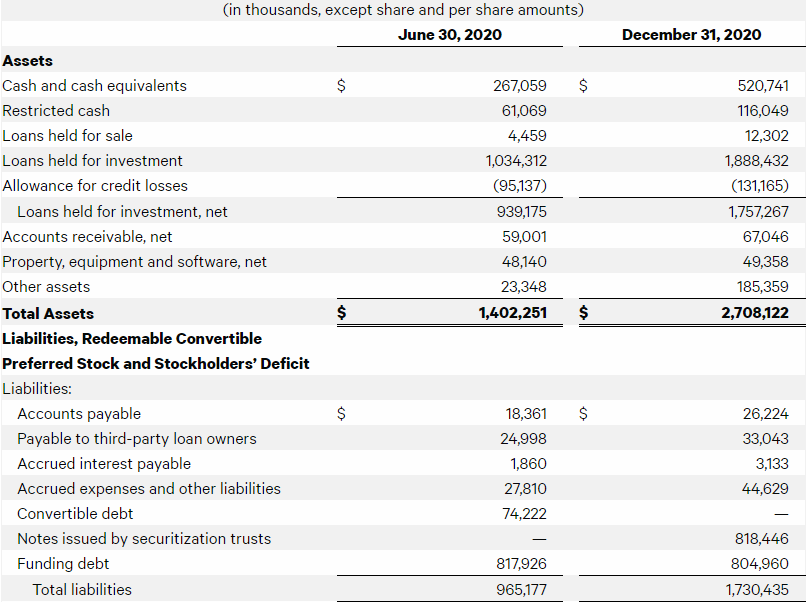 Moving onto the balance sheet, we can see that Affirm has a very big cash balance of $520 million. As such, Affirm's current ratio stands at a whopping 6.58x, well above the minimum 1x which ensures that the company has sufficient liquid assets to cover all its short term liabilities and debts.
Final Thoughts
Definitely, a fantastic set of results and something investors want to see right after its strong IPO performance. The share price did dip during the post-market by about 7.85% despite such a strong set of results. This might have been caused by a few factors:
Many Traders and Investors were buying, to sell on the good earnings report
Investors taking profit as the share price reaches near its all-time high
The low volume being transacted in the market
I personally feel that despite all these possible factors, I'm still going to continue accumulating Affirm for the long term. I am very confident in the management, and especially the CEO, Max Levchin, who was one of the co-founders of PayPal, he definitely knows his stuff around the FinTech space as he is one of the founding pioneers.
The growth is also very strong and is likely to continue for the next few quarters to come. As Affirm is still quite small with a market cap of $33B, it has a lot of room to grow over the next 3-5 years. I believe Affirm definitely has the ability to compete with the likes of Square if they can continue this level of growth.
As always, you can take a look at my portfolio updates to see my current positions! Also, use my referral code for an extended 3 months of premium access to StocksCafe! P.S. I'm running a telegram chat group for you guys to share and discuss investment-related topics so come on in! I'll be there too! You can join the chat here: https://t.me/joinchat/D4iHeEVapnGC1lWcFEupVw
Are you new to the stock market and don't know what you should do to avoid losing half your portfolio through bad picks? Or perhaps you are an experienced investor/trader looking for fantastic opportunities and picks in the market that you might have missed out on?
If so, look no further because I am running a Premium Subscription that offers services such as:
Access to both my Singapore and US Tech Watchlist with Preferred Entry Prices
Telegram Group Invitation Where I Share Market Updates and My Personal Views
Monthly Tradable Opportunities with Trade Setups
On-Demand In-Depth Fundamental and Technical Analysis on Any Stock of Your Choosing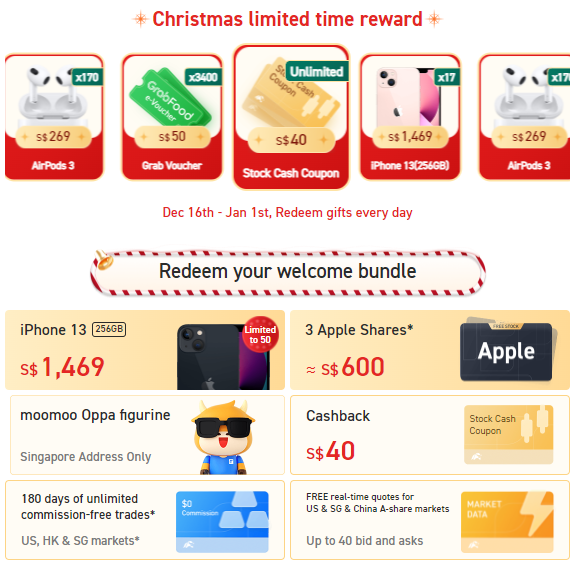 For the ongoing promotional period (Nov 30th – Dec 31st), when you deposit (First Deposit) SGD 2,700 successfully into your account, you will be rewarded 1 Apple (AAPL) share worth around SGD 220 as well as an SGD40 Stock Cash Coupon Bundle. Stand a chance to win a brand new iPhone 13 (256GB ,~S$ 1,469), Airpods 3, $50 Grab vouchers as well as $40 Stock Cash Coupons during the Christmas limited time reward promotion that is ongoing between Dec 16th – Jan 1st.
If you have yet to sign up for a FUTU SG securities account with moomoo powered by FUTU you can use my referral link here. For opening an account, you will be given 180 days of unlimited commission-free trades across the US, HK, and SG markets (do not apply for Stock Options and Futures). You will also be given free real-time Level 2 US Market Data, Level 1 SG Market Data, and now Level 1 for China A shares too!
Read Also: moomoo Trading App Review: Everything You Need To Know in 2021