Tesla (NASDAQ: TSLA) had a phenomenal 2020 with its share price climbing a whopping 759% (split-adjusted). Kicking off 2021 with ARK's new price target of $4,000 by 2025, investors are excited to receive Tesla Q1 2021 earnings and see if the company is well-positioned for another fantastic year. Without further delay, let's get right into the 6 key takeaways from Tesla Q1 2021 Earnings.
1. Vehicle Production & Delivery Numbers
Starting off with Tesla's vehicle production numbers, we can see that Tesla has performed very well in Q1 2021, with 180,338 Model 3/Y produced, beating last year's 87,282. We can also see that there was 0 Model S/X produced this quarter due to the new ones rolling out so this comparison is not very meaningful. It is good to see that the number of Model 3/Y being produced is increasing consistently over the past few quarters with a slight dip in Q2 2020.
Moving onto Tesla's delivery numbers, we can see very consistent growth across the past few quarters with Q1 2021 outperforming Q1 2020 by a huge margin. A total of 182,847 Model 3/Y being delivered in Q1 2020 as compared to 76,266 in Q1 2020. We can also see that there were a handful of Model S/X being delivered during the quarter even though there were none being produced.
The overall growth in vehicle production and delivery is a fantastic start for Tesla moving into FY2021. With its Q1 2021 numbers being so strong, we can definitely expect more growth in the coming quarters as the new Model S/X are being pushed out.
Supercharger Stations & Connectors
Next up, we can also see the number of supercharger stations and connectors have grown significantly over the past few quarters, with the supercharger stations growing from 1,917 in Q1 2020 to 2,699 in Q1 2021. We can also see that supercharger connectors have grown substantially from 17,007 in Q1 2020 to 24,515 in Q1 2021. These numbers are a fantastic indicator to show that Tesla's supercharger stations and connectors are being widely used across the world as more and more are being installed.
2. Fantastic Revenue Growth
After taking a dive into the vehicle production and deliveries numbers for Tesla Q1 2021, let's move into the revenue segment to see how well Tesla did across the past few quarters.
First off, we can see that Tesla's automotive as well as total revenue grew very well across the past few quarters, excluding the slow movement in Q2 2020. We can also see that the automotive and total gross profit grew in tandem together, marking a respectable gross margin of 26.5% and 21.3% respectively. The reason why it is respectable is because of 2 key reasons.
First off, Tesla has been able to slowly increase their gross margins year over year with the automotive gross margin growing from 25.5% to 26.5% while the total gross margin grew from 20.6% to 21.3% in the first quarter. Secondly, across the automotive industry, the average gross margin ranges from 13% to 21%. With Tesla meeting the upper band of this range for their total gross margin, it is very commendable. Not to mention the fact that Tesla's automotive business by itself, is already surpassing the industry average.
Last but not least, Tesla Q1 2021 GAAP net income grew by 2,638% year on year from $16 million to $438 million while Tesla's GAAP EPS grew as well by 1,850% from $0.02 to $0.39.
Statement of Cash Flow
Moving onto the last portion of the revenue segment, we have the cash flow statements whereby we can see from a more in-depth view of how well the company is doing. We can see that Tesla's Capital Expenditure (CapEX) has been increasing slowly quarter on quarter while its net cash from operating activities has skyrocketed from being negative in Q1 2020 to a high of $3.019 billion in Q4 2020. Tesla has also managed to improve its free cash flow from being in the negative in Q1 2020 to a high of $1.868 billion in Q4 2020.
Overall, we can see remarkable growth in Tesla Q1 2021's cash flow statement as they are moving into sustainable, profitability for the long term. Investors can definitely expect a much stronger year as a whole with Tesla kicking off the year with such a strong set of results.
3. Rock Solid Balance Sheet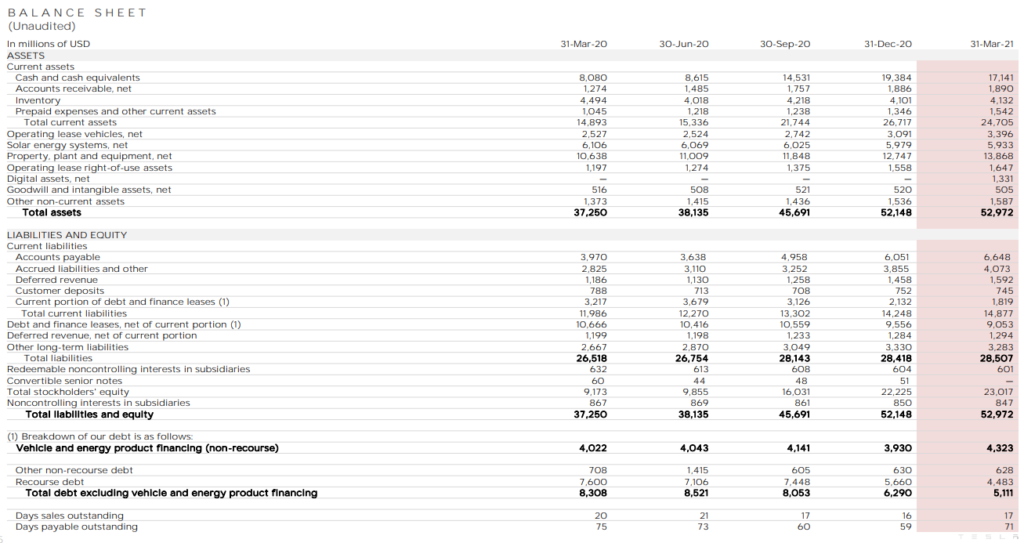 As we look into the Tesla Q1 2020 earnings, we should also take a good look at their rock-solid balance sheet, as they recently included crypto, specifically Bitcoin. Tesla bought a huge amount of Bitcoin, amounting to $1.5 billion, as they announced on 8th Feb 2021 that they will start accepting Bitcoin as a form of payment. Tesla said that they bought Bitcoin to offer more flexibility as they further diversify and maximize returns on their cash. With this, Tesla becomes the first major automaker to offer Bitcoin as a form of payment.
Other than that, we can see that Tesla still has a very huge cash position of over $17 billion, capable of paying off all their short term liabilities which comes up to $14.877 billion.
4. Strong Performance Against Competitors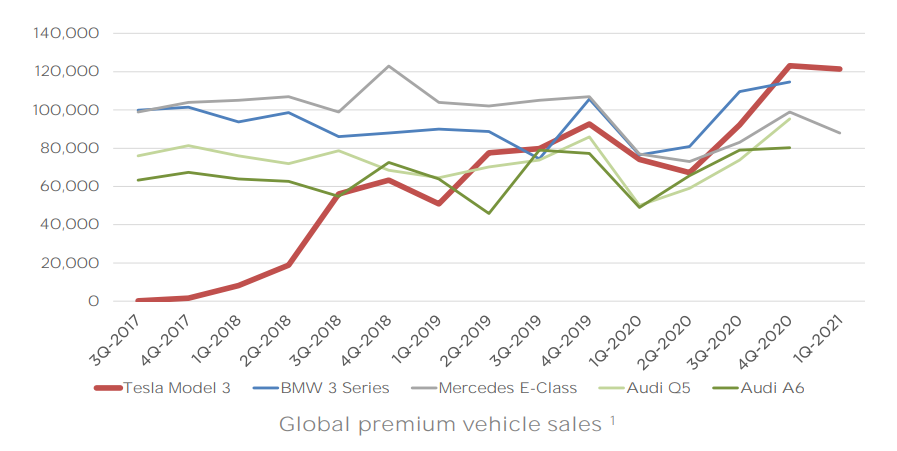 Tesla has slowly grown into a force to be reckoned with as they slowly outperform the other premium vehicles in the same category. As we can see from the chart above, the Tesla Model 3 has already surpassed all its other peers in terms of global premium vehicle sales. The comparison included well known cars such as the BMW 3 Series, Mercedes E-Class as well as Audi Q5 and A6. We can also see that Tesla's growth is not slowing down anytime soon with Tesla Q1 2021 showing a strong gap above all its peers.
5. Updates on Tesla's Core Technologies
Autopilot & Full Self Driving (FSD)
Tesla's team continues to focus on the V9 version of the FSD City Streets beta, which will soon become more widely available in the United States. The team believes that a vision-only system is ultimately all that is needed for full autonomy. The AI-based software architecture has been increasingly reliant on cameras, to the point where radar is becoming unnecessary earlier than expected. As a result, the FSD team is fully focused on evolving to a vision-based autonomous system and is nearly ready to switch the US market to Tesla Vision.
Despite the recent car accident, I believe that Tesla is definitely near to reaching full autonomy which is very exciting as we introduce a brand new way to drive. With this autonomous system, we can improve the way we drive as well as the overall safety on the road as the system learns and grows smarter over time. As we all know, A.I. systems improve as time passes due to the increase in data sets that they can test and learn from. As such, we can only expect a bigger and better system as time passes.
Vehicle Software
While over-the-air software updates of maps and infotainment systems are becoming more common, firmware updates remain rare in the automotive industry. In Q1, Tesla was able to navigate through global chip supply shortage issues in part by pivoting extremely quickly to new microcontrollers, while simultaneously developing firmware for new chips made by new suppliers.
6. Thoughts on ARK's Price Target
As many investors may know, ARK Invests and its CEO, Cathie Wood, are huge investors in Tesla. Last year, ARK estimated that in 2024 Tesla's share price would hit $7,000 per share, or $1,400 adjusted for its five for one stock split. Based on their updated research, ARK now estimates that it could approach $3,000 in 2025. Let's go through the bull and bear case for their analysis and what I feel about the numbers they use.
It is good to note that to arrive at this forecast, ARK used a Monte Carlo model with 34 inputs, the high and low forecasts incorporating 40,000 possible simulations. The bull and bear price targets are the top and bottom quartile outcomes from the simulations, as shown below: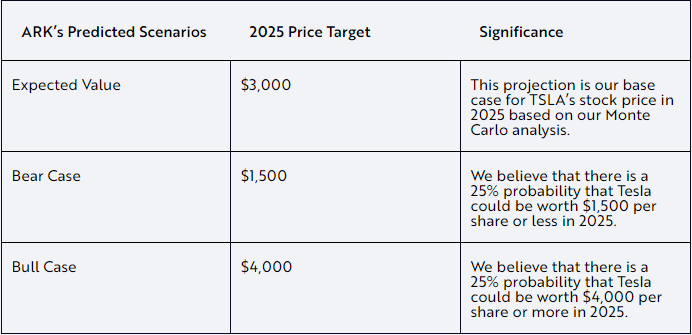 Bear Case v. Bull Case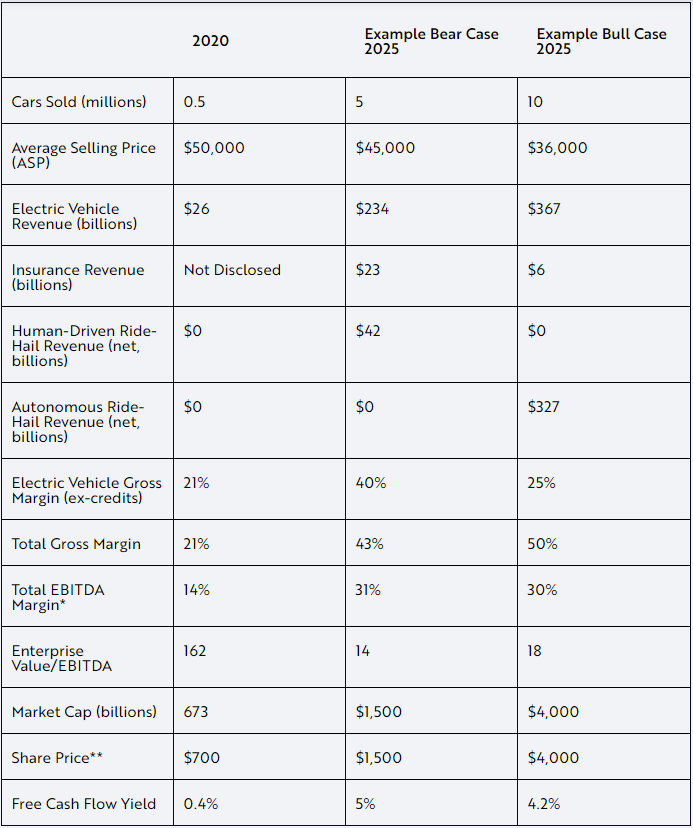 Starting from the top, ARK's conservative bear case states that Tesla will sell 5 million cars by 2025. I personally find this quite conservative because that is a 10x growth in 5 years, or a CAGR of 58.49%. Looking at the rate Tesla currently grows, which is a CAGR of 75.64% using the Q1 2020 numbers against the Q1 2021 numbers, even with a slowdown of 10%, it will easily surpass the bear case. On the flip side, looking at the bull case, ARK expects 10 million cars to be sold by 2025 which marks a 20x growth in 5 years, or a CAGR of 82.06%. This is definitely possible if Tesla ramps up production over the next few years.
The average selling price (ASP) that ARK uses is pretty in line with what I expect as well, with a strong slide in the next 5 years as Elon Musk continues to make electric vehicles more and more affordable. ARK also expects a very high gross margin for Tesla, even in their bear case, which stands at 43% while the bull case stands at 50%. Although this may seem impossible now, with the ramping up of production together with all the other new revenue streams, Tesla achieving a total gross margin above 30% is very possible.
Another good point to take notice of is that in the bear case, ARK assumes that Tesla makes no revenue from their Autonomous Ride-Hailing segment but makes a small net amount of $42 billion from the Human-Driven one. In comparison, for their bull case, we can see that they assume the exact opposite, with the Human-Driven Ride-Hailing making no revenue while the Autonomous one makes a whopping $327 billion.
Last but not least, ARK assumes a much lower insurance revenue of $6 billion in their bull case as compared to their bear case which comes up to $234 billion. This as a whole, tells me that ARK's bull case, although sounds insane at $4,000 per share, is still somewhat conservative in a few cases as you can see. Do I believe that Tesla will hit $4,000 per share in the long term? Yes. Do I believe in ARK's analysis and that it will reach in 2025? It's a big stretch but I think it is still doable.
Final Thoughts
In conclusion, after looking into Tesla Q1 2021 earnings, we can see that Tesla is set and well-positioned for yet another amazing year in 2021. With the strong performance, the introduction of Bitcoin as an alternate payment method, continued growth in production and deliveries coupled together with ARK's fantastic analysis, investors should continue to accumulate and hold long term as Tesla continues to soar, reaching new heights and changing the automotive industry forever. The next big thing for Tesla will be the full launch of its Autopilot & Full Self Driving (FSD) feature, which I predict will come up by the end of 2021.