Lendlease REIT (SGX: JYEU) is a newly IPO-ed REIT, IPO-ing on October 2nd 2019. The IPO was pretty well received, being highly subscribed by not only retails but institution players as well. They have just released their first set of full year results so let's take a quick look at the 5 key takeaways from the 4Q results of Lendlease REIT.
1. Expected Drop In Gross Revenue and NPI
| Forecast Difference | 4th Quarter 2020 | Full Year 2020 |
| --- | --- | --- |
| Gross Revenue | S$12.466 million (-42.1%) | S$55.536 million (-13.1%) |
| Net Property Income (NPI) | S$7.514 million (-53.3%) | S$40.289 million (-15.6%) |
As expected, Lendlease REIT suffered a drop in Gross Revenue and NPI due to the impacts of the COVID-19 pandemic. Not to mention the lower rental income coming from 313@somerset is due to the rental relief measures under the COVID-19 Act.
Thankfully, the poor results from 313@somerset was cushioned by the stable revenue coming from Sky Complex. Sky Complex consistently received the same amount of revenue across the past 3 quarters while 313@somerset saw a huge drop in the 4th quarter.
Despite the actual results failing to meet the forecast, I'm pretty satisfied with the overall performance as I expected a deeper drop in the overall results.
2. Drop In Distributable Income and DPU
| Forecast Difference | 4th Quarter 2020 | Full Year 2020 |
| --- | --- | --- |
| Distributable Income | S$5.693 million (-62.2%) | S$35.672 million (-20.1%) |
| Distribution Per Unit (DPU) | 0.48 cents (-62.7%) | 3.05 cents (-19.7%) |
With the Gross Revenue and NPI falling, the Distributable Income is sure to be impacted. It is good to note that Lendlease REIT has announced that it will distribute 100% of its adjusted net cash flow from operations until the quarter ending in 30th June 2021. Thereafter, they will maintain at least 90% distribution of its adjusted net cash flow from operations.
3. Healthy Financials
| | As at 30 June 2020 |
| --- | --- |
| Aggregate Leverage | 35.1% |
| Interest Coverage | 9.0x |
| Average Cost of Debt | 0.86% |
As for Lendlease REIT's financials, we can see that they have a very healthy balance sheet. They have a very high interest cover ratio of 9.0x, allowing them to leverage up to 50% if they choose to.
They have an aggregate leverage of about 35.1% and a very low weighted average cost of debt of 0.86%. The low cost of debt comes from their euro term loans which has a very low interest rate of 0.58%.
It's also good to note that their weighted
average debt maturity is 3.1 years with no debt maturing in FY2021 and FY2022.
4. Occupancy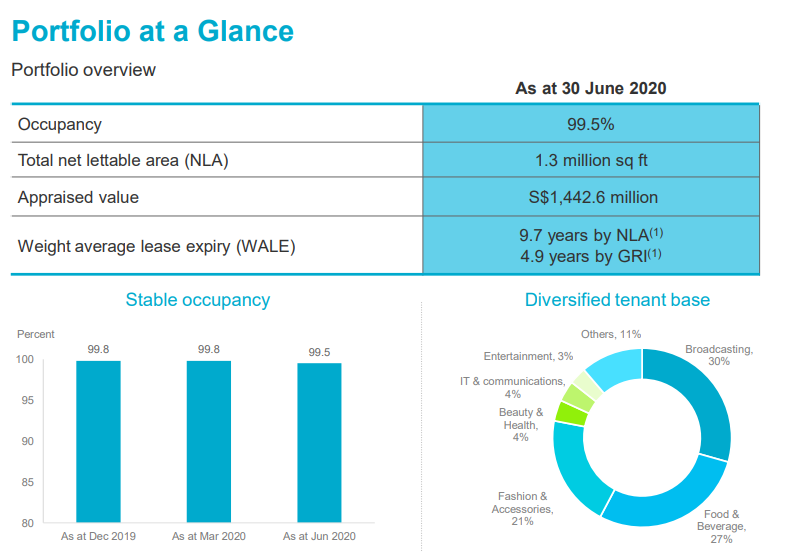 As we can see, Lendlease REIT has managed to achieve a remarkable 99.5% occupancy rate, a 0.3% drop from the quarter prior. The high occupancy rate is mainly attributable to Sky Complex which has a 100% occupancy rate. 313@somerset on the other hand achieved a 97.8% occupancy rate.
Thanks to Sky Complex, which has a WALE of 11.9 years, Lendlease REIT has also managed to achieve a relatively long WALE of 9.7 years.
5. Moving Forward
Update on 313@Somerset
As of 30th June 2020, more than 95% of the mall has reopened and footfall has recovered to approximately 40% of pre-COVID-19 levels. The management team has also rolled out marketing initiatives to help tenants achieve more sales.
Update on Sky Complex
Italy's short-term key indicators have shown slight improvement in economic activity following the large declines in March and April.
Thankfully, timely rental payments from Sky Italia helped Sky Complex provide a consistent stream of revenue to Lendlease REIT.
Final Thoughts
Overall, the 4Q results of Lendlease REIT were in line with my expectations, maybe a little better than that. Looking at the situation in Singapore, retail and commercial REITs have not been able to do well with the circuit breaker in place. Not to mention the rental relief that landlords have to provide to tenants.
Nonetheless, with Sky Complex providing a consistent stream of income, Lendlease REIT will continue to do well in such uncertain times and will not be pulled down by the situation surrounding 313@somerset.
I personally hold a position in Lendlease REIT, with my first tranche at $0.50 and my second tranche at $0.72. I remain bullish on Lendlease REIT's recovery as well as their future growth potential. Being a small-mid cap REIT, it gives them plenty of room to grow through acquisitions and AEIs.