This is the second part to a 4 part series where I share my insights and analysis on the 4 local hospitality REITs listed on the SGX. In this article, I'll be sharing all you need to know about CDL Hospitality Trust (SGX: J85).
CDL Hospitality Trust (SGX:J85)
Property Overview
As at Mar 31st 2020, CDL Hospitality Trust owns 16 hotels and two resorts comprising a total of 5,089 rooms as well as a retail mall.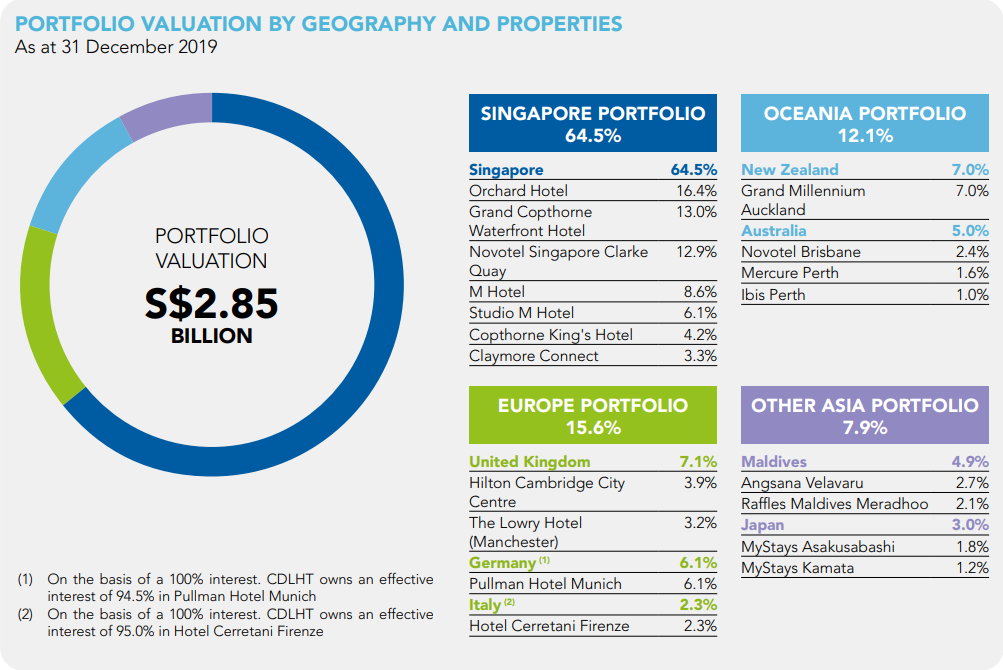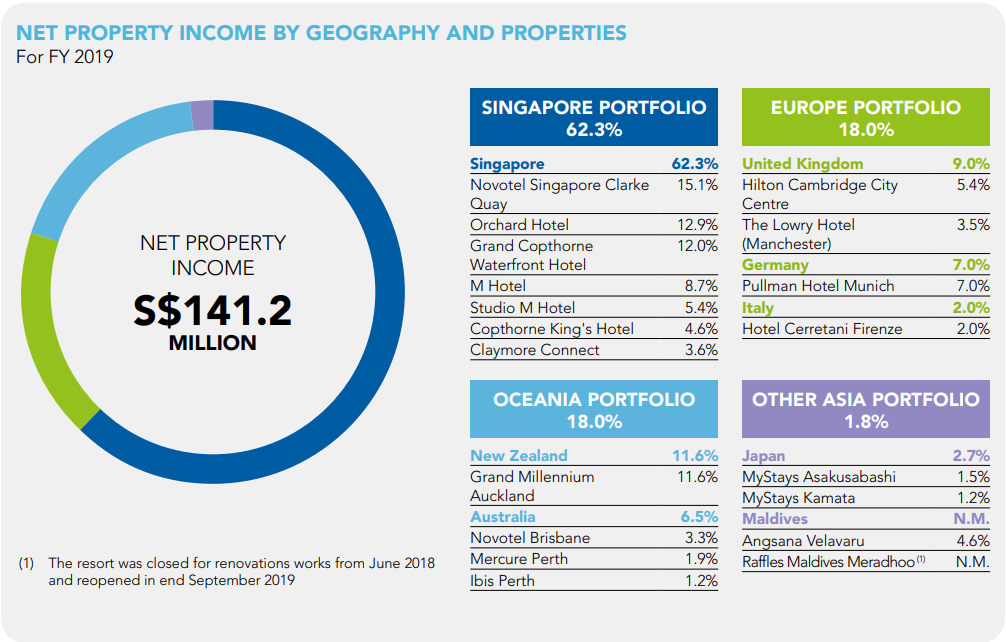 As you can see, its Singapore portfolio takes up about 64.5% of its portfolio valuation and 62.3% of its NPI. Though it is great that they have assets in other countries and regions like Europe and Oceania, the Singapore portfolio is a little too high for my liking.
Financial Ratios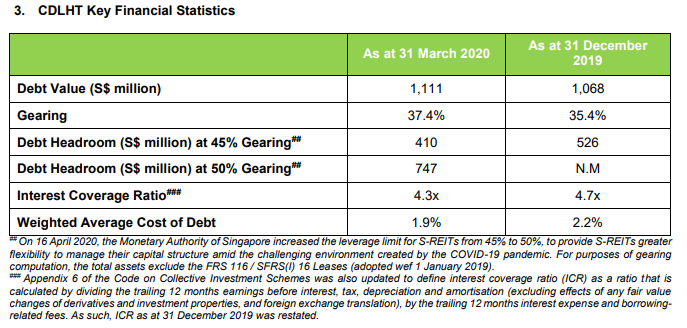 Looking at the REIT's financials, we can see that the gearing has significantly increased from the quarter prior from 35.4% to 37.4%. As a result of the REIT taking on additional debt, it has managed to reduce their weighted average cost of debt to 1.9% as compared to 2.2% the year prior. The interest cover ratio is still healthy at 4.3x, higher than 3x, which is my optimal requirement.
It is also good to note that CDL Hospitality Trust does have some more net cash inflows from some of their transactions that are due to complete in mid-July 2020. In addition to these net cash inflows, they are also planning to refinance the JPY 6.4 billion borrowings due in September 2020. With all these in mind, CDL Hospitality Trust's liquidity will be further boosted up and will be reflected in the 3Q results in FY2020.
We can also see from its FY2019 annual report that the net asset value stands at $1.52/share. At $0.90/share, the PB ratio of CDL Hospitality Trust stands around 0.592. This is a huge bargain as you are only paying $0.592 per $1 of assets.
Potential Upsides
CDL Hospitality Trust has been actively initiating AEI plans for assets in several countries. There is one currently expected to complete in mid 2020.
Also, you can see that CDL Hospitality Trust has been actively initiating AEIs in the year prior as well. They enhanced their assets in Maldives and the United Kingdom.
Another potential upside for CDL Hospitality Trust is from acquiring assets from its sponsors, Millennium & Copthorne Hotels Limited ("M&C") and City Developments Limited.
Though there is a downside to this which I will talk about in the next section.
Potential Downsides
Even though CDL Hospitality Trust has 2 sponsors which it can acquire assets from, it does not have any ROFR pipeline assets. This is a worry because this means that the REIT does not have the first right to acquire any of the assets under its sponsor. If an investor or company would like to acquire any of the assets from the sponsors, CDL Hospitality Trust cannot stop the sponsors from selling these assets away or to sell the assets to them first.
Also, there is a high chance of the REIT cutting its DPU for the coming quarters as well.
Assuming a 30% decrease in NPI and Gross Rental Revenue, and that the REIT retains about 8.28% of total distributable income for working capital, I came up with a conservative assumption of a 40% decrease in DPU from the year prior. I am also bullish on the sector's recovery in 2H of FY21 so my forecast for FY21's DPU is an increase of 30% from the year prior.
| | | | |
| --- | --- | --- | --- |
| @ $0.90/share | FY19 | Realistic FY20 Forecast | Realistic FY21 Forecast |
| DPU | 0.0902 | 0.05412 | 0.070356 |
| Yield | 10.02% | 6.13% | 7.82% |
DPU Forecast
Final Thoughts
I personally bought CDL Hospitality Trust @ $0.86 a few weeks back and I have encouraged some of the members of the premium subscription to do so as well. I explained to them what I explained in this article here.
In my opinion, it is still a pretty good bargain buy with the low PB ratio and relatively good yield assuming 40% decrease in total revenue. I invest for the long term so I don't mind waiting a few years before my investments yield me 10% and up. This is not taking into account the capital appreciation that I will gain when the sector recovers and the demand for hospitality REITs increases. We should take into account the fact that CDL Hospitality Trust is still down more than 40% year to date and I believe that the downside is limited from here.
As always, you can take a look at my portfolio updates to see my current positions! Also, use my referral code for an extended 3 months of premium access to StocksCafe! P.S. I'm running a telegram chat group for you guys to share and discuss investment-related topics so come on in! I'll be there too! You can join the chat here: https://t.me/joinchat/D4iHeEVapnGC1lWcFEupVw
Are you new to the stock market and don't know what you should do to avoid losing half your portfolio through bad picks? Or perhaps you are an experienced investor/trader looking for fantastic opportunities and picks in the market that you might have missed out on?
If so, look no further because I am running a Premium Subscription that offers services such as:
Access to both my Singapore and US Tech Watchlist with Preferred Entry Prices
Telegram Group Invitation Where I Share Market Updates and My Personal Views
Monthly Tradable Opportunities with Trade Setups
On-Demand In-Depth Fundamental and Technical Analysis on Any Stock of Your Choosing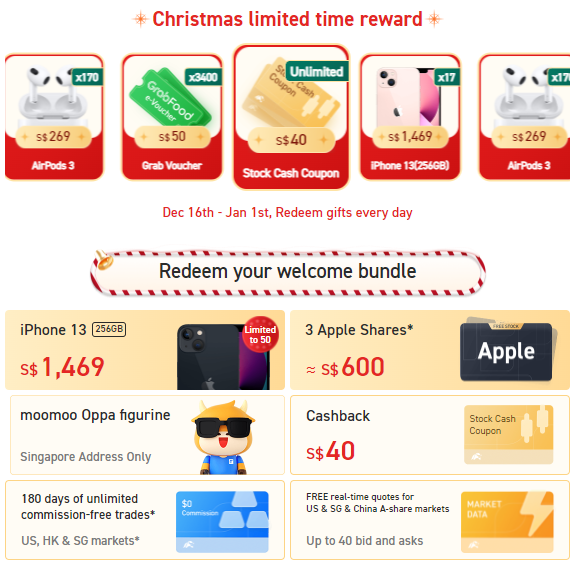 For the ongoing promotional period (Nov 30th – Dec 31st), when you deposit (First Deposit) SGD 2,700 successfully into your account, you will be rewarded 1 Apple (AAPL) share worth around SGD 220 as well as an SGD40 Stock Cash Coupon Bundle. Stand a chance to win a brand new iPhone 13 (256GB ,~S$ 1,469), Airpods 3, $50 Grab vouchers as well as $40 Stock Cash Coupons during the Christmas limited time reward promotion that is ongoing between Dec 16th – Jan 1st.
If you have yet to sign up for a FUTU SG securities account with moomoo powered by FUTU you can use my referral link here. For opening an account, you will be given 180 days of unlimited commission-free trades across the US, HK, and SG markets (do not apply for Stock Options and Futures). You will also be given free real-time Level 2 US Market Data, Level 1 SG Market Data, and now Level 1 for China A shares too!
Read Also: moomoo Trading App Review: Everything You Need To Know in 2021