Frasers Logistics and Commercial Trust (FLCT) is a brand new REIT consisting of the merged Frasers Logistics Trust and Frasers Commercial Trust. The merger was pretty well received by shareholders and we can see that FLCT's share price reflects that. They have just released the first set of results for the year so let's take a quick look at the 4 key takeaways from the 3Q results of Frasers Logistics and Commercial Trust.
Note: This is just a business update as they update their results semi-annually.
1. Gross Revenue and NPI
| Year on Year Difference | 3rd Quarter 2020 |
| --- | --- |
| Gross Revenue | S$103.7 million |
| Net Property Income (NPI) | S$78.0 million |
Though the results are a great improvement from the year prior, there is not much to say because this is the first set of results after the merger so there is nothing to compare with. They did not release the results of the REITs separately so we cannot accurately measure if this quarter was an improvement.
2. Healthy Financials
| | As at 30 June 2020 |
| --- | --- |
| Aggregate Leverage | 37.4% |
| Interest Coverage | 6.7x |
| Average Cost of Debt | 2.1% |
As for FLCT's financials, we can see that they have a relatively healthy balance sheet. They have a very healthy interest cover ratio of 6.7x, allowing them to leverage up to 50% if they choose to. They have an aggregate leverage of about 37.4%, giving them a huge debt headroom of about S$1.55 billion before reaching 50%.
They also have a reasonably low cost of debt at 2.1%.
3. Occupancy
As we can see from the occupancy rates across their portfolio, we can see that the logistics and industrial assets achieved a high occupancy rate of 99.8%. As for their commercial assets, they achieved a slightly weaker occupancy rate of 93.6%, resulting in the overall REIT's occupancy rate to drop to 97.2%.
They also managed to achieve a long WALE of 5.2 years thanks to their logistics and industrial assets.
It's good to note that FLCT has managed to diversify its portfolio well, having Australia accounting for the highest weightage in terms of portfolio value at 48.4%. The rest of the portfolio is evenly spread out across Europe (30.5%) and Singapore (21.1%).
4. Proposed Acquisition and Divestment
Acquisition of 2 Freehold Properties in Australia and UK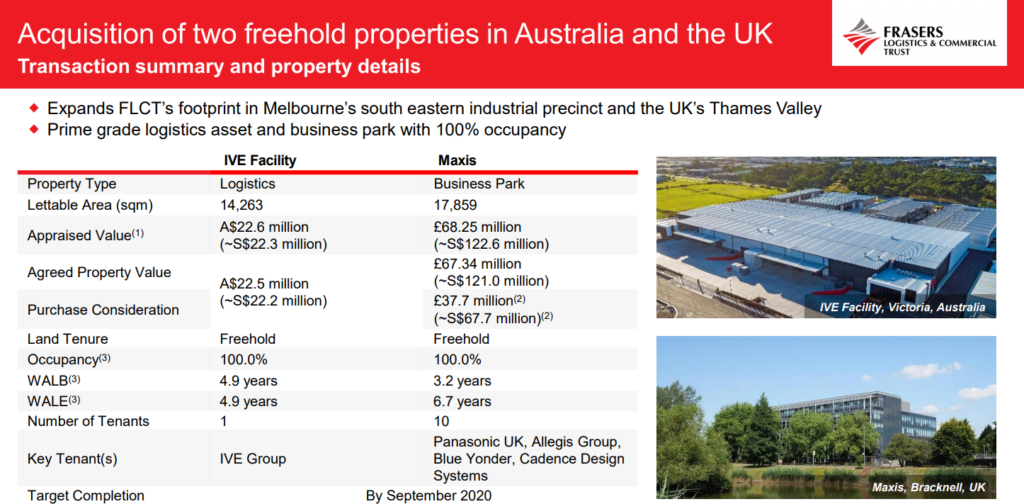 The proposed acquisition is for 2 freehold properties which have a 100% occupancy rate. It is good to note that both properties were bought below their appraised value.
The Australia property was acquired for its long WALE (4.9 Years) and the fact that it is leased out to IVE Group Ltd, a company listed on the Australian Stock Exchange, with a fixed annual rent increment of 3%.
The UK property was acquired for its long WALE (6.7 Years) and the fact that more than 60% of the tenants that are under this property are in the technology and telecommunication sectors with key tenants such as Panasonic UK, Allegis Group Ltd and Cadence Design Systems Ltd.
These 2 properties complement FLCT's existing portfolio and will help further diversify its portfolio. This acquisition is targeted to be completed by September 2020, which means it will not be reflected in the upcoming results.
Divestment of Remaining 50% Interest in a Cold Storage Facility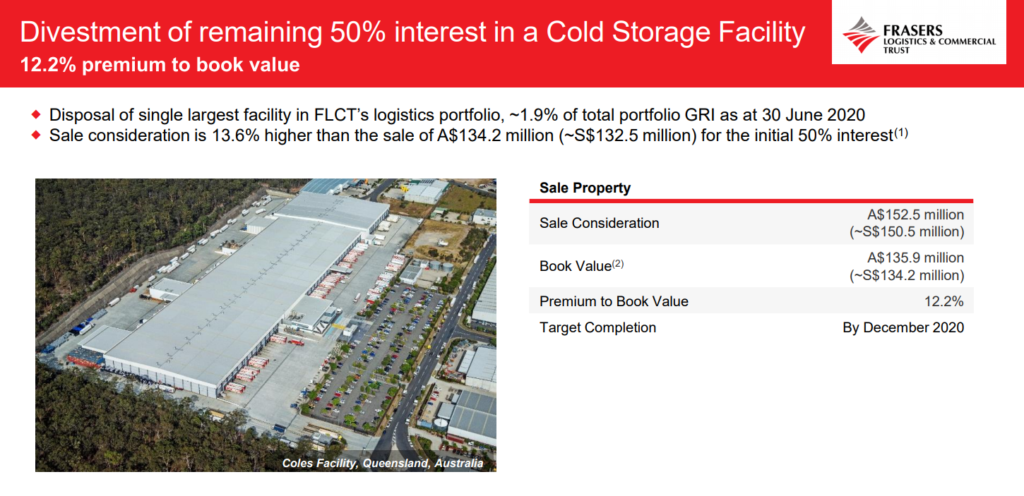 The proposed divestment of the remaining 50% interest in a cold storage facility is sold at a 12.2% premium to book value. This facility is the single largest in FLCT's logistics portfolio, contributing to about 1.9% of their total portfolio's GRI as at 30th June 2020.
This divestment is a pretty great one seeing as they sold 50% interest in it and managed to sell it at a decent premium to book value. This divestment is targeted to be completed by December 2020, which means it will still help contribute to FLCT's revenue for the next coming quarter.
Final Thoughts
Overall, the 3Q results of Frasers Logistics and Commercial Trust were not as great as expected. Before the merger, the post-merger occupancy rate was targeted to be around 97.6% but it dropped to 97.2% due to the lower occupancy rates of the commercial assets.
Nonetheless, I expect great things to happen for FLCT in the years to come with their huge pipeline of ROFR assets worth S$5 billion granted by their Sponsor. I personally do not have a position in FLCT as I deem its current valuation a tad too high for my liking. I still like the REIT as a whole and I foresee it growing fast with all the ROFR assets in their pipeline.
As always, you can take a look at my portfolio updates to see my current positions! Also, use my referral code for an extended 3 months of premium access to StocksCafe! P.S. I'm running a telegram chat group for you guys to share and discuss investment-related topics so come on in! I'll be there too! You can join the chat here: https://t.me/joinchat/D4iHeEVapnGC1lWcFEupVw
Are you new to the stock market and don't know what you should do to avoid losing half your portfolio through bad picks? Or perhaps you are an experienced investor/trader looking for fantastic opportunities and picks in the market that you might have missed out on?
If so, look no further because I am running a Premium Subscription that offers services such as:
Access to both my Singapore and US Tech Watchlist with Preferred Entry Prices
Telegram Group Invitation Where I Share Market Updates and My Personal Views
Monthly Tradable Opportunities with Trade Setups
On-Demand In-Depth Fundamental and Technical Analysis on Any Stock of Your Choosing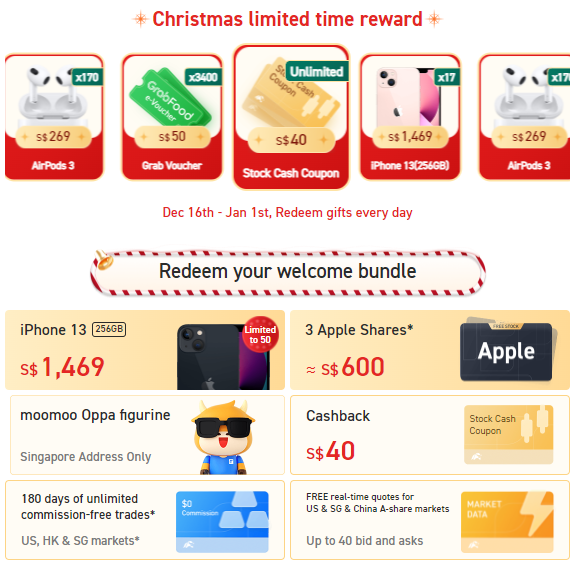 For the ongoing promotional period (Nov 30th – Dec 31st), when you deposit (First Deposit) SGD 2,700 successfully into your account, you will be rewarded 1 Apple (AAPL) share worth around SGD 220 as well as an SGD40 Stock Cash Coupon Bundle. Stand a chance to win a brand new iPhone 13 (256GB ,~S$ 1,469), Airpods 3, $50 Grab vouchers as well as $40 Stock Cash Coupons during the Christmas limited time reward promotion that is ongoing between Dec 16th – Jan 1st.
If you have yet to sign up for a FUTU SG securities account with moomoo powered by FUTU you can use my referral link here. For opening an account, you will be given 180 days of unlimited commission-free trades across the US, HK, and SG markets (do not apply for Stock Options and Futures). You will also be given free real-time Level 2 US Market Data, Level 1 SG Market Data, and now Level 1 for China A shares too!
Read Also: moomoo Trading App Review: Everything You Need To Know in 2021