With the pandemic causing mass hysteria across the market in 2020, Parkway Life REIT (SGX: C2PU) stood strong due to the nature of its assets. Let's take a quick look at the 4 important takeaways from Parkway Life REIT Q1 2021's results as well as the future growth the REIT could potentially see in FY2021.
1. Consistent Growth In Gross Revenue and NPI
| Year on Year Difference | 1Q 2021 | 1Q 2020 |
| --- | --- | --- |
| Gross Revenue | S$29.999 million (+0.4%) | S$29.869 million |
| Net Property Income (NPI) | S$28.029 million (+1.0%) | S$27.746 million |
Parkway Life REIT has once again, posted consistent growth in their Gross Revenue and NPI year over year by 0.4% and 1.0% respectively. Even though the number is small, it is still remarkable that they have managed to grow consistently over so many quarters.
This is why I mentioned previously that Parkway Life REIT is a very defensive REIT. The best part is, although it is very defensive, its returns are definitely on the higher end of the spectrum, offering investors a pretty attractive risk to reward if they invest in Parkway Life REIT.
2. Strong Growth In Distributable Income and DPU
| Year on Year Difference | 1Q 2021 | 1Q 2020 |
| --- | --- | --- |
| Distributable Income | S$21.583 million (+3.0%) | S$20.951 million |
| Distributable Income Less Retained Capital | S$21.583 million (+7.4%) | S$20.101 million |
| Distribution Per Unit (DPU) | 3.57 cents (+7.4%) | 3.32 cents |
The Distributable Income segment, as well as DPU, grew much more in comparison by 3.0% and 7.4% respectively. It is good to note that Parkway Life REIT did retain some capital last year due to COVID-19 relief measures. As such, if we were to take that out of the equation, Parkway Life REIT's Distributable Income would have increased by 7.4%.
If you take a look at their long-term DPU trend, we can see that Parkway Life REIT has been consistently increasing its DPU year over year ever since its IPO.
3. Solid and Stable Financials
| | As at 31 March 2021 | As at 31 December 2020 |
| --- | --- | --- |
| Aggregate Leverage | 37.8% | 38.5% |
| Interest Coverage | 20.9x | 18.1x |
| Average Cost of Debt | 0.55% | 0.53% |
Parkway Life REIT's financials are steady as ever with a very strong interest coverage ratio of 20.9x, an improvement from the quarter prior at 18.1x. They also managed to pay down some of their debt, reducing their aggregate leverage from 38.5% to 37.8%.
They achieved this by issuing 6-year JPY3.3 billion (S$40.1m) 0.51% senior unsecured fixed-rate notes. The proceeds were used to repurchase existing notes that were issued at 0.58%. All in all, they did raise their average cost of debt by 0.02% but it still stood very low at 0.55%.
4. Potential Acquisition Soon?
It is good to note that with Parkway Life REIT's current gearing of 37.8%, they have a debt headroom of S$269.7m before reaching 45% gearing and $502m before reaching 50% gearing. Not to mention the fact that they can also do an EFR (Equity Fundraising), the sky really is the limit for Parkway Life REIT.
In June 2020 during their AGM, the management asked unitholders to approve a general mandate. The general mandate allows the REIT to issue up to 20% of the units outstanding in a given year. Based on a pro-rata situation involving an equity fundraising or rights issue, the REIT could potentially issue up to 50% of its units outstanding in a calendar year.
I wrote a piece a while back talking about Parkway Life REIT and I shared 2 potential markets that the REIT could enter as it eyes for a 3rd key market to add into their portfolio. These 2 markets are Taiwan and South Korea. Check out the article to find out why I mentioned these 2 markets.
Read Also: Is Parkway Life REIT A Good Buy Now?
Final Thoughts
After looking at Parkway Life REIT Q1 2021 results, we can see that the REIT is well-positioned and very stable at the moment. There have been talks of a potential acquisition by the REIT, entering into a new developed market since last year and we can clearly see that it will be coming soon based on the management's actions.
Investors that are currently invested should be ready for a potential EFR and to take full advantage of it because Parkway Life REIT is one of a kind, similar to Keppel DC REIT. Being the strongest healthcare REIT in Singapore and providing consistent and ever growing value to shareholders, an EFR is the best thing an investor could hope for.
As always, you can take a look at my portfolio updates to see my current positions! Also, use my referral code for an extended 3 months of premium access to StocksCafe! P.S. I'm running a telegram chat group for you guys to share and discuss investment-related topics so come on in! I'll be there too! You can join the chat here: https://t.me/joinchat/D4iHeEVapnGC1lWcFEupVw
Are you new to the stock market and don't know what you should do to avoid losing half your portfolio through bad picks? Or perhaps you are an experienced investor/trader looking for fantastic opportunities and picks in the market that you might have missed out on?
If so, look no further because I am running a Premium Subscription that offers services such as:
Access to both my Singapore and US Tech Watchlist with Preferred Entry Prices
Telegram Group Invitation Where I Share Market Updates and My Personal Views
Monthly Tradable Opportunities with Trade Setups
On-Demand In-Depth Fundamental and Technical Analysis on Any Stock of Your Choosing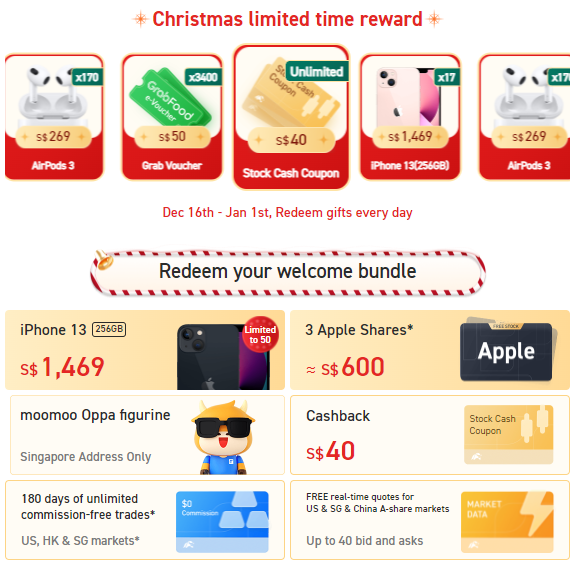 For the ongoing promotional period (Nov 30th – Dec 31st), when you deposit (First Deposit) SGD 2,700 successfully into your account, you will be rewarded 1 Apple (AAPL) share worth around SGD 220 as well as an SGD40 Stock Cash Coupon Bundle. Stand a chance to win a brand new iPhone 13 (256GB ,~S$ 1,469), Airpods 3, $50 Grab vouchers as well as $40 Stock Cash Coupons during the Christmas limited time reward promotion that is ongoing between Dec 16th – Jan 1st.
If you have yet to sign up for a FUTU SG securities account with moomoo powered by FUTU you can use my referral link here. For opening an account, you will be given 180 days of unlimited commission-free trades across the US, HK, and SG markets (do not apply for Stock Options and Futures). You will also be given free real-time Level 2 US Market Data, Level 1 SG Market Data, and now Level 1 for China A shares too!
Read Also: moomoo Trading App Review: Everything You Need To Know in 2021